Take the champagne off ice. Cancel the parade down Yonge St. Hold the deposit on the confetti blasters. As much as Toronto Maple Leafs fans are giddy at having John Tavares in their lineup, it's a pipe dream to think that he'll catapult the team to a Stanley Cup.
Tavares Is Not the Answer
The 28-year-old Mississauga-native has been an elite NHL scorer and one of the top ten centers in the league. But, going into his tenth season, an honest assessment of his value shows that he is, at best, at the tail end of his prime. In the three seasons preceding last year, he progressively declined in goals (38, 33 and 28) and points (86, 70 and 66). In 2017-18, he rebounded to post 37 goals and 47 assists, albeit in a contract season, playing with Calder Trophy winner Mathew Barzal. Thirty-six percent of his points came on the power play.
This year, Tavares may well be a point-per-game player. Even Vincent Damphousse or Russ Courtnall could accomplish this feat coming out of retirement, if they were propped up by Auston Matthews, Mitch Marner and the other young guns.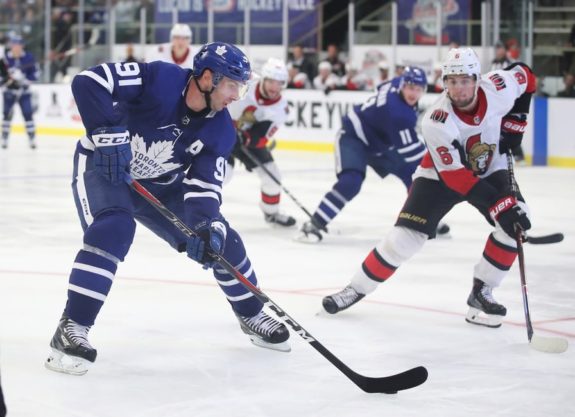 While one player does not make a team, a superstar does have a substantial impact. Captain Tavares was only able to lead his New York Islanders to the playoffs three times in nine years and only once beyond the first round. He will not put the Leafs over the top. An aging offensive talent on the downside of his career, who has little defensive game, is not the answer. He's derailing the train that was headed toward the Cup by eating a huge chunk of cap space. For the next seven years.
The Leafs Resurrection
The Leafs were terrible. Going into this season, they have tasted the playoffs just three times in the last 14 seasons. Only once since 2003-04 have they broken past the first round. In the 2014-15 season, the Blue and White finished with 68 points and a point-per-game average of just .415. They scored a scant 206 goals and allowed 257.
Then came change. Brendan Shanahan was made team president in April of 2014. Mike Babcock was hired as head coach on May 20, 2015, and Lou Lamoriello was hired in July 2015 to replace general manager Dave Nonis. Matthews and Marner were drafted and contributed immediately. Matthews won the Calder Trophy and is tied for first in even-strength goals since his debut. Marner has 130 points in 159 games and has been the Leafs' best postseason performer.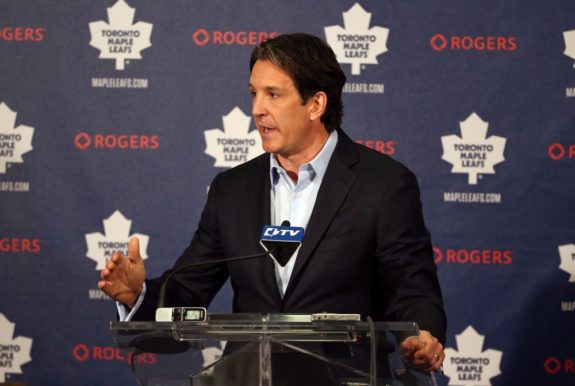 From that 2014-15 season, the Leafs improved across the board:
Point totals climbed from 68 to 69 to 95 to 105
Points per game percentage increased from .415 to .421 to .579 to .640
Scoring improved from 206 to 192 to 250 to 270
Goals allowed dropped from 257 to 240 to 234 to 230
Only two teams — the Tampa Bay Lightning and Winnipeg Jets — scored more than the Leafs did last year. During the regular season, they averaged 3.29 goals for per game and their power play converted at an impressive 25% rate, ranking second in the league. By any metric, the team knows how to fill the net. The problem is not their offense.
The obvious weakness is keeping the puck out of their net. The defense is sketchy at best and their goaltending isn't much better. During the regular season, they allowed the fourth-most shots-against per game. The 230 goals surrendered in the 2017-18 season ranked 12th in the league; an improvement, to be sure, but not of championship quality.
The Leafs' Shaky Defense
The Leafs' defense corps consists of Morgan Rielly, Ron Hainsey, Jake Gardiner, Nikita Zaitsev, Travis Dermott, Justin Holl and Igor Ozhiganov. It's a group that raises more questions than it does the possibility of raising the Stanley Cup.
Of these, Rielly is the only skilled, consistent blueliner. As much as Gardiner's offense helps the team, his defensive lapses hurt them. Hainsey, at 37 years old, is a bottom-pair defenseman. At this point, Zaitsev is too inconsistent and Dermott is too inexperienced. Ozhiganov and Dermott are on their entry-level contracts.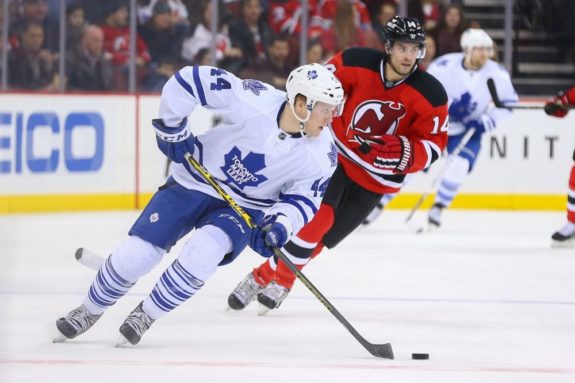 The team's improvement to middling defensive statistics are more a result of their offense puck possession than a product of skill on the blue line.
Plugging the Wrong Hole
More than bolstering an already potent offense, the Leafs needed a dependable, experienced, top-pair defenseman. Players like the Carolina Hurricanes' Justin Faulk, Minnesota Wild's Matt Dumba or the Ottawa Senators' Erik Karlsson (now with the San Jose Sharks) were possible additions.
The Leafs also already have a potent duo at center with Matthews and Nazem Kadri. Following his 40-goal, 69-point Calder Trophy-winning season, Matthews had 34 goals and 29 assists in 62 games last season while Kadri will be trying to improve on two consecutive 32-goal seasons.
The Tavares sweepstakes included upwards of half a dozen teams. He knew he was going to get paid handsomely, but he also wanted to play for a team that would give him an opportunity to win and the lure of landing in Toronto and playing for his home town was strong.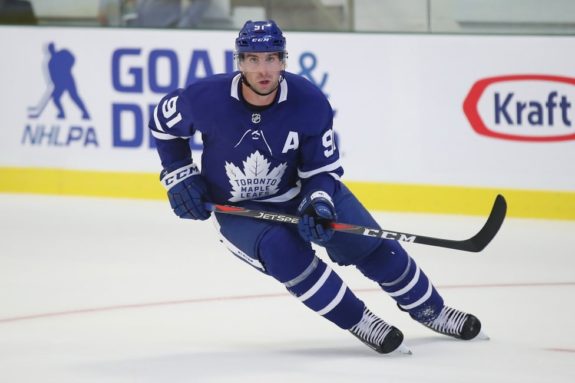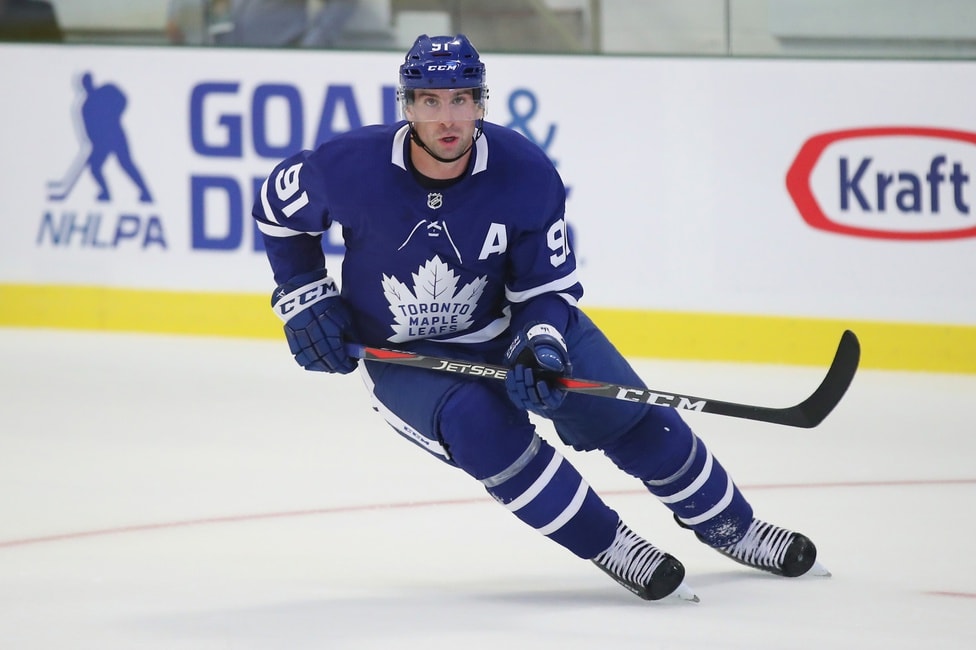 This year, the Leafs may get past the first round of the playoffs, but will they defeat the Tampa Bay Lightning in the second round? The same Lightning team that led the league in scoring last season by a mile and got better in the offseason? Good luck with that.
Not since the 1980s was a team able to score its way through the playoffs to win a Stanley Cup. Those were the days when Wayne Gretzky was routinely picking up 200 points, leading a team chock full of future Hall of Famers. In those days, the Edmonton Oilers' save percentage of .885 was overcome by the powerful offensive juggernaut that put well over 400 pucks in the net each season.
When rookie GM Kyle Dubas signed Tavares in July, the Leafs moved towards a more offensive extreme than the overall balance needed to win. From that bottoming-out point back in 2015 until signing Tavares, the Leafs were on track to be Cup competitors.
The Maple Leafs Salary Cap Troubles
It doesn't take an accounting degree to realize signing Tavares to his lucrative seven-year, $77 million deal directly impacts the team's ability to re-sign their young stars.
William Nylander is not with the team despite that opening night is on Wednesday. Dubas is doing his best to get the Canadian-born Swedish forward to sign at $6 million per season but Nylander and his agent, Lewis Gross, want substantially more. Yet all the pressure is on Dubas after he made a number of public statements about being able to sign and keep all of the organization's top young talent.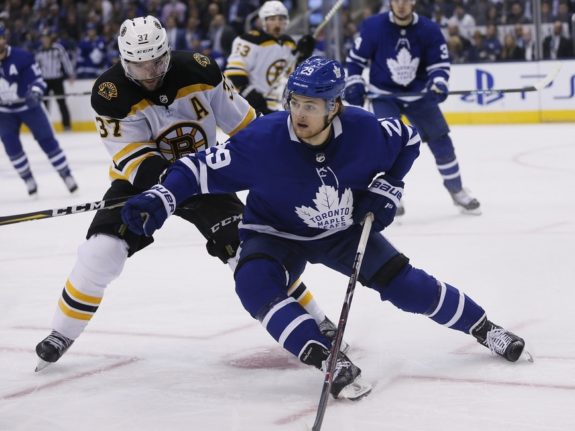 Even in the unlikely event that Nylander is soon back in the fold at that $6 million mark, next year both Matthews and Marner will be looking for enormous contracts, considering their elite production during their entry-level deals. It isn't unreasonable to project that those two deals will be worth over $20 million per season combined. With the Tavares contract and Nylander at bottom dollar, the Leafs will have over $37 million, representing almost 46% of the salary cap, tied up in just four forwards.
It doesn't look like #Leafs RFA William Nylander is heading anywhere 👀 pic.twitter.com/IBFc4KtYob

— TSN (@TSN_Sports) September 29, 2018
For the 2019-20 season, the Leafs' payroll has $16 million committed to a group of five other forwards and another $1.2 million tied up in Phil Kessel's retained salary. For next season, with Nylander slotted in at $6 million, Dubas will be paying nine forwards a total of about $54.7 million, roughly two-thirds of the team's salary cap.
It Gets Worse
The Leafs will also have Rielly, Zaitsev, Dermott, and Justin Holl under contract on the blue line worth a combined $11 million. In goal, Frederik Andersen will be paid $5 million. Doing the math, the Leafs' payroll, without trades or buy-outs, will be roughly $70.7 million and that's without signing any available free agents or re-signing any of their own restricted or unrestricted free agents. Yet, they can't field a team with only nine forwards, four defensemen and a single goalie.
Based on an increased salary cap to about $81 million, Dubas will still have to find money to pay the remaining nine roster spots an average of about $895,000. Perhaps he'll be able to sign players for bags of pucks or spare Zamboni parts. No team, no matter how offensively talented, can win in the NHL with half the team on entry-level money.
Related: Dubas & Nylander Playing Game of Chicken
Dubas' Dreadful Decision
Dubas screwed up. Tavares, while great, is not what the Leafs needed. All the money spent on him will not stem the team's goals-against average.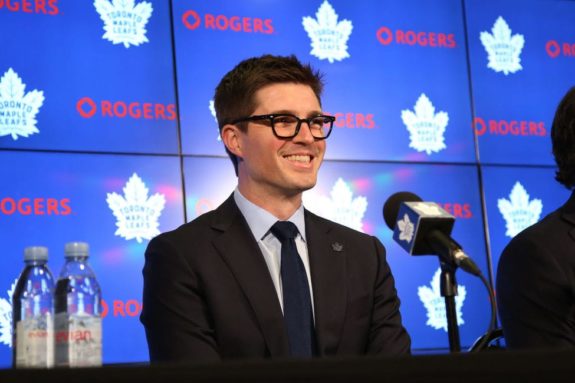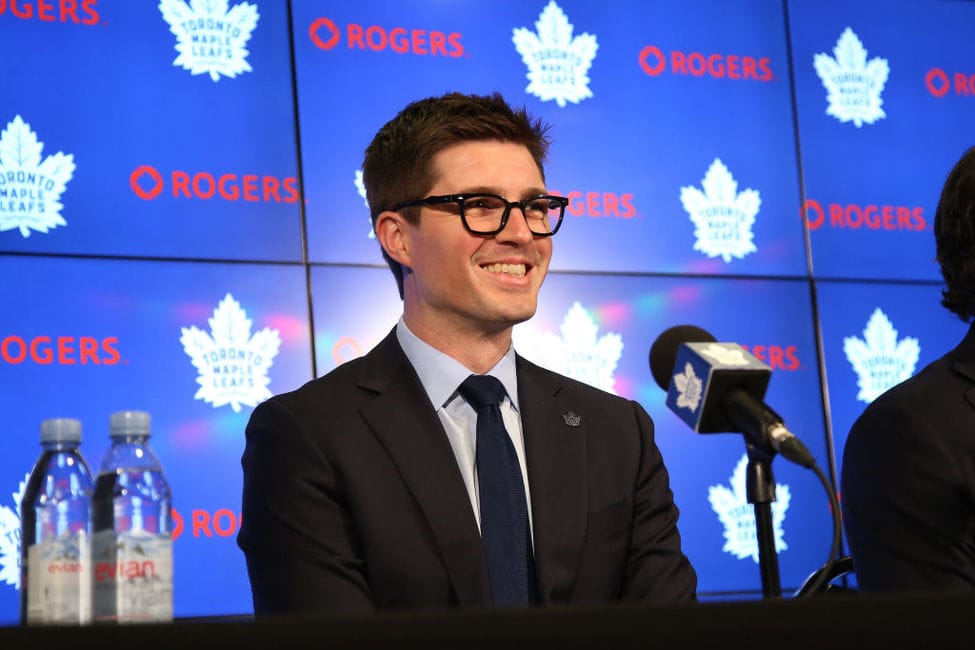 There's now immense pressure on veteran coach Babcock to mold the team into a winner that can consistently do some damage in the playoffs. While he has a roster full of talent, especially on offense, his general manager didn't do him any favors. The high-octane Leafs that were headed toward a championship took the wrong fork in the tracks. While they're still playoff bound, they're no longer well-rounded enough to be considered a serious threat to win it all.
Jeff has been covering the NHL for over a decade for various sites. He's been with The Hockey Writers as a lead Sabres writer three years, while also writing a satire column called "Off the Crossbar."