The Toronto Maple Leafs are going to be a hard roster to crack this year, and spots on the blue line are especially scarce. With stars such as Auston Matthews, John Tavares and Mitch Marner in the fold, a lot is said about their depth on offence, but their defensive core is remaining in tact for the most part.
The defence may have been suspect at times last year, but there appears to be a strong top four with Morgan Rielly, Ron Hainsey, Jake Gardiner and Nikita Zaitsev in that mix to start. Also, Travis Dermott is an up-and-coming defender who should be penciled into the number five spot and could very well earn a promotion to the top four as the season progresses. It's now a question of who earns the number six spot, as well as the depth role.
What's in Store for Carrick?
There was a fair bit of intrigue surrounding Carrick when he was acquired by the Leafs in the Daniel Winnik trade in 2016. At the time, he was only 21 and had put up great numbers with the Hershey Bears, Washington's AHL affiliate. Since then, his progression hasn't materialized.
Last year, his role was diminished as he appeared to have fallen out of favour with coach Mike Babcock, who iced Roman Polak in 54 games compared to Carrick's 47. Carrick was often a healthy scratch as the regular season came to a close and he was also watching the first-round playoff series against Boston from the pressbox.
However, with Polak now out of the picture after signing as a free agent with Dallas, there's one less defender to Carrick to compete against. The Leafs still have hope in Carrick, as evidenced by the one-year extension he signed in June.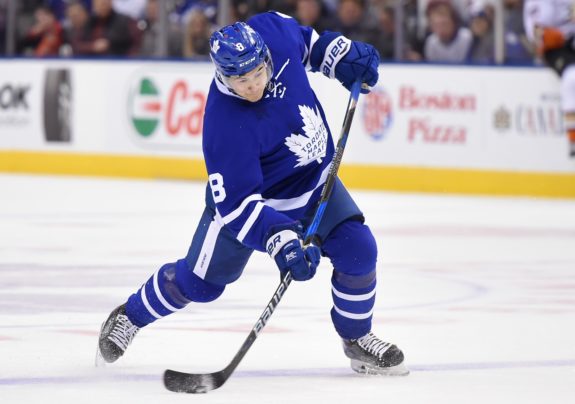 When he's on top of his game, Carrick has shown upside as a strong puck mover. He also maintained a strong Corsi rating of 52.6 percent. He could still stand to get physically stronger and limit his mistakes on the defensive end, but his familiarity with Toronto's systems could help his chances of landing an increased role.
However, he'll face competition from relative newcomers who are looking to make a name for themselves.
Borgman Had a Strong Audition Last Season
In his first taste of NHL play, Andreas Borgman enjoyed more than half a season with the Leafs last season because of injuries to Rielly and Polak. Suiting up in 48 games allowed him to show what he can bring to the table, and the 23-year-old flourished on the defensive end, ranking 35th in the league in hits before he was assigned to the Toronto Marlies in February.
However, he was considered at the bottom of the totem pole when he was with the Leafs. He averaged under 14 minutes per game and collected 11 points (three goals and eight assists) during that span.
Despite his limited role with the big club, he posted a higher plus-minus rating with the Leafs (plus-4) than in 25 games with the Marlies (minus-six). Since an injury at the beginning of the playoffs kept him out of commission during the Marlies run to the Calder Cup, it's safe to say Borgman will be extra motivated to come back and make more of an impact in the NHL.
Holl Looking to Build off AHL Success
Heading into last season, there were other defencemen in the Leafs' farm system who were held in higher regard than Holl, but the University of Minnesota product rose up the ranks and led the Marlies in scoring among defencemen.
When the Leafs were hampered by injuries last season, Holl earned his first career NHL call up and scored in both games he played with the big club while also posting a plus-five rating. He's now in contention for a spot with the Leafs after playing a vital role in the Marlies' championship season.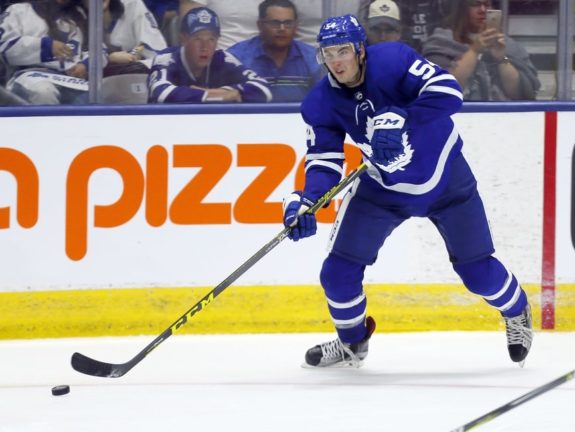 He made a strong impression during his three years in Toronto and was signed to a two-year extension in July. His two goals in as many games last year were impressive, but don't expect Holl to wow you with his offensive ability. However, he will bring stability on the back end as he grows accustomed to the NHL.
Ozhiganov Aiming for Transition to NHL
Another candidate to occupy a depth spot with the Leafs is Igor Ozhiganov, a free agent signee who has more than 300 games of experience in the KHL over the last six seasons. He's been taking part in informal skates with the Leafs while getting used to his new surroundings.
Like Carrick and Holl, he is a right-shot defender, which would be beneficial for the Leafs, as that was an area they've been trying to address for a while. Standing in at 6-foot-2 and over 200 pounds, Ozhiganov has an ideal frame that will allow him to stack up well against opponents in the defensive zone.
Coming over from Russia, it will likely take him some time to feel comfortable with the pace of the NHL, but his strengths as a stay-at-home defender should provide a good foundation to start with.
Born and raised in Toronto, Iain has been a sports writer with the Mississauga News since 2010 and has been covering the OHL for Hockey Now Magazine since 2015. A graduate of the Centennial College Sports Journalism program, Iain has now signed on to provide Ottawa Senators coverage with The Hockey Writers.