Prospect camps around the league will soon be underway, followed by training camp, preseason, and then game number one of the regular season on Oct. 4 for the Carolina Hurricanes. All of this will transpire just in the next month and change, and it is indeed the most pivotal month of training, scrimmages, and preparation for those eager to earn a roster spot for opening night.
Under this new Hurricanes regime, it isn't entirely clear what the game plan will be when formulating the roster for that first tilt against the New York Islanders at home in PNC Arena, but based on the guys in the system right now, we actually have a pretty good idea as to what the 18-man roster will consist of on Oct. 4. Here, we will break it down, line-by-line.
Forwards
1st  Line: Teuvo Teravainen – Sebastian Aho – Micheal Ferland
The top line will likely remain looking similar to what it looked like for most of the back half of last season. Teravainen and Aho together makes the most sense, as they showcases incredible chemistry and playmaking ability when playing together on a line. With the absence of Elias Lindholm, one of the guys coming back from that trade, Micheal Ferland, is poised to replace him on the top line.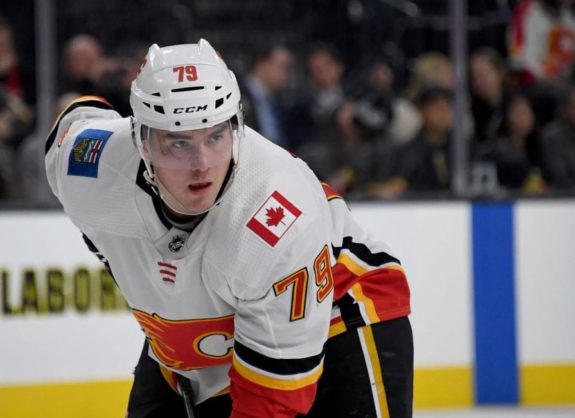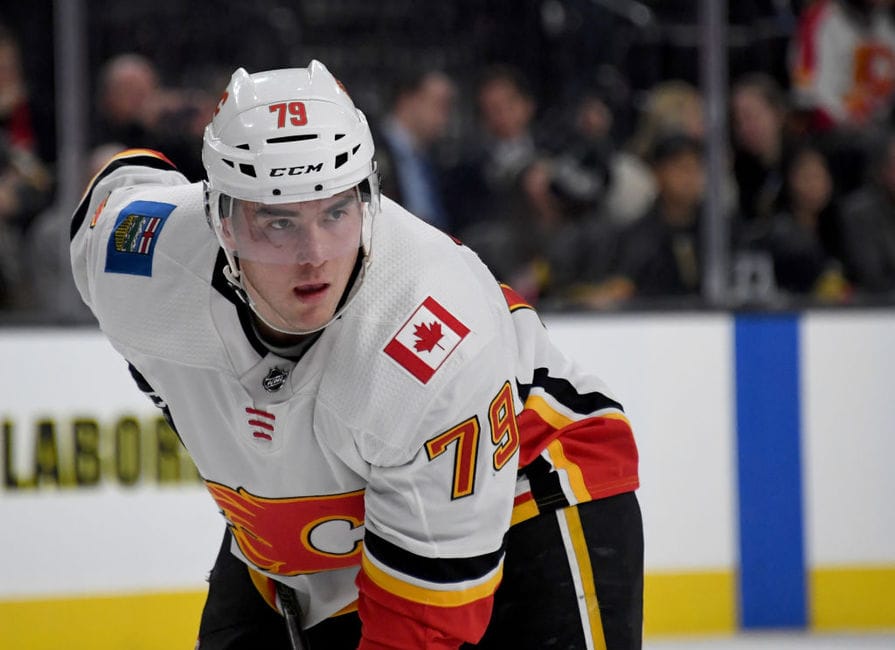 Ferland often played on the right wing alongside Johnny Gaudreau and Sean Monahan in Calgary, and he saw plenty of success there. He's a guy who can create lots of time and space for skilled players like Aho and Teravainen, and he still chipped in with 20 goals last season, so he's far from an offensive liability.
The main caveat to the makeup of this line is if Aho will/can be a full-time center. He's shown ability at the position, but he is anything but a lock for a center role. I do believe that he will be started at center, however, just to see if he's legit.
2nd Line: Victor Rask – Jordan Staal – Andrei Svechnikov
Jordan Staal is, right now, the team's best centerman. He is excellent on both sides of the puck, solid on faceoffs, and will be a good mentor for first-year pro Andrei Svechnikov. It is important for both Svechnikov and Victor Rask to see time in the top-six, but for separate reasons.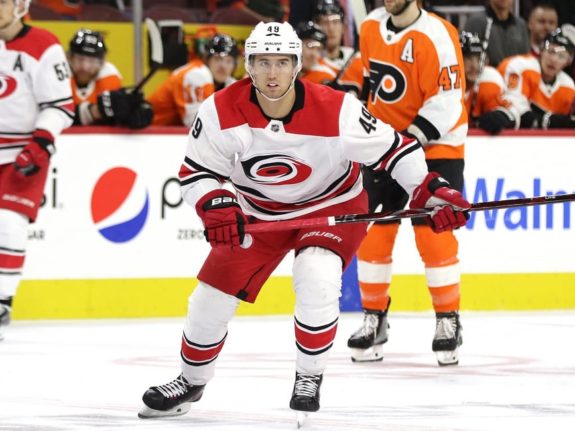 Svechnikov will be able to play in a bit of a sheltered role on the second line to help him develop, and Rask needs to find his game again after a below average campaign in 2017-18. Removing Rask from his typical center role should help him focus on his creativity and playmaking abilities as he moves away from the defensive responsibilities that come with playing down the middle. Staal will be a great anchor for the two young, gifted wingers at his flanks.
3rd Line: Brock McGinn – Martin Necas – Justin Williams
It pains me to have Justin Williams in the bottom-six, but it is necessary for his role as a top scorer on the 'Canes to take a back seat to his role as a mentor and a leader. The great thing is that Williams can still play hockey in the NHL at a high level, so he will be an excellent option deeper in the lineup and may help rookie Martin Necas develop his abilities.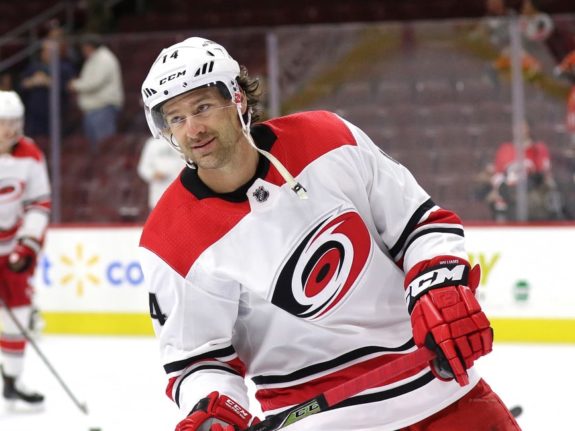 It isn't a guarantee that Necas will play center all day, every day, but he was drafted as a center and that is his natural position, so it is important to examine the goods. I honestly like Brock McGinn for a top-six role, but I think a more realistic starting point for him is as a third-line wing. He has tremendous speed and can use his body effectively, which are great qualities for a "checking" line.
4th Line: Phil Di Giuseppe – Jordan Martinook – Saku Maenalanen
Di Giuseppe disappointed a bit last season. He isn't a bad player, but he often played in the top nine under Bill Peters, and I'm not sure that is where he can be most effective for the time being. He has the ability to be a top nine forward, but when it comes down to him, McGinn, Rask, and Teravainen for the left wing spots, Di Giuseppe is currently the odd man out in earning an elevated role.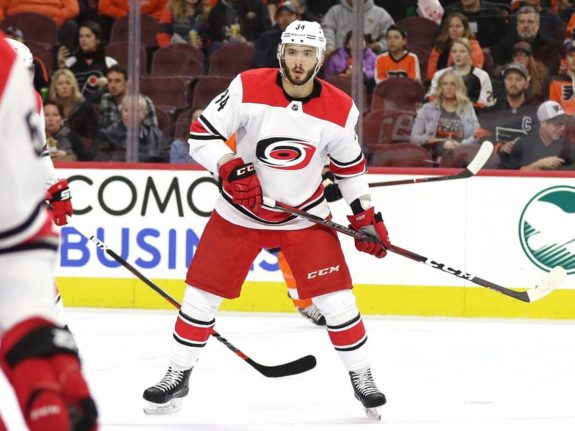 As for Jordan Martinook, he saw a heavy workload at center two seasons ago where he had a 44.4 faceoff win percentage, and he was subsequently placed in a winger role last season. Interestingly, last season is where he saw his point production (6-9-15) drop substantially in relation to his average from his first two full seasons (10-14.5-24.5). I imagine that he will be plugged back into a center role to see if he can improve his successfulness on the draws.
Finally, I am a big believer in Saku Maenalanen and his ability as a bit of an elder rookie at 24 years old to beat out less matured guys like Warren Foegele and Valentin Zykov for a roster spot. We will see if that actually comes to fruition.
On the cusp: Warren Foegele, Lucas Wallmark, Valentin Zykov
Defensemen
1st Pairing: Jaccob Slavin – Dougie Hamilton
Slavin and Brett Pesce have combined into a great shutdown defense pairing with chemistry in the past, but last season saw their performance take a bit of a depth, so it might be time for a change considering the new faces coming into the defense corps fold.
Hamilton has been a dominant force on the right side throughout his career, and his strength as a puck moving, play driver will be an excellent compliment to Slavin's ability to command the neutral zone. These two young defensemen have also produced well-above-average possession metrics for the last couple of years, and together they could combine into a difficult pairing to deal with.
2nd Pairing: Justin Faulk – Brett Pesce
Putting Faulk and Pesce together may just be what each of them needs to be successful. This pairing was never really tried and tested under Peters, mostly because it requires one or the other to play on their off side. However, it appears that one righty will need to play on the left at the start due to an imbalance of handedness (four rights, two lefts).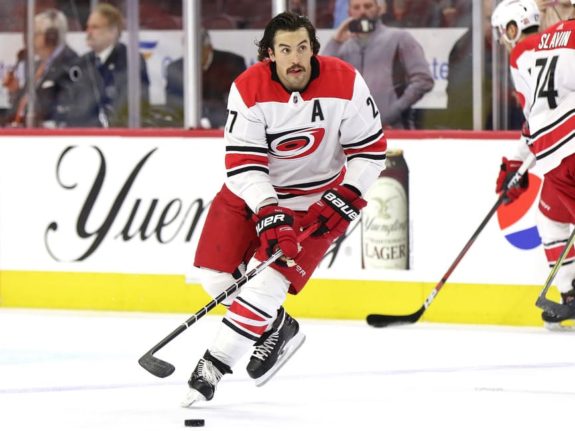 In any case, the need for defensemen to play on their 'right side' is a bit overblown, and icing the six best available defensemen is much more important, but I digress. Similarly to Slavin/Hamilton, Faulk and Pesce could be great together because Pesce's tendency to hang back and shut down the neutral zone allows for Faulk to be the puck mover that he can be.
With this incredibly deep defense corps that the 'Canes will boast this season, it is looking like defensemen will help drive the offense a bit more under Rod Brind'Amour, and this could be a very deadly second pairing on both sides of the puck.
3rd Pairing: Calvin de Haan – Trevor van Riemsdyk
Later in the season, I like de Haan to take up a more prominent role in the top-four, but for a guy who hasn't played NHL hockey since Dec. 16, 2017, Brind'Amour would be wise to roll back his usage initially, especially as he joins a new team with new teammates.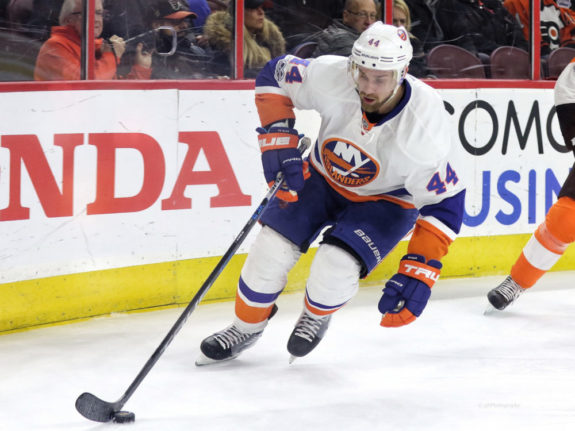 De Haan is an incredible player to round out the defense corps, as he is excellent in his two-way game. He will be a great guy to pair with one of the most positionally sound players on the back end in Trevor van Riemsdyk. TVR really shone on the third pairing when he came over to the Triangle last season, proving he could be a solid blueliner without being flashy. His stable presence should help de Haan to get back into the swing of things in the NHL.
On the cusp: Hadyn Fleury, Michael Fora, Roland McKeown, Trevor Carrick
Goaltenders
Scott Darling – Petr Mrazek
It is a make-or-break year for Scott Darling. After a historically bad season both for him and for 'Canes goaltending as a whole, it is on his shoulders to carry the bulk of the load in nets for the Hurricanes. He's proven to have talent, now he needs to prove he can be a starting goaltender all season long.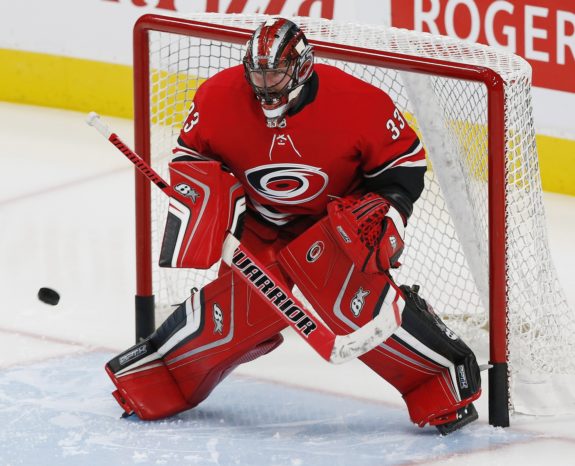 His work this summer with head strength and conditioning coach Bill Burniston has certainly been encouraging to hear about via Mike Maniscalco and Michael Smith's CanesCast, and Darling's drive to be better and stronger is poised to be a precursor to a return to form.
However, if that does not come to fruition, another skilled goaltender—who is on a one-year deal—in Petr Mrazek will likely be eager to take the crease. The increased competition can only benefit all parties involved.
On the Cusp in the Crease: Alex Nedeljkovic
Much could change in the next month, and soon we will see all of these guys in action. We may just see some unexpected developments shake up the roster entirely. Maybe they ice seven defensemen with Haydn Fleury being NHL-ready, or maybe there's an injury, or maybe somebody who appeared to be a lock as a Charlotte Checker this season proves everybody wrong and earns a spot. In any case, Brind'Amour has some work to do.
Spanish Student in Illinois. Chief writer and founder of Hurricanes blog, Caniac's Coffee. Favorite current NHLers are Duncan Keith & Erik Karlsson.