The eyes of the hockey world will descend on a small lakeshore town in northern Michigan this weekend. Traverse City, the town of 15,000 people, will play host to teams of prospects from eight NHL franchises, giving desperate hockey fans not only a taste of the future of the league, but also their first taste of hockey action in the 2018-2019 season.
The tournament will begin on the afternoon of Friday, September 7, and culminate in the championship game the following Tuesday. There will be four games scheduled each of those days but Sunday, when players and fans are given a day off from the action. Several reporters from The Hockey Writers will be in attendance giving coverage, but fans who are unable to make the trek north can stream their teams live on the Fox Sports Go app.
History of the Tournament
Centre Ice Arena in Traverse City has long been host to the Detroit Red Wings' training camp. For the past twenty years, the Red Wings have organized and hosted a tournament of teams of prospects from various teams around the NHL. It is a great opportunity for those young players to gain experience against other high level NHL prospects, as well as for the organizations to scout their own and other teams' top prospects.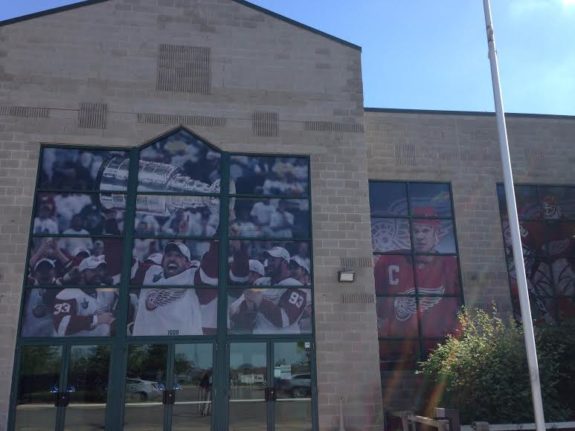 Since the tragic death of CapGeek founder Matthew Wuest in 2015, the tournament winner has taken home the Matthew Wuest Memorial Cup. The Cup is a fantastic tribute to Wuest, who was fanatical about hockey and whose website was a forerunner to CapFriendly and many similar sites in the market today. (For more about Wuest's impact, check out this story, which includes information about where donations should be sent in his honor.)
While it's a far cry from the Stanley Cup Playoffs, the team that wins the Matthew Wuest Cup will have shown their mettle in a tournament style format, which should make that team's fans excited for the future.
Who's Headed to Traverse City?
Eight different teams will send their prospects to Michigan this weekend: the Carolina Hurricanes, Chicago Blackhawks, Columbus Blue Jackets, Dallas Stars, Detroit Red Wings, New York Rangers, Minnesota Wild, and the St. Louis Blues. Among the players present will be 2018 second overall pick Andrei Svechnikov.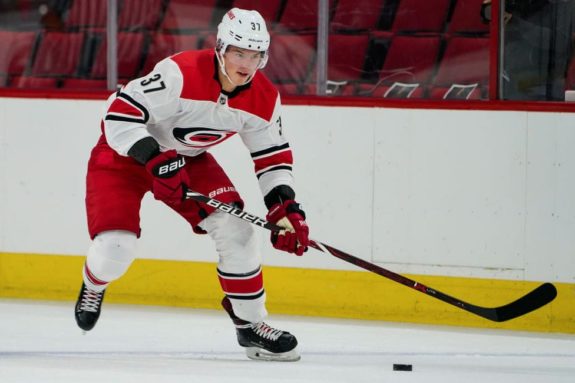 In addition to Svechnikov, 10 of the league's top 50 prospects, as identified by the NHL, will be in Michigan this weekend. These include three of the top ten prospects in Carolina's Svechnikov, Dallas' Miro Heiskanen, and Detroit's first round pick Filip Zadina. Joining them will be Martin Necas of the Hurricanes, Robert Thomas and Jordan Kyrou of the Blues, Filip Chytil and Lias Andersson from the New York Rangers, Adam Boqvist of the Blackhawks, and Detroit's Michael Rasmussen.
This group of the league's stars will be supplemented by their teams' other prospects, and most of the teams represented have excellent groups. Seven of the eight teams (excluding Columbus, who ranked 25th) ranked in the top 20 of Corey Pronman's recent ranking of NHL farm systems, and three, the Blues, Hurricanes, and Red Wings, were ranked in the top ten.
Farm system #3: St. Louis Blues https://t.co/dg29FZj8Kl

— Corey Pronman (@coreypronman) August 29, 2018
Traverse City Schedule
For those looking to watch these prospects in action, the games will be streamed on Fox Sports Go, as stated above. Here is the schedule (all times listed are central):
Friday, Sept. 7
2:30 p.m. St. Louis vs. Carolina
3:00 p.m. Chicago vs. Columbus
6:00 p.m. Dallas vs. New York Rangers
6:30 p.m. Detroit vs. Minnesota
Saturday, Sept. 8
2:00 p.m. Carolina vs. Chicago
2:30 p.m.  St. Louis vs. Columbus
5:30 p.m.  New York Rangers vs. Minnesota
6:00 p.m.  Dallas vs. Detroit
Monday, Sept. 10
2:30 p.m. Minnesota vs. Dallas
3:00 p.m.  New York Rangers vs. Detroit
6:00 p.m. Columbus vs. Carolina
6:30 p.m. Chicago vs. St. Louis
Tuesday, Sept. 11
2:00 p.m. Seventh Place Game (4th Lindsay vs. 4th Howe)
2:30 p.m. Fifth Place Game (3rd Howe vs. 3rd Lindsay)
5:30 p.m. Third Place Game (2nd Lindsay vs. 2nd Howe)
6:00 p.m. Championship Game (1st Howe vs. 1st Lindsay)
Every team in the tournament will be guaranteed four games, one against each team in its division, and then a final placement game on the last day of competition.
The Future is Bright
The faces that will take the ice in Traverse City will soon be the young stars at the NHL level. In the last three years, the likes of Zach Werenski, Pierre-Luc Dubois, Andreas Athanasiou, Jimmy Vesey, and Alex DeBrincat have all played in the tournament before having big rookie seasons. This year more than ever, the teams that will attend the tournament have some of the league's most promising prospects.
If you're a hockey fan who is interested in the future of the sport, be sure to follow the tournament this weekend. We at the Hockey Writers will have plenty of coverage of the event, so be sure to check back periodically to catch all the details.