The Toronto Maple Leafs are no longer rebuilding.
If that wasn't clear before Friday's win over the New York Islanders, it should be clear now. This team, which finished 30th (dead last) in the NHL standings two years ago, just clinched its second consecutive playoff berth (the first time they've been in successive postseasons since 2002-03 and 2003-04), and their first 100-point campaign since 2003-04. It has been a dramatic turnaround that not even Mike Babcock saw coming: "If you think there's no pain coming, there's pain coming," he told the media during his introductory press conference on June 21, 2015.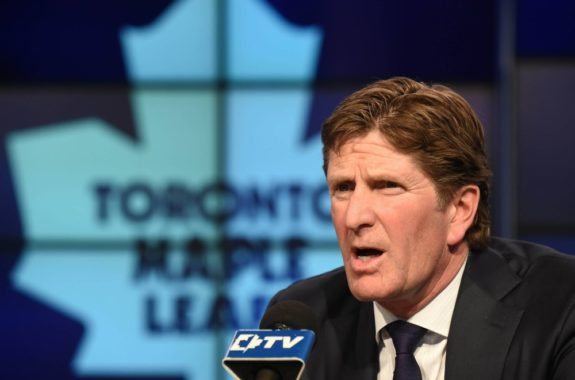 And while there was some pain, there was much, much less than was originally thought by fans, management and players. Early prognostications were that they might be competing for a playoff spot this season, but that it could very well be 2019, or even 2020, before they were a legitimate contender for a Stanley Cup. Granted, I don't think they're a contender for a Stanley Cup right now, they did clinch a playoff spot a night after their 76th game thanks to Florida's loss to the Ottawa Senators.
This team is way ahead of schedule.
So, the question is twofold: how have the Leafs gone from a 30th-place, 69-point team two years ago to a playoff team in back-to-back seasons? And can their success be sustained – and built upon – longterm?
Leafs New Management Team Full of Pedigree
To answer the first part of the two-part question, it all starts up top. The hiring of Brendan Shanahan signalled the beginning of a change in the trajectory of the Maple Leafs' franchise. He came in knowing the job would be difficult, but I think that is the primary reason he took the job. He knew that, to do it right, he would have to hunt and pry (literally) some of the game's top executives and coaches to turn this thing around, and it's a challenge he took head-on.
The first thing of note that Shanahan does, under a year after taking over, is bring in Babcock as head coach – and, in doing so, crushed the hearts of Sabres fans everywhere. Jim Hiller and Andrew Brewer join him as assistants from Detroit, while D.J. Smith leaves his post as Oshawa Generals' Head Coach to join the staff.
Then, just over two months later, Shanahan steals (that's not hyperbole) Lou Lamoriello away from the New Jersey Devils, and although there was still plenty of work to be done with the Leafs' on-ice product, fans were beginning to buy in to the product the team was selling off the ice. Lamoriello had plenty of success over his near-three decades in The Swamp; he brought the Devils their first winning season in franchise history, and made the playoffs in 23 of 28 seasons, including four trips to the Stanley Cup Finals, and three Cup victories. Lamoriello was undoubtedly the right man to lead this rebuild. Combine him with the additions to the front office of Kyle Dubas, Mark Hunter, Brandon Pridham and others, and this front office quickly went from one of the worst in hockey to one of the best, almost overnight.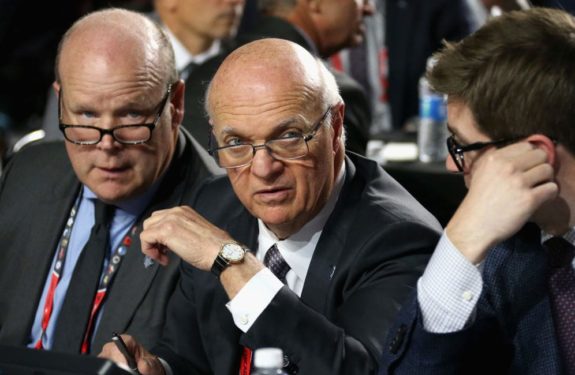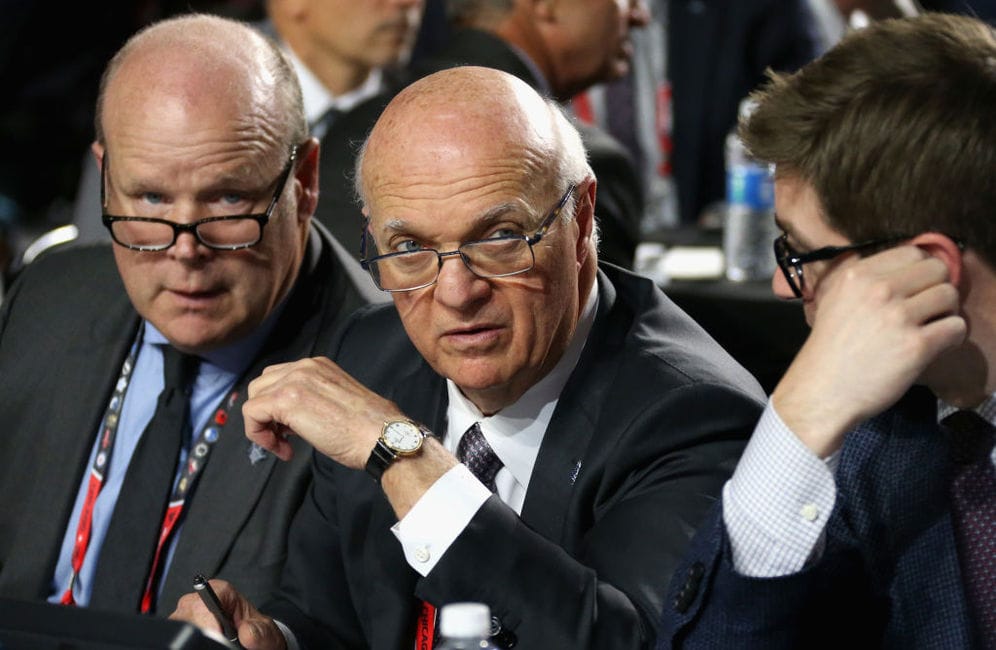 Early Pains Proving to Be Well Worth It
That first season under the new regime was obviously difficult, as everyone knew it would be. However, despite the on-ice play being subpar, people had the impression the Leafs were finally doing the rebuild right after at least two failed attempts. The Leafs began the rebuild by dealing Dion Phaneuf to Ottawa at the 2016 Trade Deadline. As we said, they only registered 69 points (29 wins) to finish dead last in the league, but that turned out to be a blessing in disguise (or, was it just a blessing?).
That last place finish netted the Leafs the best odds at drafting first overall and selecting Auston Matthews. Obviously, as he hasn't been afraid to let us know over his first two years in Toronto, that ended up happening, and word is it has worked out pretty well. On top of Matthews, the Leafs also had William Nylander and Mitch Marner on their way to full time roles on the team, along with other rookies like Connor Brown and Nikita Zaitsev, a new goaltender in Frederik Andersen, and the veteran cast of Tyler Bozak, Nazem Kadri and James van Reimsdyk.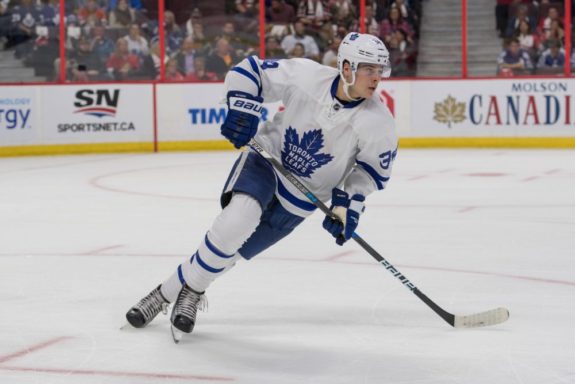 While expectations were higher for the 2016-17 season than many previous campaigns, a playoff spot for the first time in an 82-game season in 13 years was by no means a guarantee. Things started off well for Matthews, who scored four goals in his NHL debut, but the Leafs lost that season-opener 5-4. The Leafs playoff hopes would go right down to game 81, where a win over the Pittsburgh Penguins locked up a playoff spot, and an eventual matchup with Washington. The Leafs held their own against the League's top team, forcing five of the six games to overtime, but eventually losing the series 4-2.
Entering this season, the expectations among fans and players were even higher. Through 78 games now, they have lived up to those heightened hopes. They have set records for most wins (47), home wins (27) and are two points away from tying the record for most points (103), with a chance to equal that mark Saturday against Winnipeg. This team is looking much deeper, more experienced and are now more acquitted to the rigours of an 82-game season and the playoffs. They have a much better chance at taking whomever they play (either Boston or Tampa) to the brink and maybe even making a run deep into May.
Are The Leafs a Perennial Contender?
The answer to the other part to that two-part question – can the Leafs sustain and build upon their recent success? – is, in my mind, a resounding "YES."
Matthews is the franchise player for the Leafs; that is not in question. What separates the Leafs from teams like Edmonton, Buffalo or Arizona is the supporting cast they have to augment and support Matthews. Mitch Marner and William Nylander could be many teams' best players, yet they are the second and third best players (or 2 and 2A) in Toronto. That just speaks to how deep and talented this team is, and while there are still some questions to be answered about those two when their entry level deals expire, they should be here for the long haul.
That means, in an ideal world, 15+ years of Matthews, Nylander and Marner, and although it will come at a cost, it's a price the Leafs – like many other teams have before them – will have to be willing to pay. The other thing that differentiates Toronto from those other teams with star players camped out at the bottom of the standings is their prospect pool. The Leafs have guys like Josh Leivo, Kasperi Kapanen and, to a lesser extent, Andreas Johnsson in the system, who have all spent time at the NHL level and figure to play prominent roles for the big club in years to come.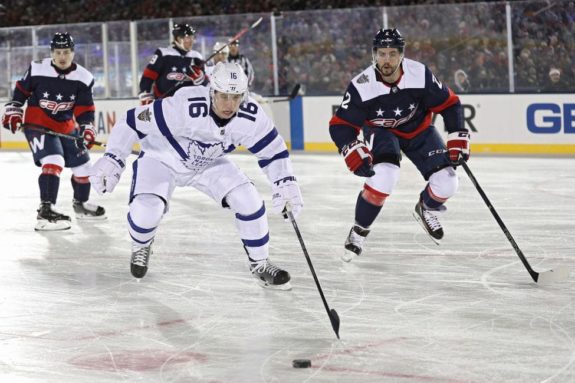 It is undeniable that there are still some holes in the Leafs' game. The most glaring is on defence, and while it may, at one time, have been too early in the rebuild to target a top defenceman, that time has come and gone. For this team to be a top contender – a team with a legitimate chance at raising Lord Stanley's mug – they need a top-pairing, puck-moving, well-rounded defenceman to enter the fold. Whomever that is, the Leafs have to do anything and everything possible to acquire him in order to take this team to the next level, because, without that guy, the Leafs are a Conference Finals team, at best.
Despite that hole, however, the window of opportunity has just opened for the Maple Leafs, way before anyone expected it to even crack. There is no three-year period for this team to win. They have the ability to be a Washington Capitals type team, hopefully for Leafs' Nation, with the addition of some playoff success. They have that much talent and potential, and while it is not this year, or maybe even next, that time is on the horizon.
The Leafs are finally relevant again, and will be for years to come. All the thanks and credit for this remarkable, unforeseen turnaround goes to the guys up top, but this truly has been an all-around effort from management, to coaching, to the players themselves; they all have worked together to get this team to where it is. Enjoy it, Leafs' fans – at long last, you have what you have been yearning for: a winner.