It was supposed to be a down year for the Toronto Maple Leafs. The team that officially started its rebuild last season was by all accounts going to be a bottom feeder and continue the rebuilding process by finishing low and drafting high. No one passed that message on to the team's rookies, however, because all of them are having fantastic seasons and are driving the Maple Leafs to great success.
The Leafs are officially ahead of where they thought they would be at this point. They sit in a playoff spot, ranked third in the Atlantic Division to be precise. There are three reasons for the team's surprising season and it all starts at the top.
Leafs' Management and Coaching Staff
Brendan Shanahan is the chief architect behind the early success of the Maple Leafs. He came in and pitched the idea of a proper rebuild which would involve putting together an All-Star cast in the front office and a coaching staff that knew how to nurture and turn young talent into a formidable force.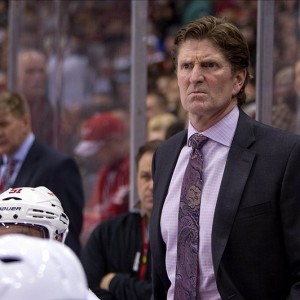 That All-Star management cast started with Lou Lamoriello, a general manager whose list of accolades includes three Stanley Cup rings and inductions into both the Hockey Hall of Fame and the United States Hockey Hall of Fame.
The others include Kyle Dubas and Mark Hunter, one the analytics wiz kid, the other a former NHLer and veteran OHL presence.
There's also a name that deserves more credit than it's garnered. That person is Brandon Pridham, who's role with the Leafs is listed as an assistant to the general manager. In reality, Pridham is the team's capologist who monitors and advises on matters like salary cap analysis, contract negotiations, and the collective bargaining agreement. Having a man that helped write the current collective bargaining agreement on staff is a bonus.
The biggest name among the coaching staff is easily Mike Babcock, the former bench boss of the Detroit Red Wings. Babcock has made it his mission to mold the Leafs' young talent into a cohesive unit capable of contending and one day winning the Stanley Cup.
The Players
Everyone who watches the Maple Leafs knows that the team runs on rookies. Babcock regularly ices nine players that are in their first full year in the NHL. There are big names, like 2016's first overall pick Auston Matthews. The American pivot has been the best player on the team this year and is on pace to shatter the Leafs' rookie records.
How about the duo of Mitch Marner and William Nylander? Many were worried that Marner's size would hinder him at the NHL level. The former London Knight has put all doubts to rest and is one of the most exciting players to watch. Nylander is right alongside him and is becoming a lethal weapon on the powerplay.
Zach Hyman and Connor Brown, who currently flank Matthews, have also had great starts to their NHL careers. They are a hardworking and dependable duo that shine at both ends of the ice. Frederik Gauthier is finding his way in the NHL and is using his size to become a reliable presence, especially in the defensive zone.
On defense, Nikita Zaitsev has become one of the most impressive Maple Leafs. After transitioning over from Russia, Zaitsev has vaulted over expectations and is currently playing over 22 minutes a night on the Leafs' top pairing alongside Morgan Rielly. Connor Carrick has had some ups and downs this year but has demonstrated that he's no pushover, especially down low in his own zone.
Let's not forget the rest of the team. Frederik Andersen, the former Anaheim Duck, has been a revelation in net for the Buds and is an important reason why they are in playoff contention. Nazem Kadri, Tyler Bozak and James van Riemsdyk also deserve some props for producing and having good offensive years.
The Fans
No team would be complete without their fans. Toronto is buzzing about their team and the players have picked up on that energy. The Air Canada Centre has historically been a very quiet building, especially in the lower bowl. Now, with something to cheer about, the arena has gradually become louder and more electric.
Leafs fans are getting excited. Can the players sense it? "Yeah, it's fun to be a Leafs player again too," said Nazem Kadri

— Mark Masters (@markhmasters) January 16, 2017
The team has helped fans love hockey again. It's rekindled their hope in the franchise. For too long, the Maple Leafs iced teams that didn't seem to care or that looked lackadaisical on the ice. Finally, there is a real sense of excitement that they can become something great.
My name is Anthony Fusco. Through school, I completed a joint degree involving an Honours B.A. in Journalism from Wilfrid Laurier University and a Videography and Broadcasting degree through Conestoga College.
I currently work for the University of Toronto as a Varsity Sports Announcer and for the Toronto Maple Leafs as part of their game presentation squad.
I'm also the play by play voice of the Kelowna Falcons, a baseball team located in British Columbia.
My goal is to one day be a hockey broadcaster.