The New York Islanders have reached the halfway mark of the 2016-17 season and so far, the results have been very disappointing. The Isles were expected to build on back-to-back 100-point seasons and continue to develop around their young core. Instead, the team has struggled to find consistency in nearly all aspects of the game and find themselves in last place in the Eastern Conference.
Here is a breakdown of all aspects of the Islanders' performance thus far this season. Players are graded on both their performances and how well they have met expectations.
Forwards:
John Tavares remains the most reliable offensive weapon the Islanders have. When the captain struggles, the Islanders offense has trouble scoring. The Isles are just 4-9-3 when Tavares fails to register a point this season.
Josh Bailey has quietly played well on Tavares' wing. He leads the team with 23 assists and has shown good vision and hockey sense.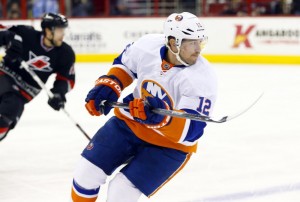 Anders Lee has been the team's most reliable goal scorer after scoring only one goal until Thanksgiving. He is also a Cy Young candidate with 15 goals and just five assists. Lee is most effective when he uses his size to create havoc in front of the opposing net.
After the top line, things get much shakier for the Islanders. Brock Nelson is third on the team with 23 points, but often disappears for long stretches. Ryan Strome is best suited to play center but usually finds himself on the wing. Strome frustrates the coaching staff by playing on the perimeter too often. Strome also needs to improve his play without the puck.
Andrew Ladd was signed to a big free-agent contract last July but hasn't lived up to the hype. The veteran forward is on pace for 16 goals and 24 points, hardly worth his $5.5 million cap hit. More importantly, he has been a non-factor in too many games. Jack Capuano demoted Ladd to the third or even fourth line for several games due to his poor play.
Jason Chimera was the other big free-agent signing. Chimera has also been a non-factor in too many games. He is on pace for 14 goals, closer to his career average but well behind last season's 20-goal campaign with Washington.
Shane Prince and Alan Quine have shown glimpses of skill but also lack consistency. Every once in a while, you remember they're in the lineup when they make a nifty play. Still, there are too many games when it's hard to remember if they were in the lineup or a healthy scratch.
The energy line of Casey Cizikas, Nikolay Kulemin and Cal Clutterbuck has done its job and even added occasional offense. Kulemin has been a solid replacement for the departed Matt Martin. The line is still difficult to play against even if they are a bit less physical than they were a year ago.
Rookie Anthony Beauvillier has shown glimpses of the offensive ability that encouraged the team to keep him in the NHL. He is a  hard worker but still needs to improve his play without the puck to fully earn the trust of his coaches. Beauvillier should see more ice time in the second half of the season unless the Isles make a major move to get back into the playoff race.
Overall, the Isles rank 9th in the league in goals-for-per-game after a slow start. The lack of consistent secondary scoring has hurt the team all season. More importantly, the team still lacks an offensive threat who can take the pressure off Tavares.
Grade: C+
Defensemen:
This unit has provided more offense than expected this season, but they have also had too many lapses in their own zone.
The top pairing of Nick Leddy and Travis Hamonic have poor plus/minus ratings (minus-8 and minus-14) and poor Corsi numbers as well. Leddy is on pace for 14 goals and 42 points. Hamonic provides major minutes while usually facing the opponent's top line, but this duo's play in their own end has to improve.
Thomas Hickey provides clutch offense and is heady, but his lack of size occasionally causes problems. Johnny Boychuk hasn't been as productive offensively as the team expected. Boychuk, Leddy and Hamonic are all locker room leaders.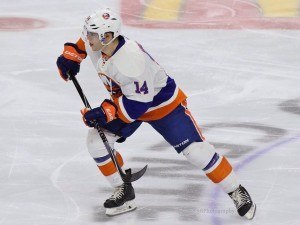 Dennis Seidenberg has been a useful pickup on the third pairing. Nobody expected him to get off to such a strong start offensively. Seidenberg is also a plus-15 while no other player on the team is better than plus-8.
Calvin de Haan got off to a good start, but he's coughed up too many pucks in his own end in recent games. He needs to be more consistent.
Injuries have kept young defensemen like Adam Pelech and Ryan Pulock from making much of an impact. Scott Mayfield has provided an offensive spark whenever called upon but his play without the puck has kept him from sticking with the big club on a permanent basis.
Overall, this unit has turned the puck over too often and had long stretches where they struggled to clear the puck out of their own zone.
Grade: B-
Goalies:
The team's decision to keep three goalies backfired in a big way. Jaroslav Halak got most of the action early in the season but he was never happy with the three-goalie rotation and his play was inconsistent at best. Halak's 3.23 GAA and .904 save percentage were well below the league average. He was waived and sent to Bridgeport after taking offense at some comments made by the coaching staff.
Thomas Greiss has been the team's most consistent goalie this season. The team seems to feed off his unflappable demeanor. The Islanders will rely heavily on Greiss in the second half of the season. His play has been even better since Halak was sent down to the AHL.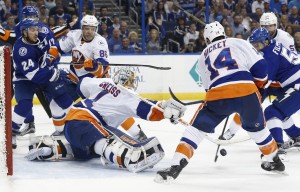 J.F. Berube didn't see any action at all until December 10th. The lack of practice and game action hampered his development and reduced his trade value. He will now serve as Greiss' backup for the second half. Berube has shown flashes but is unproven at the NHL level.
General manager Garth Snow made a mistake by holding on to three goalies for another season. The time to trade Halak was after the World Championships where the veteran proved he was healthy and could still play. Instead, all three goalies got hurt and Halak's value dropped as we got deeper into the season.
Overall, the goaltending was not spectacular in the first half, but the goalies were not always to blame. Poor team defense left the netminders out to dry on too many occasions in the first half of this season. The result is that the Isles are 26th in the league in goals allowed-per-game.
Grade: C+
Special Teams:
The Islanders special teams have been a problem all season. The penalty kill started off strong in the first few games but has been very inconsistent since then. After falling down near the very bottom of the league, the Isles are now 21st in the league at killing penalties.
The power play has also struggled and is 26th with a disappointing 14 percent success rate. Again, the lack of a consistent scoring threat outside Tavares and maybe Lee has hurt the power play.
The team really misses Frans Nielsen who contributed to both special teams units in recent years. The Islanders have not found an adequate replacement for the versatile Dane.
Grade: C-
Outlook:
The Islanders have lots of room for improvement. The team's lack of consistency and failure to put together enough strings of strong games or even strong periods has been frustrating.
The Isles are 10 points out of a playoff spot with half a season remaining. The good news is the team should be able to play better and they do have a few games in hand right now on most of the competition.
The bad news is that they play in the league's strongest division and need to pass a lot of teams to qualify for the playoffs. Reaching the postseason for a third time has to be considered a long shot. Clearing out cap space and giving some younger players a chance to show what they can do will become a greater priority as we get closer to the trade deadline. This season has been a major disappointment. The second half will determine whether or not it was a completely wasted campaign.
Long time hockey writer and author of the new book, "Ice Wars: The Complete History of New York's Greatest Modern Sports Rivalry." It tells the story behind every game between the Rangers and Islanders dating back to 1972 and features profiles of more than 80 players from both teams and quotes from more than 50 exclusive interviews from players, coaches and broadcasters from both teams.