The first half of 2016-17 really couldn't have gone much differently than the first half of last season for the Pittsburgh Penguins. Under coach Mike Johnston, the Penguins were slow, boring and out of a playoff spot.
Then, the team reached its turning point, firing Johnston and promoting Mike Sullivan. General manager Jim Rutherford acquired Trevor Daley, Carl Hagelin and Justin Schultz. That got Pittsburgh off and running.
The Penguins haven't faced much adversity yet this season, but they may be upon a crossroads. Pittsburgh has lost three straight in regulation for the first time in 13 months, and top defenseman Kris Letang landed back on injured reserve.
Although he leaves a massive hole on the Penguins' blue line, unlike in previous seasons, Pittsburgh appears to have the depth to overcome the loss of Letang in the short term.
Letang injury pic.twitter.com/KHTGEYZIGk

— steph (@myregularface) January 15, 2017
Reasons for Concern
Letang is often omitted when talking about the best defensemen in the league, but everyone in Pittsburgh knows his worth. He leads the team in ice time every season and plays in every single situation.
Among all skaters, Letang is ninth this season in average ice time, playing 25:12 per game. That's nearly 4:30 more than the next closest Penguins' defenseman (Trevor Daley).
Coach Sullivan says that Letang is week-to-week with a lower-body injury.

— Pittsburgh Penguins (@penguins) January 16, 2017
Letang also plays in all situations, quarterbacking the power play and anchoring the penalty kill. He may only have four goals and 23 points with a minus-5 rating in 30 games this season, but everything starts with Letang on the back end. His defensive zone breakouts allow Pittsburgh's transition game to excel, which is the No. 1 reason the Penguins enter the second half second in the NHL in goals per game.
It's extremely difficult to replace that type of defenseman because he simply does everything. In 2015-16, Pittsburgh went 2-8-1 without Letang in the lineup.
Growing Sour on Pouliot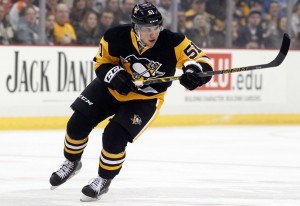 If there was any silver lining for Letang missing seven games in December, it was that it offered  Derrick Pouliot an opportunity to prove his worth at the NHL level. Unfortunately, the newly turned 23-year-old has left something to be desired.
In seven games, Pouliot has no points and a minus-3 rating. And his 46.9 percent Corsi For and 47.2 percent Fenwick For are subpar. Pouliot clearly isn't comfortable in his own zone at the NHL level, and it has led to some goals.
But even offensively, the 23-year-old seems to have lost his confidence. Pouliot hasn't scored at the NHL level in 44 games, including the playoffs. If he was able to emerge, the 23-year-old could really take some of the burden away from missing Letang, but it just hasn't happened. Sullivan doesn't trust Pouliot, and he hasn't played since Dec. 28.
Reasons for Optimism
As grim as that record is without Letang, the Penguins have already played 12 games without their top defenseman and have faired much better this season. Actually, dating back to the postseason, where Letang missed one game due to a suspension, Pittsburgh is 9-2-2 in contests without him since last May.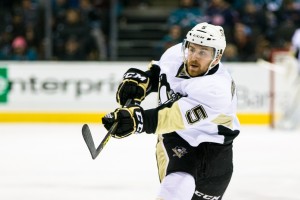 Just as they did last spring, the Penguins' blue line has surprisingly stepped up and showcased more depth than anyone could have expected. And they've been able to do that without Brian Dumoulin too, who has been out since Dec. 27 due to a broken jaw. With Pouliot struggling, Sullivan has turned to Steven Oleksy, Chad Ruhwedel and David Warsofsky.
Oleksy gives the Penguins' blue line an edger feel, as he's played the role of enforcer. He has 22 penalty minutes in just nine games. Ruhwedel has recorded a goal and an assist in five contests and recently rejoined the team once Letang hit IR again. Warsofsky scored Saturday night in Detroit, but it was overturned on a controversial goaltender interference call.
Between the three of those defensemen, Pittsburgh needs about 20-25 minutes per night of solid contributions while Letang and Dumoulin recover.
Emergence of Justin Schultz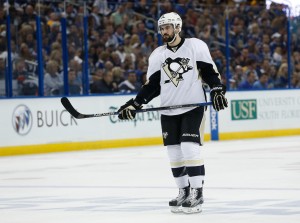 Those three defensemen have been vital cogs in Sullivan's machine, but the top reason Pittsburgh has the record it does without its best defenseman is Justin Schultz. He leads all Penguins defensemen (including Letang) in goals, points and plus/minus.
Schultz is doing things that many expected from him when he broke into the NHL in Edmonton. He has seven goals and 26 points this season and led all defensemen in the NHL in points during December. In fact, only Sidney Crosby, Evgeni Malkin and Phil Kessel have more points on the Penguins than Schultz, who is also fourth among all defensemen in the league in plus/minus at plus-20.
Without Letang, Schultz can quarterback the top power-play unit, and Pittsburgh shouldn't miss a beat. Schultz has also been better in the defensive zone, so Sullivan should feel more confident deploying him in defensive situations.
Trevor Daley and Olli Maatta can cover the rest of the left over minutes that Schultz isn't able to. Third-pair defenseman Ian Cole has turned into a shutdown guy over the last year too. Sullivan isn't going to pin all of Letang's responsibilities on one player. It must be a group effort, but Schultz has shown he is capable of leading the blue line in the short term.
Make no mistake, in order to defend their crown, the Penguins need Letang back and healthy for the playoffs. But if his injury does indeed prove to be just a few weeks, the bottom isn't going to fall out in Pittsburgh. They have enough on the blue line to temporarily survive without Letang.
Dave Holcomb is excited to join The Hockey Writers team, covering the Pittsburgh Penguins. Holcomb began his NHL work as a fantasy columnist at The Sports Network. In 2015, Holcomb joined the fantasy NHL team at FanRag Sports, where he eventually worked into a beat writer position, covering both the New York Islanders and Pittsburgh Penguins. He continues to cover the Metropolitan division, along with the NFL and Syracuse basketball, for FanRag Sports. To find more of his work, follow Holcomb on Twitter at @dmholcomb.