Mikko Koivu had a rough start to the season. He seemed tired and stale – like his glory days were soon coming to an end. Throughout the 2014 portion of the season, Koivu scored only four goals and contributed 12 assists in 35 games. Those aren't typical numbers for the captain of an NHL team.
Many Minnesota Wild fans called for a trade or a change in captaincy, wanting Zach Parise to wear the 'C.' Mikko Koivu wasn't leading by example and that was obvious as the Minnesota Wild began to slump.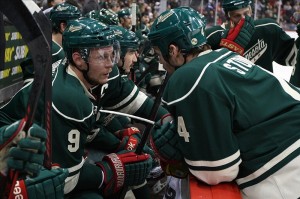 Around the end of December it seemed like another hopeless season for the Wild. They had fallen out of a playoff spot and the rest of the season was looking bleak.
Turning it Around
Well, take a look at the western conference playoff race now. Minnesota sits in ninth place, only two points behind eighth-place Calgary. The Wild have been on fire lately and their captain has been a big part of this recent resurgence.
Throughout the past twelve games, Minnesota has gone 9-1-2, losing only one game in regulation back on January 19 to the Columbus Blue Jackets. In those 12 games, Mikko Koivu scored two goals, recorded 10 assists and worked his way to a +4-rating. The captain also has a 55.9% face-off percentage over those 12 games.
With 2 assists, Mikko Koivu has his 113th #NHL multi-point game, all with #mnwild. He's one shy of Gaborik's 114 for most in team history.

— Minnesota Wild PR (@mnwildPR) February 13, 2015

Koivu has almost the same amount of assists in 12 games that he did in 35. The captain of the Minnesota Wild wasn't playing up to his full potential for a large part of the season. Now he seems to have found his rhythm and is back to putting up the numbers the team knew he could. If Koivu continues to play big, there's no telling what kind of impact that could have for the Wild. Not to mention Minnesota just lost its second-leading goal scorer, Jason Zucker, to a broken clavicle. Those 18 goals Zucker scored throughout the season are going to need to be replaced by someone and Koivu is the perfect guy to fill that space. He's a playmaker and he leads by example. Mikko has the potential to fire up the rest of the team even more than they already are. A strong captain is an underrated asset, in my opinion. With Koivu stepping it up, along with many of his teammates, Minnesota is looking pretty good right now.
The Wild play the Carolina Hurricanes later tonight and have another chance to grab two points and get even closer to the postseason. Mikko Koivu is coming off a two-assist night, so look for the captain to continue to shine.