Cue the Zdeno Chara trade rumors.
The Boston Bruins have lost four of their last five after a 5-2 defeat in Vancouver against the Canucks Friday night. A lackluster effort has Bruins fans feeling pessimistic once again after an 8-1-3 record in January had the Black and Gold faithful feeling a renewed sense of optimism around their hockey club. They are still in a playoff spot but fans have started to sour on their team's chances to make some noise in the postseason should they get in.
The team's recent slide has reignited the flame that is the speculation of trading Chara. The Slovakian captain has been held off the score sheet in Boston's past five games while posting a -6 rating. Many fans have started to wonder if the soon-to-be 38-year-old has lost a step and is losing the ability to match up against star players of opposing teams night in and night out. Another point of emphasis for the "trade Chara" crowd is the cap hit of nearly $7 million resonating from his seven-year contract extension signed in 2010. The former Norris Trophy winner also has a no-trade clause, one of many that general manager Peter Chiarelli has recently dished out during his time in Boston. It appears the ground work has been laid for an argument to trade the 17-year veteran; an aging, slow leader with an inflated cap hit on a struggling team that is chained to the metal bars of cap jail.
The most recognizable driver of the "trade Chara" bandwagon in Boston this past week has been Bruins insider Joe Haggerty of Comcast Sportsnet New England. He appeared on 98.5 The Sports Hub's "Toucher and Rich" morning show on Wednesday to explore the matter, saying in part:
"If they really want to make a move to get out of the salary cap mess that they're in, I don't see how you can't trade Zdeno Chara. I think that is the one way to get out of the problems that they're in right now…You can get value in return for him, and I think at this point, with a couple more years left [on his contract] and the way that his play is declining, I think that's a move that you have to seriously look at."
According to a recent CBSBoston.com poll, 73% of respondents agreed, saying they would entertain the idea of trading Chara. Considering the recent struggles of the club, those numbers may not come as a complete surprise.
It may be a popular idea with fans, but is it really a smart decision to ship the captain out of Boston?
Chara has only scored three goals and 13 points in 36 games this season while averaging nearly 23 minutes of ice time per game. The defenseman missed 19 games due to a knee injury suffered on October 23 against the New York Islanders, prompting panic amongst the fan base. The Bruins managed life without Chara well as Haggerty reiterated to a fan on Friday.
They went 11-7-1 w/out him this yr. Higher win % than overall record RT @bruins0423 Haggs, I guess you forgot bs were 500 club w/out Chara??

— Joe Haggerty (@HackswithHaggs) February 13, 2015
The record looks impressive, but scratching beneath the surface reveals the product of a soft schedule. The Bruins played 12 of those games against non-playoff teams and went 9-3-0. Victories over Buffalo, Edmonton, Arizona, New Jersey, and Carolina are to be expected with a team as talented as Boston, even without Chara. In contrast, the Bruins played seven games against playoff-bound opponents and only won twice (2-4-1). The losses came against Montreal (twice), Anaheim, Pittsburgh, and San Jose who are all firmly planted in postseason positions. The record versus playoff opponents with Chara in the lineup (8-8-1) includes victories over Nashville, Pittsburgh, Tampa Bay, and two against the New York Islanders. The quality of the eight victories with Chara's presence in the lineup this season should be equal to, if not greater than, the 11 wins posted in his absence.
Chara's contract is another talking point. A 37-year-old defenseman carrying a cap hit of close to $7 million with a no-trade clause is not the fault of the player who signed the deal. The fault and blame should rest on the general manager who offered it. Chara's contract is one of many deals in which Chiarelli overpaid his "core" group of players offering them big money contracts with no-movement/no-trade clauses. Players like Milan Lucic ($6 million) and Chris Kelly ($3 million) are frankly making more money than they should be while fringe roster players in Matt Bartkowski ($1.25 million) and Jordan Caron ($600,000) take up precious cap space Boston could be utilizing to make improvements on their current roster. Haggerty hints at the premise of trading Chara as the number one solution to Boston's salary cap woes. That is simply not true. Their place in salary cap jail is the work of a general manager who grossly overvalued his "core" players when it came time to sit down at the negotiating table.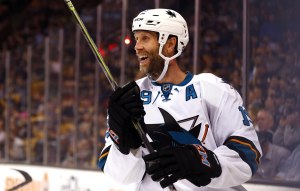 A final point of emphasis is the potential complications regarding a potential trade of the Bruins captain. The last time Boston traded their captain was back on November 30, 2005 when a young Joe Thornton was shipped to San Jose in exchange for Brad Stuart, Wayne Primeau, and Marco Sturm. Thornton went on light it up for the Sharks scoring 92 points in 58 games, winning the Hart Trophy as league MVP and Art Ross Trophy as the league's top point getter. The Bruins finished that season with the third-worst record in the Eastern Conference before signing Chara in the summer of 2006. Mike O'Connell was Boston's GM at the time and remarked that he was "glad" the Bruins won a Cup before the Sharks did back in June of 2011. The problem is that none of the three players he originally traded for Thornton were around by the time the Bruins ended their 39-year Cup drought.
Fast forward to 2015 and the potential exists for a repeat of a decade ago. It seems farfetched, but consider the situation. The 05-06 Bruins were struggling in the standings and used the Thornton trade to "blow it up", sacrificing a season and a half to make the playoffs while waiting another five years after that to hoist a Cup. The 14-15 Bruins would be in the playoffs if the season ended today and, as the 2012 Los Angeles Kings showed the hockey world, all it takes is for a team to get into the postseason party.  Boston's season has been consistently inconsistent yet they still have a majority of the roster that won the Cup in 2011 in tact including Chara. In addition, Patrice Bergeron, David Krejci, and Tuukka Rask are entering the prime of their careers and do not want to be wasting precious time as part of a rebuild that could last several seasons as the Thornton trade did.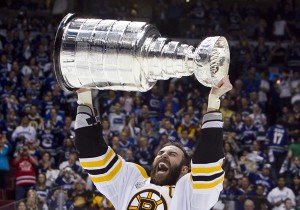 In a city like Boston, it is very easy to forget that Chara was only second to Duncan Keith in Norris voting last season after scoring 17 goals and 40 points. Many fans and media members sang a completely different tune then, calling him (one of) the NHL's best defensemen. This season, a knee injury and its lingering effects have everyone reversing course.
Opinions will be split regarding Chara's future in a Black and Gold uniform. If there's one thing most fans can agree on, however, it is that there are far more problems with the Bruins than just the captain that need to be addressed.