It's officially the Joe Pavelski Show in San Jose. The diminutive forward vaulted himself into third in the NHL in goals with a hat trick against the Coyotes on Friday night. But just how good has Joe Pavelski been? Even better than the numbers have suggested.
Joe Pavelski and the Under-producing Sharks
The above title reads like a Harry Potter book, but that's almost appropriate as Joe Pavelski has been a wizard on the ice this season.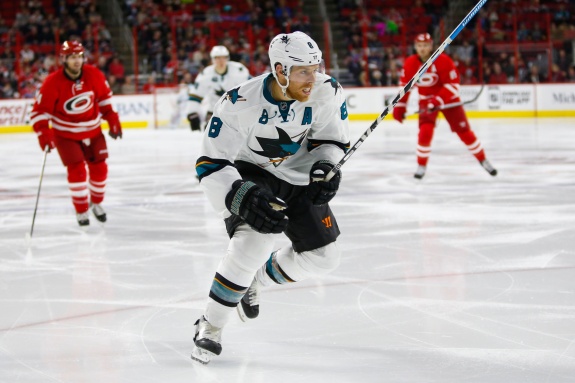 The numbers are out of this world, as Andrew Bensch mentioned. But when compared to his teammates, he's even more of a giant.
His 31 goals are nearly 20% of the Sharks total goals this season.
He tops the team's forwards in goal differential at +11 at even strength
He leads not only the league in Power Play goals (16), but the second closest on the Sharks? Brent Burns is ELEVEN behind him
Defensively, he trails only Melker Karlsson in Shots against per 60 among forwards (27.2)
Even on the penalty kill, he tops the team in goals against per 60 (5.0)
Shorthanded, he leads forwards in shots against per 60 (48.4)
I can sit here and sing the praises of Joe for hours, but that would be selling the effort he puts forward every night short.
Pavelski's Favorite Spot on the Ice
Everyone knows that Alex Ovechkin has a certain spot on the ice where he's gonna sit and wait for his team to feed him the puck. It looks like Joe Pavelski has found a similar spot for himself. The only difference? Joe moves there for his teammates.

Finding the soft spot in coverage is normally a phrase thrown around football analysts. But that's exactly what the Big Pavelski has been doing lately.

It isn't just one side of the net that he sits in, however. Inside the dots, but out of the slot seems to be his zone.

Not only does a move like this require vision and the ability to see the play developing ahead of time, it requires quick, yet soft hands. His release is so subtle but so quick at the same time. Goalies can see him just fine, there's no traffic in front. He just blows shots by them.

It's one of the issues I've had with Patrick Marleau's game this year. Patty doesn't seem to be getting to the open areas and giving himself quality looks. Pavelski's movement makes him impossible to defend at times and his ability to finish is second to none right now.
Putting a Team on His Back
In the midst of a playoff race, the Sharks are struggling to prove who they really are. Joe Pavelski has no such problem. He is a killer. A Great White if we were to compare him to the creature on his chest.
Logan Couture is the only other Shark with more than 15 goals. Pavelski's work rate is something to be admired. Despite lacking the size of many superstars, Pavelski is able to impose his will however he likes. He skates harder, gets dirty in the corners, and sacrifices his body. He screens goalies and does what he can to try and get his linemates involved.
It probably doesn't hurt to have Joe Thornton as his Center, either. Yet, Jumbo's assist numbers are down this season compared to previous years. In fact, it seems that Pavs' knack for goals has infected his veteran linemate. Thornton has 12 goals this season, and while five of those are empty-netters, it still requires killer instinct to put the game away at that point.
Anytime, Anywhere Joe Pavelski Will Succeed
We know he's fantastic on the power play scoring. That's a given. But he also tends to spearhead penalty kills as well. Second among forwards, Pavs is the go-to veteran when Todd McLellan needs to keep the opponent off the board. He leads forwards in blocked shots with 55 as well. In the faceoff dot, he trails only Joe Thornton in winning percentage, taking more than 55% of his opportunities. He is the team leader in total faceoffs with 793 (over 100 more than Jumbo).
If you haven't gotten the point of this article on Valentine's Day, I may as well be blunt. Joe Pavelski should be everyone's sweetheart today. Sharks fans must hang their hopes on The Big Pavelski. How he goes, the Sharks go.