The San Jose Sharks 2nd line is made up of second year Matt Nieto, face-of-the-franchise Logan Couture, and lifelong Shark Patrick Marleau. And just as the descriptions of these guys is completely different, their production is night and day as well. But why is that?
Sharks 2nd Line By the Numbers
| | | | | | |
| --- | --- | --- | --- | --- | --- |
| | Goals | Assists | Points | PP Points | Sh% |
| Matt Nieto | 4 | 11 | 15 | 4 | 4.9 |
| Patrick Marleau | 11 | 30 | 41 | 18 | 6.7 |
| Logan Couture | 20 | 29 | 49 | 17 | 11.6 |
Combined, these three are a -11 with Couture contributing a +5. It must be said, the Sharks 2nd line faces the toughest competition on the ice. But last season, these same players had no issue handling the top opponents in the league.
On points alone, Matt Nieto seemingly drags these boys down. But, in fact, Marleau is the disappointing member of this group. His 11 goals is well off his normal pace as colleagues here at THW have mentioned. But there is an argument that this is due to a severe unlucky streak. Can someone really be that unlucky, though? What if Marleau is just slowing down in his age?
Has Marleau's Luck Really Run Out?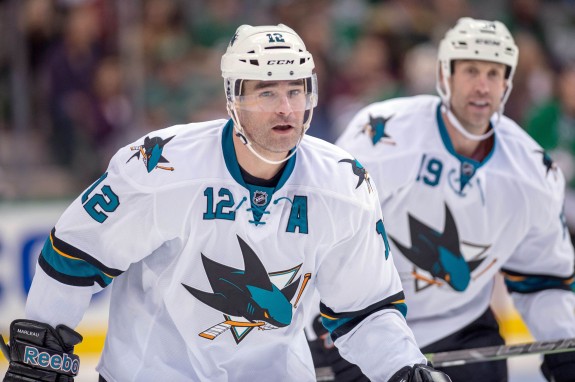 What defines luck in the sport of hockey? "Advantage or success, considered as the result of chance" is what we get from Webster, but how does that work into the hockey world? Multiple outlets argue that shooting percentage relies on a degree of luck. In the run of play itself however, luck is about bounces that magically eludes a goalie's glove. Luck is fanning on a shot only to see a goalie over-commit and watch the puck slide into the net anyway. And luck is not the reason Patrick Marleau is playing poorly. That's because Patty has had plenty of good luck this year.
Exhibit A
The Toronto Maple Leafs are not a good team. I mean, their fans don't even want their jerseys anymore. Sometimes, lazy backhands sneak through. But, how about this puck that stops in a goalie's equipment, checks out the area, decides he doesn't like it, and walks into the back of the net. Unlucky for who exactly?

Originally, Nieto is given credit. But the puck gets by Reimer of its own volition really.
Exhibit B
The hockey gods sometimes smile upon players and drop favorable gifts at their feet. Like this pass from Logan Couture that is deflected high into the air, over the net and right to Marleau's feet. Patty then whacks it out of the air into the net.

Exhibit C
Even when he gets into the best possible areas, Marleau isn't quite putting away chances like he did in his golden years. He is mostly untouched on top of Cory Schneider but cannot elevate the puck and makes the Devil goalie's job easy.

In short, Patrick Marleau isn't unlucky, Father Time is just catching up to him. At 35, his goal scoring days are running short. The unlucky argument runs on the idea that eventually the bounces will start going his way. Evidently, however, the bounces have already been on his side plenty this year. This isn't the end of his career however. He's got plenty to offer to the Sharks.
Patrick Marleau and His Changing Game
In all situations, Marleau's scoring production is actually holding steady.
| | | | | | | | |
| --- | --- | --- | --- | --- | --- | --- | --- |
| | G | A | P | G60 | A60 | P60 | CF% |
| 11-'12 | 27 | 28 | 55 | 1.1 | 1.1 | 2.2 | 57.5 |
| 12-'13 | 17 | 14 | 31 | 1.1 | 0.9 | 2.0 | 58.4 |
| 13-'14 | 33 | 37 | 70 | 1.2 | 1.3 | 2.5 | 57.3 |
| 14-'15 | 11 | 30 | 41 | 0.6 | 1.6 | 2.2 | 57.3 |
His power play production has increased to make up for a subpar even strength performance. 4 goals and 14 assists on the man advantage have kept his points per 60 at his typical range. His goals have taken a serious dip, sure. But at some point in his storied career they have to, right?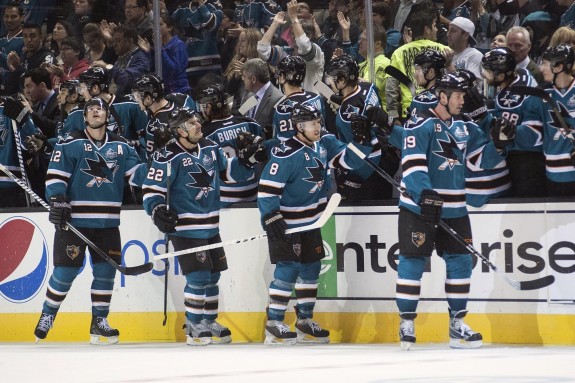 In the last few years, Joe Thornton has stopped shooting the puck. After 2008, Jumbo only got above 150 shots in a season once. Yet, Joe Thornton's shooting percentage hasn't dropped substantially. He hovers around the ten percent mark in his new style. This season has him at 13.2% but you have to take into account that nearly half of his goals are of the empty net variety.
The main problem with the "unlucky" argument is the idea that Marleau's shooting percentage is a product of luck. If you shoot the puck enough, it should go in. Well, that's just not the case. I can shoot a puck directly into Jonathan Quick's chest 100 times and I won't score five to ten times. I'd be surprised if I scored once in 500 tries. The fact is, Marleau's shots just aren't as good anymore. Check out the shooting percentage by zone for his last three seasons.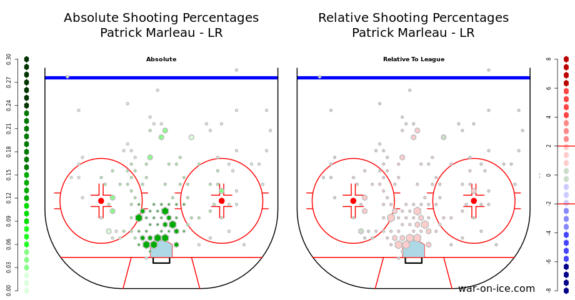 The red on the right chart implies more success scoring goals compared to the league average. Deeper green on the left is Marleau's absolute scoring. 2 years ago, Patty made a living off scoring in the crease. Mind you, this was the season his percentage was at 11.3.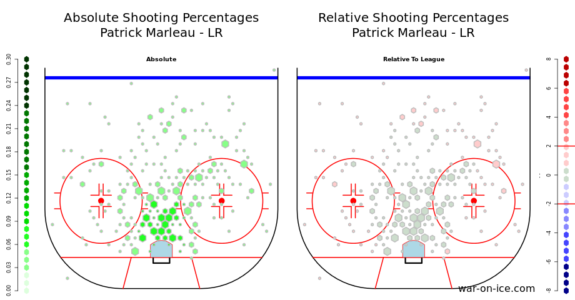 In 2013-14, Marleau stopped scoring goals in the slot. Compared to the league, he was average at best. A few red marks exist in the higher slot areas and above the dots. This is counter-intuitive as the slot is statistically the easiest to score from, yet his shooting percentage was up from the year before at 11.6.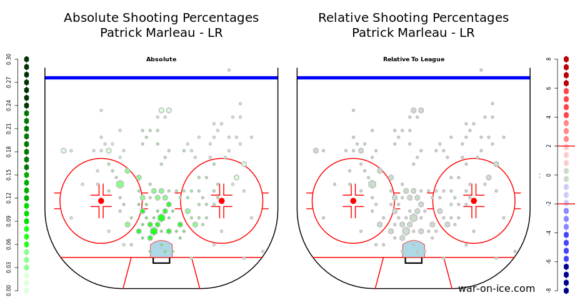 This season, Patrick Marleau is above average in no zone whatsoever. The left chart, his absolute shooting percentage, shows his effectiveness outside the slot is slipping as well. As the video with his chance against the Devils showed, he doesn't have the killer instinct around the net this year.
Be Like Mike Joe
Joe Thornton is knocking over records with ever point he records. His production isn't plummeting off the face of the planet, but it isn't increasing either. His goals have stopped but he has found a way to keep his point totals up. Thornton's game is centered around his passing and stick skills. Marleau needs to embrace the Thornton way.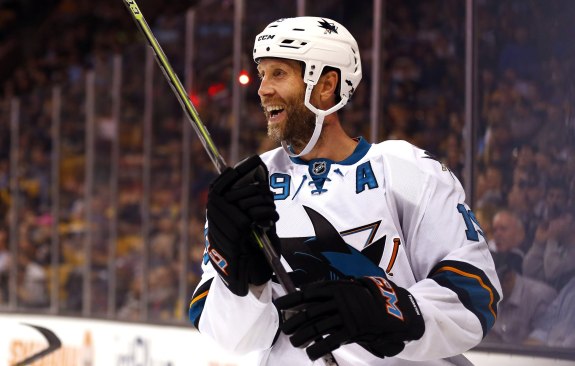 Patty's speed is still with him, he should utilize it. He's also still a big body at 220 pounds. Patrick Marleau can be an effective forechecker and provide Logan Couture with prime chances. If he can't put them in the net himself, create the chances for others!
Demoting Marleau will only make the current 2nd line worse and could hurt the team in the playoff run. Reducing his playing time is a good compromise, however. Joe Thornton used to be well above 19 minutes per game on the ice and leading the team. But in the last three seasons, he has been kept under that 19 minute mark. Thornton's lower minutes have kept him young. Marleau might benefit from the same treatment.