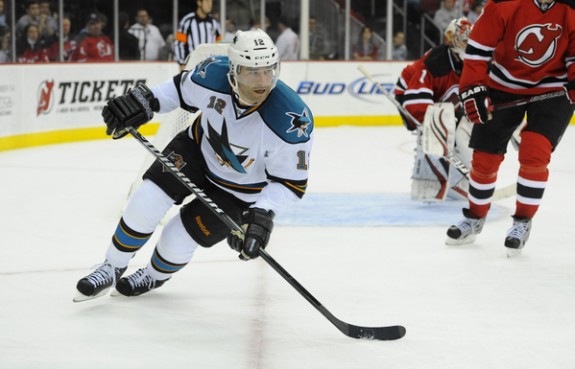 An Unproductive Season
I feel like I'm beating a dead horse when I say that Patrick Marleau is struggling to put up goals for San Jose this season. In 55 games, the former goal scorer has netted just 11 goals and registered a minus-11 rating, which is the worst on the team in that category. While this can be attributed largely to an unlucky 6.7% shooting percentage, it doesn't change that he hasn't been as productive as the Sharks would like. Something needs to change.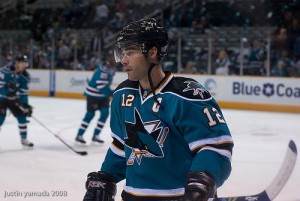 Marleau has played much of the season on a second line that has been horribly snake-bitten this entire year. The typical line– consisting of Marleau along with Logan Couture and Matt Nieto– has scored just 34 goals despite averaging a corsi-for percentage of 53.7%. Of those 34 goals, Couture has 19 of them, earning him 56% of the tallies for that group. This line has also combined for a disappointing minus-17 rating.
San Jose's second line has been ice-cold for nearly the entire season, with the former captain being the most notable reason. So, perhaps it is time to shake things up and drop Marleau to the third line to see if that could help his numbers. There are a lot of things that could improve for the team by putting Patty in the bottom-six.
Weaker Competition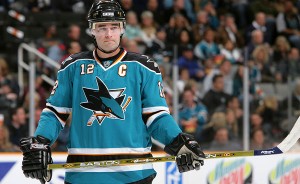 Being in the top-six means being matched up against the opponent's top lines throughout most of the game. While Marleau has done a great job shutting down teams' best players in the past, he has failed to do so effectively this season. Things have not been clicking for the 35-year old winger both offensively and defensively so maybe putting him against weaker players will give him some confidence and help remedy the situation.
Performing against the league's best is suffocating as there is little time to do much of anything with the puck. If Marleau began playing on San Jose's third line, it would likely give him that extra bit of time that he needs to make the right play, whether it be effectively exiting the zone, picking a spot on the net, or making a move around a defender. The more time he has, the better the chance he has to make the other team pay. It could be the difference between him sniping the top corner of the goal or shooting the puck into the goalie's chest.
Much Needed Rest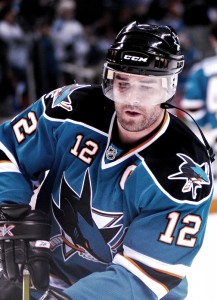 While not Chris-Chelios-old, Marleau is getting up there in age and experience. Last week, he became the youngest player to reach the 1,300 game mark of his career. While his actual age may seem to give him a few more good years in the NHL, his number of games played places him 56th all-time in league history (Jagr, Doan, and Iginla are the only three active players ahead of him in this statistic). He has played a lot of games in a very short amount of time and is rarely out of the lineup for any reason. Hockey is a tolling game and Marleau may be starting to feel its effects.
The Aneroid native is currently second on the team in average time on ice for forwards with 14:55 per game. For comparison purposes, James Sheppard– who has played almost exclusively on the third line this season– averages just 12:56 per contest. By moving Marleau down the depth chart, Todd McLellan can erase almost two minutes of playing time per game from the aging winger. While this may not sound like much, it is definitely enough to make a difference, especially when done over the course of the season.
Improved Second and Third Lines
This change in the lineup may prove to be a win-win situation for both parties. For the purposes of this section, I am going to propose that Marleau plays on the third line while Tomas Hertl moves up to play with Nieto and Couture.
For the third line, they are gaining a natural-born goal scorer that could turn hot playing against weaker competition. His speed would bring a new dimension to a group that has been a little slow this season, meaning that he will be more of a handful to less-skilled players in the opposing lineup. Combine his speed and skill with a physical and intelligent Tommy Wingels along with a young and promising Chris Tierney and the Sharks' may have a solid line to round out their top-nine.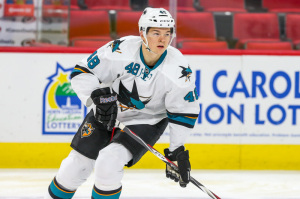 In terms of the second line, they will get a young star that could strongly benefit playing with the likes of Couture and Nieto. Hertl has not been as fast as he was last season possibly because he may still be recovering from his knee-on-knee collision with Dustin Brown last year. However, Nieto is still as fast as ever and could take the pressure off of the Czech for trying to be the fastest on the line. The Californian's possession numbers are incredible and Couture has been the only player that has been able to score for this group. Perhaps Hertl could assist Couture with the goal scoring duties and help his team capitalize with one of the top possession players in the NHL on the ice.
A Need For Change
Marleau has had horrible luck this year and I believe that dropping him to the bottom six may not only help him, but help the second and third lines as well. This team is struggling offensively, especially five-on-five, so maybe juggling the lines in this way may spark some even strength goal scoring. It couldn't hurt to try as it could just be an experiment; there is nothing that could stop them from reverting back to the same thing they have now. The playoffs are approaching and this squad is hardly competitive. Adjustments need to be made.