Repeating the narrative that the Carolina Hurricanes are down and out this season is starting to wear thin on fans, and writers all over the league. Recently, the 'Canes are winning games at the wrong time. They have talent but that talent is stopping them from completely rebuilding the team and winning the draft lottery for Connor McDavid or Jack Eichel. We get it, you are all sick of hearing the same thing, but that doesn't mean it is off the table for writing articles. The trade deadline is approaching and the 'Canes have to sell but who to sell? Eric and Jordan Staal seem untouchable, and Justin Faulk should definitely be on the roster next year. Who should the team move? Some of the answers might be surprising, but when you really sit down and look at this team from the inside out it is obvious what's needed. Trying not to sound repetitive is impossibly avoidable, so here are four Carolina Hurricanes players that GM Ron Francis needs to dangle to the league to get a dangling star like Connor McDavid by winning the losing sweepstakes.
Jiri Tlusty
The 'Canes have five players that have 10-goals or more. Jiri Tlusty is one of those players with his 12-goals on the season. Not amazing stats, but teams know he can score goals in the gritty area of the ice. He will stand in front of the net, and jam in rebounds. He does what he needs to do to get the puck in the net, and when he is surround with skilled players he can flourish. Tlusty is a good candidate for teams looking to add some scoring depth to help push for a playoff run. Trading Tlusty won't get you a top NHL prospect, but if a playoff bound team thinks they need an extra jump for a big run in the playoffs, they will be willing to give up a first or second round pick for the Tlusty.
 Andrej Sekera
Andrej Sekera might be the most valuable of all the players the 'Canes can trade. The 'Canes have already said they want to try resign the first pair defenseman before the trade deadline, but with that looking unlikely Sekera will find himself in a different jersey after the trade deadline. Sekera has been a solid defenseman for the team this season, and will fit in on the first or second d-pairing for any team looking to make a playoff push. Offensively, Sekera has 16-assist and 2-goals, but is always reliable in the defensive zone. Sekera might bring back the most assets in a trade, and the 'Canes have to get something for the defenseman who will get a bigger contract then the 'Canes are willing to offer in the off-season. Note, as I was writing this, this tweet appeared from Bob McKenzie of TSN:
Also, I said CAR now has Andrej Sekera on the market. CAR tried to sign him but he was looking for "Marc Staal money," aka $5.5M to $6M AAV.

— Bob McKenzie (@TSNBobMcKenzie) February 11, 2015
Cam Ward
Jeff Skinner
Jeff Skinner is a two-time 30 goal scorer, and is really struggling to fit into Bill Peters' system. Skinner has not been able to get into a scoring grove this season (he only has 10-goals and 9-assists), and it seems like the 'Canes can't find a spot for him in the lineup. I wrote last month that team needs to find a center for the young winger, but instead they might need to find a new sweater for Skinner. Skinner is young enough to turn it around (he also broke the 100-goal career mark this season), but the concussions of the players past might scare teams away from trading for Skinner. I think his upside is to high for teams to not take the risk if the 'Canes do put him on the trading block. David Perron earned the Oilers a first round pick when they traded him to the penguins earlier this season. Jeff Skinner can return at least a first round pick, or a couple of prospects with upside if traded. If the 'Canes want to succeed in the future they need to rebuild with prospects or make cap space to sign strong free agents.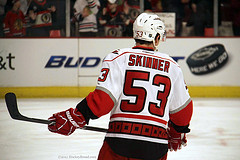 Conclusions
No one in Carolina wants to see Jeff Skinner go because it would be hard seeing Jeff Skinner wearing a different jersey. It will be even weirder to see Cam Ward rocking something other than the Hurricane logo on his chest, but the team needs new blood. Even with the recent success, the 'Canes still aren't anywhere near becoming top contenders in the NHL. Fans are restless, and people want to see winning hockey in Raleigh. Forcing the same players down everyone's throat, and hoping that it "just works itself out" won't cut it longer. Use you're struggling assets to build future assets. With the trade deadline coming fast, we will see what Ron Francis can do to help put a future winning team on the ice at PNC Arena. With all the negatives, there are still things to look forward too. The Staal brothers and Justin Faulk are great players who are important to the future of the 'Canes. Elias Lindholm and Victor Rask are proving their ability to become top-6 players in the NHL. Before his injury, Ryan Murphy was showing that he could become a partner for Justin Faulk. Not all is bad in Raleigh, but it can become better. Bill Peters is proving he has a productive system for an NHL team, and giving him players to mold into his system will further that notion. Receiving building pieces for struggling players at the trade deadline will help push this team to become a future playoff contender.