The San Jose Sharks are having a significant down year this season compared to a year ago. Last season they finished second in their division with 111 points. This year however they are currently on pace for just 94 points. The power-play has improved but even strength play is way down. Numbers wise both San Jose's goals for and goals against are worse this season. That begs the question, which is the more concerning problem? The forwards or the blue-line group? Of course all five guys on the ice contribute at both ends but when you look at the Sharks this season, it is much easier to see a turn around in the blue-line performance than it is with the forward group. That may surprise a lot of Sharks followers who heavily criticize the team's blue-line but the outlook in this area is actually pretty bright. When Marc-Edouard Vlasic and Justin Braun return to the lineup, the Sharks actually have the makings of a solid group of defensemen one through six.
Top Pair: Vlasic-Burns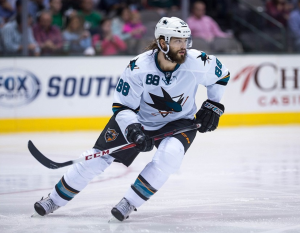 First off as much as many fans and media (including yours truly) have criticized the move of Brent Burns back to defense, he no doubt can be a positive even strength player at defense. Stylistically, he plays a risky game that is better suited for the forward position. However, he has shown an ability to clean up his defensive mistakes in the past. In his first year in teal Burns was a 54% goals for defenseman at even strength. The problem this year is he has been hovering around 41-42% goals for after being a 63.9% goals for player as a forward last year. That is a huge negative drop that has hurt the Sharks big time in the first half of the season. That said in recent weeks, primarily paired with Vlasic, Burns has upped that percentage up to 48%. This is a very, very good sign for the Sharks. Paired with a dominant defender who can cover his mistakes, Burns can shine offensively and start to become that positive even strength defenseman once again. There is no doubt that for as long as the Sharks decide to play Burns on the blue-line, he should be paired with Vlasic.
2nd Pair: Mueller-Braun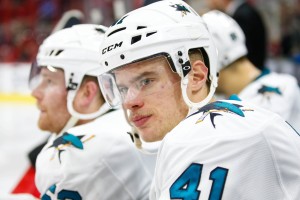 This is where the term work in progress comes to mind for the Sharks defense. Rookie Mirco Mueller has had an inconsistent season and Braun was struggling defensively for some time before being injured. However, in a game earlier this year where Vlasic was out with an injury, Braun and Mueller were paired together as the top duo on the blue-line. The Sharks went onto win that game 2-1 over the Minnesota Wild, who at the time were one of the best teams in hockey. It was just one game but Mueller's size and skating ability as a defensive defenseman has his ceiling incredibly high. If he can find his game and live up to his potential, in the near future, he will be one of the best shut down guys in the game. Like on every one of these pairs, a lefty, in this case Mueller, is paired with a righty. Braun when on his game is a two-way stud defenseman. He may not put up the big point numbers because he isn't playing the power-play this season but even without the man advantage he can be a 20-25 point blue-liner. He loves to jump up in the rush and has tremendous speed to get back on defense in transition. When on his game he is also tremendous in his own zone with elite level stick work away from the puck and strong on the breakout. Mueller and Braun could be a very, very good pairing in the near future.
3rd Pair: Dillon-Tennyson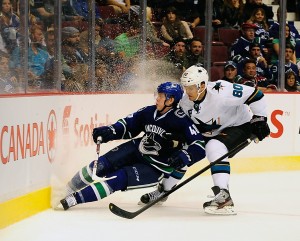 Like Mueller, Brenden Dillon has the potential to be a top-4 shut down defenseman. Acquired in November in a D for D swap from the Dallas Stars for Jason Demers, Dillon has struggled at times but has also found his groove at times. For awhile he and Brent Burns were reading off each other quite well as a defense pair and in recent games Dillon has been playing quality hockey again mostly with rookie Matt Tennyson. For the most part while Braun has been out, Tennyson has stepped up to play the vacated minutes alongside Dillon and has looked nothing short of solid. In the last couple games he has been paired with Matt Irwin and bailed him out with a couple of strong plays defending two-on-ones. Tennyson, a Jr. Shark product was born in Minnesota but grew up as a teenager in San Jose. After appearing briefly with the Sharks in 2012-13 (just four games), Tennyson didn't play a single NHL game last year and therefore was thought by many to have been passed up on the Worcester AHL depth chart. This year however Tennyson has improved his two-way game and has surprised many in establishing himself a consistent role in the Sharks' top six defense. In 24 games this year he has a solid two goals and eight points and is a plus-1 with a 56.2 goals for percentage despite a slightly below average 48.6% Corsi-for percentage. In fact with the way Tennyson and Dillon were meshing together, this duo in theory could pass a possible Braun-Mueller pair in ice time if these are to become the regular pairs when healthy.
Overall Outlook
For years the Sharks have gotten away with below average third pairs, but if Braun comes back and finds his game, San Jose all of a sudden has three solid pairs with Burns' improvement and the chemistry developed between Dillon and Tennyson. It may be too little too late for this season in terms of the blue-line clicking as a whole but with Vlasic, Mueller, and Dillon on the left side, the future of the Sharks left side looks pretty good. Not to mention both Burns and Braun are under 30 on the right side. A year ago the Sharks defense was left incredibly thin when Vlasic was injured in the playoffs, but to their credit the team now has a much brighter future than a year ago. Unfortunately, injuries and uneven play from Braun and Burns re-adjusting to his old position have been problematic. However, to answer the question asked at the top of the article, the forwards are the more concerning problem this season and in the near future. The Sharks simply did not replace the production that Burns brought to the forward position when they moved him to defense. A number of forwards are also struggling to score goals like they did a year ago, but Burns was a dynamite force that they are missing up front. Defensively the Sharks have the personnel in house that can improve from within. The forward position is where they need outside help if they want to have any chance at a deep playoff run this season.