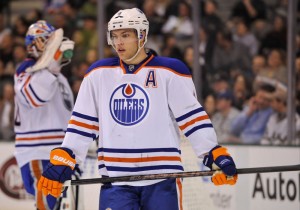 Edmonton Oilers forward Taylor has been placed on the Injured Reserve and is expected to miss as much as six weeks of action.
An MRI completed on Hall found a fractured bone in his left leg close to his ankle.
It isn't immediately exactly clear how the injury occurred, however Hall was hit in the same area by a puck during a practise in late January. Last in the lineup on February 2nd against the San Jose Sharks after a brief absence, Hall was forced to leave the game early after receiving a slash in yet again the same area.
In order to fill Hall's spot on the Edmonton roster, Ryan Hamilton has also been called up by the Oilers. Hamilton has been one of the Oklahoma City Barons' best players this season, having scored 15 and 29 points through 32 games.
In other injury news, goaltender Ben Scrivens is expected to miss some time after suffering a groin injury during the Oilers 2-1 win over the New Jersey Devils on Monday. As a result, Oklahoma City Barons goaltender Richard Bachman was re-called by the Oilers on an emergency basis. Bachman has also been stellar for the Barons this season, posting a 14-4-3 record with a .921 Save Percentage and a 2.30 Goals Against Average.
Lastly with some good news: Benoit Pouliot is said to be recovering quickly from a foot injury suffered in the Oilers game against San Jose. Pouliot hurt his foot, the same one he broke earlier in the season, when it was stepped on by an opposing player.
Although he was placed on the Injured Reserve, Pouliot has resumed skating in full gear and is could return to the Oilers lineup by the end of the week.