The 2010 Entry Draft was a good one for the Carolina Hurricanes. They grabbed Jeff Skinner in the first round, Justin Faulk in the second, and Frederik Andersen with their last pick. At the time, most of the excitement from that draft was surrounding Jeff Skinner, the young figure-skater-turned-hockey-player that was lighting up the OHL with the Kitchener Rangers. The hype was well-deserved, after Skinner had scored 50 goals in the regular season, then tacked on 20 goals in 20 playoff games.
However, while I appreciated the Skinner pick and what it could hold for Carolina's future, I was more excited that the team managed to grab Justin Faulk in round 2. He didn't receive as much fanfare as Skinner at the draft, but his performance up to that point was a productive one. He had scored at every level, and just about every scouting report specifically mentioned Faulk's "great shot."
A Poor Drafting Strategy
Those two words were all I needed to get hooked. I've always been a fan of offensively-gifted defensemen, and the Canes have had their fair share. However, few have come directly from Carolina's system. Former general manager Jim Rutherford held a very strong belief that drafting defensemen early was a fool's errand. He believed that most defensemen didn't develop quick enough to justify that early of a pick and that an organization would be better off trading for a veteran than developing one.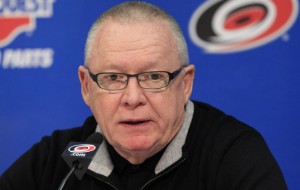 Rutherford was also likely speaking from a slew of negative experiences. Since 1997, the Canes have drafted only 48 defensemen. Of those 48, only six have played more than 100 NHL games, and one of those was Jack Johnson, who refused to report to Carolina, prompting a trade almost immediately. A whopping 81% of defensive draft picks by the Hurricanes play less than 20 NHL games.
With this strategy, it's no surprise that the Hurricanes have seemingly always iced some questionable defensive rosters over the years.
Twin City Success
The 2010 Draft changed all that. Not only did the Canes draft Faulk in the second round, they also drafted defensemen Mark Alt later in the second, and Danny Biega in the third. Though the latter two have not made much noise, Faulk's impact on the organization has more than made up for it. He already had an impressive resume with the U.S. National Under-18 Team when the Hurricanes decided to draft him, and his decision to play for the University of Minnesota Duluth was thought to be best for his development.
It could not have worked out better for Faulk in Minnesota. He put up 33 points in 39 games, and his booming shot was a key contributor UMD's lethal powerplay. The UMD Bulldogs went on to win their first NCAA championship that year, giving Faulk one of the many credentials on his hockey resume.
Having watched UMD's run to the championships, mostly due to Faulk's involvement, I couldn't wait for him to join the Hurricanes, as the team had been in desperate need of a powerplay presence. I wouldn't wait long.
A Rough Start
Faulk played his way onto the team the following year. A great camp and solid preseason all but forced the Canes to give Faulk a chance at the big club. However, his NHL career did not start the way he would have liked. Faulk played three games with the team, winding up a -2 in each game. The likes of Steven Stamkos, Marty St. Louis, Alex Ovechkin, Zach Parise and Ilya Kovalchuk were feasting on the untested rookie. Hindsight will also tell us that sticking Faulk with newly-signed Tomas Kaberle was a mistake. Kaberle was a mistake in Carolina from the get-go, to the point where Rutherford claimed that "he should have known better" than to sign him.
On signing Kaberle to $12.75 million, three-year contract, Rutherford said, "I should have known better."

— Chip Alexander (@ice_chip) December 9, 2011
Faulk spent the next month in the AHL, putting up 6 points in 12 games for the Checkers. He returned November 18th and hasn't looked back since. He put up 8 goals and 22 points in 66 games in his rookie year, being named to the NHL's All-Rookie team at the end of the year. He followed up that solid first-year performance by putting up 8 points in 8 games with Team USA in the World Championships.
Adaptation is the Key
Though Faulk was thought of as an offensive defenseman when he was first drafted, he has really rounded out his game in the years since, and his progression as a player has been a sight to see. Though his booming slap shot helped UMD find success, Faulk found himself with less time and space at the NHL level. Rather than attempt to force a square peg into a round hole, Faulk adapted.
His powerplay contributions since then have been more about finding open space than launching bombs from the point. When he does fire from the point, he favors the wrist shot more than the slap shot. After many, many years of disappointing defensive draft picks, Carolina finally has one that can play in the big leagues and adapt his game to ensure he stays there.
It's worked out for him. He's been a US Olympian, he's been named to the All-Star game, and the combination of Faulk and defensive partner Andrej Sekera has Carolina's defensive efforts ranked near the top of the league in many categories.
Home Again, Home Again
Tonight, the Carolina Hurricanes play the Minnesota Wild at the XCel Energy Center in St. Paul. Faulk returns to his home state a changed player. Gone is the 19-year old powerplay specialist with a rocket shot and little else. A short four years later, Faulk returns as a key contributor to not only the Hurricanes, but as one of the best young defensemen in the league.