In the words of Larry David, the Rangers third line has been "prettyyyy, prettyyyy, prettyyyy…Pretty good."
Those were not words which would've come to mind a couple weeks back, but Kevin Hayes, Carl Hagelin, and JT Miller have brought it to fruition.
Up to this point in the season, the top-six forwards for the Rangers have remained, for the most part, consistent. Stepan and Brassard have been the top two centermen, while Nash, Zuccarello, Kreider, and St. Louis have rounded out the two top lines.
The bottom six, however, have seen some more shuffling. But now, with a combination that is working, the third line just might becoming equally solidified as the top two.
Hey, Hey, Hey Hey Hayes!
Before talking about the success of this emerging trio, let's take a quick glance at Kevin Hayes and his play in recent days.
After a slow first couple months to his NHL career, time in which he needed to make the adjustment from college play to the professional level, the 22-year-old center is blossoming into a dynamite acquisition. While faceoffs undoubtedly remain a point of contention for the natural-winger turned center, as his season average on faceoffs is a measly 35.8 percent, he is starting to turn heads and produce offensively at an impressive pace for a rookie.
#NYR center Kevin Hayes is the first #Rangers rookie to post a plus-four rating since Carl Hagelin accomplished the feat on Mar. 13, 2012.

— Sean Hartnett (@HartnettHockey) February 13, 2015
In his last four games, Hayes has collected six points, he is a plus-five, and has played over 15 minutes in three of those games, well above his season average of 12:23.
Oh, and he scored this beauty of goal on Thursday in Denver:
It may be too early to mention him as a Calder trophy candidate at this point, but if his last 29 games keep with his play of the last week, who's to say he can't make his way into the conversation…
H-Squared + Miller = Success
Now, take the stellar play of Hayes, and add Carl Hagelin and JT Miller to the equation. What you've got is a third line that evidentially works, and works very well.
When Jesper Fast went down with a knee injury in Nashville, JT Miller was inserted onto the right wing alongside Hayes and Hagelin. In those three games, that line has been the team's most efficient, and has given fits to the opposition.
We've already looked at Hayes and his play, but Hagelin's game has also soared recently. The 26-year-old Swede currently has a three game point streak, but has also been putting the puck towards the net every chance he gets.
Over the three game span in which he has recorded points and played alongside Hayes and Miller, Hagelin has registered 14 shots on goal. That's an average of 4.7 shots on net over those three games, compared to his season average of 2.35.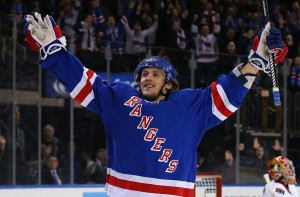 Of his recent play, Hagelin said, "I definitely feel that I'm getting the puck with speed down the wing a lot more than I was when we started playing together."
And then there's Mr. Miller.
While Miller has only been credited with one assist since joining Hayes and Hagelin, his play on the opposite wing cannot be understated, as it has helped round out the line and has forced the fast pace of play.
"With J.T., they're spending quality time in the other end," Vigneault told reporters. "They're pushing for more ice time."
This is a young, quick line which has taken the Rangers by storm. What was once a point of concern, has suddenly become a shining spot for the team. Hagelin and Hayes have come alive, and Miller seems to have finally found a home, even if it is just temporary.
Despite Henrik Lundqvist sidelined, and Cam Talbot playing mediocre hockey at best, the Rangers have still found ways to win in recent days. While it hasn't been pretty, and it's been far from their "A" game, if the recently assembled third line continues to impress, the Rangers just may be able to survive King Hank's absence unharmed with regard to the standings.
And that would be quite the feat.