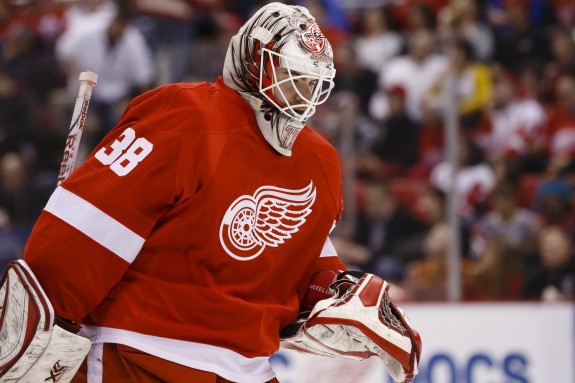 GRAND RAPIDS, Mich. — When Jimmy Howard and Jonas Gustavsson both were down with injuries last month, it forced the Detroit Red Wings to call up not only Petr Mrazek but Tom McCollum as well.
McCollum has spent the past five seasons with the Grand Rapids Griffins after three seasons in the OHL. A former first-round pick in 2008, McCollum hasn't lived up to those lofty expectations, but his stats have improved with each season in Grand Rapids.
He made two relief appearances with the Red Wings — on Jan. 18 against the Buffalo Sabres, where he made seven saves and picked up his first NHL win after the Red Wings overcame an early 3-0 deficit and Jan. 29 in a 5-1 loss to the Tampa Bay Lightning, where McCollum made 17 saves on 17 shots against in the third period to keep the Lightning from expanding on their lead.
Now that Howard and Gustavsson are both healthy, McCollum is back in Grand Rapids. We sat down with McCollum following the team's 5-4 overtime loss to the San Antonio Rampage on Friday.
The Hockey Writers: Congrats on your first NHL win that you got about a month ago. How did that feel to get that first win under your belt?
Tom McCollum: I was definitely extremely excited. I've waited a long time for that opportunity, and I was grateful I just finally got a chance.
Congrats to Tom McCollum on his first @NHL career win! pic.twitter.com/BjXz7zpFDO — Detroit Red Wings (@DetroitRedWings) January 19, 2015
THW: Were you nervous coming in? Because you came in relief both times, the second time against Tampa Bay, one of the better scoring teams in the league.
TM: No, I wasn't too nervous. I felt like I fit in with the team very well during all of the practices, so I didn't think there was anything to be worried about. Detroit's a really good scoring team in their own right, so I was able to hang with those guys in practice. So, I wasn't worried about it translating to the game.
THW: How did it feel just being in Detroit for an extended period of time?
TM: It was good. I had a lot of fun there. Fortunately, I've been around long enough I know a lot of the guys on the team, either with playing with them in Grand Rapids or being up other different times, so it made for a lot of fun.
THW: How much confidence did being in those two games give you?
TM: Definitely gives you a confidence boost, especially the type of game I played. I think I showed them I can play at that level, just up to me now to come down here and do it every day.
THW: Do you think your performance in those two games will help propel your career back to the NHL?
TM: I definitely hope so. I think it's going to be hard for teams to hold it against me. My job in the meantime is to play well here in Grand Rapids.
THW: How has this season gone for the Griffins? I know you guys had trouble playing a full 60 minutes early on, but how would you describe this season?
TM: I'd say inconsistent as a team. We've gone through stretches where we'll play really well, and we'll dominate games for a full 60 minutes. And then it just seems like two weeks later, we go through a two-week stretch where we play 20 or 40 minutes a night. I think that's just one thing that comes with having a lot of young guys, and we just need to pull it together as a team every night.
THW: What got you into hockey in the first place?
TM: My aunt actually did. She bought me a pair of skates before I even turned 2, so I've been on skates since then.
THW: What made you want to become a goalie?
TM: That was just kind of a need — the minor hockey team I was playing on, their goalie decided not to come back halfway through the season. I was one of our defenseman before that and kind of a little kamikaze and always blocking shots. So, everybody kind of decided that I was the only one crazy enough to try it. So, they gave me a shot, and I actually fell in love with the position.
THW: How old were you when that happened?
TM: I want to say I was 10 or 11.
THW: Who did you idolize growing up?
TM: I grew up near Buffalo, so Dominik Hasek was definitely my favorite goalie to watch. Obviously, I don't play anything like him, but it was just a lot of fun and really inspiring to watch every day.
THW: How was being part of the Dominik Hasek retirement night?
TM: It was extremely exciting. It was a huge honor to be there for that night. Really just kind of dumb luck, I guess, that I happened to get there on the night the team chose to honor, really the goalie I grew up watching.
THW: Did you get a chance to talk to him at all?
TM: I just said "Hi" to him really quickly after the game. He knew all of the guys on Detroit from when he played with them, so I didn't want to take up too much time.
Subscribe to our Red Wings stories to get email updates every time a new story is published.
Tom Mitsos is a Detroit Red Wings and Grand Rapids Griffins staff writer for The Hockey Writers. You can follow him on Twitter @tom_mitsos.