Now officially in the NHL offseason, the talk around Buffalo has been the idea and viability of making offer sheets to restricted-free-agents.  It's no secret that the unrestricted-free-agent market is below average at best this offseason.  Trades will likely be on the rise and General Managers, including Tim Murray, may explore other avenues of acquiring players.  Enter the restricted-free-agent market.  For the first time in a few years, there's a lot of buzz around restricted-free-agents.  The concern for GM's is whether this option is worth the hassle or an exercise in futility.
Low Success Rate
Offer sheets to restricted-free-agents hasn't been very successful.  As a matter of fact, it's a tool that hasn't been utilized very often.  General Managers have done business under the assumption of the unwritten rule of "hands off".  The NHL has set up restricted-free-agency in way that benefits the team who owns the rights of the RFA.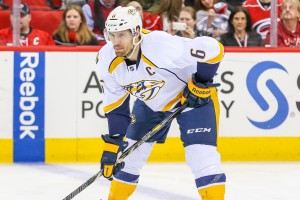 The last offer sheets that were signed was in 2013 when the Ryan O'Reilly signed an offer sheet from the Calgary Flames and in 2012 when Shea Weber signed an offer from the Philadelphia Flyers.  Both teams ended up matching the offer without much hesitation.  The last successful offer sheet occurred in 2007, when the Ducks didn't match the offer from the Edmonton Oilers for forward Dustin Penner.  The Oilers were unsuccessful earlier in the offseason with an offer sheet on Sabres Thomas Vanek.  With only one successful offer sheet since 1997, it's easy to see why General Managers have stayed away from the idea.
The Landscape of the Market
This offseason this year is setting up different from what we've seen in recent history.  With long contract extensions a few teams find themselves in a salary cap dilemma.  The poor unrestricted-free-agent market is forcing GM's to look into other options to improve their team such as trades and the restricted-free-agent market.  Clubs like the Los Angeles Kings, St. Louis Blues, Boston Bruins and Chicago Blackhawks are in a very difficult situation.  All four teams also have important young players as RFA's that they need to resign.  Tyler Toffoli, Vladimir Tarasenko, Dougie Hamilton and Brandon Saad are the four big names in the RFA market this offseason.  All four players are certainly top priorities to resign for each franchise, but due to cap issues are susceptible to an offer sheet.
Enter the Buffalo Sabres.  Buffalo is looking for a top six winger to round out their forward unit that'll feature Jack Eichel and Evander Kane.  The Sabres have plenty of cap space and a bundle of draft picks.  Tim Murray has the type of attitude that he'll be willing to make an offer sheet and not care what his colleagues think.
If Murray is truly willing to go down this path he'll need to target one player and structure the offer in a way that would force the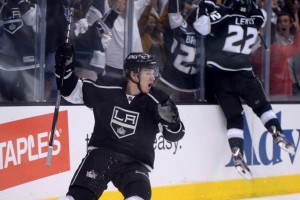 other club into walking away from the player.  When you explore the landscape, I think the player to target with the best opportunity for success would be LA Kings forward Tyler Toffoli.  The Kings are in a very tight cap situation and need to sign Anze Kopitar to contract extension as he's due to be a UFA after next season.  In order for this idea to work, Murray will need to get a little crazy with the offer.  The offer sheet will need to come in around 7 years 49 million dollars (7 million per season).  Toffoli may not be a 7 million dollar player right now, but the Sabres have to be willing to believe in his potential as a 23-year-old who scored 49 points last season.  The contract may be alarming to some fans, but that's the type of offer it would take for a team to walk away from a talented RFA.  If the Kings choose not to match an offer of that magnitude, it would cost the Sabres two first-round picks, one second-round pick and one third-round pick.  The Sabres prospect pool is very well off and could last two years without a first round pick.
The question the Sabres will need to ask themselves is it worth giving up the assets and paying the salary.  They would end up with a dynamic talent, but would the trade route be a better option?  The restricted-free-agent market is definitely an option for the Sabres and I'm sure other teams around the NHL this year perhaps more than others.  It'll be interesting to see if someone does indeed make the move.
Chad DeDominicis was born and raised in Buffalo, NY. Chad is currently a Buffalo Sabres contributor for The Hockey Writers. He is an avid sports fan and is passionate about the game of hockey. Chad works hard to share creative and quality content with his readers.