The regular season is over for the Ohio State men's hockey team, but plenty is still up in the air. The Buckeyes sit 13th in both the USCHO.com and USA Today/USA Hockey Magazine polls and could receive an at-large bid to the NCAA Tournament, but that seems far from guaranteed.
Ohio State hockey is close to NCAA but they need to win Thursday vs Michigan State for starters. https://t.co/c6nf3ElobN

— Bucci Mane (@Buccigross) March 12, 2017
Of course, Ohio State could alleviate any uncertainty by clinching an automatic bid by winning this week's Big Ten Tournament. Even in a six-team league, however, that's easier said than done.
Sparring with Sparty
As the number three seed, Ohio State opens the Big Ten Tournament against sixth-seeded Michigan State. On paper, it may seem like a good draw for the Buckeyes, playing a team that went 3-14-3 in league play and finished last in the conference standings.
Buckeyes are the No. 3 seed in the @B1GHockey Tourney. Face Michigan State at 4:30 p.m. Thursday in the quarterfinals. #GoBucks pic.twitter.com/buQEhjIFyF

— Ohio State Men's Hockey (@OhioStateMHKY) March 12, 2017
Look a little closer, though, and the Spartans do not have the appearance of a pushover. On Saturday, Michigan State topped Big Ten regular season champion Minnesota in a shootout. Earlier this month, the Spartans visited Columbus for two games against Ohio State and jumped on the Buckeyes early. Michigan State scored four goals in the first period of the series on the way to a 5-4 win in game one. Ohio State won game two, but it's clear the Buckeyes can't afford to take the Spartans lightly.
"They can beat anybody on any given night and that's the respect you gotta have every time you step on the ice," Ohio State head coach Steve Rohlik told The Hockey Writers. "Certainly we feel that way and we're trying to prepare ourselves and be ready to go."
[irp]
A Good Sign
The Buckeyes will be in good shape if they can carry some momentum from the end of the regular season into their conference tournament. They won their last three games, including a two-game sweep at Wisconsin over the weekend in which Ohio State outscored the Badgers 8-2.
While the wins are obviously important, a good sign for Ohio State is the role the team's defense played in the sweep. The two goals against are the fewest the Buckeyes surrendered in conference series this season and the team blocked 46 shots in the series, including 29 in Saturday's win.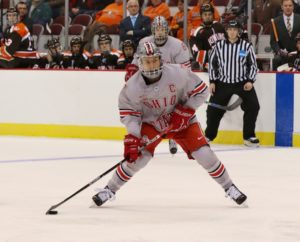 "I just think I see our team buying in. There's a lot of guys sacrificing, blocking a lot of shots. At this time of year, as they usually say, defense wins championships," Rohlik said. "We just want to buckle down and be good defensively and if you're good defensively that'll lead to your offense and I think that's something we've talked about."
We know Ohio State can score — the Buckeyes are one of the highest-scoring teams in the country, averaging four goals per game, and own the nation's best power play. Sophomore Mason Jobst was named to the All-Big Ten First Team and was the conference's scoring co-champion. Senior Nick Schilkey leads the team with 26 goals and ranks second in the country in goals-per-game. All that offense can be intimidating for opponents, but if Ohio State continues the type of defensive play it showed against Wisconsin, the team becomes even more dangerous in the postseason.
An Experienced Group
Coach Rohlik has cited his team's experience and leadership throughout the season as a factor in the Buckeyes' success, especially that of the squad's seven seniors. With the postseason here, those traits are as important as ever.
"They've played in a lot of these types of games over the last four years and they're gonna have to lead by example," Rohlik said. "They're gonna have to put this team on their back and go out there and just do what they've done and that's just go out there and play hard, play the right way and lead by example and I expect them to do that this weekend."
[irp]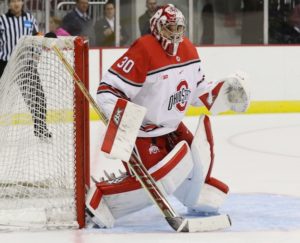 The group of seniors spans all parts of the Buckeye lineup, from forwards Schilkey and David Gust, who are tied for second on the team in scoring, to defensemen Drew Brevig and Josh Healey, to Ohio State's trio of goalies: Christian Frey, Matt Tomkins and Logan Davis.
"They're good kids, they've done things the right way on and off the ice and in the end, most times, these kind of kids are rewarded for that and I'm hoping that all their hard work and all their effort pays off, so, we're leaning on those seven seniors."
Ohio State is trying to reach the NCAA Tournament for the first time since 2009. As we mentioned, a Big Ten Tournament title this week would guarantee just that. But don't think that the Buckeyes are getting ahead of themselves.
"[Reaching the NCAA Tournament is] certainly the ultimate goal at the end of the day but for us I think this team's been real focused on … one game at a time," Rohlik said. "We're really focused on Thursday and Michigan State and we just wanna go there, empty the tanks and play our best. That's kind of really what these guys have been talking about."