After his team's latest game, Ohio State men's hockey coach Steve Rohlik gave the kind of quote you'd expect from a coach at just about any point in the season.
"We got a very good team in that locker room too and we gotta continue to get better," Rohlik said. "I think there's so much more growth with these guys."
In the eyes of pollsters, the team has already grown a lot this season. Ohio State started the campaign unranked in the USA Today/USA Hockey Magazine and USCHO.com polls, climbed as high as eighth and ninth, respectively, and now sits tenth in both. And the Buckeyes have now reached the time of year when they can be judged by not only their place in the rankings but also where they sit in the Big Ten standings.
Tough Conference Tests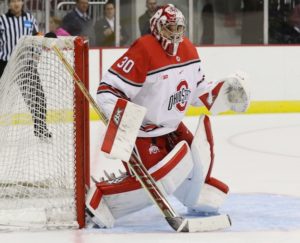 The conference schedule did Ohio State no favors early. The Buckeyes opened Big Ten play in early December with a visit to Mariucci Arena and Minnesota. Their next conference tilts came at home this past weekend against then-second ranked Penn State, which is now fourth in the polls. Ohio State split both series, giving notable performances in the process.
After dropping their first game against Minnesota, the Buckeyes erupted for an 8-3 win in game two, just the second win over the Gophers in Minneapolis in program history.
Over a month later, the Buckeyes welcomed Penn State to Columbus. The Nittany Lions carried a 13-game unbeaten streak into the series but saw it snapped in a 3-0 loss last Friday. Buckeye goalie Christian Frey turned in a brilliant 46-save performance in the win, the first time Penn State was shut out this season and the only game in which the Nittany Lions scored fewer than three goals.
"Never Gonna Quit"
Stats can be a good way to show a team's success, but they certainly aren't the only way. The numbers Ohio State put up in those Big Ten wins are not the only positives to take from the team's first four conference contests. The Buckeyes have shown an impressive resilience, and not just in victory.
Let's start back in Minnesota with the first game between the Buckeyes and Gophers. Ohio State opened the scoring on a fluky goal before Minnesota scored four straight – two in the final five minutes of the first period and two more in the opening 5:10 of the second. That kind of run by an opponent is tough to come back from in any scenario. Take into account the fact that the Buckeyes were on the road in a building in which they have not enjoyed much success and it's an even greater challenge.
But rather than pack it in, Ohio State bounced back. Just 17 seconds after Minnesota took a 4-1 lead, the Buckeyes scored to make it 4-2. They cut the lead to one goal later in the second period but could not complete the comeback, eventually falling to the Gophers 5-3. Still, it was an impressive response by Ohio State; things could have gotten out of hand if Minnesota continued to build momentum after scoring four straight goals, but the Buckeyes answered and kept things close.
The next night Ohio State again scored first, taking a 2-0 lead in the game's opening ten minutes. That lead didn't last long, though. Less than four minutes after Ohio State's second goal, Minnesota had tallied twice to tie the score. Like game one of the series, however, the Buckeyes answered. This time, they scored two goals 14 seconds apart early in the second period and added four more unanswered on the way to the 8-3 win.
Watch all 8️⃣️ Buckeye goals from the win at Minnesota. https://t.co/JrSFuhXVad #GoBucks

— Ohio State Men's Hockey (@OhioStateMHKY) December 4, 2016
Now for the Buckeyes' most recent game last Saturday against Penn State. After being shut out on Friday, the Nittany Lions finally solved Christian Frey and built a 3-0 lead, the third goal coming shorthanded from Ricky DeRosa at the 7:57 mark of the third period. It was another situation that could potentially break a team's spirit, but yet again, Ohio State refused to fold.
"Not with this group, I'm telling you, we got too many guys that have been around a long time, we got great leadership," Rohlik said after the game. "They're never gonna quit."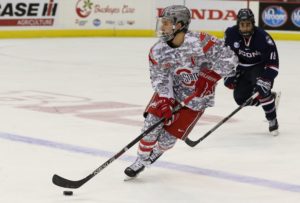 The Buckeyes had struggled on the power play Saturday, going 0-for-4 through the first and second periods, including two 5-on-3 opportunities. After DeRosa's goal, Ohio State ended that futility and climbed back into the game when captain Nick Schilkey scored two power-play goals in less than a minute (the first on another 5-on-3) to pull the Buckeyes within one. Even though they could not get the tying goal, eventually losing 4-2, Ohio State's resilience was again on display. Like Rohlik, Penn State coach Guy Gadowsky discussed the Buckeyes' effort after the game.
"They just kept coming, and coming, and coming, and you gotta give them a lot of credit," Gadowsky said. "Obviously we were hoping they would sort of fold up the tents and they never did."
Lots of Hockey Left
In a way, what the Buckeyes have done in these early Big Ten tilts is worth as much as wins. Sure, it would be great to be 4-0 instead of 2-2 in league play, but with 16 conference games to go Ohio State has already shown, on multiple occasions, an impressive ability to respond to adversity. That's a trait good teams share and should serve the Buckeyes well as they move deeper into Big Ten play.
This weekend Ohio State wraps up a five-game homestand with its final non-conference series of the regular season against Arizona State.  While the games won't affect the team's spot in the league standings, they are still opportunities for the Buckeyes to grow.
Just like their coach wants.