Connor McDavid may have finally met his match.
McDavid and the rest of the Erie Otters now find themselves down 2-0 to the Oshawa Generals in the OHL Finals, in convincing fashion.  The combined score of the 1st 2 games is 9-2 Oshawa.  Each games started close.  But Oshawa is the team that has dominated the 3rd periods.
Friday night, Oshawa led 2-1 going to the 3rd period.  Within the 1st minute, the Generals made it 3-1 and didn't look back.  Saturday night, the score was tied at 1.  Oshawa killed another Erie power play, and then scored on the ensuing rush.  The onslaught occurred after that.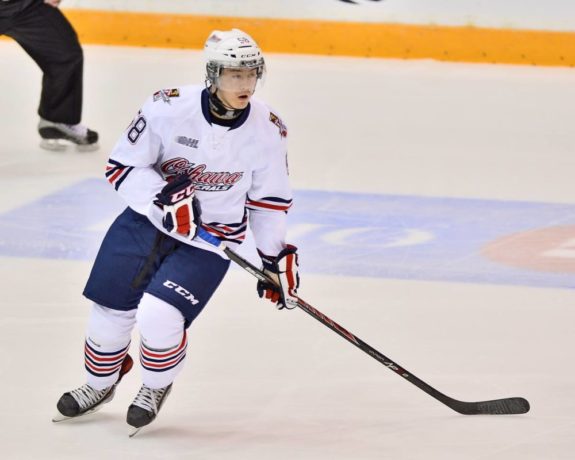 Oshawa has stopped Connor McDavid in his tracks in these OHL Finals,
limiting him to 1 assist (although it was highlight reel) and a -4 rating.
 No team in the OHL, except for the Niagara Ice Dogs, has kept McDavid off the scoresheet, until Saturday night.  Game 2 was just the 3rd time all season that McDavid didn't record a point in a game.  It was also the 1st time all season that McDavid has lost back to back games.
What have the General done to contain this phenom?  We will look at 3 things that Oshawa has done to make this happen.  It's important to note that none of this happens without a capable roster.  The Generals are deep.  They also have a size advantage.
Keys To Making McDavid Look Average
First, Oshawa has made sure that 2 defenders shadow McDavid at all times.  Cole Cassels and Josh Brown have followed every movement of McDavid.  This usually means another member of the Otters is open.  But Erie hasn't taken advantage of that.  Oshawa is blocking passes and shots at a high rate.  What makes it even more effective is that the Generals start in transition from this.  They are not allowing Erie 2nd chances.
Second, Oshawa plays a form of the trap.  As soon as they take the lead, the Generals put 4, sometimes 5 players in the neutral zone.  This forces Erie to play dump and chase, a style they are not used to playing.  Oshawa recovers the puck in their own end, and they start attacking again.  McDavid can't speed through the neutral zone or complete many passes.  Something or someone is in the way.  The style is frustrating to play against.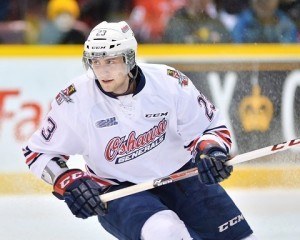 Third, the Generals have a goaltender capable of making big saves when Erie does get a chance.  Ken Appleby was the story of Game 2.  He stopped 32 of 33 shots, allowing only a Nick Betz 1st period goal.  Appleby made several key saves when the score was 1-1, including a spectacular one on Remi Elie reaching behind him with his stick.  Appleby was also Oshawa's best penalty killer.  Erie went 0/6 on the power play in Game 2.
Oshawa is the better team after 2 games.  They've effectively shadowed McDavid, while taking away time and space, while getting big saves in key moments.
OHL Finals Shift To Erie
The OHL Finals will now shift to Erie for Games 3 and 4 Monday and Wednesday.  Erie is not out of this series by any stretch.  But if they can't adjust to what Oshawa is doing, this series will end Wednesday night.  Wednesday would also mark Connor McDavid's last home game as an Erie Otter.
Erie played 40 good minutes in Game 1 and 50 good minutes in Game 2.  But as we all know, hockey is a 60 minute game.  The Otters must play a complete game, while finding someway to beat Ken Appleby.  They will have the crowd on their side.  They'll also have last change.  The Otters will try to get McDavid a more favorable matchup.  If McDavid can't figure it out, this series is over.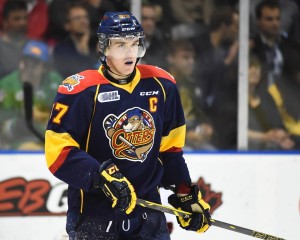 Game 3 on Monday is huge.  If the Otters expect to win the OHL Finals, they must win Monday night.  They must find a way to score more than 1 goal.  In 4 games this season against Oshawa, Erie has scored 1 goal in each game.  Will the Erie Otters offense show up for Game 3?  We will see. Otherwise, these OHL Finals are over.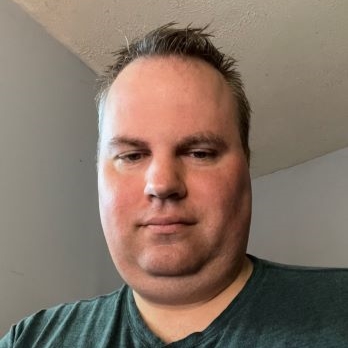 I am a fully credentialed writer who covers the Columbus Blue Jackets, Cleveland Monsters and Erie Otters as well as the Ontario Hockey League and NHL Draft. The 2022-23 season will mark nine seasons with the Hockey Writers. I am also the site's Credentials Manager. Please take note of the updated Twitter handle: @mark_scheig.