Today was the first day of games for the Ontario Hockey Federation's 2016 OHL Gold Cup. This year, the annual event is taking place at Kitchener's Activa's Sportsplex from May 4 to 8 and they're showcasing eight teams from across Ontario. Comprised of an accumulated 160 players under the age of 16, it's an event heavily scouted by Hockey Canada scouts who're on the prowl for top Canadian talent.
The event's best players will be invited to Hockey Canada's Under-17 National Camp, where they'll practice and compete against players from all over Canada —not just Ontario. This is their chance to represent Team Canada at the World Under-17 Hockey Challenge held annually in December. The OHL Gold Cup is the first step of this exciting part of the revamped Hockey Canada Program of Excellence, as Hockey Canada staff will continue to evaluate these players throughout the remainder of the OHL Gold Cup and the Under-17 National Camp, to eventually select the final 66 players for Team Canada's roster.
OHL Gold Cup: Game 1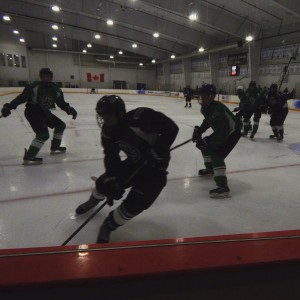 At 9 a.m. this morning, Team OMHA Black played against Team NOHA and five minutes in, Noah Boman on Team NOHA got a penalty, allowing OMHA Black player Mason Snell (a third-round OHL draft pick selected by the North Bay Battalion) to score a power-play goal a mere 57 seconds later. Penalty or no penalty, it was only a matter of time for OMHA Black to start piling in the shots on net, along with the following goals that were bound to happen. Forty-three seconds after the first goal, Snell's teammate Mathew MacDougall (another third-rounder, this time, picked by the Barrie Colts) scored and embarked the team on a goal-scoring extravaganza.
With eight and a half minutes left in the first period, Ian Maclean, a fifth-rounder, also picked by the Barrie Colts, scored the third goal and with 37 seconds left in the first period, OMHA Black scored one more time, giving Cameron Hillis (a second round pick selected by the Guelph Storm) a moment to shine.
By the end of the game, Team OMHA Black won by a long shot, beating Team NOHA 7-1. OMHA Black's Game MVP went out to Ian Vucko, another OHL Draft pick, selected by the Kitchener Rangers in the 10th round at No. 198. For Team NOHA, it went out to Damien Giroux, who was also drafted to the OHL but by the Saginaw Spirit in the third round at No. 44.
Over the next four days, Ontario's top under-16-years-of-age will be playing against each other and tear up the blogosphere with a lot more goals and untimely penalties. To check out the full schedule and learn more about out each team's roster, visit the OHL Gold Cup's website at www.ohlgoldcup.com