When general manager Ron Hextall first took the job in May 2014, he inherited a playoff team that took the eventual Eastern Conference champion New York Rangers to seven games in their first round match-up.
What also came with the job was then head coach Craig Berube, who did an admirable job turning the team around after Peter Laviolette was fired early in the season of 2013-14. However, after missing out on the playoffs in 2015, Hextall decided to make the first coaching change of his tenure by bringing in Dave Hakstol.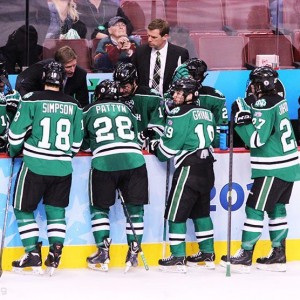 At the time of the decision, many people in Philadelphia and across the league were left shaking their heads. Not much was known about the former head coach of the University of North Dakota.
After all, taking the leap from college hockey to the pros is not common practice, as it has only been done three times before Hakstol's hiring.
With that being said, Hextall has been extremely methodical in all his decisions so far as general manager. He makes sure each and every decision is made with the best interest of the Philadelphia Flyers organization in mind.
Therefore, it only made sense for Hextall after missing out on the playoffs in his first year as general manager that it was the right time to go get his guy.
Hextall Finds His Man
Considering the results of Hakstol's first season behind the bench, it's safe to say that Hextall found the right man for his team. Hakstol took over a team that wasn't supposed to get a whiff of postseason action and managed to turn them into an eighth seed in the Eastern Conference.
This is a #Flyers team that wasn't even supposed to sniff the postseason. GM Ron Hextall has this team way ahead of schedule.

— Tony Androckitis (@TonyAndrock) April 24, 2016
The turning point of Hakstol's first season seemed to come when the calendar flipped to 2016. From Jan. 5 on, the Flyers played at a 26-12-7 clip. To compare, the Presidents' Trophy-winning Washington Capitals, and first round opponent of the Flyers in the playoffs, were 27-11-5 during that same stretch.
Once the players started grasping Hakstol's system, which led the way to a 260-133-40 (.647) overall record while at North Dakota, they began playing at an elite level of hockey.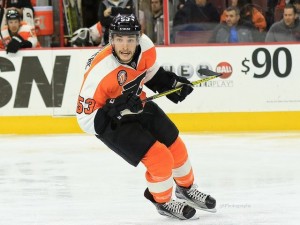 Developing Young Talent
One of Hakstol's best abilities as a coach is his knack for developing young players.
The Flyers roster at the time of the hiring was filled with numerous young, growing players who had yet to fulfill their potential as NHL regulars under previous coaches, which placed Hextall in the market at finding someone who had mastered the art of development.
Hakstol's days at North Dakota saw him develop future stars such as Jonathan Toews, T.J. Oshie, Zach Parise and many more.
With that in mind, the crop of high-end talent drafted over the last several years by the organization in the likes of Ivan Provorov, Travis Konency and Travis Sanheim to name a few, Hakstol's talent of development will help transition these youngsters to NHL contributors.
Young Players Thrive In First Season
Brayden Schenn, Sean Couturier, Shayne Gostisbehere, Radko Gudas and even Brandon Manning all saw their best seasons as NHL players under Hakstol. Most notably, the development of Schenn and Couturier in their first season with Hakstol might prove to be the most pivotal in the years to come.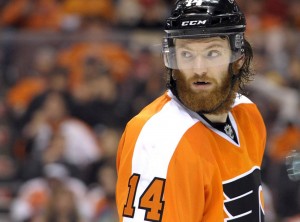 Both Laviolette nor Berube seemed to be able to get the best out of Schenn and Couturier, who, when acquired, were expected to be NHL impact players much sooner in their careers than later.
However, it was Hakstol who seemed to get the most out of the two youngsters, who went on to have breakout seasons in 2015-16.
In Couturier, the Flyers now have a bonafide No. 2 center. He can not only shut-down the opposing team's best players but can provide that much needed scoring depth every team in the NHL needs to be successful.
Couturier's value to the team was second-to-none as they went a dismal 5-9-4 without him in the lineup due to injuries this year.
As for Schenn, he blossomed into a legitimate top-six forward in 2015-16. He finished with career highs in goals (26) and points (59). That point total put him in the same class as all-world forwards such as Matt Duchene and Phil Kessel, and he even had more points than Chicago superstar Jonathan Toews.
Give #Flyers HC Dave Hakstol credit. He elevated this team's play & maximized the talent level of his roster #StanleyCupPlayoffs

— Rich Flanagan (@richflanagan33) April 24, 2016
What's Next For Hakstol, Flyers?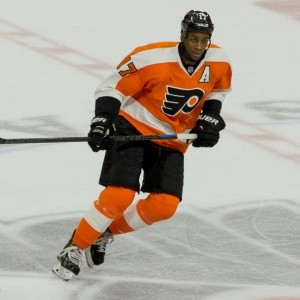 The 2016 offseason is a pivotal one for the future of the Flyers. The organization is now heading into Hextall's third offseason and for the first time he'll actually have some salary cap space with which to work.
However, at the moment, there doesn't project to be a big-time free agent that will be available come July 1.
Regardless, Hextall will finally have some wiggle room for the ability to sign significant mid-level free agents that can upgrade the team and provide depth to the overall roster.
Something he has yet to have the privilege of doing since taking over.
Ron Hextall just getting started y'all. Gonna be another fun offseason.

— Tim Riday (@TimRiday) April 24, 2016
Featured Image was provided by Amy Irvin / The Hockey Writers
Glen Stricker is a Temple University graduate with a degree in Media & Communication. He is the Lead Writer for the Philadelphia Flyers for The Hockey Writers as well as the social media coordinator and contributor for @PHLFlyersNation