Despite the mockery, criticism and in some cases flat-out blind hatred for Penguins' general manager Jim Rutherford, the veteran GM knew he had to stay the course. He had a plan in mind, which would require patience, to turn the vanilla Penguins into a speedy offensive juggernaut.
One of the initial steps to this plan was unloading Rob Scuderi but no one imagined this kind of return for him.
When it was announced that the Pittsburgh Penguins and Chicago Blackhawks had agreed to swap Rob Scuderi for Trevor Daley, there was a collective eyebrow raise among the Penguins' faithful. Scuderi, who struggled mightily to play within the uptempo system implemented by head coach Mike Sullivan seemed almost immovable.
Thankfully for the Penguins, that proved to be incorrect.
The swap with Chicago also included a hair over $1 million in retained salary that will count against the Penguins' cap through next season. No matter where Scuderi ends up, such as playing in the minors for a bit while in Chicago, that salary still counts. However, that's a small price to pay for the production uptick and return-on-investment they've received so far.
Trevor Daley's Most Impressive Outing to Date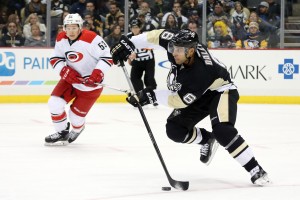 Daley is arguably one of the best skating defensemen in the league. While his skill set is well documented, I'm not sure much of Pittsburgh, including myself, realized just how slick of a skater he is.
He rivals Penguins' standout Kris Letang in that regard, especially when it comes to his evasiveness.
On Wednesday night, he was given the opportunity to fill a large hole left by Letang's recent one-game suspension. There is no replacing Letang, but Daley ensured Pittsburgh's defense didn't miss a beat on their way to a crippling 3-1 series lead over the President's Trophy winning Capitals.
Daley racked up nearly 29 minutes of ice time. He also scored a goal and was on the ice for all three of Pittsburgh's tallies but zero goals against. He and defensive partner Brian Dumoulin were tasked with Washington's top line at even-strength, facing Alexander Ovechkin and Company for approximately 13 minutes. While they were a minus-9 in shot-attempts against that trio, Ovechkin, T.J. Oshie and Nicklas Backstrom were held scoreless during that span.
I consider that a win.
Daley also spent a hair over two minutes on the penalty kill, which once again completely stymied the Capitals' potent power play. The Capitals were held to one shot and failed to score with the man-advantage, finishing the night 0-for-2 in that regard.
Daley has been a fairly quiet but integral part of Pittsburgh's turnaround this season but his most recent performance was truly special. Things looked grim for Pittsburgh heading into a pivotal Game 4 without the engine behind their success in Letang and Daley came through in a major way.
Yet Another Story Line for a Special Penguins Team
Third-string goalies, rookie goalies, an infusion of youth up front and a 13-2-0 record to close the season without Evgeni Malkin are just a few storylines for this Penguins team. Now, you can add the resiliency shown on defense without their most important blue-liner against what might be the best offense in the league.
And, Daley led the way. Do you think he was overjoyed at how things turned out?
https://twitter.com/myregularface/status/728061903805747200
After playing in Dallas for ten years, Daley was sent to Chicago in a trade that saw Patrick Sharp head the other way. He was given a limited role and eventually written off by the Blackhawks, hence the trade to Pittsburgh. All of a sudden, he's playing a major role on a team that looks poised for a Stanley Cup run.
You can't write a story better than that.
This Penguins team is truly special. They have something completely intangible that's impossible to ignore. Each night, someone new steps up and makes an impact when least expected. Whether it's Daley, Matt Cullen, Tom Kuhnhackl or Conor Sheary, the list of unsung heroes goes on-and-on.
This series is far from over and it's impossible to write-off the Capitals just yet. However, can you imagine anyone, President's Trophy winners or not, beating these Penguins three consecutive times?
Pittsburgh Penguins writer for TheHockeyWriters.Com and PittsburghHockeyNow.Com. Youth hockey coach, and student of the game.