If you thought the London Knights had a tough time in their opening round against the bigger Windsor Spitfires, their second round matchup isn't going to be much easier. Last year's Memorial Cup winners are set to take on the top team in their conference as they head to Erie to play Alex DeBrincat and the Otters.
The Otters finished the season with 50 wins in 68 games and 103 points to earn home-ice advantage throughout the postseason. They scored the most goals of any OHL club (319) compared to 289 by the Knights.
While the Knights will be led by the likes of Max Jones, Sam Miletic and Robert Thomas, the Otters will look to Blackhawks' prospect DeBrincat and Coyotes' prospect Dylan Strome for their offensive abilities in this one.
The Knights are coming off a hard-fought seven-game series against the Spits, while the Otters finished off the Sarnia Sting in just four games in their opening-round matchup.
Drowning the Knights : A Head-to-Head Look
The season series was a lopsided one to say the least. While the Knights were able to win two of their six meetings, the numbers weren't even close.
The Otters out scored the Knights 25-15 over the six games, out shooting London 220 to 134. The Knights played undisciplined hockey and it proved costly as the Otters were able to score six times over 24 power play opportunities (a success rate of 25 percent). The Knights, on the other hand, scored just once on their 16 chances (a success rate of just over six percent).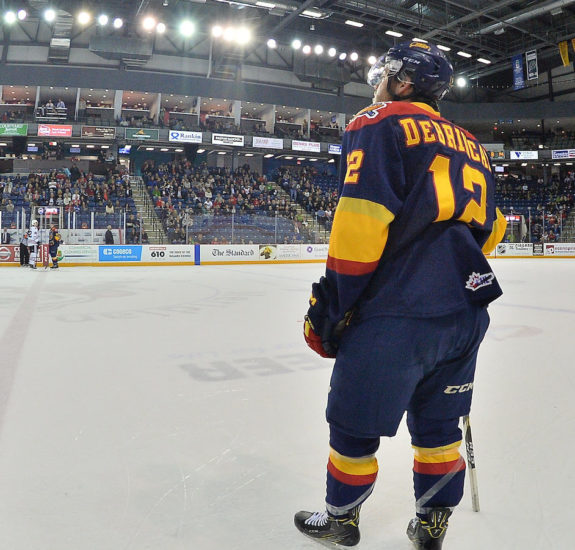 The only spot that the Knights came out on top was in the face-off dot. Even then, it wasn't overwhelming. In six games, the Knights went 52.5 percent on the draws. But it clearly didn't translate into their overall game.
Knights Need to Come Armed and Ready
With just 15 goals in six games against the Otters this seasons, it's save to say that London's players didn't have much success. Owen MacDonald, one of the team's over-agers, led the way with three goals and four points in five games against Erie this season with Evan Bouchard, JJ Piccinich and Robert Thomas each notching three points of their own.
Neither Knights goalie managed to stop the high-powered offence of the Otters. Tyler Parsons gave up 11 goals in three games with just one win to show for it. He did manage a .900 save percentage as he faced 111 shots over those three games, but his goals against average (GAA) was 4.05 an well over his season total.
Tyler Johnson didn't do much better. He also recorded one win in three games while giving up nine goals to the Otters' offence. He recorded a GAA of 3.94 and a .878 save percentage – numbers the Knights hope change as the two goalies head into their second-round series against Erie.
Otters Coasting Into Second Round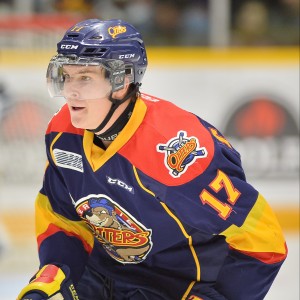 The Otters had more success against the Knights during the regular season. Taylor Raddysh led the way with 10 points in just five games, while DeBrincat had nine in four games and Strome had eight in his four games against London. Darren Raddysh and Kyle Maksimovich each added six points of their own and it's clear why the Otters had so much success against the Knights this season.
On top of that, the only goaltender the Knights seemed to be able to solve was Jake Lawr who gave up six goals in his only game against London this season. Joseph Murdaca won his only game against the Knights stopping 16 of the 17 shots he faced.
But the real story was Troy Timpano who played four games against London. He notched three wins giving up eight goals. He recorded a .909 save percentage and a 2.02 GAA while shutting down the Knights. While the Otters dominated the regular season, the playoffs are a different story and the Knights know all too well that Erie can be beat in the postseason.
---
Playoff Leaders (Prior to Round 2)
Goals: LDN – M. Stephens and J. Kuokkanen (4) / ER – D. Strome (6)
Assists: LDN – R. Thomas and M. Vande Sompel (5) / ER – A. DeBrincat (11)
Points: LDN – R. Thomas and J. Kuokkanen (8) / ER – A. DeBrincat (13)
Wins: LDN – T. Parsons (4) / ER – T. Timpano (4)
GAA: LDN – T. Parsons (2.16) / ER – T. Timpano (2.82)
S%: LDN – T. Parsons (.931) / ER – T. Timpano (.876)
---
Series Schedule
Erie Otters (1) vs. London Knights (4)
Game #1: London Knights (2) at Erie Otters (0) – Knights lead series 1-0
Game #2: London Knights (1) at Erie Otters (5) – Series tied 1-1
Game #3: Erie Otters (3) at London Knights (1) – Otters lead series 2-1
Game #4: Erie Otters (2) at London Knights (4) – Series tied 2-2
Game #5: London Knights (3) at Erie Otters (6) – Otters lead series 3-2
Game #6: Erie Otters (1) at London Knights (2) OT – Series tied 3-3
Game #7: Tuesday, April 18 at Erie – 7:00 p.m.