It's rare for both teams in a playoff series to be happy with the matchup, but that's probably just the case for the Montreal Canadiens and New York Rangers this first round.
Rangers vs. Canadiens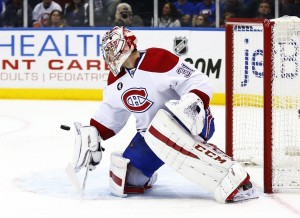 For example, the Rangers arguably finished in the most favorable position possible, short of winning the Metropolitan Division and drawing a wild-card opponent in Round 1, of course. A wild-card team themselves, they actually may even have a clearer path to a hypothetical Stanley Cup than the Presidents' Trophy-winning Washington Capitals, because of their crossover to the much-weaker Atlantic.
As a result, in spite of being seeded as the second-to-last-place Eastern Conference team, they'll be facing the Habs, who, with 80 games played, only have a single point more in the standings. In other words, it's a very winnable first-round series that might not even qualify as an upset should the Rangers be able to see this thing through.
On the other hand, the Canadiens swept the Rangers during the regular season, and, it cannot be denied, match up quite well against them. Goalie Carey Price is 15-5-1 with a 1.82 goals-against average and .940 save percentage against the Rangers in his career.  In spite of the Rangers' 249 goals scored this season (fourth-best), Price kept them in check, this season, allowing seven goals against in the three games, earning a .922 save percentage.
In sharp contrast, Rangers goalie Henrik Lundqvist allowed 11 goals, for an .871 save percentage. His career numbers aren't much better. He's 14-17-3 with an .898 save percentage and 2.87 GAA against the Habs.
More than Just a Pretty Mask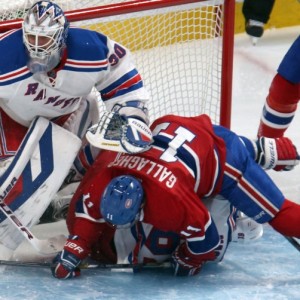 Obviously, there's more to this series than goaltending, but don't kid yourself: It's one of the main focal points for the simple reason that Price is in his prime and on top of his game. Lundqvist is 35 and has been underwhelming this season to be kind (.910 save percentage).
In short, whereas the key to a Rangers victory here is to get to Price, the Habs just have to hope Lundqvist doesn't suddenly discover the fountain of youth and turn back time. He may be many things: a Vezina Trophy-winning goalie, a king by reputation, a model by night, etc. A wizard is not one of them.
Offense is the only real advantage the Rangers have over the Canadiens, and, admittedly, the Canadiens have only scored 2.45 goals per game under Claude Julien, dating back to his first game on February 18. That's below their season average (2.73). However, that's only half the story, as they're playing better overall, going 15-6-1 since then.
So, the Rangers aren't facing a team that right now has just one more point than them. They're facing a different one altogether. Just as one would have had to give the edge to the Rangers were this series to have started prior to head coach Michel Therrien getting the axe, when the Habs were playing like a .500 team, Montreal is undeniably favored right here and now.
Of course, if Rangers fans want to argue that you can't cherry-pick Montreal's record during a specific range just to prove a point, to be fair here's the Rangers' from that same starting point: 10-8-5. Fair's fair.
Trip Down Memory Lane
It all boils down to whether or not Price (and Montreal's defense, which is vastly improved) can contain New York's offense. And, because Montreal arguably acquired Shea Weber for specifically this purpose, to better insulate and protect Price, it's hard to believe that Montreal's game plan heading into this series won't take into account Price getting injured back in 2014 when these two teams last met in the playoffs.
Whether or not Chris Kreider intended to crash into Price three years ago is irrelevant and has no bearing on the upcoming series (other than the fact Kreider will likely be watched like a hawk). All that matters is that he did, and, with the Canadiens cognizant of the risk, they can prepare accordingly. Although, it feels like the Habs have been waiting for this chance ever since they got eliminated that year.
In short, the Rangers would be mistaken to take their opponents lightly, because the Canadiens won't be. The Rangers may think they've lucked out, but this is likely what the Canadiens have wanted all along. That they match up well against the Rangers is just gravy and points to a Habs victory in the end.
Prediction: Canadiens over Rangers in six.