Just like last season, the 2022-23 Ontario Hockey League (OHL) playoff picture came down to the final day. After earning the first seed in the Western Conference on Friday, the Windsor Spitfires learned Sunday that they'll face the eighth-seeded Kitchener Rangers in the opening round.
After going to the OHL Championship last season (losing in Game 7 to the Hamilton Bulldogs), the Spitfires have been preparing for this moment. They battled through injuries and illnesses throughout the second half to hold off the London Knights and Sarnia Sting and capture a second-straight top seed in the conference. However, while it's a one vs. eight matchup, this isn't a Rangers club anyone should take lightly. Let's dive into this series.
The Vitals
Records:
Windsor Spitfires – 44-18-4-2 – 94 points
Kitchener Rangers – 33-29-6-0 – 72 points
Home-and-Away Records:
Spitfires – 25-5-2-2 (home), 19-13-2-0 (road)
Rangers – 19-11-4-0 (home), 14-18-2-0 (road)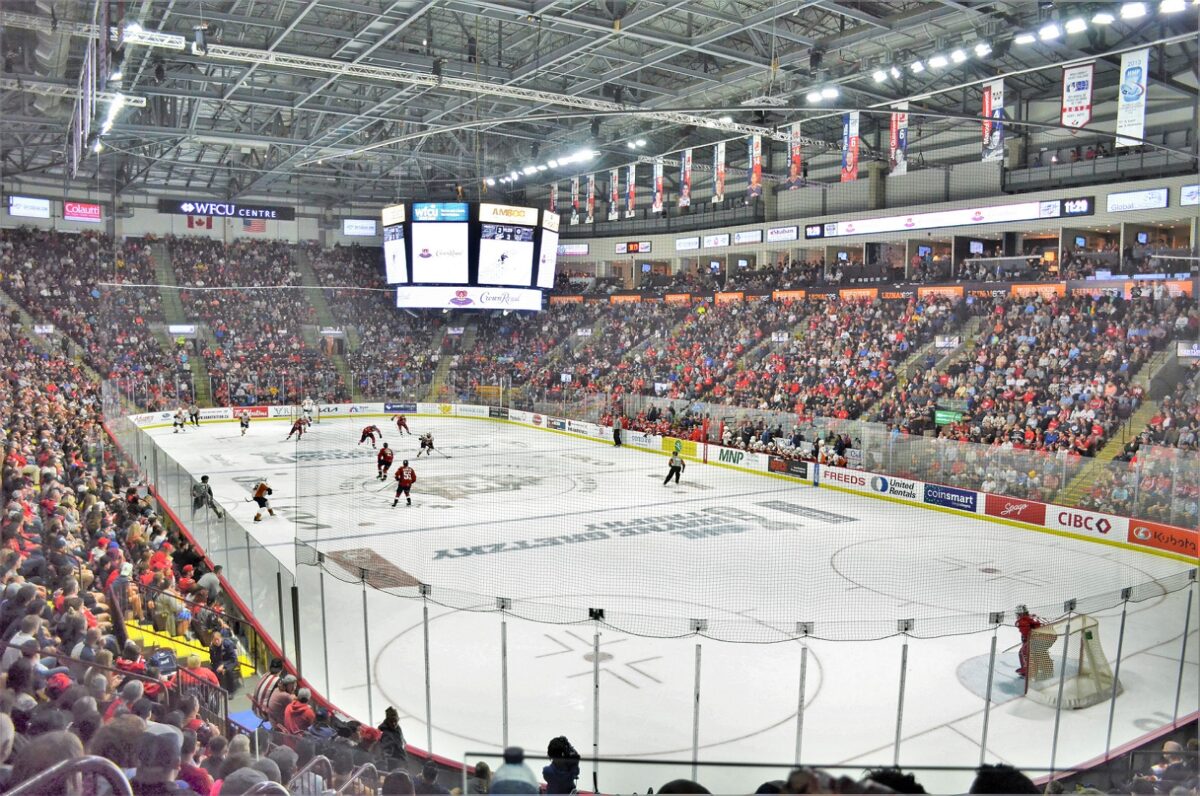 Goals For and Goals Against
Spitfires – 320 – 265
Rangers – 257 – 240
Head-to-Head Record:
Spitfires – 4-0-0-0
Rangers – 0-3-1-0
Spitfires outscored Rangers 25-13
Leading Producers and Goaltending Stats
Top 3 Producers:
Spitfires:
Forward Matthew Maggio – 66 games, 54 goals, 57 assists, 111 points
Forward Jacob Maillet – 67 games, 24 goals, 52 assists, 76 points
Forward Alex Christopoulos – 68 games, 49 goals, 25 assists, 74 points
Related: OHL: Spitfires' Captain, Isles' Prospect Maggio Joins 50-Goal Club
Rangers:
Forward Francesco Arcuri – 71 games (two teams), 48 goals, 43 assists, 91 points
Forward Francesco Pinelli – 60 games, 41 goals, 49 assists, 90 points
Forward Carson Rehkopf – 68 games, 30 goals, 29 assists, 59 points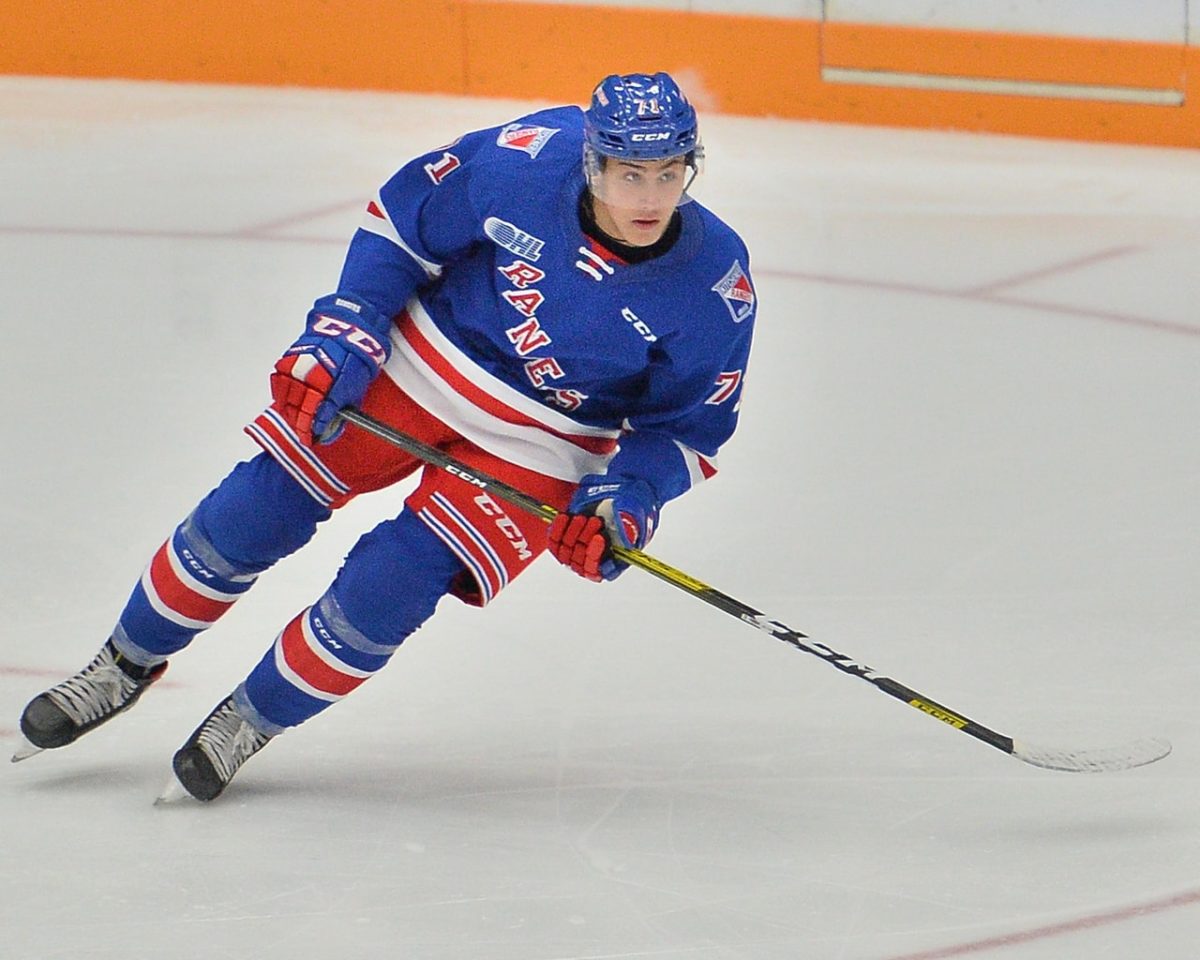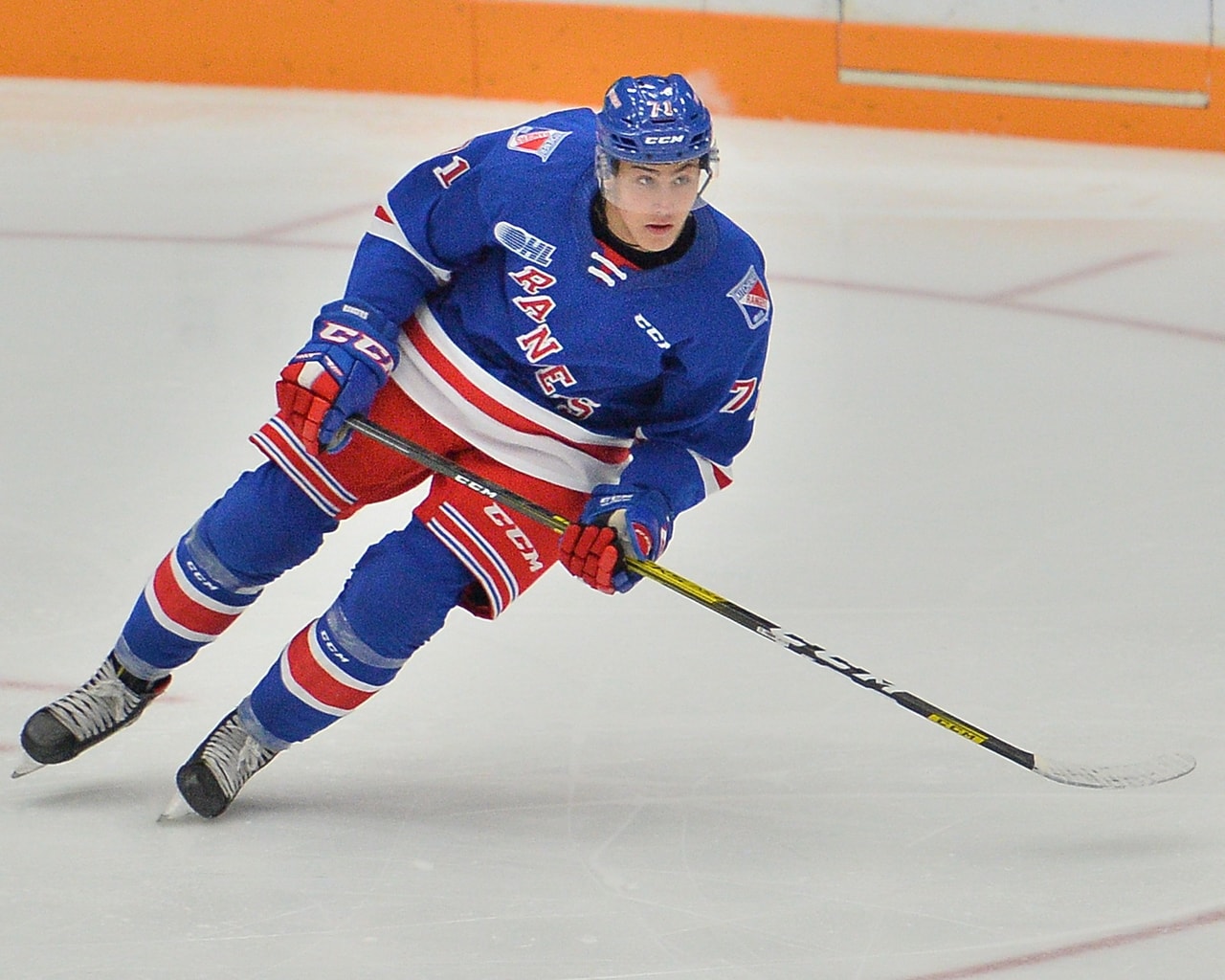 Goaltending:
Spitfires:
Joey Costanzo – 40 games, 26-6-0-2, 3.03 goals-against average (GAA), .901 save percentage (SV%)
Mathias Onuska – 33 games, 17-11-4-0, 4.44 GAA, .868 SV%
Rangers:
Marco Costantini – 47 games, 24-17-5-0, 3.23 GAA, .900 SV%
Marcus Vandenberg – 23 games, 9-9-1-0, 3.31 GAA, .898 SV%
What the Spitfires Bring to the Table
After losing Game 7 in the OHL Championship last season, the Spitfires reloaded and are looking for redemption. General manager Bill Bowler loaded up at the January trade deadline and this is a club that can beat teams in multiple ways. Led by captain Matthew Maggio (111 points), 49-goal scorer Alex Christopoulos, Shane Wright (Seattle Kraken), and Brett Harrison (Boston Bruins), they have an offence that can score regardless of who's on the ice. While their defence has been mid-pack, it can be frustrating to play against, and their goaltending is also itching to show they're the real deal. These playoffs are what they've been waiting for.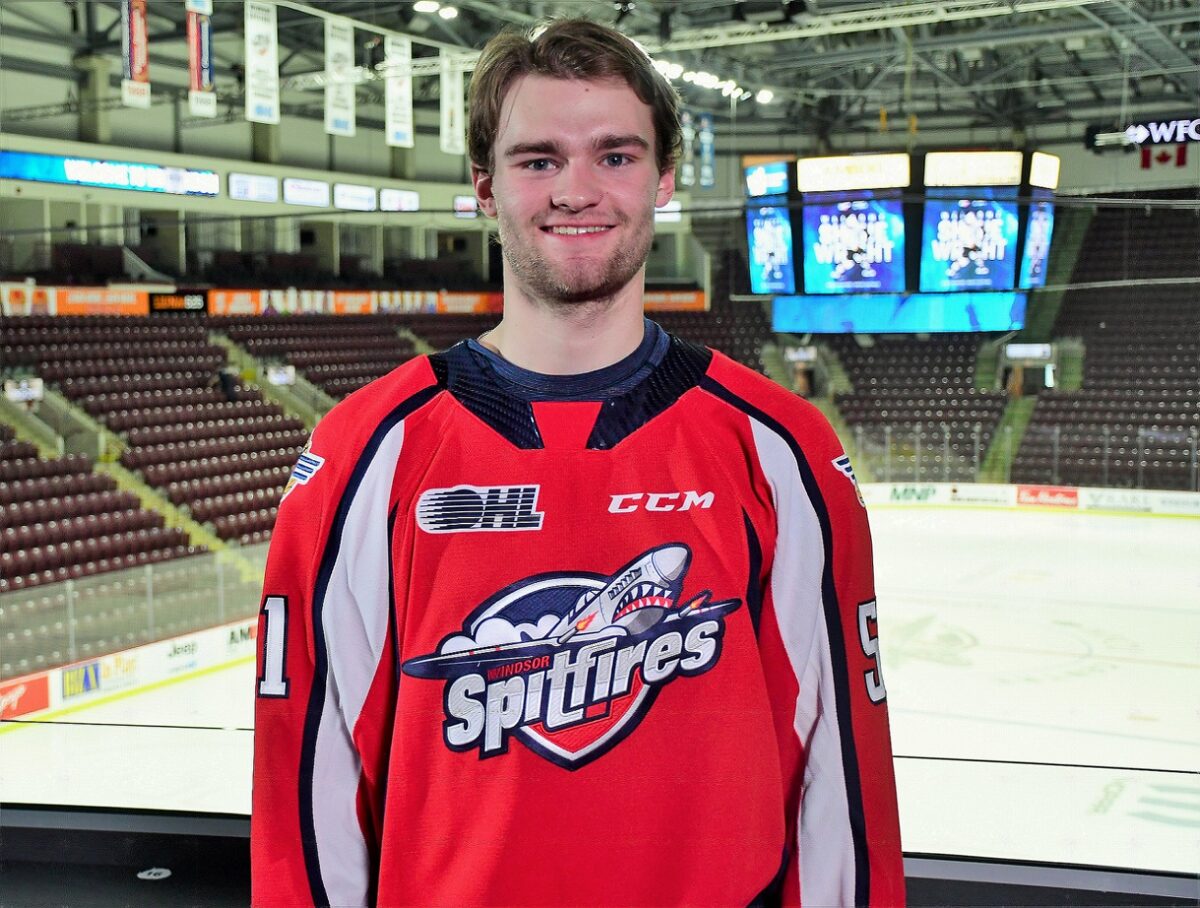 The club has dealt with plenty of injuries and illnesses since early December, often playing with a short lineup. That hasn't phased them, though, and head coach Marc Savard has them full of confidence. They are focused on that one elusive thing — the OHL title. They earned home ice throughout the conference playoffs and plan on using that to their advantage.
What the Rangers Bring to the Table
While the Rangers come into the playoffs as the eighth seed, they're a contender on paper. Veterans Reid Valade, Francesco Pinelli, and Roman Schmidt are hungry to get the club to glory. The team brought in key names this season, including forwards Danny Zhilkin (Winnipeg Jets) and Francesco Arcuri (Dallas Stars), plus defenceman Lleyton Moore, to give them a boost. They also feature goaltender Marco Costantini, who was in goal for the Bulldogs when they beat the Spitfires last season.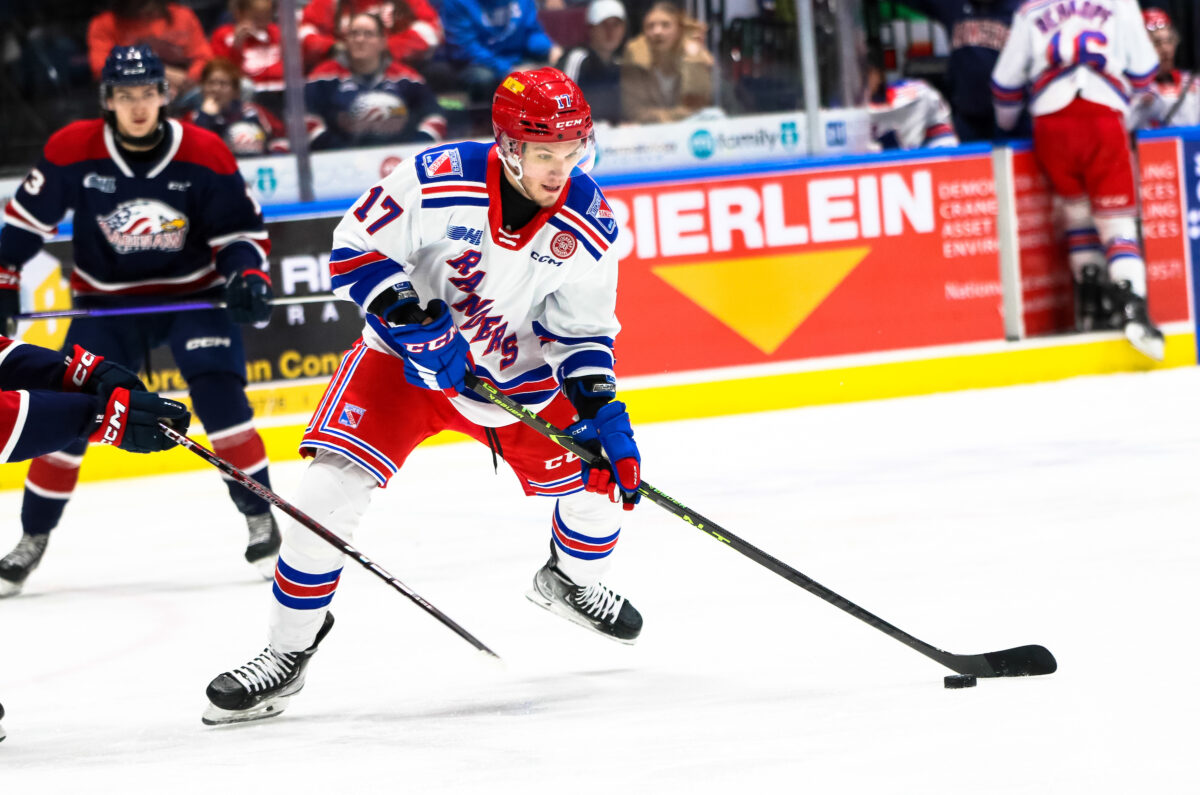 The Rangers are a team that can do damage, regardless of who they play against. If anyone takes them lightly, it's going to be a rough road.
The X-Factors
When you have two teams with this much firepower, the series could come down to one area — goaltending.
Spitfires' veteran Mathias Onuska, 20, was a big part of their run to the 2022 OHL Championship. However, injuries and inconsistency have stalled his progress. His 17-year-old protege, Joey Costanzo, who was brought in from the Niagara IceDogs prior to the home opener, has become a legitimate starter quicker than expected. Now, Savard has to figure out who to start on a regular basis. Can the veteran find his 2022 game or will the youngster officially take over?
---
Latest News & Highlights
---
On the other side, Costantini has plenty of playoff experience after taking the Bulldogs to the Memorial Cup Final last season. While the 20-year-old hasn't put up quite the same numbers, he knows what to do in big situations and could play a key role if the Rangers are to pull off an upset.
Playoff History Between Spitfires and Rangers
Since the late 1980s, the Spitfires and Rangers have met up several times in the post season, including one dramatic tie-breaker.
1988 – The Spitfires grabbed a four-game sweep in the first round, outscoring the Rangers 29-11, en route to the Memorial Cup Final (which they lost).
1992 – The fourth-seeded Rangers beat the fifth-seeded Spitfires in seven games after grabbing a 3-1 series lead.
1999 – This is the tie-breaker that's still talked about. In a winner-takes-all game on March 20, 1999 at Windsor Arena, the clubs battled into the second overtime. That's where Blair Stayzer beat Reg Boucier to give the Spitfires a 2-1 win and a playoff berth. Fans got little sleep that night but few complained.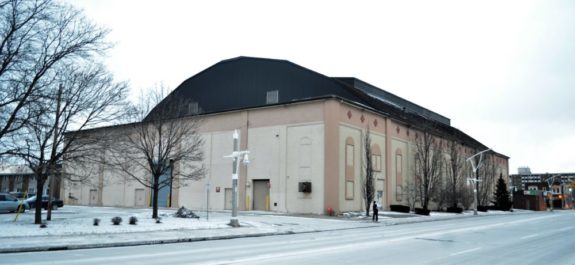 2010 Western Conference Final – (1) Spitfires over (3) Rangers – 4-3. This was a crazy series. The Rangers started the series with a 3-0 lead but a Game 4 win by the Spitfires at the Kitchener Memorial Auditorium changed everything. The Spitfires went on to win three more before sweeping the OHL Championship, and then sweeping the Memorial Cup for back-to-back titles.
2016 Western Conference First Round – (4) Rangers over (5) Spitfires – 4-1. This was a nail-biter series with three of the five games being one-goal contests. Unfortunately for the Spitfires, Game 5 was the worst as the Rangers showed no mercy in a 5-2 win.
2022 Western Conference Second Round – (1) Spitfires over (7) Rangers – 4-1. Every game in this series had some kind of a lead change and most were high-scoring. Despite the one vs. seven match, make no mistake, this was a very good series.
The Schedule
Game 1 – Thurs., March 30 – at Windsor – 7:05 p.m.
Game 2 – Sat., April 1 – at Windsor – 7:05 p.m.
Game 3 – Tues., April 4 – at Kitchener – 7:00 p.m.
Game 4 – Thurs., April 6 – at Kitchener – 7:00 p.m.
Game 5 – Sat., April 8 – at Windsor – 7:05 p.m. *if necessary*
Game 6 – Sun. April 9 – at Kitchener – 7:00 p.m. *if necessary*
Game 7 – Tues., April 11 – at Windsor – 7:05 p.m. *if necessary*
All of the schedules are available on the OHL site.
Prediction
On paper, a one vs. eight match should be a four-game sweep. However, that would be a shock in this case. The Spitfires boast the best offence in the league and are the first seed for a reason. However, the Rangers have six NHL prospects and their 72 points are the highest total for an eighth seed since the London Knights had 73 in 2010-11. Last season, the seventh-seeded Rangers beat the second-seeded Knights in Game 7 of the first round for the big upset. Can they do it again this season? It's a tough ask. The favourites may be too much this time. Spitfires in 6.
Ticket Information
You can catch the Spitfires' home games at the WFCU Centre by going to their page. Prices depend on seating location and range from $19.80 to $44.80 (platinum seating).
The Rangers have set up their playoff ticket page on their website, too. Tickets for games at the Kitchener Memorial Auditorium range from $22.50 to $26.50, depending on age.
---
---