The OHL Sunday Seven is back for the 2018-19 season. Every Sunday or thereabouts, we will go over seven stories or noteworthy items from the Ontario Hockey League. In case you missed our last edition, you can read it here. This week we introduce you to the dynamic duo of Justin Brazeau and Matthew Struthers for North Bay. We chat everything from their chemistry to being undrafted in the NHL to media coverage in a small market. We also discuss the Otters' mentality post Christian Girhiny, who will land Michael Dipietro, who's the early story in London, which player has scored points in every game this season and I vent about an aspect of the OHL schedule. 
North Bay's Dynamic Duo Off to Dominate Start
North Bay, Ontario. It's home to one of the smallest markets in the OHL. From Erie, it's a seven-hour drive away. They might be small but they got something special cooking at Memorial Gardens.
All you have to do is look at the top of the OHL scoring leaderboard to see what I'm talking about. After the Battalion's 5-2 win in Erie Saturday night, winger Justin Brazeau put himself on top with a 1-3-4 performance. He now has 15-17-32 in just 14 games. He's three points up on the Soo's Morgan Frost and has played one less game than Frost. How good has Brazeau's start been for North Bay?
Consider this. In 2016-17 when Alex DeBrincat won the Red Tilson, DeBrincat's line after 14 games was 17-18-35. Brazeau is playing at a pace close to DeBrincat, who finished that season with 127 points.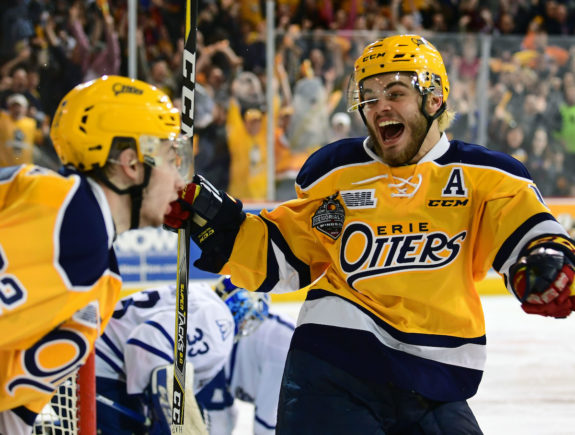 We are approaching the quarter pole in the OHL. Brazeau has been the best player this season and it's not close. But he's not alone. His linemate Matthew Struthers have combined for 56 points in 14 games. Struthers recorded a hat trick Saturday night with Brazeau assisting on all three goals. This dynamic duo is playing some fantastic hockey up north.
We caught up with both Brazeau and Struthers postgame Saturday night. If you're game planning against the Battalion, you have to find a way to stop this dynamic duo. No one has been able to do that thus far. I asked each of them how they're able to produce at this pace knowing everyone will gun for them night in and night out.
"I think it's a credit to our coaching staff getting us ready as a group, getting a game plan ready," Struthers said. "So when a game plan is put forward, it's easy for us to go out there and give it our all."
"I've had that for the last year and a half," Brazeau said. "Ever since Matt (Struthers) came here, we've been a pretty dominate line. We play really well together. We know where each other are on the ice. I think that's the key for us, that we always know where each other are even if we don't see each other. We're able to feed off each other. It makes it a tough matchup for the other teams.
They've been great, but somehow they don't have an NHL team as of now. Brazeau did spend time with both Columbus and San Jose in camps. Struthers was ranked on the final central scouting rankings but went undrafted. Point blank, I asked each about their individual situation. For Struthers, was he surprised he didn't hear his name called?
"No. I knew anything could happen. Obviously there's a lot of good players. It's just another year for me to try to prove myself." I then asked if he had a chip on his shoulder. "Yeah for sure. Every kid wants to get drafted. That's exactly what I'm going to try to do."
For Brazeau, is he surprised he doesn't have a contract?
"No. I just try to do what I do and play hard every game, work and I'll see what happens at the end of the year. I try not to worry about that too much because when you start thinking too much and overplaying."
I asked both what they did this summer to improve. Both essentially had the same answer. Struthers worked on his skating. Brazeau mentioned improving his pace multiple times. Both are decent skaters as it is but they know to make it to the next level, this must be a point of emphasis.
FINAL: @OHLBattalion (5) at @ErieOtters (2)@Struthers_15 scores a hat-trick and an assist.

VIDEO 📽️: https://t.co/EeDRc24AGZ
STATS 🗒️: https://t.co/WllyPmhhGC pic.twitter.com/1BycdtqgPj

— OntarioHockeyLeague (@OHLHockey) October 28, 2018
We then switched gears and talked about media coverage overall. When you think of the OHL, you think of London, Guelph, Kitchener and others who get a lot of attention. North Bay being in a small market doesn't get the hype others get. I asked if this is motivation for them.
Struthers: "Yeah, for sure. We use it as fuel. Teams don't like to talk about North Bay as much as the powerhouse teams year in and year out. We like flying under the radar. We got to .500 that was our goal and we're gonna roll from now on."
Brazeau: "Yeah. We're not one of the biggest markets in the league. We got one of the best fanbases. We can get 2500 people in the seats and it's one of the loudest buildings in the league. Everybody kind of knows your name in town. It's not that big of an issue for us. We love playing where we do in North Bay and it's a great spot."
The Battalion have a Sunday matinee in Hamilton before heading home. They will take on the Otters again this time at Memorial Gardens this coming Thursday night. They know how good they are. They feel like they're ready to roll. Thanks to both Brazeau and Struthers for taking the time to talk with us.
Erie Otters Rest of Season Mentality
Earlier this week, one of the last remaining players from the Otters OHL Championship team made a decision to move on. Christian Girhiny decided to forego his last season with the Otters and pursue educational and career opportunities. For now, he has joined his father in St. Catherine's playing hockey.
The writing was on the wall with this one. Girhiny started the season on the top line with Danial Singer suspended. However since Singer's return, Girhiny was getting bottom-six minutes as an OA. With where the Otters are at in their development, the team wanted to get some of their young guys more ice time. It only makes sense.
GM Dave Brown echoed this sentiment to me after the Girhiny news broke. "It's time to let development run its course," Brown said. "Instead of having two young guys sit, only one has to sit now."
The early results on this look promising. The Otters ran off four wins in a row before losing to North Bay Saturday night. The newly constructed line of Brendan Sellan, Daniel D'Amato and Brendan Hoffmann have shined now that they have the chance to play more. They're not your typical fourth line. They have skill and will give other teams fits moving forward.
Development is key. Expect the Otters to keep running the young guys out there for the rest of this season.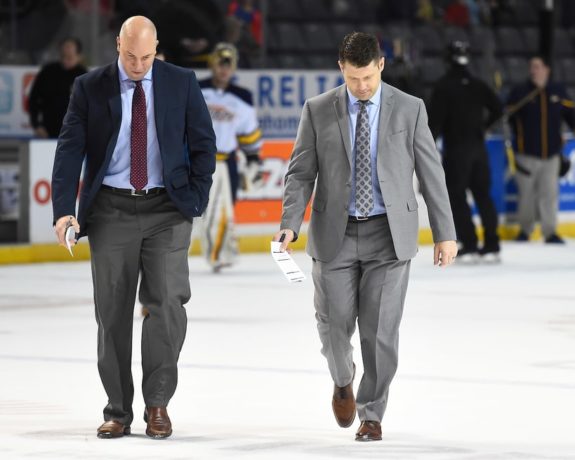 Finally! Flint Is On the Board!
It's finally happened! The Flint Firebirds officially have points in the standings. However they are still seeking their first win. Saturday night at home against Sarnia, they got their first point.
Ryan McGregor scored 1:03 into overtime to lift the Sting to a 6-5 win over the Firebirds. That overtime point gave Flint their first point of the season. They now sit with a record of 0-12-1. Connor Roberts and Ethan Keppen each scored twice while Ty Dellandrea added three assists. Dellandrea now has 3-8-11 in 13 games. He'll eventually get his points. Hopefully the team finds their footing sooner rather than later.
Albert Michnic's Spirited Run
Speaking of new settings energizing a player, I present to you Saginaw's Albert Michnic. He has points in every game he's played in this season. All told, he has 8-13-21 in 13 games while helping the Spirit to second place in the West Division.
The Mississauga Steelheads traded Michnic to Saginaw for a conditional 15th round pick back in June. Needless to say the return on investment on this trade is a good one for the Spirit. Of his 13 games played, Michnic has six multi-point efforts. Ah yes, the price of overagers can be dirt cheap. If you find the right one, you instantly improve your team. The Spirit clearly did that with this trade.
Jordan Kooy the Early Story in London
With everything going on in London, not sure many expected the early good story to come from the Knights would be the play of Vegas Golden Knights prospect Jordan Kooy. Yet here we are. To this point of the season, he's been the best goalie in the OHL.
Just take a quick look at these numbers. Entering Sunday, Kooy is 5-1-0 with a 1.84 goals-against average and a .936 save percentage. Both the 1.84 and the .936 are OHL bests. The next best GAA is Kyle Keyser with a 2.40.
Kooy has split time with Joseph Raaymakers. I wonder how much longer this will last. Kooy seems to be playing himself into a number one role with Raaymakers spelling him. It's early yes, but these numbers are telling. It'll be interesting to see how the starts are split in the near term and if Kooy can keep up the great start.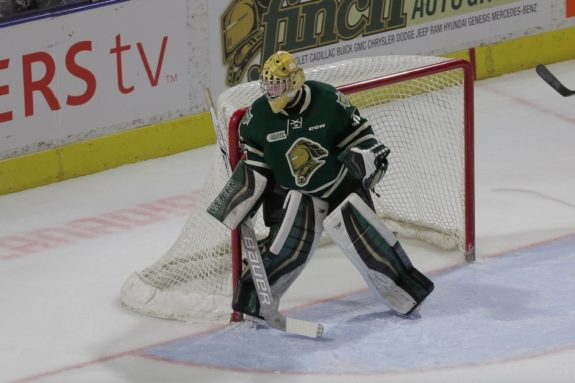 Ideal Mikey DiPietro Landing Spots
Now let's address something that can (and will) shape the course of the OHL. Where will goalie Michael DiPietro end up? You know full well he's going to chase a Memorial Cup somewhere. The question is where? In my mind as of this moment, two teams stick out to me. There's maybe others, but to a lesser degree.
The criteria here is who is all-in this season? To me, the list has to begin with the Ottawa 67's. Given the talent they have, this is the year they must go for it. Although Cedric Andree is off to a nice start, bringing in someone like DiPietro would give the 67's extra confidence knowing he's done it on the big stage before.
As of this writing, Ottawa is the leader of the OHL standings. They have the talent to make it out of the East no question. That's without DiPietro. Now imagine him backstopping the 67's. He would make them overwhelming favorites. Windsor would probably prefer trading him to the East as well. So when you add it up, this makes too much sense to me. Ottawa is at the top of my list for DiPietro.
Though not far behind is the Guelph Storm. They are loaded at forward. But their defense, well, leaves something to be desired. They too seem all-in. Plus if you have a chance to go from Anthony Popovich to DiPietro, yeah you see about making this happen. If they can get both DiPietro and another defender, they would jump to the top of the list of favorites in the West. I'm very curious to see how they handle the deadline.
Does Niagara look at DiPietro with Stephen Dhillon already there? What about Owen Sound? They could always use goaltending help. Maybe Saginaw sniffs around. Does Mississauga declare themselves all-in? In my mind, Ottawa and Guelph are my two favorites to land Dipietro.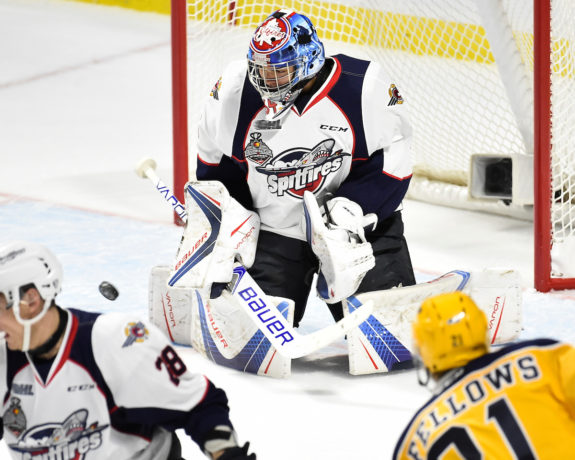 My Beef With OHL Scheduling
Look, I generally don't have issues with the schedule. It is what it is most days and nights. However I just don't understand why the Otters have Sunday home games with a 4 P.M. start.
They host Mississauga this Sunday. But will anyone go? Granted, arena availability plus logistics certainly play a role in how schedules are constructed. But in the end, this will hurt the Otters' bottom line. See in northwest Pennsylvania as is the case in many parts of the United States, football is king. The Cleveland Browns play the Pittsburgh Steelers at 1 P.M. Normally with a 4 P.M. start this is ok. But fans are not going to want to leave before the game ends. That could mean past 4 P.M. The puck has already dropped.
Why not in this case make it a 5 P.M. or 6 P.M. start? This allows fans to hop in their car after the football game and make it down to the arena. I just wish schedules were made to help maximize the team's chances of getting the highest attendance. I'd be very surprised if more than 2,000 made it to Sunday's matinee. We'll see.
And that's it for this week. Until next time hockey fans.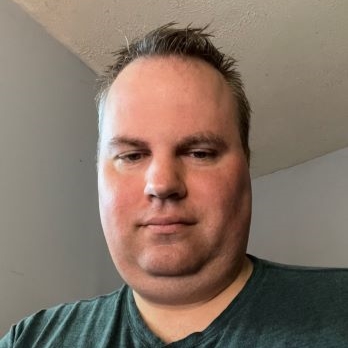 I am a fully credentialed writer who covers the Columbus Blue Jackets, Cleveland Monsters and Erie Otters as well as the Ontario Hockey League and NHL Draft. The 2021-22 season will mark eight seasons with the Hockey Writers. I am also the site's Credentials Manager.