At the start of the day, the Edmonton Oilers had picks in the 3rd, 5th, 6th and 7th rounds. They parlayed the 76th overall pick to San Jose for the 100th overall pick (4th round) and the 126th overall pick (5th round) The value they found with those two picks they traded for could actually pay some dividends down the road. At pick 100 and 126, the Oilers found themselves able to pick players who for one reason or another slid beyond the positions they were expected to be drafted.
Round 4, 100th Overall: Carter Savoie (Sherwood Park Crusaders: AJHL)
Carter Savoie was the second member of the Sherwood Park Crusaders to be drafted in the 4th round. The 5-foot-10, 181-pound wing from St. Albert, Alberta was the highest-ranked player from the AJHL in this draft class so it was kind of surprising when his teammate, Michael Benning, went 5 picks before him. Savoie was projected to go in the 2nd or 3rd round with Craig Button having him ranked at 52 and Bob McKenzie ranking him at 84.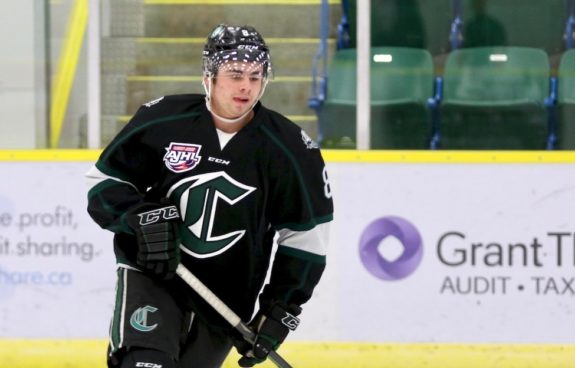 Savoie is a player who really understands what to do without the puck in the offensive zone. He embraces the concept of "get to space" and quickly exploits holes in defensive zone coverage to get open. There's really keen awareness about him in that he seems to have a perfect understanding of where every player on the ice is, at all times. This is almost impossible to teach and it's very difficult to quantify. However, his 53 goals in 54 games this season is a testament to his ability to exploit opposing defenses.
With any player from the AJHL, there will be questions about the quality of the competition. Those questions are likely the number one reason Savoie slid this far. However, he's headed to the University of Denver to continue his development. The NCAA is a meat grinder. Savoie will have to prove there, that he's the real deal and capable of continuing his goal-scoring ways. If he can do that, the Oilers might have themselves a gem here.
Round 5, 126th Overall: Tyler Tullio (Oshawa Generals: OHL)
For two seasons in the OHL, center, Tyler Tullio has shown a really nice skill package as a puck-moving center. His 27 goals and 66 points in 62 games this year isn't the kind of thing that jumps out at you, but there's a really good hockey player here.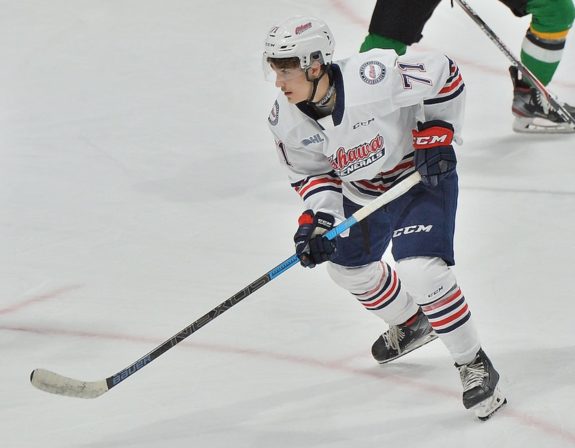 Tullio checks in at 5-foot-11 and 165 pounds. He's going to need to add some weight and continue to develop his skillset. Throughout the season he has shown the kind of upside that is seen in Top-six NHL forwards. His shot, playmaking ability, speed, and competitive level are all there. He plays with a bit of an agitator's edge from time to time. There's a lot to like about this players game and several scouting firms projected him to go in the 2nd round. For the Oilers to get him in the 5th is just pure value.
Round 5, 138th Overall: Maksim Berezkin (Loko Yaroslavl: MHL)
I loved Maksim Berezkin (also spelled Maxim Beryozkin). I cannot understand how he went so late. This kid is a 6-foot-4, 216-pound wing playing with Lokomotiv Yaroslavl's MHL junior team. He tore up the MHL in his draft year to the tune of 25 goals and 54 points in 51 games.
The footage speaks for itself. He has the perfect blend of size and skill. This is a player who can bull rush and bruise his way through opponents, or give them the slip with skating and stickhandling. He's always driving towards the net and the middle of the ice, funneling play into high-danger areas. Berezkin is an obnoxious back checker and a tenacious forechecker. With the puck on his stick, his head is on a constant swivel and he keeps opponents guessing as to where the puck is going next. There's a very high-end skill package here it's amazing he was available this late.
RELATED: Maxim Beryozkin – 2020 NHL Draft Prospect Profile
The impression I got from some people that I spoke to was that Berezkin was someone that scouting departments probably didn't watch enough tape of. This oversight is going to cost teams. This is one of those players I have faith in as a stud. The big turnoff I heard from a lot of people was his lack of true separation speed and an overall sense that his skating wasn't very good.
That's a huge red flag for modern prospect analysts, but I think his other tools are strong enough to offset some of the questions about his footwork. There's also a chance that with the right coaching he could improve that aspect of his game. Oilers fans might have to wait a little while for him to come to North America, but I am convinced that when he does arrive he's going to impress.
Round 6, 169th Overall: Filip Engaras (University of New Hampshire: NCAA)
Filip Engaras is a 21-year-old, double overaged, Swedish-born center, playing collegiate hockey at the University of New Hampshire. In the time I spent scouting UNH this year, I honestly can't say I remember Engaras at all. Considering he missed nine games with them, it's possible that he just wasn't available to skate in the games I watched them.
Eight goals and 15 points aren't terrible for an NCAA rookie but I would expect him to improve on that point total in his next season. In the past, he has shown some very nice edgework and zone transition ability. He's able to effectively gain the offensive zone with speed through the neutral zone and has a quick shot. There appears to be a fair amount of willingness on his part to battle for 50/50 pucks also. The NCAA is a great training ground for the NHL game so if this player continues to put everything together he could be someone to watch very similar to Tyce Thompson with Providence a year ago.
Round 7, 200th Overall: Jeremias Lindewall (MODO J20: J20 SuperElit)
Left Wing Jeremias Lindewall is a lanky 6-foot-2, 183-pound kid who likes to attack the net. He's comfortable attacking it on the rush, or while working in the cycle, battling in front for position.
Jeremias Lindewall gör ett Kenta/Foppa-mål i träningsmatchen mot Timrå. #J20gifs #Modose pic.twitter.com/4eu4xWKZmw

— Anton (@antonj85) August 26, 2020
Lindewall has a good enough first step to create some separation when battling one-on-one with opposing players. Hopefully, he'll continue to fill out a little bit and continue to work on the physical components of his game where he already has a good start. There's a place in the NHL for big wings who can get to the front of the net and are comfortable operating there.
Considering where they picked the Oilers did quite well here. Savoie, Tullio and Berezkin are of tremendous value this late in the draft. Somebody in Edmonton's scouting department must've seen something they liked from Engaras and Lindewall looks like a decent long term project. Only time will tell, but for right now, it looks like the Oilers had a pretty good day.
---
---