Without a doubt, you've now heard of the Oilers' most recent move in order to improve their perpetually poor blue-line.
In what was a very low-risk move, the Oilers claimed defenseman Adam Clendening off of Waivers on Wednesday, who had been assigned by Anaheim Ducks following his arrival from Pittsburgh. Having now reached his fifth NHL team within a calendar year, let's get to know just who Clendening is, and most importantly, what his current and future value will be within the Oilers organization.
---
Promising Beginnings
Drafted by the Chicago Blackhawks in the second round, 36th overall in the 2011 NHL Entry Draft, Clendening was a high pick thanks to his highly impressive play with Boston University.

During his time in the NCAA, Clendening displayed not only sound defensive play, but more impressively consistent offensive production from the blue-line. In his first season, Clendening scored five goals and 26 points over 39 games played. In his second and final season with Boston, his production only improved, scoring four goals and 33 points; mixing in 144 penalty minutes over his 77 game career.
Playing alongside current NHL players such as Alex Chiasson, Charlie Coyle and Matt Nieto, Clendening helped lead his team to the Regional Semi-Finals in 2012, where they eventually came up short against a strong Minnesota team, featuring the likes of Erik Haula and Nick Bjugstad.
In 2012, Clendening left Boston University, choosing to forego his final two years in the NCAA by signing a three-year entry-level contract with the Chicago Blackhawks. As such, he began the 2012 hockey season as a member of the Rockford Icehogs of the American Hockey League.
Clendening would spend the next two and a half years of his career in Rockford, playing an offensively focused brand of hockey, as illustrated by his nine goals and 46 points as a rookie, totals he surpassed in his second season by scoring 12 goals and 59 points. In 2014-15, Clendening once again began the year with Rockford, however following 38 games, he received his first call-up to the NHL, where he skated in four games with Chicago, managing to score his first goal, and assist in that time.
In fact, his first goal came on just his second NHL shift.
Tumultuous Tenure
Although Clendening's NHL career got off to an impressive start, the past year can be best described as anything but hectic.
Following his four game stint with Chicago, the Blackhawks packaged the young defenseman off to Vancouver in a January 29th, 2015 trade. With the Canucks, Clendening appeared in 17 NHL games, recording two assists, as well as 11 regular and 23 post-season games with the Utica Comets.
However, come late-July, Clendening was once again on the move, traded to the Pittsburgh Penguins alongside Nick Bonino in a trade which sent Brandon Sutter to the Canucks.
Now within the Penguins' organization, Clendening appeared in nine games with Pittsburgh, as well as an additional six with Wilkes-Barre/Scranton of the AHL. Just when it appeared as though Clendening had finally found a new home in which he could continue to develop his game, he was shipped off again, this time to the Anaheim Ducks. Alongside David Perron, Clendening was swapped for forward Carl Hagelin, a move which aimed to provide the Ducks with a much needed offensive punch, yet additional defensive depth which they already retained.
As a result, Clendening was placed on Waivers for the purpose of being assigned to the San Diego Gulls of the AHL, yet, as the trend goes, he would not reach his final destination.
An Incredible Opportunity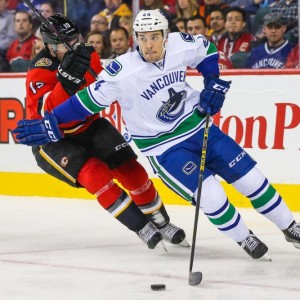 Although he likely would have preferred to head to a successful team, as he had in previous transactions, heading to Edmonton will undoubtedly be the best opportunity for Clendening to not only play in the NHL, but to further develop his game and become a truly valuable defenseman.
The Oilers have long been searching for quality NHL defenseman, as their lack of quality, depth defenders have acted as their Achilles heel for numerous seasons.
At 6 feet, 190 pounds, Clendening has decent size, yet would do well to add some strength, especially so considering the Western Conference is characterized by big-bodied power forwards. In terms of his strengths, Clendening's top asset is his ability to move the puck, particularly in his own end of the ice, a quality which will bode well for the Oilers. Further, his offensive instincts, as previously mentioned, are incredibly strong, making him a good option to quarter-back the Oilers' power-play.
With the Oilers, Clendening will certainly be given considerable playing time in order to demonstrate his abilities at the NHL level. Although he will likely be used on the third pairing, he will certainly see a decent amount of power-play minutes to justify his offensive prowess.
With a base salary and cap hit of only $347,000, Clendening provides the Oilers with a low cost, low risk, yet high potential option on the back end to finish the season. As a pending RFA, the Oilers will certainly hold a number of options regarding Clendening's future, a future which will be heavily dependent on his play to close out the year.