With the completion of the 2014-15 National Hockey League regular season just around the corner, one cannot help but wonder where the Edmonton Oilers organization will go from here. While few had the Orange and Blue down as being a legitimate playoff contender prior to the start of the season, many were expecting this group to at least take a step forward during year two of the Craig MacTavish – Dallas Eakins regime.
Unfortunately, that is not how things played out and as of this moment Edmonton sits in 28th spot in the overall standings and are tied with the Buffalo Sabres for the fewest wins in the league with a grand total of twenty. The only two seasons in which the Oilers have had fewer victories were 1994-95 (17) and 2012-13 (19) both of which featured 48-game schedules due to a work stoppage.
Considering how badly things have gone for this organization since their surprise run to the 2006 Stanley Cup Final, the fact this year has been the worst of the bunch, at least from a statistical standpoint, is downright staggering. With that being the case, this management team has left themselves in a bit of a predicament heading into 2015-16.
Accepting Reality
While this lineup already has some very nice pieces in place, it is one that is still lacking in a number of areas…most notably in goal and along the blueline. In today's game, there are organizations who have been able to keep their head above water with a less than stellar backend but those teams generally have at least one, if not two things going for them.
They play a defensively sound system and/or have an elite netminder to cover up a lot of their mistakes. As they are currently structured, the Oilers fall into neither of those categories and because it, could be hard-pressed to make the necessary adjustments to their roster in order to make much of a move up the Western Conference standings come next season.
Add to that the fact the current general manager has absolutely no interest in moving any one of Jordan Eberle, Taylor Hall or Ryan Nugent-Hopkins in a potential blockbuster deal and the options for improving this team in the immediate future seem even less likely.
OILERSNATION: Edmonton Oilers: Prelude to 2015-16: There are a little under three weeks left… http://t.co/IIUFEGpEKg #OILERS #NHL #YEG

— Oilers Oilogosphere (@Oilogosphere) March 22, 2015
Someone Will Have To Go
Now the chances of them trading one of Leon Draisaitl, Oscar Klefbom or Darnell Nurse would appear to be remote but depending on the potential return, that could change. Meaning the trio of Martin Marincin, Justin Schultz and Nail Yakupov could all be made available this summer, with the talented Russian being the biggest wild card of all.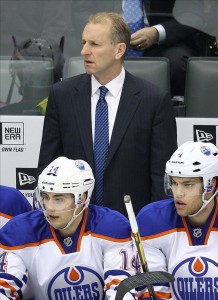 To suggest the 2012 first overall pick has had a rough go of things since making the jump to the pro game would be putting it nicely. While he showed signs of finding his way during the latter part of his rookie campaign under the guidance of former head coach Ralph Krueger, Yakupov regressed badly during his time with Eakins behind the bench.
To his credit, the youngster has used the additions of Derek Roy as his regular centre and Todd Nelson's positivity to help him find his way back from the black hole he had fallen into over the last season and a half. There is no question his production and overall play has improved since those changes were made but it by no means does it guarantee that he will be part of the solution moving forward.
Eberle, Hall or Yakupov
At some point, MacTavish is going to have to part with a piece or two in order to improve this roster, of that there is not doubt. However, the chances of him moving a different winger, aka Eberle and Hall, when both are much further along from a developmental standpoint and have proven to be consistent point produces at the National Hockey League level, would have to be almost nil.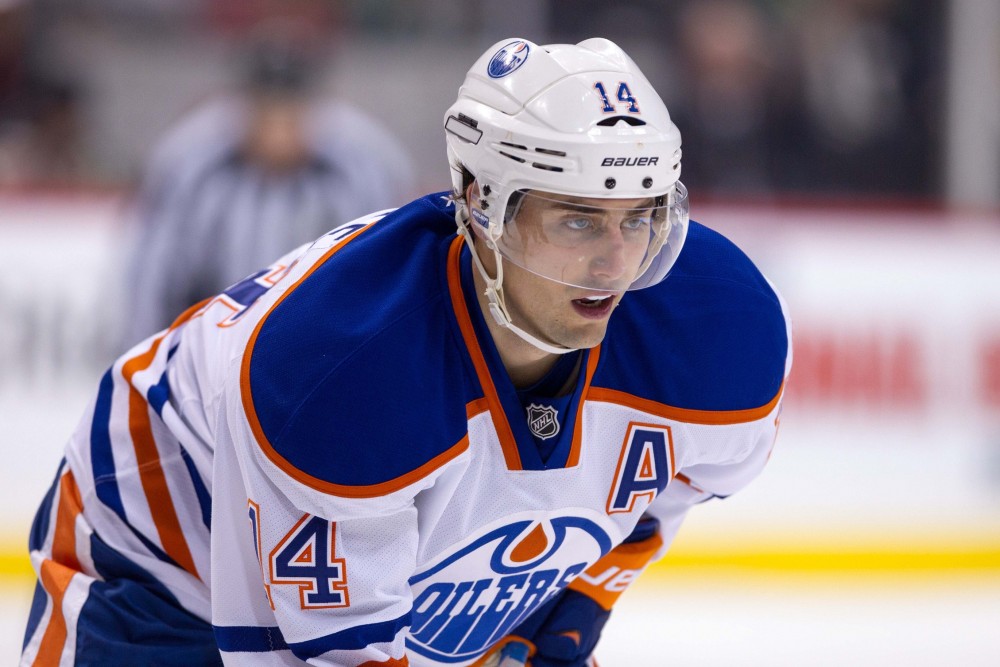 While Yakupov has not been given the same sort of opportunity as the aforementioned duo, we are talking about a guy who has 40 goals, 83 points and -70 plus/minus rating in 182 career games. Opportunity aside, those numbers are nowhere near the other two and as misleading as +/- can sometimes be, the 21-year old's total is worse than Eberle and Hall's combined career totals of -40 and -29 respectively.
With the kid looking like a different player, albeit still a flawed one, under Nelson, could MacT use this semi-resurgence to his advantage and turn him into a piece this team needs? While he may not be able to secure them what they are looking for on his own, perhaps if they package him with something else, it may be enough to get them something tangible.
Also, let's not forget Yakupov's entry level deal ends this summer and chances are he will want to get paid but hopefully for his sake, the expectation is not for something in the $6 million range the other three received because that won't be happening…in Edmonton or anywhere else.
Taking That Leap Of Faith
There is no question that it would be a risky move but again, at some point this organization is going to have to take that leap of faith and see where it gets them. If it were up to me, keeping Nail Yakupov around would probably be my preference but something is going to have to give and it will ultimately be up to Craig MacTavish to decide what direction he wants to go and he had better choose wisely.
Rob Soria is the Author of Connor McDavid: Hockey's Next Great One. He has chronicled the Orange and Blue since creating his Oil Drop blog in 2011 and has also had his writings featured over at HometownHockey.ca and Vavel USA, where he has covered the NHL, MLB and ATP Tour. Rob was born, raised and still resides in Edmonton, Alberta and can be reached via twitter @Oil_Drop.