Using notable NHL stats to look through the last week in the league.
1. Fifth All Time
Jaromir Jagr scored his 718th NHL goal on Thursday, passing Phil Esposito, who has 717, to take fifth in all-time NHL scoring.
Jagr also played in his 1,540th career NHL game, tying him for 12th all-time with John Bucyk. Before the season is out he could tie Alex Delvecchio for 11th all-time at 1,549. Gordie Howe holds the record at 1,767 career games.
Jagr ranks first among active players. Second goes to Shane Doan, who has played in 1,386 career games.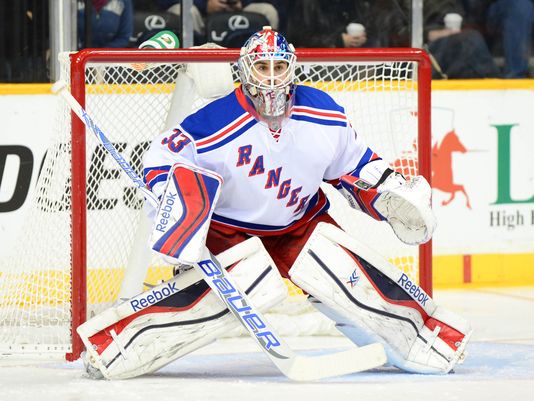 2. Rangers Surging
The New York Rangers have now allowed two or fewer goals in 10 straight games. While many of us (me included) thought that the loss of Henrik Lundqvist would be a huge blow to the Rangers, it's instead been an opportunity for Cam Talbot to steal the spotlight. He now has a .929 Sv% (second in the NHL) and a 2.13 GAA (fourth in the NHL).
The last time the Rangers held opponents to two or fewer goals in 10 straight games was 1971. They were defeated in the playoffs by the Chicago Blackhawks that year, who ultimately lost to the Montreal Canadiens in the finals.
The last time #NYR allowed 2 or fewer in 10 straight games in 1 season: 2/20/71 to 3/18/71 (12 games). (@EliasSports)

— New York Rangers (@NYRangers) March 23, 2015
3. Hamburglin'
Senators goaltender Andrew "Hamburglar" Hammond allowed two or fewer goals in each of his first 12 NHL starts. That ties a record set by the Bruins' Frank Brimsek in 1938. He didn't manage to grab the record for himself, as he allowed four goals in a win over the Bruins on Thursday.
He's also just the fifth goaltender to 14 consecutive starts with no regulation losses to open a career.
RELATED: Senators Showing No Quit
4. 900 Assists
With an assist against the Maple Leafs on Thursday, Joe Thornton became the 19th player in NHL history to hit 900 assists in their career. He's second among active players to Jagr's 1,073 career assists.
Mike Milbury isn't impressed though. He thinks the Sharks should send Thornton to the AHL.
Joe Thornton of the @SanJoseSharks became the 19th player in NHL history to reach 900 career assists (356-900–1,256) pic.twitter.com/91Y8OKCpln

— NHL Public Relations (@PR_NHL) March 20, 2015
5. 21 Shutouts
With a shutout on Tuesday over the Calgary Flames, Brian Elliott recorded his 21st shutout in a Blues uniform, setting a franchise record. He passed former teammate Jaroslav Halak, who recorded 20 shutouts with the Blues.
Picture perfect. pic.twitter.com/D3Fb8cY6hf

— St. Louis Blues (@StLouisBlues) March 18, 2015
Halak set a mark of his own this week as well, grabbing his fifth shutout of the season. Chico Resch posted seven shutouts for the Islanders in the 1975-76 season and is the only Islander to have posted more shutouts than Halak in a single season.
6. Carey Price Starts Setting Career Marks
Carey Price has had a knockout year and with a mighty impressive shutout on Thursday he grabbed his 39th win of the season, a career-high.
He also grabbed his eighth and ninth shutouts of the season this week, setting a new career-high for the probable Vezina winner. That's his 34th career shutout for the Canadiens, putting him fourth all-time for the Habs, tied with Bill Durnan. He sits behind George Hainsworth (1926-37, 75 shutouts with the Habs), Jacques Plante (1952-75, 58 shutouts with the Habs), and Ken Dryden (1970-79, 46 shutouts with the Habs).
— Canadiens Montréal (@CanadiensMTL) March 20, 2015
RELATED: 5 Canadiens Records Carey Price Can Hit This Season
7. Finding Calder
Johnny Gaudreau grabbed a goal and three assists this week to move up to 57 points on the season. He's the first Flames rookie to hit that mark since Sergei Makarov in the 1989-90 season when he finished with 24 goals and 62 assists.
8. Shutting Down MSG
The Blackhawks shutout the Rangers at Madison Square Garden this week for the first time since October 22, 1997. That game was a 1-0 victory with Chris Terreri grabbing the shutout.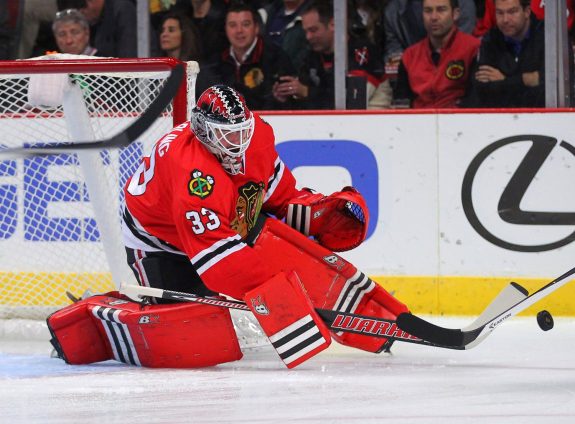 That game was Scott Darling's first career shutout and marks the third time in Blackhawks history that they've had multiple rookie goaltenders with a shutout in the same season. Antti Raanta has two shutouts this season.
RELATED: 5 Blackhawks Storylines to Watch Before the Playoffs
9. Road Records
With a win over the Nashville Predators on Tuesday, the Minnesota Wild set a franchise record with eight straight road wins.
10. Eichel Streaking
Over the weekend, Jack Eichel extended his scoring streak to 12 games, leading Boston University into the NCAA tournament playing as well as any college player in the country. Over that 12-game stretch he has nine goals and 17 assists. He leads the NCAA in assists/game and points/game.
Over the last week he was also named Hockey East Player of the Year and Hockey East Rookie of the Year, as well as being named a Hobey Baker finalist.
11. Beating Minnesota
The Washington Capitals beat the Minnesota Wild in St. Paul on Thursday 3-2 on a pair of goals from Alex Ovechkin. It was the first time the Capitals have ever won a game in St. Paul against the Wild.
Speaking of the Great Eight, that was his 13th multi-goal game of the season. He leads the NHL in multi-goal games and is five games ahead of the next closest players, a tie between Joe Pavelski and Tyler Seguin.
That game also saw Braden Holtby nab his 35th win of the season. The only goaltender in Capitals history to post more in a season was his goalie coach, Olie Kolzig, who had 41 wins in 1999-00 and 37 in 2000-01.
12. 30 Goals Or Bust
With two goals against the Rangers on Sunday, Corey Perry hit the 30-goal mark for the fifth time. Only Teemu Selanne (seven times) and Paul Kariya (six times) have hit 30 goals more times in a Ducks uniform.
GOAL GIF: Twice as nice! #ScoreyPerry with his second goal of the first period. #LetsGoDucks pic.twitter.com/idQyOArrCi

— Anaheim Ducks (@AnaheimDucks) March 23, 2015
13. Speeding to 51 Career Wins
This week Frederik Andersen hit 51 career wins in just 71st career decision. That's the third fastest a goaltender has ever made it to the 51-win mark according to the Elias Sports Bureau.
The other two? Bill Durnan playing for the Montreal Canadiens in 1944 and Frank Brimsek in 1940.
Did You Know: Frederik Andersen (@f_andersen30) of the @AnaheimDucks… pic.twitter.com/Mv29qjALO4

— NHL Public Relations (@PR_NHL) March 21, 2015
And I just believe I set a record for most Frank Brimsek and Bill Durnan references in a The Hockey Writers article. Count it.
14. Games Played Milestones
Kimmo Timmonen played his 1,100th career game this week and Eric Brewer played his 1,000th.
15. Shutout Streak Over
The Canadiens beat the Sharks 2-0 this week, ending a long, long shutout streak the Sharks had going on the Habs. Tomas Plekanec's goal ended 215 minutes without a goal against the Sharks for the Canadiens. The last time they had scored was on December 1, 2011.
RELATED: Front Office Overreactions to Small Samples Sinking Sharks