In an Edmonton Oilers news and rumors update, what is the future of Kailer Yamamoto in Edmonton? Some had previously suggested a trade, but might the team take a more drastic approach to move his salary off of the books? Meanwhile, what is all the chatter about the Boston Bruins' interest in Ryan Nugent-Hopkins? The Oilers signed one of their defense prospects, and also traded for a prospect out of the New York Rangers organization.
Is Yamamoto a Buyout Candidate?
According to a few sources, Kailer Yamamoto might be a potential buyout candidate in Edmonton. Frank Seravalli has the forward listed at the top of his buyout candidate list and Mark Spector writes that GM Ken Holland needs to clear some cap space this offseason and there will be cheaper options than Yamamoto.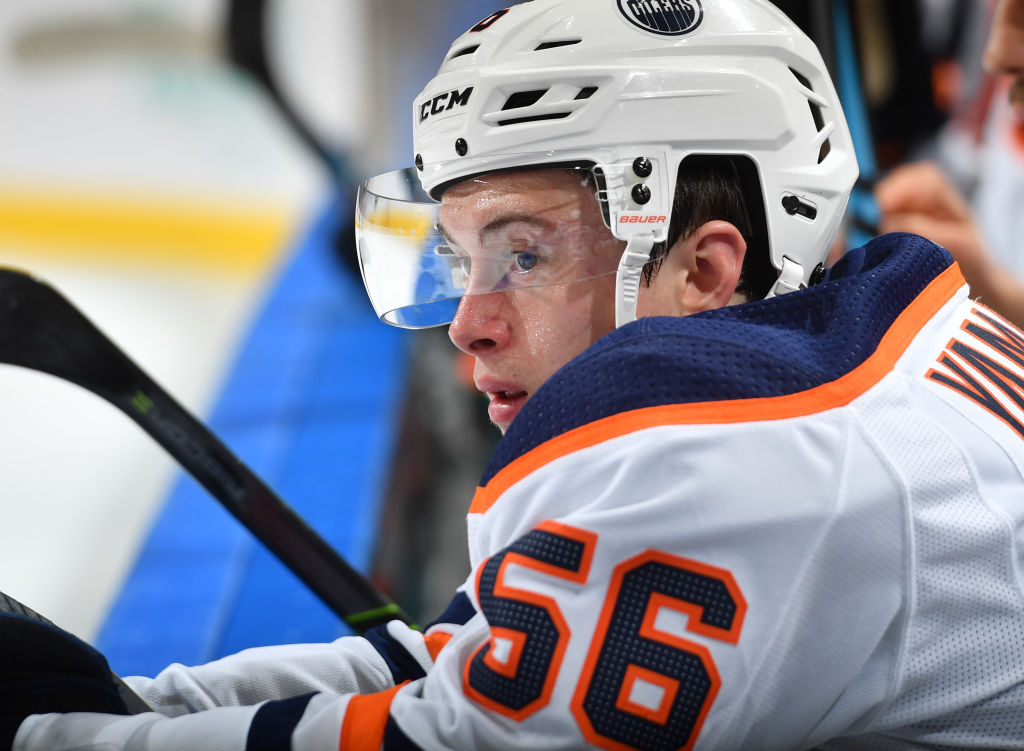 Seravalli notes in a recent article, "Yamamoto struggled through this season with a lingering neck issue that impacted his production and consistency, suffering from a whiplash-type of hit. At just 10 goals and 25 points, the Oilers can ill afford that little impact next year – particularly on the right side – at a $3.1 million cap hit." He adds that the team can better utilize that cap space and considering Yamamoto only costs two seasons at $433,334 and $533,334 respectively, it might be where the Oilers lean if a trade isn't possible.
Related: Oilers Could Find Upgrade In Stars' Potential Buyout Candidate
If the Oilers can get another team to look at Yamamoto, much like the Carolina Hurricanes did Jesse Puljujarvi, that would be the team's preference. That said, Seravalli points out, "…it makes little sense to attach an asset to move him, not when the resulting cap hit from a buyout is approximately half of league minimum pay given that Yamamoto is just a one-third buyout because he is under age 26."
Oilers Sign Phil Kemp to Extension
The Edmonton Oilers have signed defenceman Phil Kemp to a two-year, two-way contract extension worth $1.55 million at the NHL level. Kemp, 24, had six goals and 15 assists over 71 games with the American Hockey League's Bakersfield Condors in 2022-23.
---
Latest News & Highlight
---
The six-foot-three, 202-pound defender was selected by the Oilers in the seventh round, 208th overall of the 2017 NHL draft, and the hope is that he's the Oilers' next dark horse defenseman like Vinny Desharnais started to become this past season. Allan Mitchell writes, "Will he play in the NHL? I think he's the No. 4 RH option once Evan Bouchard signs. I estimate the depth chart as Bouchard, Cody Ceci, Vincent Desharnais, Kemp, then Max Wanner." He adds, "I'd estimate his chances of appearing in an NHL game next season at 50 percent."
Oilers Make a Trade With the New York Rangers
On Wednesday, the Oilers announced that they had acquired the rights to 2021 third-round draft pick Jayden Grubbe from the New York Rangers in exchange for a 2023 fifth-round selection. They note, "The forward scored 39 goals & 95 assists in 194 career WHL regular season games with the Red Deer Rebels."
Oilers Now host Bob Stauffer tweeted about the trade and wrote, "Love it! 6'3" right shot Center. More of a play-maker than a shooter. Very assertive player on the ice. Not timid! Works hard. Committed." Others have said of his game that he's not necessarily a game-breaker, but he is big and good on both sides of the puck.
The Nugent-Hopkins Trade Rumors
For some reason, a rumor out of Boston that the Bruins might be targeting one of Ryan Nugent-Hopkins or Ryan McLeod really picked up steam this past week, even though the trade seems unlikely at best. I wrote about how the Oilers should immediately turn down the speculated offer, and Bob Stauffer doesn't see a trade at this time being probable for Edmonton.
During a recent show, he was asked about the rumor and responded, "So… Yeah… uhhhh… We'll see… We'll see. I'd be surprised. Very surprised if that were to happen at this time." One could make the argument that the Oilers try to trade the forward when his value is at its highest, but that theory really only applies when dealing with over-priced albatross-like contracts, which Nugent-Hopkins' deal certainly isn't.
Nugent-Hopkins may not be a 100-point player moving forward, but he doesn't have to be for his contract to provide solid value.