Joining a new league is tough for any teenager, but coming from abroad can be that much more daunting. Over their vast history, the Windsor Spitfires have dressed dozens of players called "Imports" who have packed up their lives and joined the Ontario Hockey League (OHL). However, as not everyone makes the NHL afterward, we wonder what happened to the rest.
One of the unique things about the OHL and Canadian Hockey League (CHL) is that each team is allowed two Import players per season via the CHL Import Draft. That's any player whose parents or guardians reside primarily outside of Canada or the United States. Through the years, the club has had multiple talented Import players that went on to the pros, such as Russia's Alexander Khokhlachev (who played for the Boston Bruins) and Russia's Mikhail Sergachev (now with the Tampa Bay Lightning). However, they've also had several who took different paths after leaving the Spitfires. Let's take a walk down memory lane and see what happened to some of these popular players as time has rolled along.
Defenceman Ruben Rafkin – 2019-20
After releasing Russian defenceman Lev Starikov in Jan. 2019 (more below), then-general manager Warren Rychel had an Import spot open at the 2019 CHL Import Draft. He quickly found a replacement in Finnish defenceman Ruben Rafkin.
The 6-foot, 190-pound Turku native had played in North America since 2016, but with his family living in Finland, was eligible for the draft. Rychel loved his grit and two-way potential and took him 14th overall. Rafkin didn't disappoint, showing poise and toughness in his own end with budding offensive ability. In 59 games, he had four goals and 31 points and looked ready to become a fixture on defence. He also become a fan favourite, and it was mutual. However, when COVID-19 hit, everything changed.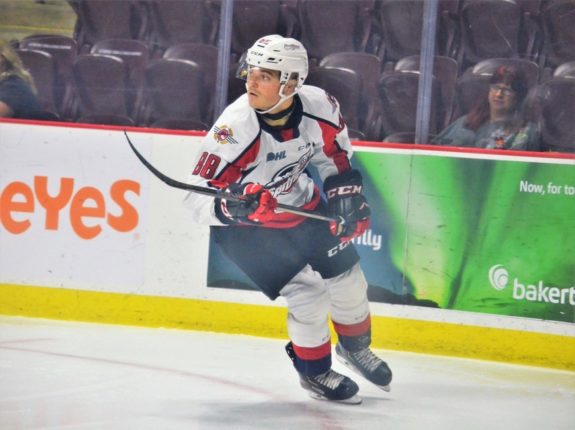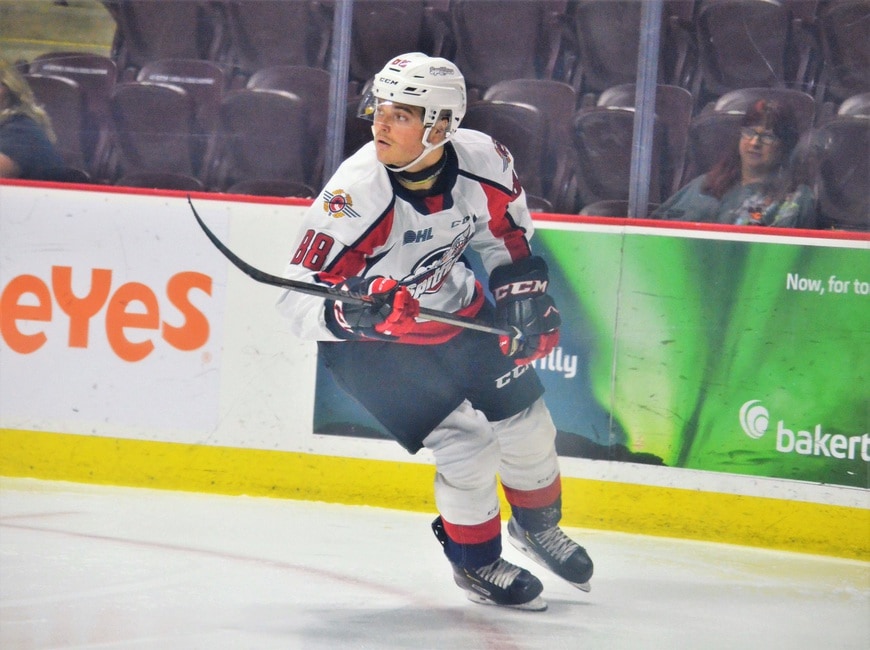 Shortly after the season was canceled, Rafkin headed home to Finland as everyone waited to see what would happen next. What's happened since then?
In early April 2020, Rafkin signed back home with Turun Palloseura (known as TPS) Turku in the Finnish Elite League, Liiga, where he has been ever since. While was undrafted at the 2020 NHL Draft, he continues to develop with impressive work. In 139 games, he has 38 points and 158 penalty minutes and has become a leader on the team, earning an alternate's "A" this season. He's also won multiple World Juniors medals (2021 Bronze, 2022 Silver) plus back-to-back Silver medals with TPS in the Liiga Championship.
From the time he joined the Spitfires, Rafkin was one of the good ones in the game. He seems to be enjoying life back home.
Defenceman Marek Biro – 2006-08
For this one, we're going way back to the days of the old Windsor Arena. In 2006, the club went to Slovakia to get 6-foot-3, 200-pound defenceman Marek Biro. While not known for his offence, the kid delivered exactly what the team needed.
Related: Saying Goodbye to an OHL Original: The Windsor Arena
---
Latest News & Highlights
---
Prior to 2006-07, the Spitfires were sold to Rychel, Bob Boughner, and Peter Dobrich, so they were in rebuild mode with growing pains. However, Biro made an instant impact, which was sorely needed. He was mostly a physical, defensive type but chipped in 26 points in 124 games, along with helping his teammates when they needed it. He stayed with the Spitfires for two seasons before leaving the OHL. What happened to him after he left?
Being undrafted to the NHL, he headed back home. From 2008-23, he played for numerous clubs in Austria (2015-18), Poland (2021-22), and (mostly) Slovakia, where he is now. He finished 2022-23 playing for HK Martin in the Slovak Hockey League (SHL), a second-level of professional hockey in Slovakia. Here's a Tweet about him during his time in Poland.
Despite not being drafted into the NHL, Biro has created a great career for himself in Europe.
Defenceman Lev Starikov – 2017-19
Following the graduation of Sergachev and Julian Nattinen (Finland) after their 2017 Memorial Cup win, Rychel used both of his picks at the 2017 Import Draft. One of those was 6-foot-7, 200-pound defenceman Lev Starikov out of Kazan, Russia.
An imposing figure, he came to the club advertised as a kid who played sound defence, could throw the body around, and chip in a few points. Being the 106th pick in the draft, Rychel knew Starikov was a bit of a project, but he stuck with it.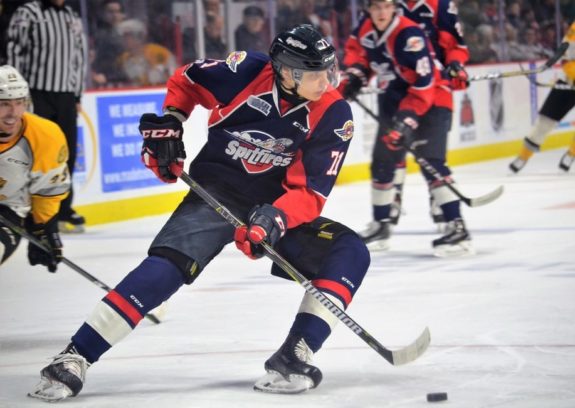 In 2017-18, Starikov had 13 points and 29 penalty minutes in 66 games. He wasn't one to throw down unless necessary but played a simple, strong game that went over well with the team. However, his second season left much to be desired. While the effort was there, the results weren't with just four points in 32 games, and his defensive play was struggling. Sadly, Starikov and the Spitfires parted ways just before the Jan. 10 trade deadline. What happened to the big defenceman after he left the OHL?
On Jan. 8, 2019, Starikov signed with the Des Moines Buccaneers of the United States Hockey League (USHL). He had nine assists in 42 games over parts of two seasons with them before heading back overseas. Since then, he played most of 2020-21 with Kunlun Red Star of the Kontinental Hockey League (KHL) before joining the Supreme Hockey League (VHL) in Russia. That's the second-highest level of hockey there. He's played the last two seasons with Bars Kazan, scoring 13 points in 66 games.
Starikov was a project with loads of untapped potential. While he didn't get to the pros in North America, he seems to have found a home in his native Russia. Being just 22 years old, he has lots of time on his side.
Goaltender Kari Piiroinen – 2018-20
Finally, we look back at a goaltender who was always close to finding his stride with the Spitfires but never quite got there.
Drafted 30th overall in the 2018 CHL Import Draft, Kari Piiroinen came from the HIFK hockey system in Helsinki, Finland. He was ready to prepare for the NHL and was backing up star goaltender Michael DiPietro in his rookie season. Who better to learn the game from?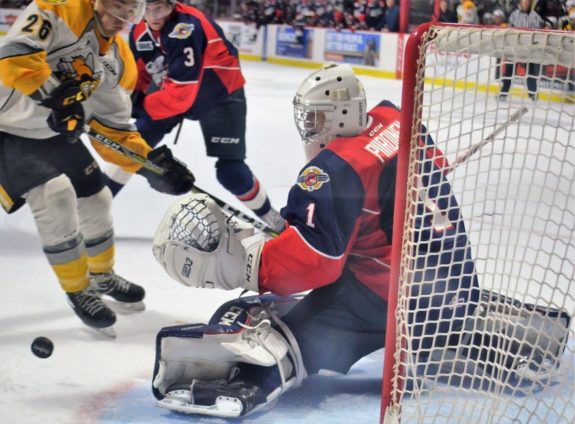 The young Finn was brought along slowly, but after DiPietro was traded in December 2018, the club gave him a longer leash. Unfortunately, he couldn't find consistency in his game, and the team wasn't quite ready to name him the starter. That story continued in 2019-20 as he battled 2018 third-round OHL Draft pick Xavier Medina for playing time. The rookie outperformed Piiroinen, who struggled to find his consistency game-in and game-out. Despite flashes of greatness, it wasn't enough.
Once the OHL shut down for COVID-19 in March 2020, Piiroinen's story finished with the Spitfires. What happened to his career?
Within a couple of weeks, he signed back home with Tappara in Liiga. Since then, he has played for Tappara, TPS, and various other clubs in Sweden and Finland. Recently, he signed with SaiPa (Saimaan Pallo) out of Lappeenranta in Liiga for 2023-24. He seems to have settled into hockey life back home, and hopefully, it's the start of a great career.
Previous Editions of "Where Are They Now?"
Over the last few seasons, we've also done several other articles like this one with Spitfires' players from the past. You can check them out:
Being an Import player can be tough; you're leaving everything behind for a chance at an NHL dream. These players showed that life in hockey can be an entertaining journey, regardless of the final destination. It's great to see them finding success at various leagues and levels.
---
---