When you think of some of the Windsor Spitfires' great goaltenders, names like Michael DiPietro, Andrew Engelage, and Michael Leighton immediately come to mind. However, there were dozens more that still had fantastic Ontario Hockey League (OHL) careers and made a name for themselves between the pipes. It made us wonder — what happened to some of those players?
This is part four of our "Where Are They Now?" series featuring the Spitfires. In part one, we looked at the 2009 Memorial Cup championship, while part two featured the 2010 event, and part three focused on the 2017 title. In today's series finale, we'll look at some of the forgotten crease kings over the last 20-plus seasons. They played their hearts out in the OHL, treating the fans and their team to some great memories. While some have continued with their careers, others have gone a different route, finding success off the ice.
Let's take a look at four goaltenders who made a home between the Spitfires' pipes.
Ryan Aschaber
A player's draft position means little overall and the Spitfires found that out the hard way in the late 1990s.
In 1998, the club drafted Leighton hoping he would take over for veteran Ron Vogel. However, a year later, they picked up 6-foot-3, 210-pound Peterborough-native Ryan Aschaber in the sixth round and he wasn't going away quietly. Aschaber wasn't overly loud or outspoken, but he battled Leighton tooth-and-nail for playing time from 1999-2001.
When Leighton graduated in 2001, Aschaber took the reins, only to have the club bring in 20-year-old Cory Campbell from the Sarnia Sting in 2001-02. While most players would have been frustrated by this, Aschaber held his own and refused to back down. That worked out for him.
Campbell graduated that summer and the club handed Aschaber the keys to the crease in 2002-03. He responded with career bests in games played (46), goals against average (GAA, 2.92), save percentage (SV%, 0.918), wins (23), and shutouts (four). It was a bumpy OHL career, but he saved his best performance for last and the fans appreciated him.
What happened to this gutsy goaltender after he left the Spitfires?
In 2003-04, Aschaber spent time in the United Hockey League, dressing for three clubs. After a brief stop with Allen Cup Hockey in Ontario in 2004-05, he enrolled at St. Francis Xavier (CIS). From 2005-09, he dressed in 40 games and earned a degree in Finance. Following graduation, he spent two seasons back in the Allen Cup before returning to school, this time at the University of Windsor. He spent two years there before returning to the Allen Cup in 2013-14.
Sadly, he only dressed in eight games before retiring. On the plus side, he's doing well in the finance world in Ontario and appears to be the goaltending coach for the Collingwood Blues in the Ontario Junior Hockey League.
Jaroslav Pavelka
While Aschaber's career led him to university and finance, Jaroslav Pavlelka keeps lacing up the skates.
In November 2011, the Spitfires traded starting goaltender Jack Campbell to the Sault Ste. Marie Greyhounds in a blockbuster deal. To replace him, they acquired Pavelka in a second major deal on the same day, this time with the Niagara IceDogs. The Spitfires had 20-year-old Johnny Cullen, giving him a fantastic mentor and backup.
Pavelka took the reins and ran with them, appearing in 34 games with the Spitfires in 2011-12 with a respectable 3.65 GAA and 0.905 SV%. When Cullen graduated in the offseason, the Czech Republic-native became the mentor, now helping rookie Jordan DeKort in 2012-13.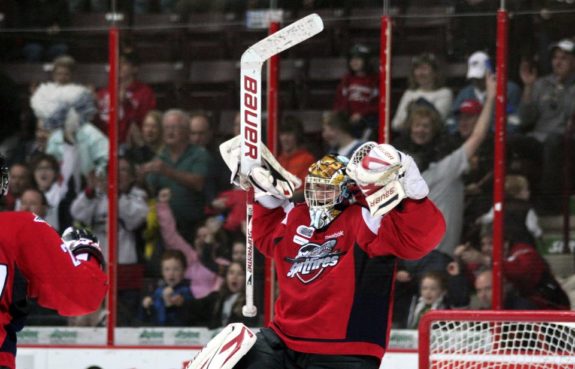 That season, Pavelka appeared in 53 games and had numbers almost identical to his rookie season. However, the younger DeKort appeared ready and able to take control and Pavelka left the Spitfires after the season ended.
What happened to the Czech goaltender?
Pavelka's plan was to return to the Czech Republic after two years in Canada if he wasn't drafted by the NHL. That's exactly what he did. From 2013-15, he spent most of his time with Stadion Vrchlabi (Czech 2 – third-level), then moved up to Stadion Letomerice (Chance Liga – second-level) from 2015-18. Since then, he's played for several clubs, both in Chance Liga and the top-level in Extraliga. Currently, he's dressing for Bili Tygri Liberec in Extraliga.
Regardless of where he's played, though, his numbers have been consistently solid with GAA's below 2.50 and SV% above 0.900.
Alex Fotinos
When Pavelka left the Spitfires, the hope was that DeKort would take over for good. However, that didn't happen and then-general manager Warren Rychel had to make a move. In October 2013, he traded the young goaltender to the Kitchener Rangers and then immediately brought in veteran goaltender Alex Fotinos from the Barrie Colts to replace him. It was a classic "change of scenery" situation for all parties.
With Mackenzie Blackwood and Daniel Gibl firmly in the Colts' crease, Fotinos needed a chance and the Spitfires gave that to him. He didn't miss, getting into 82 games from 2013-15 with a GAA around 3.70 and SV% a hair under 0.900. The club needed stability and he delivered.
Fotinos graduated in the spring of 2015. What happened to his career?
He played 11 games with the Aurora Tigers (Ontario Jr. A) in 2015-16 before joining York University from 2016-19. The 6-foot, 176-pound Political Science major dressed in 28 games over three seasons for the Lions with a GAA around 3.00 and SV% over 0.915.
After leaving York, Fotinos signed with the Adirondack Thunder (ECHL) but didn't see any action. In 2019-20, he signed with the Macon Mayhem (Southern Professional Hockey League) but only played in two games before retiring. He was a popular player and the fans were thankful to have him between the pipes.
Mario Culina
Finally, we end this series with a goaltender who took advantage of an opportunity and didn't look back.
For several years, Rychel became known as a free-agent wizard. He found diamonds in the rough, gave them a chance, and watched them blossom. This was the case with Mario Culina in 2015. Despite drafting DiPietro in the 2015 OHL Draft, Rychel saw that Culina had put up impressive numbers (2.24 GAA and 0.912 SV%) in 2014-15 with the Soo Thunderbirds (Northern Ontario Junior Hockey League), so he gave the kid a chance.
The rookie impressed enough to ink a contract for 2015-16. After surviving a rollercoaster first-half that saw the team use four different goaltenders, he finally settled with the Spitfires after Christmas. While DiPietro won the starter's role, Culina became a trusted, valuable backup.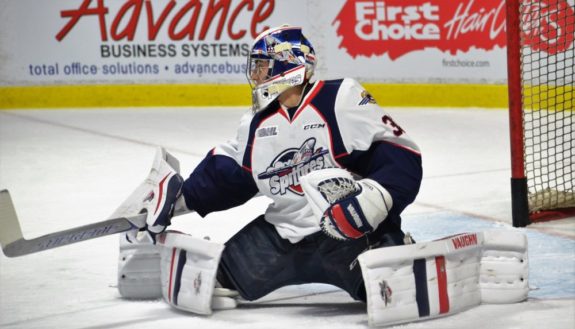 From 2015-17, he sported a GAA under three and SV% hovering around 0.900. Culina wasn't flashy but was just what DiPietro and the Spitfires needed. While he didn't see action in the 2017 Memorial Cup, he was a fantastic find by Rychel.
After the Memorial Cup, Culina left the Spitfires for new adventures. What happened to him?
Culina played in five games for the Ryerson Rams in 2017-18 before the Sudbury Wolves (OHL) came calling. They needed a veteran in goal, so he signed with them until the trade deadline. He was sent to the Kitchener Rangers who were looking to make a championship run, joining former Spitfires teammates Logan Brown and Austin McEneny.
After leaving the Rangers, Culina signed with the Newfoundland Growlers (ECHL) in 2018-19 but soon chose to pursue his education. In January 2020, he joined the Brock Badgers (USports) and had a 2.47 GAA along with a 0.919 SV% in 10 games. Unfortunately, USports is on hold for 2020-21 because of the COVID-19 pandemic.
Series Wraps Up
That concludes this "Where Are They Now?" series featuring the Spitfires Memorial Cup championships and goaltenders. It's always neat to see what happens to players once they leave the confines of either the old Windsor Arena or the WFCU Centre. While the NHL is always the goal, landing in the OHL, university hockey, Europe, or elsewhere can be very rewarding and open new life doors. We hope you enjoyed this series!
---
---