It's never easy making a trade, but when it's a kid like Michael DiPietro, it's that much more difficult. After a year of anticipating, the Windsor Spitfires pulled the trigger on a deal on Monday night, sending their all-time top goaltender to the Ottawa 67's.
In the trade, the Spitfires send DiPietro, their fourth-round pick in 2020 and Kingston's second-round pick in 2024 to the 67's. In return, the Spitfires receive Ottawa's second-round picks in 2019, 2022 and 2023, London's second-round pick in 2021, and the rights to 17-year-old Russian forward Egor Afanasyev, who is currently playing for Muskegon of the USHL.
If Afanasyev does not sign with the Spitfires, the team also gets Ottawa's second-round pick in 2021 and third-round picks in 2021 and 2022.
While something was expected to happen between now and the early-January trade deadline, it doesn't make it any easier for those involved. This is an emotional deal that will take time to move forward from.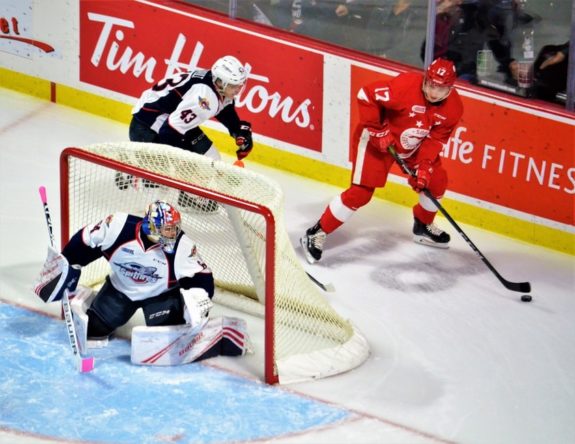 Whirlwind at WFCU Centre
It all went down officially on Monday night when Spitfires' general manager Warren Rychel met with DiPietro's family in Amherstburg.
"Tough day. Tough night. It all started last night. There comes a time you got to make a hard decision. This was one of them," Rychel said during a press conference on Tuesday.
"What Mikey meant to our team, not only through goaltending but what he did off the ice as well … He's friends with my family and my family is friends with his. Not enough can be said about what he's done for the team off the ice."
Rychel has known DiPietro since age 10 and said he used to shoot pucks at the young goaltender but, no matter how hard Rychel shot, it never bothered him. Rychel told DiPietro he'd be a Spitfire one day. This vision came true.
For DiPietro, while he's now a member of the 67's organization, it hasn't sunk in yet. He said you can prepare for what might come but that doesn't mean it'll feel real when it actually happens.
"It's definitely a rollercoaster of emotion," DiPietro said.
"In the back of my mind, at the beginning of the season, there's a part of me that thought this day would come. You never think it would come this fast. You can prepare yourself, people around you, for this day to come, but once it actually happens, it feels like a dream. It doesn't feel like I'm not a member of the Windsor Spitfires organization anymore."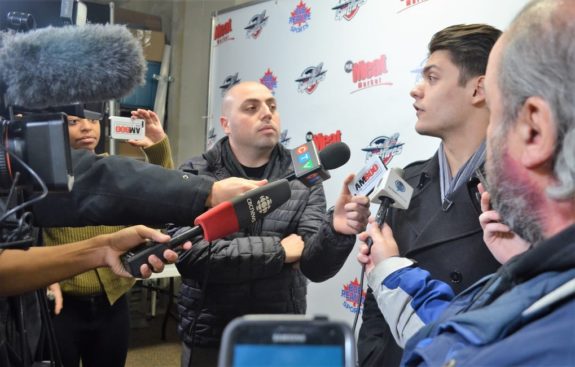 Prior to Rychel visiting Amherstburg, he called DiPietro. Normally, the goaltender picks up the phone right away, but he joked and said he wasn't sure this time.
"When Warren calls it's either really good or not so good," DiPietro said.
"That was one of the calls I was thinking of ignoring, but I had to pick it up. Turned out it happened. I wouldn't be where I am in my career without Warren and this organization. I owe them a lot."
In December 2013, Rychel traded his son Kerby to the Guelph Storm in a multi-player deal. Five years later, almost to the day, the emotions are pretty much the same. Rychel called today's deal "one of the hardest" he's made.
A Piece of the 67's Puzzle
Fortunately for DiPietro, like Kerby, he goes into a good situation. The 67's are one of the top-ranked teams in Canada and have a dynamic offence. They also have two young talented goaltenders, but adding a top veteran goaltender can only benefit them down the road.
DiPietro leads the OHL with a 2.32 goals-against-average this season, is fifth in the league with a .920 save percentage and has 11 wins this season, giving him 86 for his career, tops for the Spitfires. That experience should prove crucial to the 67's.
Plus, the 67's have stockpiled high-end picks, which the Spitfires desperately needed. The Spitfires dealt several picks to the Peterborough Petes in August for 16-year-old sniper Will Cuylle. It left the cupboards rather bare. That was key to Rychel's decision as he knows it benefits the Spitfires' future.
"It's tough but you have to weigh 35 games with Mikey, versus, with all the picks, maybe 500 games," Rychel said.
"It took a long time, negotiating with Ottawa. (He's) going to a great place. I got to know the general manager, James Boyd, who's a really good guy. He took care of my son first year in Mississauga. They're going to be a good team."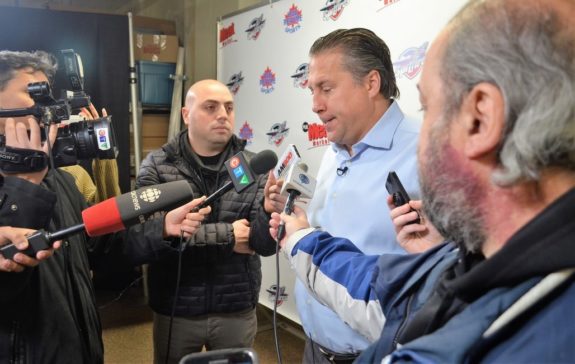 DiPietro said he has already heard from some of the 67's players. With his new team having just four losses all season, he isn't looking to change anything but be a piece to an already solid puzzle.
"I feel like four losses all season is a pretty good team," DiPietro said with a laugh.
"Hopefully I can be a good piece to that puzzle and continue to be myself and play my game. That's my focus. They have a great staff and a few of the players have reached out to me. I'm excited to start forming new relationships, new friendships. The hardest part will be leaving the guys in the room."
Focusing on Vancouver
On Monday afternoon, DiPietro, a Vancouver Canucks' prospect, was named one of three goaltenders invited to Team Canada's Selection Camp for the 2019 World Juniors in Vancouver and Victoria. He's glad the trade was done before he left; one less thing to worry about.
"It eludes all the question and rumours when you're gone," DiPietro said.
"Now I can just focus on making the national team and winning gold."
Rychel echoed the comments and said there was no desire to have DiPietro thinking about what could happen after he got back. Now, once the goaltender is in British Columbia, he can focus solely on that.
"I feel I want to take the weight off his shoulders," Rychel said
"He'll go into Victoria, most important thing, with a clear mind. That was important to me, too. He's going to give himself every chance to be the starter there and lead Canada to a gold medal."
The selection camp is held next week in Victoria, but Canada is in Group A so they play all of their games at Rogers Arena in Vancouver. It's a bit of redemption from last season as DiPietro was one of the final cuts from the Canadian roster for the 2018 tournament in Buffalo, NY. Instead of getting down, though, he used that as motivation for the second half of the season and this season.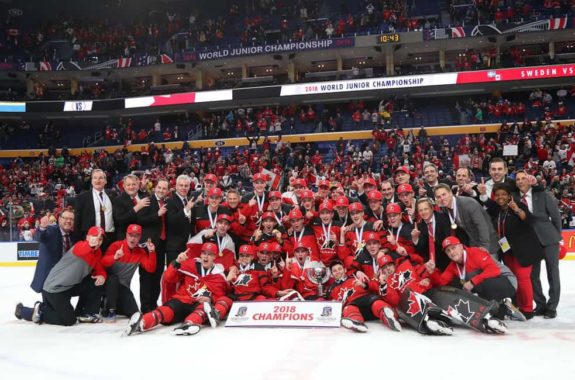 New Era for Spitfires
Junior hockey is cyclical. After the Spitfires won the 2017 Memorial Cup, dealing veterans was bound to happen. After seeing Aaron Luchuk, Logan Stanley, Logan Brown, Gabriel Vilardi and Sean Day dealt last season, DiPietro was the last of the main group to go. Head coach Trevor Letowski said it's been an emotional day for the entire dressing room.
"That's the tough part about junior hockey, you build relationships," he said.
"He's been here since I got here. Just a joy to coach. A real popular teammate. This is a unique one for sure. (Player movement happens but) This one is obviously a little bit different with what Mikey means to this organization."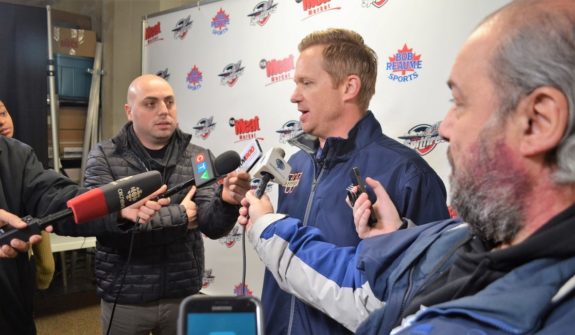 With the trade done, it's now time for focus on the future. The picks will help Rychel and his staff in building a roster down the road, whether through the draft or trades. However, taking out DiPietro leaves a bit of a gap.
Right after this deal, Rychel sent a fourth-round pick in 2022 to the Niagara Ice Dogs in return for veteran goaltender Colton Incze, who will back up young starter Kari Piiroinen.
Letowski said that, while Piiroinen has big skates to fill, the potential is there with proper expectations.
"That'll be part of our job now, managing our players and setting right expectations," Letowski said.
"Kari is a good young goaltender who's going to be a very good goaltender in this league. We have to develop him. He's doing all the right things so far as a young player and has to continue to develop."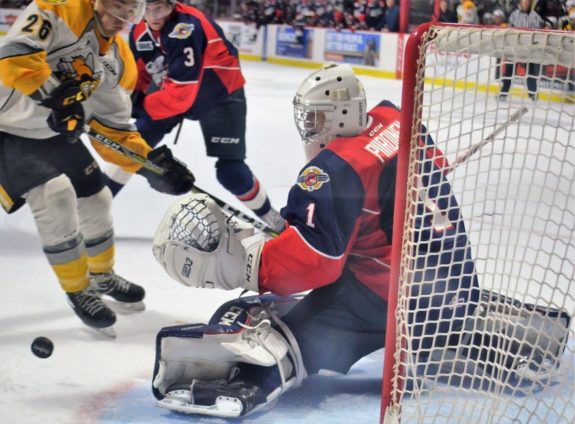 As for Afanasyev, Rychel said that'll be a work-in-progress. The 17-year-old is a scoring winger for Muskegon and has a 2019-2020 commitment to Michigan State University. Rychel is going to put the full-rink press on him, though.
"Egor is a great hockey player," Rychel said.
"Left shot and plays the right wing. He's rated second-round (2019 NHL Draft) but could creep into the first round. He has that kill switch where he can shoot. Going to be working on getting him signed as a Spitfire this summer. I don't see it happening this year as he's happy in Muskegon."
Here's Afanasyev talking to Access Hockey Michigan at the start of the season:
For now, with the roster they have, Letowski said they have to rally together as a team to get the job done.
"We have no choice but to move forward so we will."
DiPietro Grateful For Community
DiPietro's talent on the ice was unquestioned. A team record for career wins, tied for OHL career record in shutouts (16 – Thomas McCollum), 2017-18 OHL Goaltender of the Year and the 2017 Memorial Cup were just part of his resume. What he wants to be known for, though, is his off-ice actions. It's his legacy, if you will.
He was a leader in the dressing room and a mainstay in the community. Amherstburg gave him a Key to the Town and, no matter where DiPietro went, fans knew him and loved him. He always went that extra mile for the fans, whether it was taking a picture, signing an autograph or simply a grin and high-five as they walked by. He couldn't thank them enough.
"This community is what makes everything else beat in the organization. I truly believe Spits hockey fans are the best fans in the OHL," he said
"For myself, the community is what brings people together. I was very blessed to have the opportunity to impact as many people as I did. I'm looking forward to hopefully impacting a lot of people in the Ottawa community in a positive way."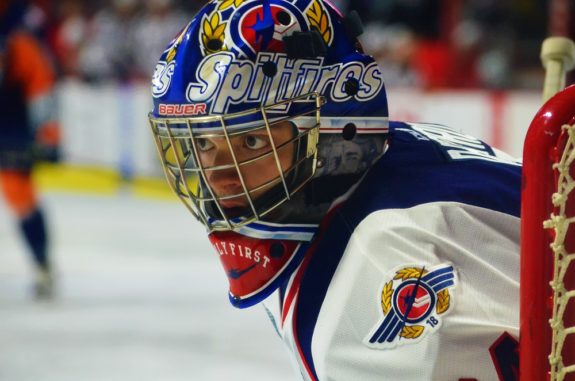 While it's not easy to leave the team, DiPietro said that helping the Spitfires organization with this deal was one way he could give back to them.
"Any time I could help Windsor in any way, even if it's me not being here, it's a positive," he said, chuckling.
Is there anything he wants to tell the Spitfires' faithful before he leaves for the 67's?
"I'm a Spitfire and always will be no matter where I go," he said.
"I'm excited to get going with Ottawa, but in the back of my mind, I'll always wonder how (the Spitfires) are doing here … Thank you for supporting, not only myself, but the Spitfires organization. Windsor and Essex County will always be home to me. Even though I'll be gone for a little extra five-month road trip, I'll always be coming back here no matter what. Windsor is home for myself and nothing will change that."
Here is a video from the Spitfires showing what DiPietro truly meant to the community.
VIDEO: @MikeTendy leaves the family for a chance at another Memorial Cup with @Ottawa67sHockey. But he'll never be gone. This is his home. And we've come too far together. Hear from Mikey and Rychs after today's big trade. pic.twitter.com/jNz3LgpF5N

— Windsor Spitfires (@SpitsHockey) December 4, 2018
Final Farewell to Fans
DiPietro leaves on Monday for Vancouver, so it begs the question – will he have a chance to say goodbye to the fans at the arena?
Rychel said DiPietro will be in Ottawa on Wednesday to meet with their organization but he'll come back to Windsor on Thursday night as the Spitfires celebrate the 10-Year Anniversary of the WFCU Centre. He's expected to take part in the pre-game festivities. Tickets are going pretty fast for this one.
It's a chance for DiPietro to thank the fans in person before he puts on the 67's pads for the first time this weekend. Expect an emotional event with dry eyes being few-and-far between.
Thank you, Mikey, for all you've done for this organization and region. There may never be another one quite like you. It's safe to say the 67's fan base just grew by several thousand.