With a month-and-a-half to go before the OHL trade deadline (usually around Jan. 10), there's one topic that needs to be addressed. It's not comfortable for anyone, but it's one that's probably inevitable and maybe even required – which team could land Michael DiPietro?
Last season, the Windsor Spitfires' star goaltender became one of the biggest topics of discussion around the trade deadline. General manager Warren Rychel listened to offers right until the deadline. Despite all the talk, DiPietro remained a Spitfire. It's a new season, though, and talk has crept back up.
Being 19 years old and a Vancouver Canucks' prospect, DiPietro is more likely to make the journey to the AHL next season, rather than spend an overage season in the OHL. Does Rychel keep DiPietro and hope the Spits can take one final run with him or do they try to maximize his value and help the club's future?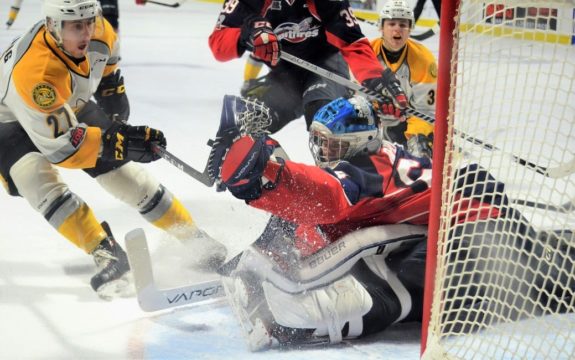 Asking a Kings Ransom
DiPietro's resume speaks for itself – a team record for career wins, tied for OHL career leader in shutouts, World Under-17 Challenge, Canada-Russia Series, World Hockey Championships in Denmark and the list goes on.
As a result, the probable return on any deal involves several draft picks and a young player or two, so we will look at the teams that fit certain criteria.
The criteria includes a minimum of five second-round picks before 2024 and three third-round picks before 2024. We're using the OHL Draft Pick Database for this. Most teams that could land him also have at least one young scoring forward (either 16 or 17 years old), as Rychel is trying to build up his young forward base.
The Spitfires can't deal too far into the future, either. OHL implemented a rule in August that prevents teams from trading draft picks more than six years into the future.
Let's take a look at a handful of teams that are in contention, fit the criteria given and would have some reason to bring in DiPietro.
The Contenders
Ottawa 67s (current record – 21-3-3-1)
Second-Round Picks – 14 (five in 2019, three in 2021, two each in 2020 and 2022, one in 2023 and 2024)
Third-Round Picks – nine (two in each of 2019, 2020, 2021, one in 2022, 2023, 2024)
The case for DiPietro: In 2009-10, the Spitfires signed goaltender Troy Passingham out of camp. He had two CHL games to his name. He came to the Spitfires and had a plus-.900 save percentage and sub-3.00 goals-against-average. At that deadline, the Spitfires acquired veteran goaltender Philipp Grubauer from the Belleville Bulls in a huge deal. He joined Passingham and they went onto win the Memorial Cup.
This is what the 67s could replicate. It's their season. They have the highest-scoring offence in the league and have been consistently near the top of the league in goals-against. They also have a pretty big asset to play with – eight second-round picks over the next two seasons. Their goaltenders – Cedrick Andree and Will Cranley – are performing exceptionally well, but are also very raw with just 13 regular season games between them coming into the season. It's Passingham 2.0. The 67s also have top-notch young talent, such as Graeme Clarke and Cameron Tolnai, that they can afford to deal to upgrade the roster. If they deal either Clarke or Tolnai, along with several seconds (and perhaps other picks) and get DiPietro, he joins Andree and it becomes a very powerful force in the East. They have the tools to get this done. Do they want it?
The case against DiPietro: If management is confident in Andree, who has had a surprisingly solid season, they could get a cheap veteran backup and use their wealth of picks to upgrade in other areas. This would then allow Andree to mentor Cranley next season before Cranley becomes the starter in 2020-21. It depends on how much the 67s management wants to spend in order to go for it. Here's Andree shutting out the Spitfires in Windsor earlier this season:
Guelph Storm (current record – 13-6-3-3)
Second-Round Picks – seven (two in 2020 and 2022, one in 2019, 2021 and 2024)
Third-Round Picks – seven (two in 20202, one in 2019, 2021, 2022, 2023 and 2024)
The case for DiPietro: Two words – insurance and assets. The Storm have a very good starting goaltender in Anthony Popovich. While he has come close to DiPietro's totals, he's not there yet and he's the same age. Popovich also struggled in the 2018 playoffs (5.49 goals-against-average and .863 save percentage). The Storm also have 17-year-old Nico Daws in the net but they won't rely on him for a good playoff run. They have lots of picks to work with, plus an older roster that includes Philadelphia Flyers prospect Isaac Ratcliffe, and this might be the year they take a big swing. If they believe DiPietro would get them past the rival London Knights, perhaps they make headlines.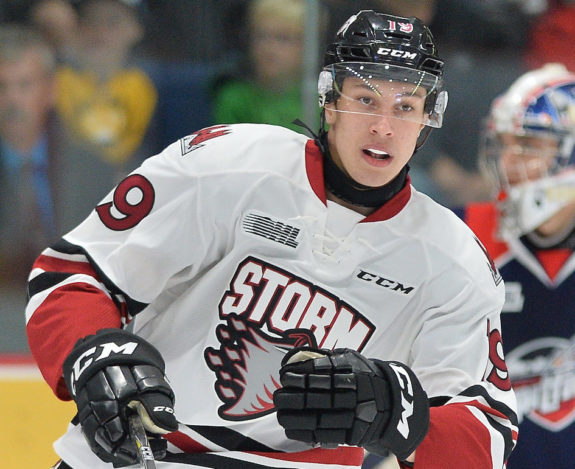 The case against DiPietro: If the Storm feels the price on DiPietro is too high, you could see them show confidence in Popovich and go for an upgrade in the backup role. They have the roster to help Popovich out should he falter and they're in every game. If management feels the smaller deal is smarter for the future, that's the route they'll go.
Saginaw Spirit (current record- 14-9-1-2)
Second-Round Picks – 11 (three in 2020 and 2021, two in 2024 and one in 2019, 2022, 2023)
Third-Round Picks – eight (three in 2019, two in 2020, one in 2021, 2022 and 2024, none in 2023)
The case for DiPietro: The Spirit were supposed to be the toast of the Western Division this season. They have the talent up front, plus a defence that can pull off a run. What they don't have is proven goaltending. Import selection and Arizona Coyotes prospect Ivan Prosvetov and Cameron Lamour have split the duties so far but neither one has been able to show he's capable of taking control. With 11 second-round picks in their pocket, along with some very nice young talent, perhaps they pull off the big move and bring in the proven DiPietro. Lamour could also be involved and back-up Spitfires' goaltender Kari Piiroinen for the rest of the season. The Spirit also have 17-year-old Nicholas Porco and 16-year-old Cole Perfetti, two first-round picks from 2017 and 2018, that they could dangle in front of Rychel. It's tempting.
The case against DiPietro: Do the Spirit want to give up the possibility of Porco and Perfetti playing together for a few seasons? Do the Spitfires want to face DiPietro repeatedly this season? Both are tough on their respective clubs. It's also tough to make big deals with teams in your own division; these two don't seem to meet up for many trades, let alone big ones. While the pieces are there, and the timing could be right, is it the right move for either club?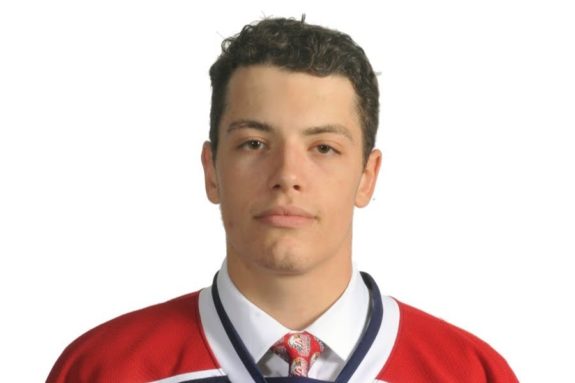 The Long Shots
London Knights (current record – 18-4-2-0)
Second-Round  Picks – 11 (one per season, plus one extra 2019, 2021, 2024, and two extras in 2020)
Third-Round Picks – 10 (two in 2019, 2020, 2021, three in 2022, none in 2024)
The case for DiPietro: Knights coach Dale Hunter and his brother, general manager Mark, have never been ones to shy away from the spotlight. They've turned the Knights into a near dynasty and will do whatever it takes to improve the club. With an outstanding roster, plenty of assets to toss around like candy and a willingness to make headlines, it would almost make sense that they try for DiPietro. The Knights have a duo of Joseph Raaymakers and Jordan Kooy in the net but DiPietro would be a slight upgrade on Raaymakers (who's been dominant in his own right). Plus, that whole "splash" factor that they like. If you can keep him away from other teams, why not? The Spitfires do have an overage spot open if they chose to bring Raaymakers into the mix to mentor Piiroinen.
The case against DiPietro: The Hunters and Spitfires' general manager Warren Rychel aren't known for making deals together. The last deal the Knights made with Rychel was in 2015 when they acquired Giugovaz, and that was done by former Knights general manager Basil McRae. You might have to go back to 2004 when the Spitfires dealt defenceman Frank Rediker to find a bigger deal, and even that wasn't done by Rychel. It just doesn't happen between the teams. Add in that Raaymakers and Kooy could be one of the better one-two punches in the league and it's more likely that the Hunters use their assets somewhere else.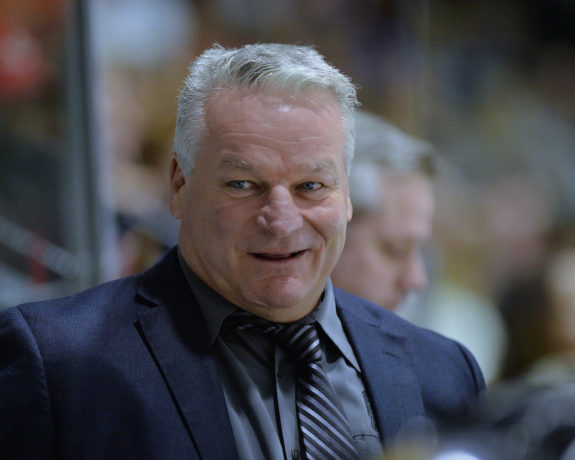 Windsor Spitfires (current record – 13-12-1-1)
Second-Round Picks – three (one in 2022, 2023 and 2024)
Third-Round Picks – four (two in 2023, one in 2022 and 2024)
Why keep DiPietro? After looking through all of these options, there's still a small chance that Rychel holds onto DiPietro. One of the most popular and talented players to ever put on the Spitfires' jersey, DiPietro could, in theory, finish out his legendary career at the WFCU Centre. He would provide Piiroinen with a great mentor before moving onto the AHL and he could further his team records.
Why deal DiPietro? After acquiring Cuylle from the Petes, Rychel needs picks. He has no seconds or thirds until 2022 and dealing DiPietro should significantly help that. Piiroinen, while young, has also shown he's capable of leading this younger roster. This isn't likely to be a Mats Sundin situation where the no-trade clause is kept in place. While DiPietro is part of this area, he can help further his legacy by keeping the Spitfires competitive for years to come through a big deal.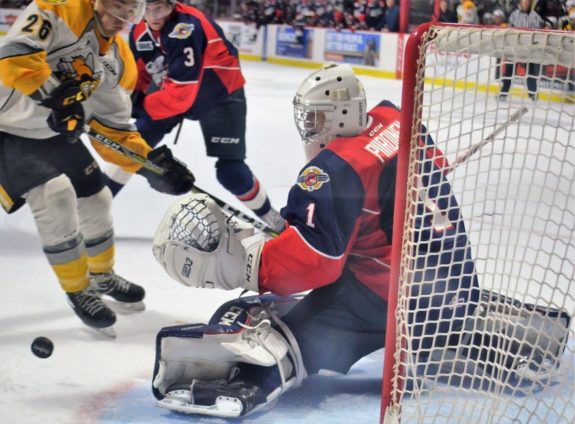 Pieces but No Dice
Oshawa Generals (current record – 15-8-2-0)
Second-Round Picks – 10 (three in 2023 and 2024, two in 2022 and one 2020 and 2021)
Third-Round Picks – four (2019 and three in 2024)
The case for DiPietro: The Eastern Conference is so wide-open that anyone could take it. With 10 second-round picks at their disposal, the Generals could bring in DiPietro to platoon with starter Kyle Keyser. They've also got 16-year-old Tyler Tullio, the Generals first-round pick in 2018 who happens to have been born just outside of Windsor. The pieces are there to get this done, technically.
The case against DiPietro: Keyser has been near the top of the leaderboard all season and, given DiPietro's price, is it really worth all that for a minor upgrade or a split role? The Generals just dealt for Sarnia Sting overage forward Anthony Salinitri, and paid a pretty price in the process (two second-round picks and a fourth-round pick), so paying even more for DiPietro is questionable. It's tough to see the Generals either platoon Keyser and DiPietro or give up Keyser, a young player and plenty of picks to get DiPietro. While the teams have a history of making the deadline deal, this one doesn't make much sense.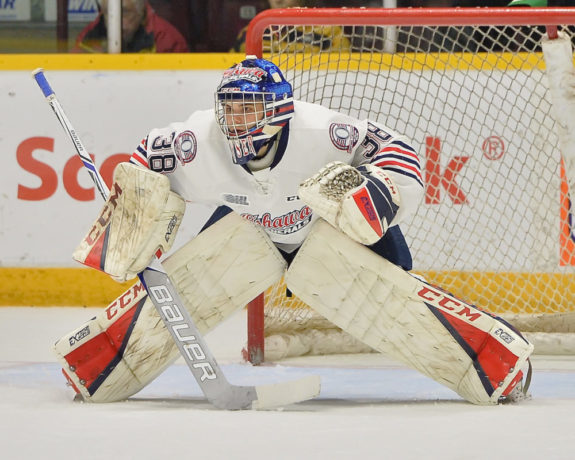 Peterborough Petes (current record – 16-11-0-0)
Second-Round Picks – eight (two in 2019, 2020, 2022, one in 2023 and 2024, none in 2021)
Third-Round Picks – eight (two in 2021 and 2023, one every other season)
The case for DiPietro: Petes' goaltender Hunter Jones has been a rock all season (2.71 GAA, .922%). His post-season resume, though, leaves a bit to be desired. Back-up Austin Tye could be ready for the spotlight once Jones graduates but, should Jones go down now, what happens? A Jones/DiPietro net is enticing and, with Jones being a year younger, he gets one of the best in the league as a mentor for the rest of the season. The Petes did ship Will Cuylle off to the Spitfires in August so there is a history there.
The case against DiPietro: Jones' has shown what he can do and is likely to get a chance at the starter's role in the playoffs. While the Petes have the picks, they might be better off getting a decent back-up and upgrading in other areas. A Jones/DiPietro net could scare opposing teams but, like the Generals, that might not work out. Both deserve the playing time. While the parts are there for something to be worked out, it's not as likely as others.
Here's Jones in a "junior reporter" interview:
Sudbury Wolves (current record – 15-8-1-1)
Second-Round Picks – eight (two in 2019 and 2021, one in every other season)
Third-Round Picks – nine (three in 2021, two in 2020 and 2022, one in 2023 and 2024, none in 2019)
The case for DiPietro: After finishing in last place last season, the Wolves have found their groove this season and are looking to make some noise in the playoffs. With young star and 2018 first overall pick Quinton Byfield making headlines, and plenty of assets to work with, it could be a good time to upgrade. Goaltender Ukko-Pekka Luukkonen, taken from Finland in the 2018 CHL Import Draft, has been lights-out. However, do they rely on backup Jake McGrath if Luukkonen goes down? A Luukkonen/DiPietro duo would be incredible for the team and the city, while McGrath mentors young the Spitfires' Piiroinen for the rest of the season. Add in the assets that the Spitfires need and it makes some sense.
The case against DiPietro: While DiPietro is one of the best in the league, Luukkonen needs the playing time. The Buffalo Sabres prospect needs ice time in North America and splitting with DiPietro doesn't help him at all. The Wolves would be better off using their assets to upgrade their scoring and maybe get a proven back-up at a cheaper price.  Also, the Wolves don't have a second-round pick in 2019 and that's likely to be the breaking point in any talks. It just doesn't seem like the right fit for either club.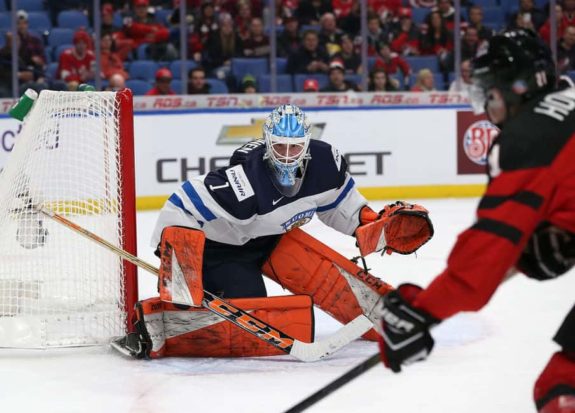 Grab the Kernels
Rumours have come from every corner of the OHL world for over a year now. From newspapers to social media, there has been plenty of talk about when, how, why and where DiPietro could be moved. Once it didn't happen in January, the Spitfires and their fans focused on the rest of the season. Now, though, is a much different story.
Combine that with Rychel's ability to create trades from seemingly nowhere and you get an unpredictable and intriguing situation.
While we have contenders, long shots and teams that just don't seem to fit, whoever is willing to pony up the assets certainly has Rychel's attention. There will be a lot of popcorn consumed over the next month-and-a-half as the OHL world watches the DiPietro Sweepstakes unfold.