Evaluating talent is part of the business in the NHL. While general managers, scouts and executives for each team have to look at talent within the system and typically create an internal ranking of their own players, it's almost impossible to definitely list prospect A over prospect B with the exception of a few elite talents who are head-and-shoulders in a class of their own.
For that reason, the idea of a basic prospect ranking is fun but it's also not necessarily indicative of what a prospect pool truly looks like. Rather than fans evaluating talent on their merit, fans instead will automatically associate prospects with whatever ranking they saw them tagged with – be it their draft ranking, their actual draft position or on one of the many prospect lists that come out each and every year.
This is why Sportsnet correspondent Steve Dangle's prospect pyramid is such an interesting way of doing things. We've already seen THW's Stephen Ground attempt a prospect pyramid of his own with the St. Louis Blues and the idea resonated enough to the point where it seemed worthwhile to take a stab at it with the Boston Bruins. The reason for this being that both the Blues and Bruins have deep prospect pools with some high-end talent sitting right at the top.
What is a Prospect Pyramid
Before we actually construct the Bruins' prospect pyramid, however, it's important to actually discuss what a prospect pyramid is.
Rather than ranking prospects numerically based on arbitrary factors, the prospect pyramid serves to rank players based on tiers. Instead of deciding which player is better between prospects five through 10, the pyramid allows for prospects to be ranked based on potential and grouped accordingly rather than ranking them subjectively. After all, if there were objective rankings, we wouldn't need an entry-draft every year.
Here's a breakdown of how the tiers work:
Tier 1 – Elite talent (Rasmus Dahlin, Auston Matthews, Connor McDavid-level talent)
Tier 2 – Very, very good prospects with a real chance of being top-six forwards, top-two defenders or good starting goalies)
Tier 3 – Good players who fall just short of tier 2, perhaps due to lower ceilings, but who are distinctly better than tier's below them
Tier 4 – Distinct shot at making an NHL roster and being a contributor (top nine forward, bottom-four defender, fringe starter or backup goaltenders
Tier 5 – Players who likely don't project to be anything more than a role player in the NHL as their ceiling – these players chances of making the NHL aren't very high compared to their comrades (sometimes due to being relatively unknown at this point)
With that, let's take a look at how the Bruins prospect pyramid looks for the 2018-19 season:
Tier 1 – Empty
It may seem strange to rank the Bruins top-tier prospect pool as empty but it's also impossible to look at their current crop of prospects and claim that any of them will be bonafide superstars at the NHL level. This isn't necessarily a bad thing as the Bruins have already seen David Pastrnak and Charlie McAvoy make huge impacts at the NHL level and both would qualify for this category had they been eligible.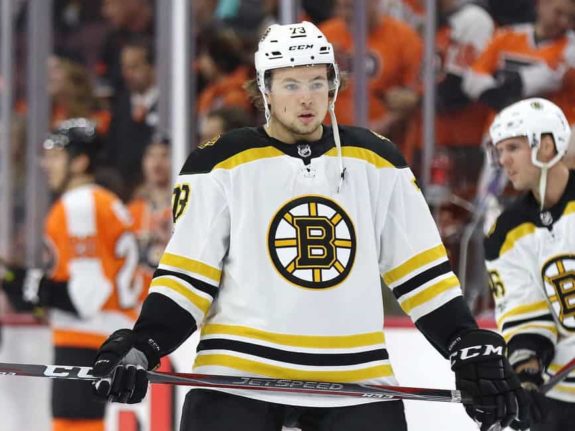 Few teams will actually find themselves with players in this category as it truly is the hardest one to break into as a prospect. Even if players do find themselves ranked in this category, they are often declassified almost immediately once the season starts as they are likely to be NHL contributors from day one.
While the Bruins don't necessarily have a "top-prospect" in their system right now, they do have a bevy of prospects in the next two tiers who could all be contributors at the NHL level one day – that doesn't even include players like Jake DeBrusk, Anders Bjork, Danton Heinen, Brandon Carlo or Matt Grzelcyk.
Tier 2 – Bruins May Be Deeper Here Than Any Other Team
On paper, the Bruins appear to have multiple players in their system who qualify as possible top-six forwards and top-four defenders with high ceilings. That list of players includes Ryan Donato, Urho Vaakanainen, Trent Frederic, Jeremy Lauzon, Jack Studnicka, and Jakob Forsbacka Karlsson.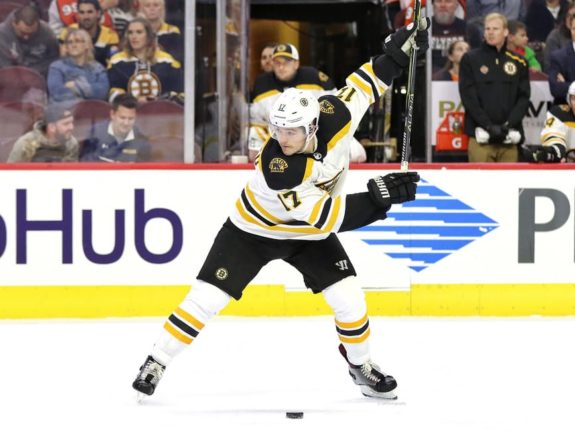 The top prospect in the Bruins system right now has to be Ryan Donato. While he projects to be an NHL player from the very start next season given his involvement at the tail-end of the 2017-18 season, he is still officially a prospect and while the point of this pyramid is to eliminate prospect rankings, it's hard to put anyone ahead of Donato right now given what he's already done in the NHL. He should have a big role with the team in 2018-19
In Vaakanainen, the Bruins have a puck-moving prospect who is more than capable of eating minutes and making plays with his skates and stick. While his offense doesn't necessarily jump off the page, his instincts are sound and his ability to play at such a high level despite his age bodes well for his chance at making the NHL roster either this season or next. A strong preseason made this even more likely.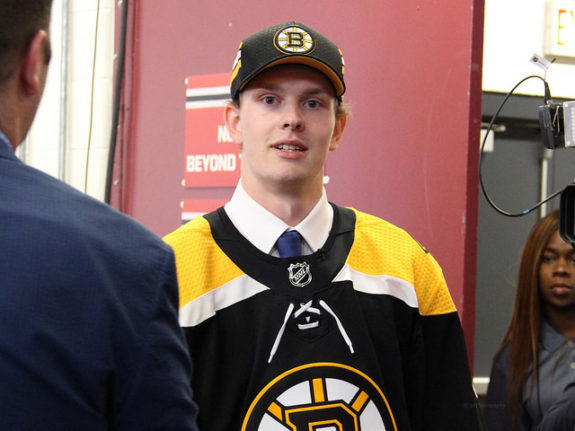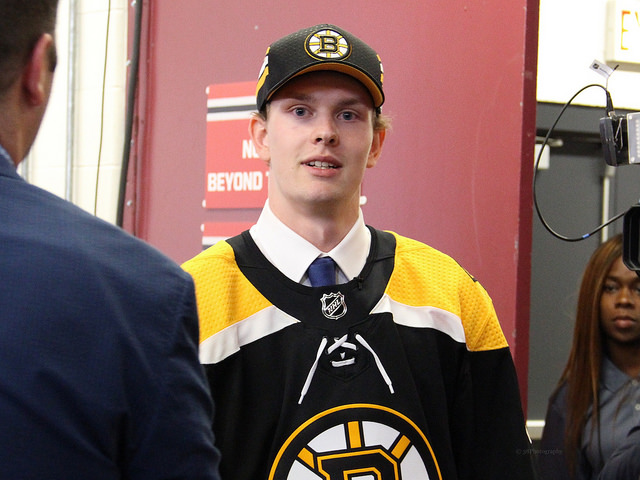 While Lauzon could have been considered the Bruins' best prospect on defense heading into the 2018-19 season given his impressive offensive ability, good size and improvements defensively, it's hard to put him ahead of Vaakanainen. Similarly, it would be hard to put Vaakanainen ahead of Lauzon due to his seeming lack of offensive potential. This is where a pyramid like this comes in handy as both can be ranked in the same tier with neither holding a distinct advantage over the other.
When it comes to centers, the Bruins are in good shape moving forward with Frederic, Studnicka and Forsbacka Karlsson all in the mix.
Initially, it was hard to put Forsbacka Karlsson in this tier as he seemingly took a bit of a step back in 2017-18. While he would be an easy fit in tier-3, it's hard to criticize his play when he was dealing with the effects of a concussion for much of last season. Because of this,  he'll enter the 2018-19 year in the same spot as he would have pre-concussion alongside both Frederic and Studnicka who have made strides since being drafted and appeared to be legitimate contenders for an NHL job out of training camp.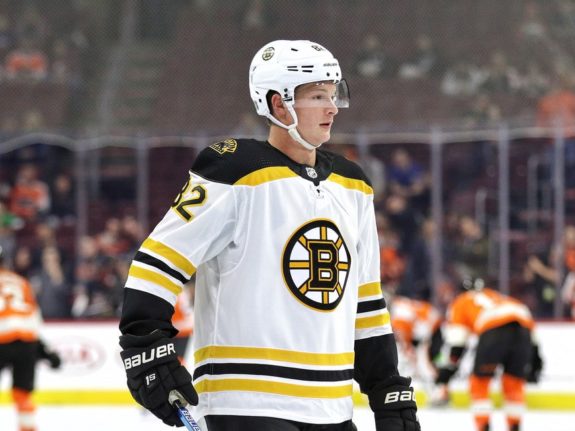 Even if though Studnicka was sent to the OHL and Frederic and Forsbacka Karlsson failed to make the initial NHL roster in 2018-19, it's hard to imagine all three fizzling out and none of them reaching a top-six role one day. All three have very high potential.
Tier 3 – Some Nears Misses From Tier 2
In tier 3, the players who very narrowly missed tier 2 make the cut. While they have the potential to be tier 2 players with impressive performances in 2018-19 that could raise their stock, they enter the season as tier 3 with high expectations placed upon them. This tier includes Zach Senyshyn, Jakub Lauko, Jakub Zboril, Jesse Gabrielle, Peter Cehlarik and goaltender Dan Vladar.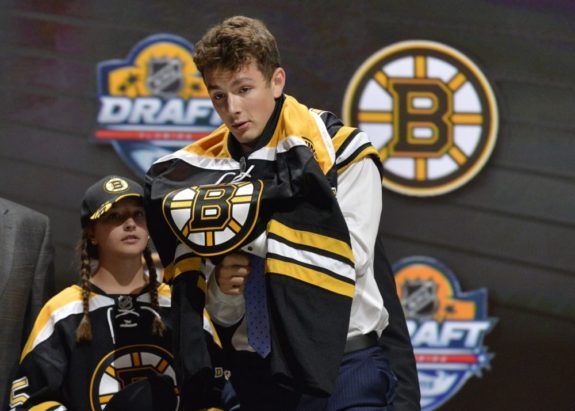 The Bruins do have a few other wingers who could be NHL talent but the best of the group appears to be Senyshyn.
With his rare combination of size, speed and skill, Senyshyn projects to be a legitimate top-six forward at the NHL level and its part of the reason they've focused on developing his two-way ability by playing him almost exclusively in an energy/bottom-six role in 2017-18.
With 2018-19 likely to see him featured in a scoring role, those criticizing him for being drafted 15th overall will likely see what he's all about and change their tune.
In the case of Lauko, the speed is overwhelming and the skill is undoubtedly there. While he may not possess the same size as Senyshyn, he plays a very consistent game as an offensive-minded forward and has the versatility to slide onto the wing or play his natural center position. He impressed in training camp and the preseason and boosted his stock early in his tenure.
Cehlarik is a player that may create the most buzz in the Bruins organization every preseason. That's impressive given the fact that he's 23 years old, a third-round pick from 2013 and has played in only 17 NHL games to date with one goal and four points to show for it.
While he has the size (6 foot 2 and 202 pounds) as well as the ability to play a responsible and dynamic two-way game, injuries and depth have gotten in the way of him making a consistent splash with the Bruins. If he can remain healthy and produce at the level everyone expects he's capable of, it wouldn't be surprising to see him make the NHL in a top-six capacity one day. At the same time, it would be equally unsurprising to see him fail to make an impact at the NHL level altogether given his inability to remain healthy.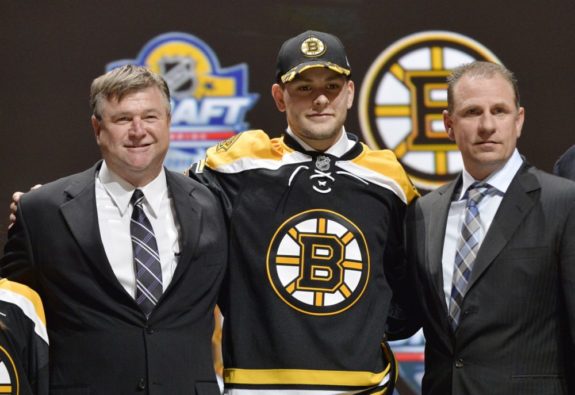 Zboril has the potential to be a top-four defender and even got an extended look in training camp this year. With that said, he enters the season as the Bruins third-best defender on their depth chart and is at least a step behind Lauzon and Vaakanainen from a potential standpoint.
With that said, he has the ability to be a solid two-way defender at the NHL level and if he can finally take the next step this season with conditioning and decision making, he could find himself up a tier next season.
For Gabrielle, once considered a potential Darkhorse to make the Bruins' roster last season, times have been tough. An uninspired training camp and start to his AHL season in 2017-18) one goal and four points in 21 games) led to the team sending him to the WHL. Though he's proven to be successful in the WHL in the past, Gabrielle would only score 13 goals and 19 points in 27 games with the Regina Pats in his return to the team – a far cry from the 75 goals and 139 points he'd produced in his last 133 games in the WHL.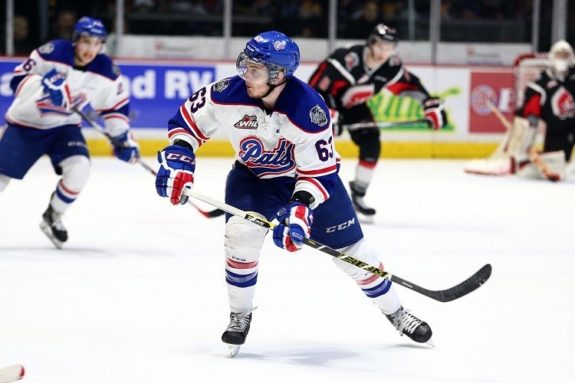 He may be in a down-spell right now but it wouldn't be surprising in the slightest to see Gabrielle still find a way to produce at a top-six NHL level one day soon. Remember, he's only 21 years old and was taken in the fourth round in 2015. There were obvious flaws to his game that led teams to stray from him in his draft class – if he can improve in those areas and gain confidence at the pro level, however, the sky is the limit for his potential.
Goaltenders are hard to evaluate and because of this, Vladar's placement in this group seems to be the fairest to him. With the upside of a starting goaltender and the most likely goalie in the system to take over from Tuukka Rask one day, the 21-year-old Vladar heads into 2018-19 as the Bruins best goaltending prospect.
At 6 foot 5, he very clearly has the size coveted by many teams for their starting goaltenders. His improvement at the AHL level in each of the last two seasons (though admittedly in limited exposure) as well as the ECHL with the Atlanta Gladiators were also encouraging and gave him a nice spotlight heading into training camp. He didn't disappoint, either, and he now appears to have leapfrogged Zane McIntyre as the defacto starting goalie in Providence, though the team typically rotates goaltenders evenly regardless.
Tier 4 – NHL Hopefuls Who Have a Shot
The fourth tier of the prospect pyramid is one that's filled with players who have distinct chances at making an NHL roster one day, be it in a bottom-six capacity, a middle to a bottom-four role on defense or even as a fringe-starting goaltender or career backup.
These players have legitimate NHL potential and some could even rise to the occasion and be better than expected. Still, they're all clearly a step below those in the tiers above them – be it from their production thus far or due to them being relatively unknown commodities at this point in their careers.
This tier includes the following players:
Zane McIntyre, Jeremy Swayman, Ryan Fitzgerald, Oskar Steen, Axel Andersson, Karson Kuhlman, Pavel Shen, Cedric Pare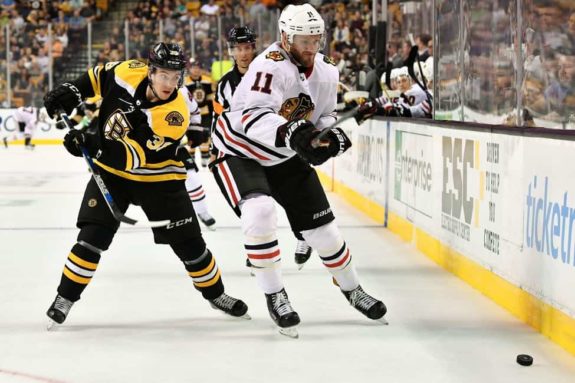 These players all have a distinct chance of making an NHL roster one day in a consistent role. While none necessarily project to be stars at the NHL level or even top-six, top-four or elite starting goaltenders, all have a chance at making the roster in some capacity.
Related: Ryan Fitzgerald Has Immediate NHL Potential
Tier 5 – Role Players at Best
For the remainder of the Bruins' prospects, the ceiling appears to be role players at best. While that doesn't necessarily mean these players couldn't become feel-good stories and make an impact on an NHL roster one day, the likelihood of these players even making NHL rosters as consistent players one day are low. Being anything more than depth contributors may be the best case scenario for them at this time.
The players in this tier include:
Jack Becker, Cameron Hughes, Jordan Szwarz, Wiley Sherman, Emil Johansson, Anton Blidh, Connor Clifton, Curtis Hall, Colby Cave, Joona Koppanen, Kyle Keyser, Linus Arnesson, Dustyn McFaul, Cam Clarke, Victor Berglund and Daniel Bukac
As was the case with tier 4 – the players in this group could still be better than expected and will be working towards proving that in 2018-19. None of these rankings are set in stone and it's always up to the players to prove that they are more than what any ranking says. This remains true even with a concept like a prospect pyramid.
Brandon Share-Cohen has covered the NHL and various professional sports for seven years. Working with The Hockey Writers, Brandon works extensively on covering the Boston Bruins in addition to his role as the News Team Lead.