Oh captain, my captain.
Yesterday in a long-awaited and long-overdue announcement, the Buffalo Sabres named Jack Eichel as their captain for the 2018-19 season. Since the organization selected Eichel second overall in the 2015 NHL Draft, speculation has taken place regarding when the right time would be to bestow him with this honor.
Last season, the organization held-off on naming a captain, instead opting to dress four alternates. That decision was poetically fitting for a Sabres team that lacked direction en route to their third last-place finish in the past five years.
Jack Eichel. Buffalo Sabres captain.#LetsGoBuffalo #Sabres pic.twitter.com/6N6ujWHhGb

— Buffalo Sabres (@BuffaloSabres) October 3, 2018
The Sabres will ice a new-look roster that features several new-additions as they attempt to finally right the ship. With the improvements they've made, Eichel can finally lead a team that is on the upswing. Jason Botterill has things headed in the right direction after a roster upheaval that drew rave reviews from the fanbase this summer. The onus is now on the 21-year-old to lead his team to the playoffs and end the league's second-longest postseason drought.
Eichel's Expectations
Since arriving in Western New York, fans of the blue-and-gold have placed immense expectations on Eichel to be the harbinger of success following some of the darkest years in franchise history. His first three seasons in the league have been quite good despite missing significant time due to injury. Over the past two seasons, he has been sidelined for a total of 36 games. If the Sabres plan on making a marked improvement in the standings, they will need a healthy captain moving forward.
Since 2016-17 Eichel has shown that he is capable of producing at nearly a point-per-game pace. Even more impressive is his ability to create offense with a wide assortment of different linemates as both Dan Bylsma and Phil Housley played musical chairs with their forward lines.
He'll start the 2018-19 campaign with the two most talented wingmen he's had since turning pro in new acquisition, Jeff Skinner and his returning partner-in-crime, Sam Reinhart. As an elite scoring presence, Skinner will be a more than adequate replacement for Evander Kane who was dealt to the San Jose Sharks at the trade deadline last season.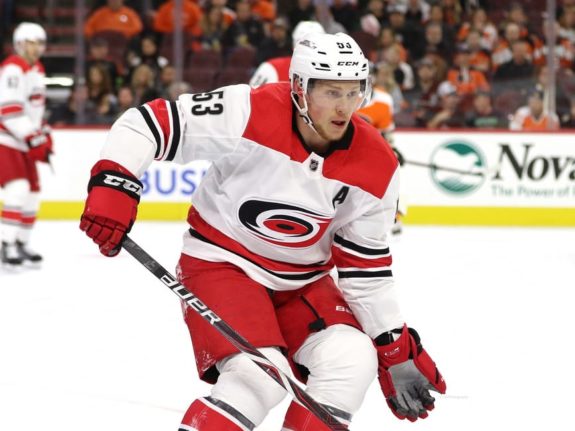 After recently signing a bridge-deal as a restricted free-agent, it lends to reason that Reinhart will be playing with a chip on his shoulder in order to show the team (and the rest of the league for that matter) that he's worthy of a long-term contract two years from now.
So what does all of this mean for Eichel? If Housley can resist the urge to re-concoct his forward group on a game-by-game basis, it could very well lead to a level of chemistry and consistency that has been missing from the Sabres' top-six. Should that manifestation take place, it's not unreasonable to anticipate career-high point production for Eichel. Landing somewhere in the 85-90 point range isn't out of the realm of possibility.
Point production is one thing, but his task is actually much greater. The Sabres are fielding a very young roster this season. With that comes the need for a singular voice to turn to in times of adversity, something Eichel is no stranger to. Expectations remain high for the franchise center, but given his new role and the ever-improving locker room morale at KeyBank Center, he is now better suited to manage them. Perhaps waiting until now to award him the captaincy was the right move after all.
Related: It's Eichel's Time to Shine
Strength Amid Struggle
It's no secret that the Sabres have dealt with their fair share of hardship over the past five years, both on and off the ice. Like it or not, extended periods of perpetual failure take a toll on player psyche. Ryan O'Reilly's comments about losing his love for the game were indicative of a team that experienced soul-crushing futility as they desperately tried to salvage a disastrous 2017-18 campaign.
Even prior to Housley's arrival in Buffalo, Eichel's frustration with the state of the team was palpable. Following a locker room cleanout interview following the 2016-17 season, the then 19-year-old was standoffish with the media while vocally expressing his disapproval of missing the playoffs in his second season.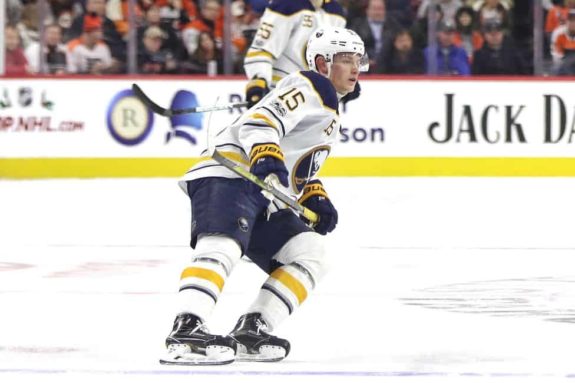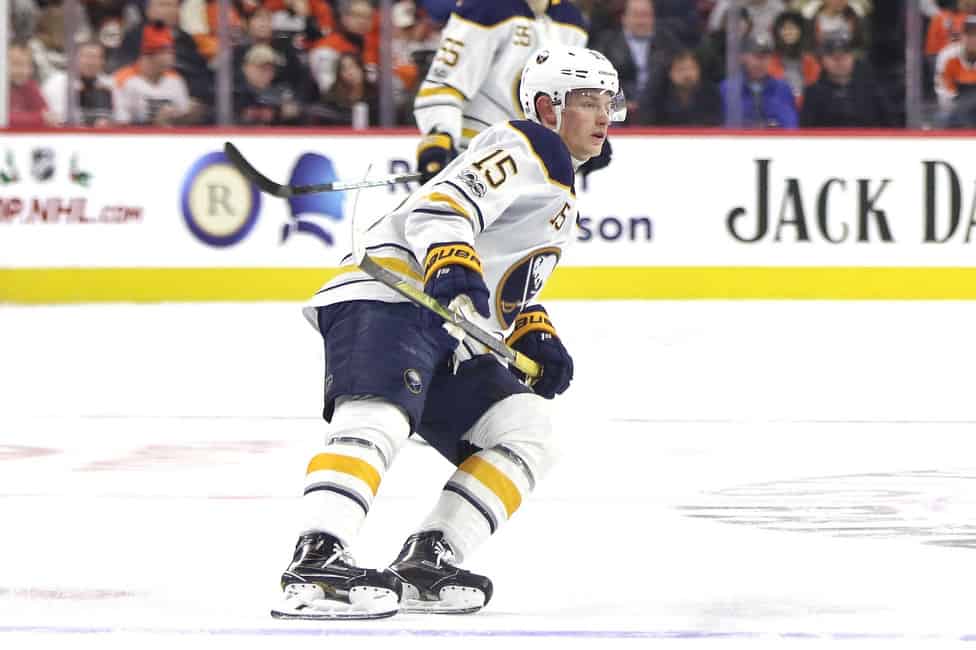 The jokes came pouring in after that. Irritated portions of the fan base accused him of having a bad attitude, citing him as the primary reason for Bylsma's ousting. They also questioned his ability to be a catalyst for change in a Sabres locker room that had reportedly become toxic and uncommunicative, ever deteriorating, leading the team further into obscurity.
Eichel's ability to remain positive and display maturity amid his team's continued struggles last season (which actually produced worse results than the season prior), should be commended. Now that Botterill has been afforded the opportunity to put his stamp on the roster, ridding himself of the "old core" while adding skilled, high-character contributors, Eichel can now lead a fresh set of faces who all want to bring Buffalo back to the promised land.
For the first time, the Sabres roster is full of players who can help carry the leadership burden. Several of them come from organizations that have experienced their share of success and failure. That experience and added support will prove vital in Eichel's ability to unify his team and keep everyone on the same page, even if they begin to struggle early on.
Alternate Captains
Along with officially handing the leadership reigns to Eichel, the Sabres also announced that winger, Kyle Okposo and defenseman, Zach Bogosian would serve as alternates this year. The two veterans are both coming off of tumultuous campaigns with a newfound determination to re-assert themselves as top-end players in the NHL.
After battling through what resulted in a horrific post-concussion ordeal, Kyle Okposo got off to a rough start last season. Though he did serve as one of the team's alternates, he had a great deal of trouble appearing on the scoresheet in the early going, posting a pedestrian 11 points in his first 26 games back. Fortunately, he was able to rebound, finishing the year with 25 points in his final 36 contests.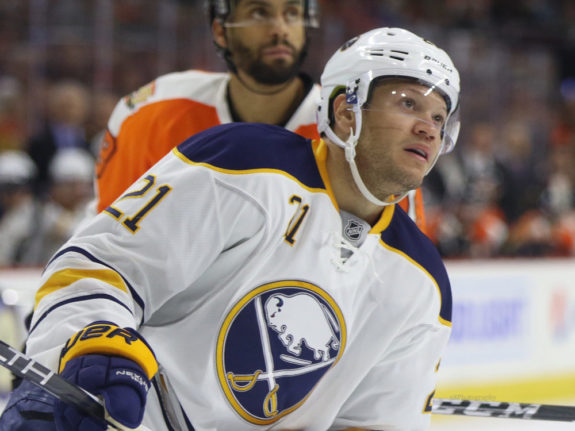 In a recent article for The AthleticNHL, Tim Graham spoke to Okposo who provided an in-depth look at his road to recovery after spending an extended period of time in the hospital following a head injury he suffered toward the end of the 2016-17 season.
"Coming into last training camp, you better believe I was scared to go on the road and whether I would go to sleep," Okposo said (from 'Back From the Abyss: Kyle Okposo Opens Up About the Darkest Days of his Life', The AthleticNHL – 9/24/18)
It's reasonable to assume that what he went through required a longer adjustment period to return to form. Hopefully, he will come out firing on all cylinders this season and appear more like the Kyle Okposo who fans were treated to during his time with the New York Islanders.
Bogosian is another story entirely. Since coming to Buffalo via trade with the Winnipeg Jets during the 2014-15 season, he has missed a whopping 108 games due to a variety of different injuries. Last year he only dressed in 18 games while also serving alongside Okposo as an alternate captain.
The Sabres' decision to let him retain the "A" came as a bit of a surprise to fans. With a "new core" that has a heavy emphasis on youth, a wholesale changing of the guard was expected. Given the strong Swedish presence in Buffalo, newcomer Patrik Berglund was seen as one of the odds-on favorites to receive a letter this season, but the team instead opted to put their faith in Bogosian to resurrect his career and help lead one of the least experienced rosters in the league.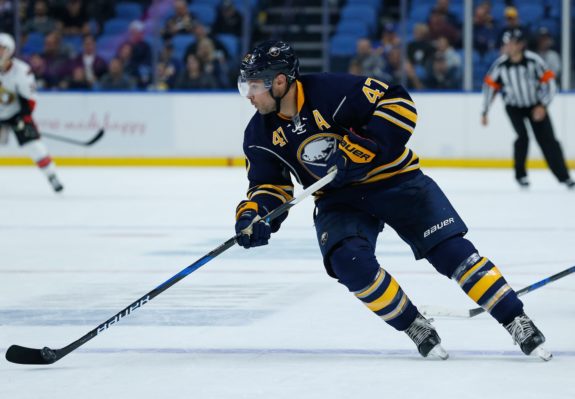 After Botterill and Housley decided to send up-and-coming blueliners like Lawrence Pilut and Brendan Guhle back to Rochester to start the year, their faith in the veteran blueliner became evident. Many feel that his career may be coming to a close, but the organization obviously sees things differently.
Should Bogosian fall to injury, Housley confirmed that defensemen Rasmus Ristolainen and Marco Scandella will alternate wearing his letter while he recovers.