The Pittsburgh Penguins didn't have to fill many holes on their roster during the offseason, so it was natural to assume the 12 forwards and six defensemen would be set from day one of training camp; but as the famous saying goes, that's why you play the games.
The team completed its six-game preseason with a record of 2-3-1, but don't sound the alarms yet. As always, the preseason is more about getting properly prepared for the next six months of hockey than it is the results. Nevertheless, there were still a number of takeaways from the exhibition slate, from Juuso Riikola impressing to Daniel Sprong and Zach Aston-Reese struggling and lastly, neither Casey DeSmith or Tristan Jarry instilling much confidence as backup options.
Riikola Makes the Team
When the Penguins signed Riikola from KalPa of Liiga — Finland's top league — back in May, it was assumed he would start in the AHL with Wilkes-Barre Scranton to get acclimated to the North American style of the game. Riikola foiled those plans, though.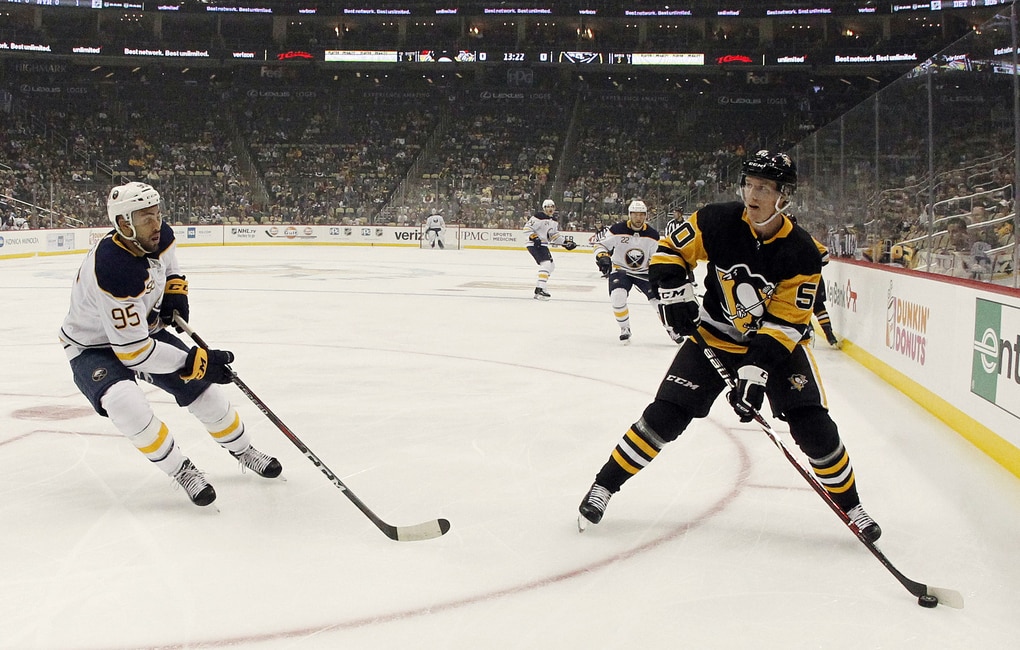 The 24-year-old certainly made a strong impression. Riikola played all six games and was impressive in each one, recording four points (two goals, two assists) while seeing time on the penalty kill and power play. Possession wise, he was dead even at five-on-five in 89 minutes, with a CF% of 50 (80 CF, 80 CA), but was on the ice for more scoring chances for than against (38 SCF, 34 SCA). He was also on the ice for eight goals for and three against. When seeing Riikola played half his games with prospects and AHL talent as opposed to players on the opening night roster, his performance is even more impressive.
While he spent more of his game action with either Zach Trotman, Jamie Oleksiak or countryman Olli Maatta, Riikola has practiced alongside Kris Letang for the last few days due to a Brian Dumoulin injury. It was announced on Oct. 1 that Riikola would be on the Penguins opening game roster and head coach Mike Sullivan had high praise for him and the team's scouts while giving the news.
"Based on my observations to this point, they were right. I think Juuso has had a really strong camp. He's a good player. He's mobile. He can move the puck. He processes the game and he plays with a physical edge. I think he's a guy that has earned his way here. We'll see where it goes moving forward, but he's had a very strong camp."
Considering the planned top six of Letang, Dumoulin, Maatta, Oleksiak, Justin Schutz and Jack Johnson have done nothing to warrant losing their spot, it's unfair to expect Riikola to play all 82 games. He could become a valuable piece should there be any long-term injuries or poor performance occur. Should he stick around all season; Riikola will likely appear in 45 to 50 games and has the potential to record about 20 points while playing third pairing minutes.
Related – Juuso Riikola: A Sleeper for The Calder Trophy?
Sprong and Aston-Reese Disappoint
After recording 65 points (32 goals, 33 assists) in 65 AHL games last season it was expected that Sprong, the team's top prospect, would make an immediate impact as a full-time member of the Penguins roster in 2018-19. If his training camp and preseason performance were any direct indications, that won't be the case.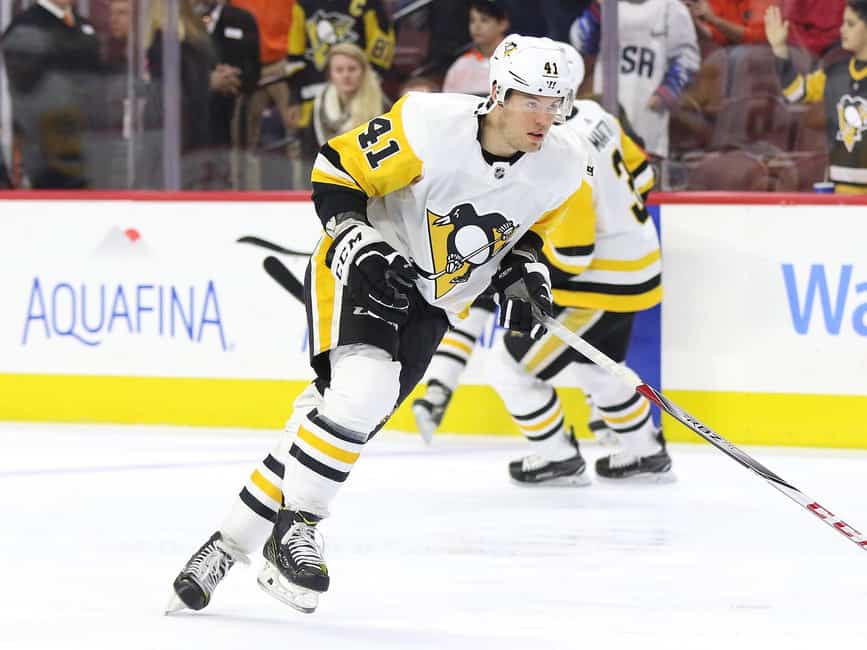 In four games, Sprong recorded one assist while posting a CF% of 37.23 at five-on-five, despite Jake Guentzel and Sidney Crosby being his most common linemates. He was on the first line with Guentzel and Crosby for much of camp but wasn't as impressive as fans and management had hoped he would be. By the fourth preseason game, Sprong found himself demoted to the fourth line, and he'll likely begin his season there — when he recovers from his lower-body injury — until he picks up his level of play.
General manager Jim Rutherford expected more of Sprong during camp and thinks he may have been putting too much pressure on himself, as he told Josh Yohe of The Athletic last week.
"He's the kind of player, when he scores, that really gets his confidence going. He's going to be just fine. I really believe that. I'm not disappointed in him. That wouldn't be the right word. I just felt like he was going to have a better camp than he had. He's doing some good things out there. It's just a confidence thing now. These players all put pressure on themselves, worry about what lines they're going to be on. Stuff like that. And I think he does." (From 'Jim Rutherford on Daniel Sprong: "We expected a little bit more from him," The Athletic — 9/27/18)
He has an electric shot with the potential to score 25 goals. He's also a great skater, and many thought these traits could make him the perfect compliment to Crosby and end his ever revolving door of right-wingers. While he still could, it'll take some more time. A bad camp at 21 won't be the end of Sprong's career, but it's disappointing considering the expectations the team has for him.
Related: Penguins Need Daniel Sprong to Step Up
Aston-Reese was another player who was expected to take a big step forward in 2018-19. Unfortunately, like Sprong, his camp performance was less than stellar.
After being signed as an undrafted college free agent out of Northeastern University in March 2017, Aston-Reese only needed until halfway through the 2017-18 season to make the leap to the NHL where he posted six points (four goals, two assists) in 16 games. He added one point in nine playoff games before a controversial hit from Washington Capitals forward Tom Wilson left him with a fractured jaw and a concussion, prematurely ending his season.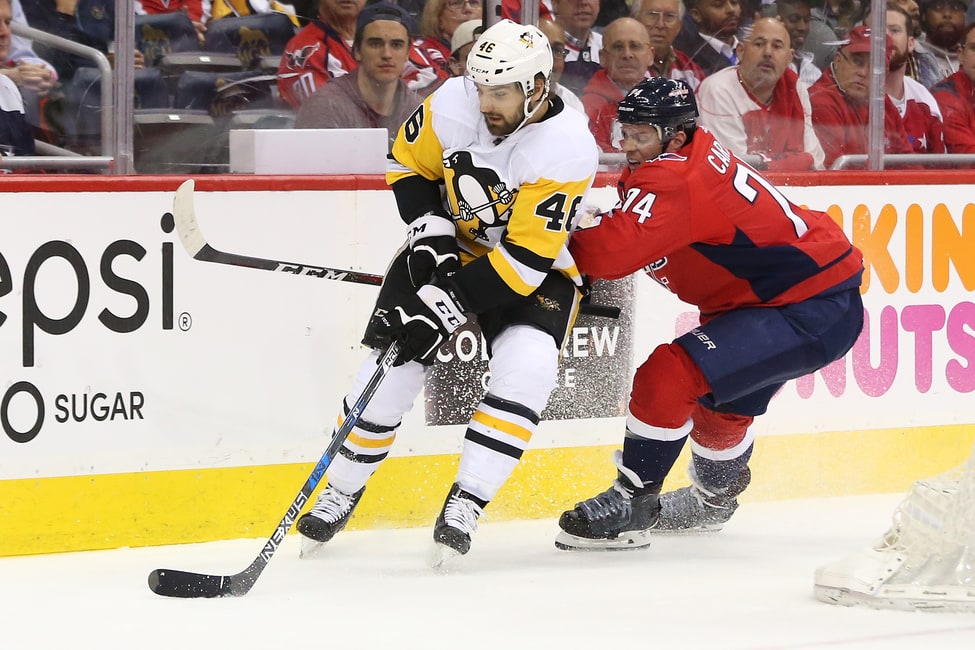 There was hope he could build off his first taste of NHL action and become an impact middle-six forward in 2018-19. But things don't always go according to plan, and Aston-Reese's camp is in that category. While his five-on-five CF% of 45.76 in three preseason games left something to be desired, he did record three primary assists in just over 31 minutes, so there were some positives.
Aston-Reese was sent down to the AHL as part of the Penguins final roster cuts ahead of their Oct. 4 opener against the Capitals. Likely because he's the Penguins only non-waiver eligible forward and his performance didn't give the team a reason to work around that issue. After practice on Wednesday in Wilkes-Barre, Aston-Reese said the demotion could serve him well.
I think I could've played a little bit harder. Pushed a little harder. I have to get that mindset back, and this is a good opportunity for me to do that.
He'll be back as soon as injuries happen but it's certainly a disappointing start to 2018-19, for the 24-year-old.
Related: Penguins' Youth Will Define Season
Neither Jarry or DeSmith Ran Away With Backup Spot
After a poor showing in 2017-18, the Penguins are banking on a rebound season from starter Matt Murray. Though finding a number two who allows the team to be confident in giving Murray some occasional rest is still a work in progress.
Jarry got his first taste of extended NHL action in 2017-18, recording a 14-6-2 record in 26 games with a .908 save percentage (SV%) and 2.77 goals against average (GAA) with two shutouts. His numbers weren't overly impressive, but he showed flashes of why he was touted as part of the future in the Penguins crease after being drafted in the second round of the 2013 draft.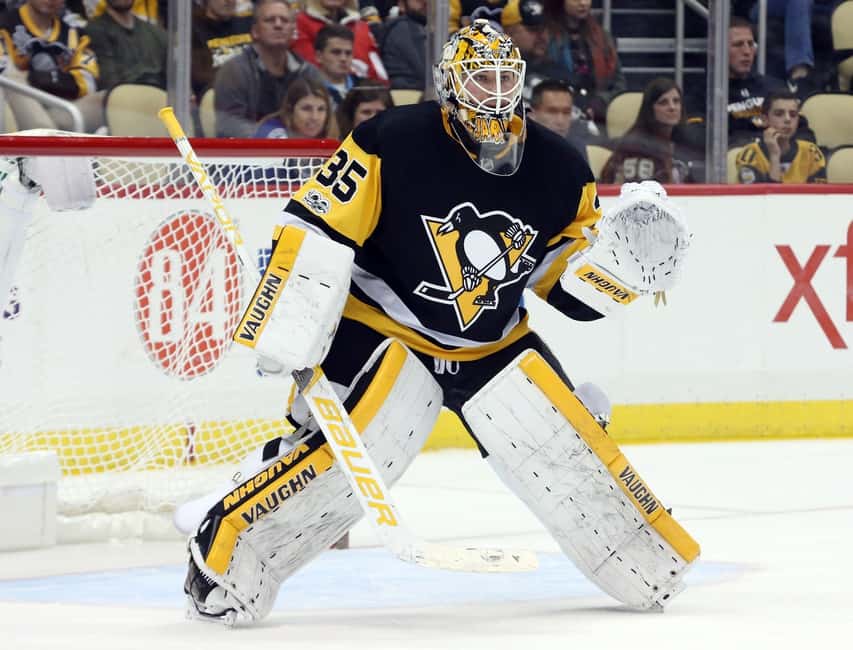 While he was good in his first two games of preseason action — both against the Detroit Red Wings, Jarry allowed five goals on 20 shots against the Columbus Blue Jackets in the final exhibition game. Overall, in three appearances, the 23-year-old stopped 76-of-84 shots for a .904 SV%. Had he showed well against a playoff team; he would've impressed more people, but he'll have time to work his kinks out in the AHL.
DeSmith posted a 6-4-1 record in 14 games last season to go along with a .921 SV% and 2.40 GAA and one shutout. While the numbers are impressive, his all situations expected save percentage (xSV%) of .900 implies he was performing well above expectations. It seems some sort of regression set in during the preseason as he posted a .864 SV% in three games, — two of them with a majority of the Penguins opening night roster on the ice. He likely won't post a .921 SV% over a full season, but he's not posting a .864 mark either. A low to mid .910's SV% would be acceptable if he plays around 25-30 games as Murray's understudy.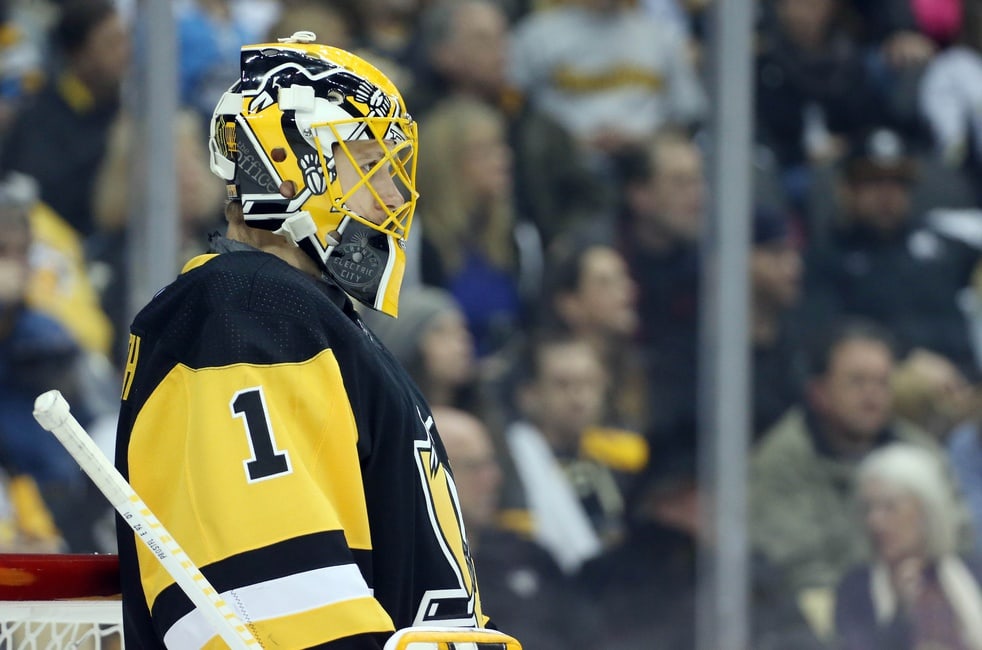 DeSmith will begin the season as the backup because of a leg injury suffered by Jarry in the final preseason game and the fact he'd have to pass through waivers, but he shouldn't get overly comfortable. If Jarry proves too good for the AHL and DeSmith struggles, the Penguins won't hesitate to make a change.
*Advanced Statistics from Corsica Hockey and Natural Stat Trick