Knowing when to move on from a player and when to give another player an opportunity is a big part of what goes into successful team building in the NHL.
Related: Bruins Exceeded Expectations in 2017-18
While the Bruins may have been among the best teams in the entire league in 2017-18, they'll undoubtedly see some roster turnover due to expiring contracts in their bottom-six and with so many players in the pipeline knocking (loudly) at the door, the team will have to make some difficult decisions this offseason. One of those decisions will be whether or not left winger Tim Schaller should return to the club in 2018-19.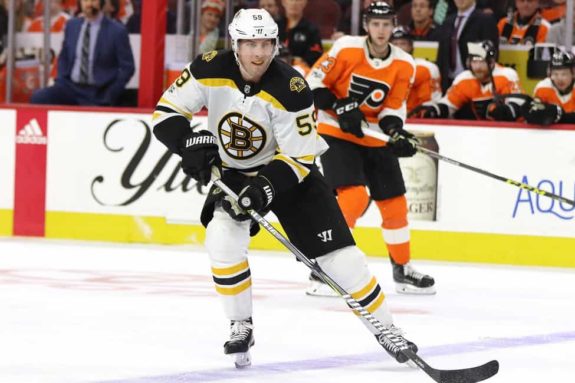 Despite having a better season than anybody could have anticipated with 12 goals and 22 points in 82 games and a compete-level that was second to none on the team, the Bruins best bet may be to let Schaller explore his options on free agency.
That isn't because of ability or even because Schaller priced himself out of the city as his next contract shouldn't be anything too egregious despite his successful season. What it comes down to, though, is the fact that the Bruins already have a more-than-suitable replacement for Schaller in Providence who could grab a spot on the roster from day one next season.
Ryan Fitzgerald is Ready to Go
Over the last few years, there has been a lot of talk about Massachusetts-natives playing for their hometown club. In some instances, it's worked out well. Matt Grzlecyk and Ryan Donato are already looking like mainstays on the team and should be for the foreseeable future. In other instances, such as in the case of Jimmy Hayes, things didn't work out so well.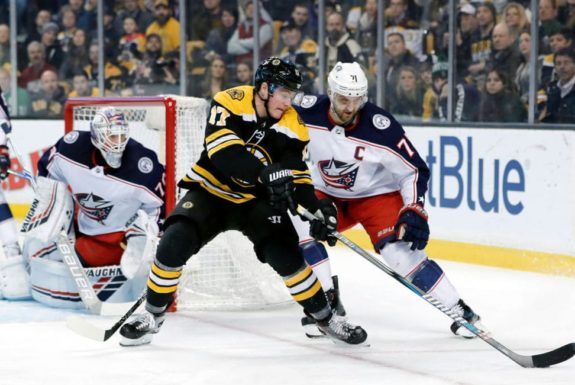 There have also been examples of players that Bruins fans and media alike have clamored after when they've become available on free agency or via trade such as Jimmy Vesey and most notably Carolina Hurricanes-defender Noah Hanifin. One name that often goes under the radar, though, is Ryan Fitzgerald.
Related: Should the Bruins Explore a Noah Hanifin Trade?
Born in North Reading Massachusetts and selected in the fourth round of the 2013 NHL Entry Draft by the Bruins, Fitzgerald has been a fixture in Boston for his entire life. After spending four seasons at Boston College (a college career that saw the 5-foot-10, 177-pound forward score 66 goals and 132 points in 152 games), Fitzgerald joined the Providence Bruins in the AHL and has a breakout rookie campaign in 2017-18.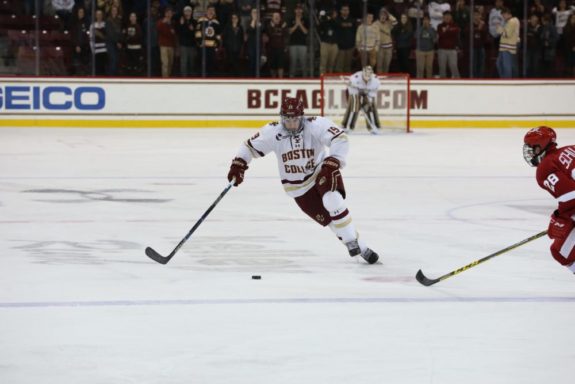 Scoring 21 goals and 37 points in his first professional season in Providence, Fitzgerald did more than just impress with his finishing ability. What really stood out about the 23-year-old was his drive and effort level on each and every shift throughout the season. Few players can match Fitzgerald's intensity and that's part of what makes him such a viable option to replace Schaller immediately next season on the fourth line.
The son of former NHL player (and current assistant general manager with the New Jersey Devils) Tom Fitzgerald, Ryan has become sort of a forgotten prospect in Boston due to the current state of the pipeline. With so many major names looking to break out, Fitzgerald has quietly done his job on both ends of the ice and was a big part of the P-Bruins' success in 2017-18.
More than a Scorer
While Fitzgerald has a nose for the net and is a very capable scorer, his two-way ability isn't anything to shake a stick at either. A big part of the Bruins success over the years has come down to responsible fourth liners who can chip in offense and create energy. Fitzgerald fits the bill in all of those categories and could benefit from playing on a roster that already includes some of the best two-way players on the planet in Patrice Bergeron and Brad Marchand.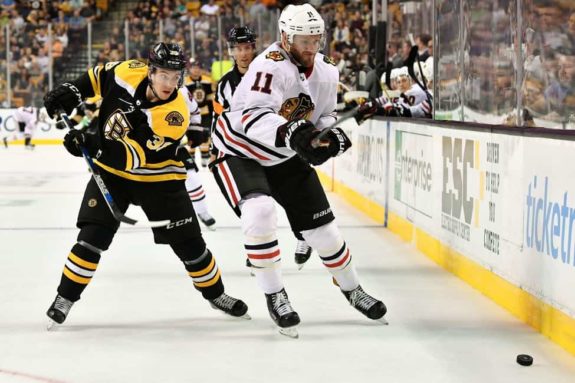 While it wouldn't be wise to expect Fitzgerald to immediately join the Bruins and score upwards of 20 goals as he did in Providence, seeing him score in the double-digits in his rookie season isn't out of the question. Even if he doesn't find immediate success in the goal-scoring department, his ability to impact a game from any role should benefit the Bruins greatly.
Fitzgerald's versatility could also bode well for him in training camp as the forward is capable of playing at both at center and on the wing. The Bruins love versatile forwards and Fitzgerald is more than capable of playing wherever the Bruins need him to lineup.
The Bruins will be one of the best teams in the NHL regardless of who plays on their fourth line in 2018-19. Making a long playoff run will likely come down to their top players performing well and making an impact when needed. Having a player like Fitzgerald around can't hurt the cause though and giving him a chance to make his debut in a low-pressure role on the fourth line could benefit his long-term development.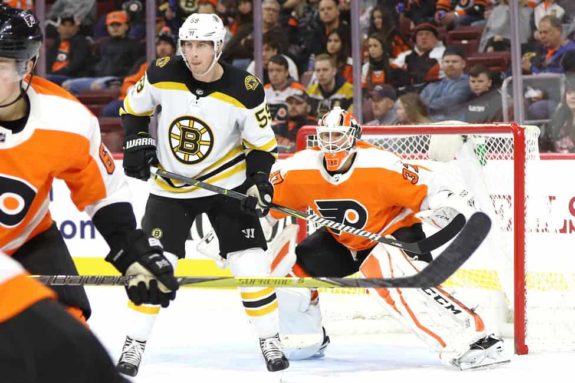 While Schaller could still return to the Bruins on a team-friendly contract, the team's best option would be to give Fitzgerald a long look. There's no doubt that he'll make his NHL debut one day. That day, though, could be sooner than some expect.
Brandon Share-Cohen has covered the NHL and various professional sports for seven years. Working with The Hockey Writers, Brandon works extensively on covering the Boston Bruins in addition to his role as the News Team Lead.