As the hockey offseason winds down and fans are left with extra time on their hands, prospects receive special scrutiny and it's normal to see all kinds of prospect rankings. One way to organize these is through a prospect pyramid. The St. Louis Blues have an extensive group of prospects, so this tool is a helpful way to organize them and discuss their NHL readiness and overall talent.
What is a Prospect Pyramid?
The concept of a prospect pyramid was created by podcaster, Youtube personality,  and Sportsnet correspondent Steve Dangle. Tired of arbitrary 1-20 rankings, Dangle decided to rank them in tiers which would eliminate the needless arguing over who was, say, the fifth versus the sixth or the eleventh versus the twelfth.
Another look at our 2018 summer prospect pyramid, for those that may not have seen it. #stlblues pic.twitter.com/pA3k6NSwqY

— 2G1C Podcast (@TwoGuysOneCup) July 30, 2018
Here, the tiers are valued as follows: Tier 1 is reserved for the league's elite prospects. Rasmus Dahlin is one NHL example of such a prospect, and there are a few other contenders. Tier 2 is meant for prospects who are likely to be very, very, very good NHL players; strong top six forwards, top pairing defensemen, or starting goalies, and should be there soon. Tier 3 is for players who could fall into the Tier 2 category but may be further off, with slightly lower ceilings.
Tier 4 players have a shot at being pretty good NHL contributors; in the top nine, starting defenders, or fringe starters/strong backups. Tier 5 is where a players chance of making the league taper off a bit. If they do make it, they'll likely be bottom six forwards, third liners, seventh defensemen, or backup goalies. Finally, Tier 6 is a catch-all category for the rest. These players either have an uphill battle to make the NHL or there is too little information available to make an assessment.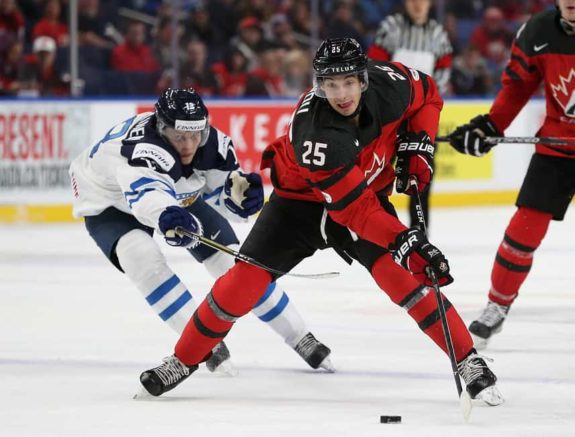 Two more things should be considered for this pyramid: first, each player is placed in a tier based on a synthesis of their talent and their readiness. If a player has a very high ceiling but is a long way from the NHL (like the St. Louis Blues' top draft pick in 2018, Dominik Bokk) they will be lower down on the pyramid. Finally, while the Blues drafted a new group of prospects in June, there is relatively little information about them at this point. Therefore, with the exception of Bokk, we will be withholding judgment on those players in this pyramid.
Tier 1 is Empty
Beginning at the top, tier 1 is reserved for the league's most elite prospects. In his initial pyramid, Steve Dangle argued the word "elite" was thrown around too freely in the hockey world and to reinforce his point, he listed only Auston Matthews as a tier 1 prospect, jettisoning William Nylander and Mitch Marner to tier 2. Comparatively, the Blues have no prospect as guaranteed as Matthews was when he was drafted, and in keeping with the tradition Dangle established, tier 1 should be extremely hard to crack.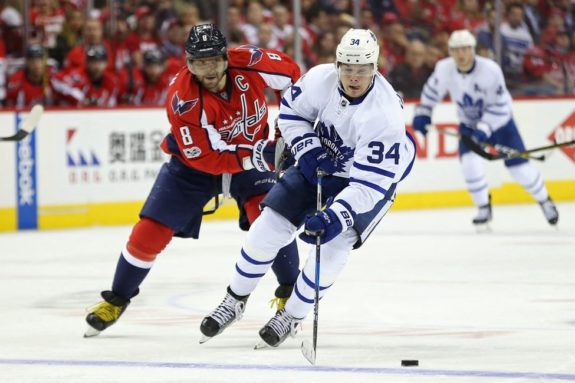 Although Blues fans should be high on players like Robert Thomas and Jordan Kyrou, they do not fit the definition of a tier 1 prospect. There are few truly "elite" prospects in the entire NHL, and they are typically the players that are drafted in the first five picks. As the Blues have not drafted that high since selecting Erik Johnson first overall in 2006, they do not have access to that calibre of player. So while Blues fans have much to be excited about by many of their prospects, they should understand that none of them are elite in the truest sense of the word.
Tier 2: Robert Thomas and Jordan Kyrou
The Blues do have two prospects in tier 2. Robert Thomas is a nineteen-year-old center who the Blues drafted twentieth overall in last year's draft. Thomas, who was a bit of a controversial player before the draft, silenced any doubters with an incredible performance in the OHL last season.
He recorded 75 points in the regular season between two teams and then dominated the playoffs, leading the Hamilton Bulldogs to an OHL championship and collecting the Wayne Gretzky 99 award for the OHL's playoff MVP. Thomas is considered a great two-way center with incredible hockey IQ who has drawn comparisons to Patrice Bergeron.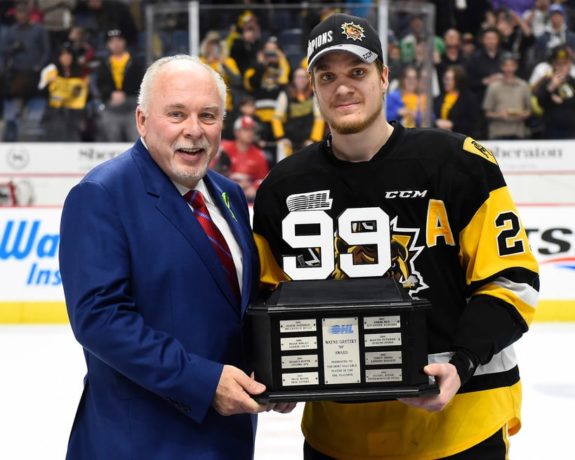 Jordan Kyrou, who was the 35th pick in 2016, was the prize return when the Blues dealt Brian Elliott to the Calgary Flames. Kyrou is a winger with elite skating, speed, and skill. He led all OHL right wingers with 109 points, winning the Jim Mahon Memorial Trophy. A phenomenal puck handler, Kyrou creates plays on the rush with his dazzling creativity and can make average linemates look like superstars. If both Kyrou and Thomas reach their potential, they could be two of the better players in the league in a few years.
Tier 3: Kostin, Foley, Toropchenko, Bokk, Schmaltz, Husso
Blues fans may be surprised to see Klim Kostin relegated to tier 3 but remember that NHL readiness is a factor here, and Kostin had a difficult season last year due to the Blues' troublesome AHL situation. Still, he impressed at the World Juniors tournament last year and there's a lot to like about his game. Drafted 31st overall in 2017, he was considered a steal after an injury derailed his draft year. He still has something to prove in the AHL but there are few questions about how high his ceiling is.
Erik Foley was the prospect the Blues acquired in the trade that sent Paul Stastny to the Winnipeg Jets, and it looks like they got a gem. He collected 35 points in 38 games at Providence College last season and looks ready to make the leap to the AHL. A powerful and aggressive left winger, Foley says he models his game after Sharks forward Evander Kane and it's not a bad comparison for the young, confident forward. Foley has the aggression and goal-scoring ability that the Blues have lacked since parting ways with former captain David Backes.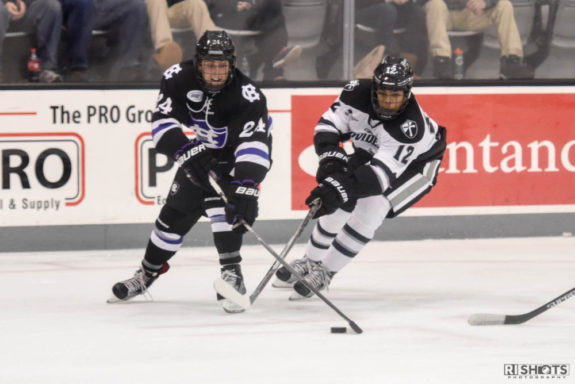 Alexey Toropchenko may be a tier high on this pyramid but we wanted to acknowledge his potentially high ceiling. The Russian winger was selected in the 4th round in 2017 and has shown a serious commitment to the North American game. At 6-foot-3, he skates incredibly well and is physical and aggressive. Toropchenko's determination and natural gifts make him a threat to be a star in the NHL.
Dominik Bokk was the Blues' first-round pick in this past draft and we're tentatively placing him in the third tier. A good skater with strong playmaking abilities, he has drawn comparisons to German countryman Leon Draisaitl of the Edmonton Oilers, but he was inconsistent in Sweden last year and admits he is several years from the NHL. Still, the upside is there with Bokk, so a wait-and-see approach is advisable.
Jordan Schmaltz is entering a make-or-break season. Drafted with the 25th pick in the 2012 draft, he was expected to have a promising NHL future but the Blues' organizational depth at defense has stymied Schmaltz' development, as players like Joel Edmundson, Colton Parayko, and Vince Dunn have leapt past him into prominent NHL roles.
Even his brother Nick, drafted by the Chicago Blackhawks two years later, has become an impactful NHL player while Jordan has been stuck trying to make his mark. The skills are there for him to earn a spot in the third tier but he needs consistent playing time, either with the Blues or with another organization, to prove that he's not a first-round bust.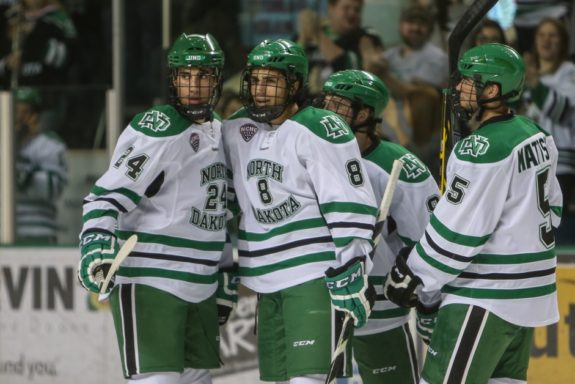 Ville Husso is the Blues' top goaltending prospect and with good reason. The 94th selection in 2014, he was a standout in his Finnish homeland, winning gold in the 2014 WJC and collecting the Urpo Ylönen Award for Best Goaltender for his 2015-16 season in the SM-Liiga. Last year, he proved himself in North America, making the AHL All-Rookie Team off a 2.42 goals-against average (GAA) and a .922 save percentage (SV%). With a very strong camp, Husso could displace Chad Johnson as the Blues' backup but GM Doug Armstrong seems content to work Husso in slowly, so he will most likely spend one more year in the AHL.
Tier 4: Blais, Musil, Sanford, Stevens, Mikkola, Walman, Reinke, Fitzpatrick
Sammy Blais is a highly touted prospect and, considering he was drafted in the sixth round in 2014, that makes him a potential steal. Blais, who was diminutive at the time of his draft, grew significantly and now stands at 6-foot-1 and 181 pounds. The size makes him formidable and he has a strong shot to go with it. He is likely to be one of the team's first call-ups if an injury occurs, as he was last season.
Adam Musil could be a valuable bottom six center. He is a responsible and determined two-way player who can move up and down the lineup when needed. Also a victim of the poor AHL situation last season, Musil will look to establish himself in the 2018-19 season.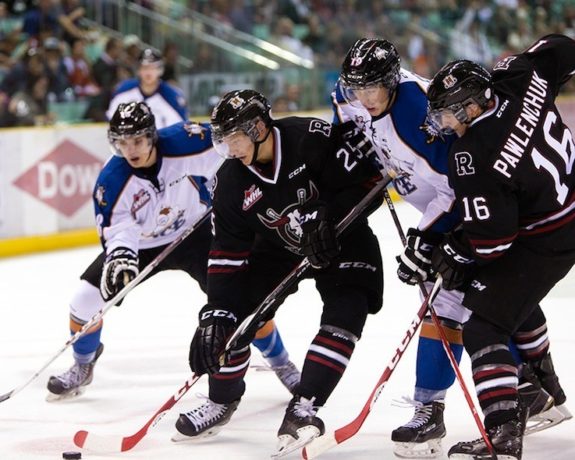 Zach Sanford was the player the Blues received in the Kevin Shattenkirk deal with the Washington Capitals. His 2017-18 season was mostly derailed by injuries and it's uncertain what his future holds. Now stuck behind a crowded forward group in St. Louis with a year of rust on his game, Sanford will look to re-establish himself in the AHL. With his size and soft hands, he could still be a good player, but he needs more time to develop.
Nolan Stevens was somewhat overlooked until late last year but an excellent senior season as the team captain at Northeastern University changed that. Stevens, the son of Los Angeles Kings' head coach John Stevens, was drafted in the fifth round in 2016, but he stands tall at 6-foot-3, 187 pounds. He's not expected to be an impact player but could be a strong two-way forward in the bottom six and a team leader as well.
Niko Mikkola, Jake Walman, and Mitch Reinke share the same problem: they are crowded out of a deep defensive group. Walman has the highest draft capital of the trio, taken in the 3rd round in 2014 (Mikkola was a 5th rounder in 2015, and Reinke went undrafted), and also had the highest expectations before last year. A rough training camp and an inconsistent first pro season have made his future uncertain.
Still, a strong training camp, particularly if Jay Bouwmeester or Carl Gunnarsson take longer to recover, could earn him a roster spot. Mikkola and Reinke are primed to be seventh defensemen but will look to develop their ceiling in the AHL.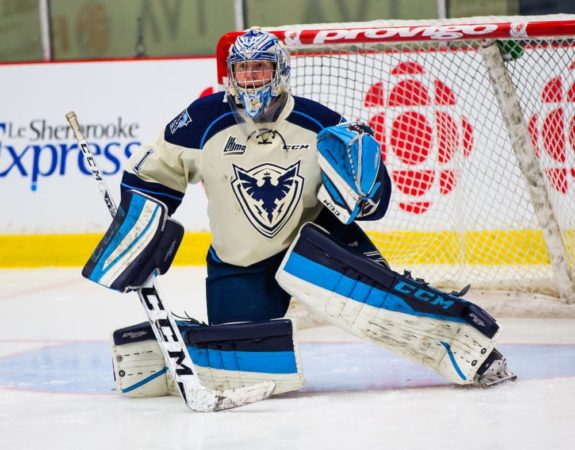 Evan Fitzpatrick is the Blues' other strong goalie prospect. At 6-foot-3, 205 pounds, he has the size to be an elite NHL goalie but he struggled out of the gate in the QMJHL last season playing with the Sherbrooke Phoenix. At midseason, he was traded to the Acadie-Bathurst Titan and excelled, posting strong numbers in the second half and carrying the team to a QMJHL championship with a .925 SV% and a 2.10 GAA. Fitzpatrick will likely spend time in the USHL this season with Husso and Jordan Binnington ahead of him but he could be a valuable goalie for the team one day.
Tier 5: Kaspick, Poganski, Sergeyev, Noel, Binnington
With the departure of Petteri Lindbohm to Switzerland, Tier 5 has shrunk a bit. Tanner Kaspick and Austin Poganski were both 4th round picks in 2016 and 2014 respectively. Kaspick, a center, captained the Brandon Wheat Kings last season, collecting 64 points in 60 games. He will bring his quickness and leadership to the AHL this year. Poganski looked strong at the University of North Dakota and has NHL size at 6-foot-2, 209 pounds. Poganski will join Kaspick in San Antonio as both attempt to prove they have an NHL future.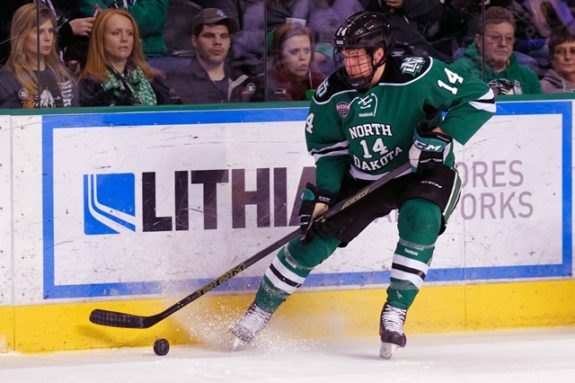 Dmitri Sergeyev and David Noel are left-handed defensemen but that is where the comparison ends. Sergeyev, who went undrafted, is a large, Russian defender at 6-foot-3. He brings physicality to the ice but no significant offensive upside. Noel, on the other hand, has a good shot but needs to add size. Whereas Sergeyev will likely be moving to the AHL this year, Noel should return to juniors.
Jordan Binnington is yet another goaltending prospect but his ceiling may be fairly low. He was drafted in the third round in 2011 and has played well in his career, even impressing with the Providence Bruins last season in the AHL. But at 25, and in position to spend another year as an AHL backup, it's unlikely that he has a future as a starter in the NHL. He could excel and become a decent backup, but he may find his niche as a third goalie who is called up in the event of an injury.
Tier 6: Everyone Else
The Blues have a crop of other prospects but they are either too far or too uncertain to project higher in this pyramid. Players like Filip Helt and Nikolaj Krag-Christensen, both from smaller nations, earned a chance at the WJC last year. Trenton Borque and Anton Andersson are left-handed defensemen who are a long way from the top league if they ever get there. Luke Opilka is a very young goalie who was drafted in the fifth round in 2015 and has a lot of growing to do.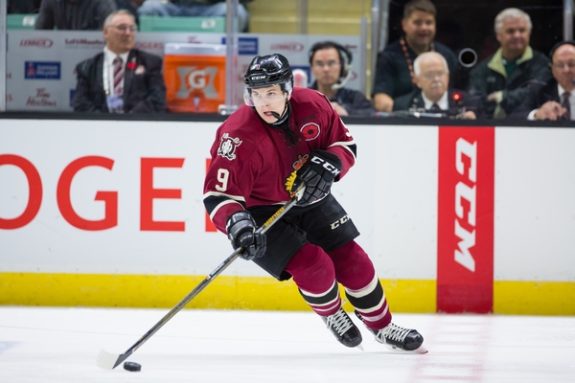 The most notorious player on this list is Connor Bleackley. Originally drafted in the first round by the Colorado Avalanche, he never found traction with the organization and re-entered the draft the following year when the Blues took a flyer on him in the fifth round. But the talent that originally made him a first-round pick has never re-emerged and he seems unlikely to crack the NHL at this point.
As mentioned above, the Blues' 2018 draft picks, including Scott Perunovich, Joel Hofer, Hugh McGing, Maxim LaFerriere, and Tyler Tucker have not been placed on the list. As a first round pick, there is a little more certainty about Dominik Bokk's future, but all of these players' futures will become clearer as we get into next season.
Conclusions
The Blues have one of the richer prospect groups in the NHL, particularly considering they have remained competitive for much of the last decade. In Robert Thomas and Jordan Kyrou, they have two premier talents who are ready to make a big-league impact in the near future. The organization also has potential draft steals in Alexey Toropchenko, Sammy Blais, Nolan Stevens and others and they have traded well, adding Erik Foley and Zach Sanford.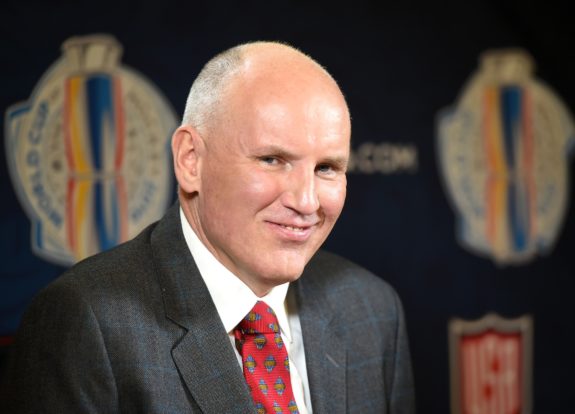 Armstrong and his staff have a lot to be proud of with the group they've assembled. Nothing is certain until these players begin to prove their mettle in NHL arenas but as it stands right now, the future looks very bright for the St. Louis Blues.