The OHL Trade Deadline is just under two months away and teams are already tossing around draft picks while deals are being made. It's an area that Windsor Spitfires' general manager Warren Rychel is all too familiar with.
On Tuesday afternoon, the Niagara Ice Dogs and Kingston Frontenacs got the ball rolling on the deadline season. The Frontenacs sent two-time 40-goal scorer Jason Robertson, along with defenceman Jacob Paquette, to the Ice Dogs. In return, the Frontenacs received forward Ian Martin, defenceman Billy Constantinou and 11 draft picks.
You read that right – 11 draft picks, which includes four second-round picks and three third-round picks.
It's one of the biggest deals in the OHL since September 2016 when the Mississauga Steelheads dealt forward Kirill Nizhnikov to the Barrie Colts for 10 picks, including two second-round picks. It was also right up there with the January 2016 deal between the Ottawa 67s and Sarnia Sting that saw Travis Konecny go to the Sting. In total, four players and 11 picks swapped teams.
However, it also brings up a question – how does it compare to some of the deals Rychel has made that involve plenty of picks? Rychel is no slouch when it comes to making the big trade, some of which have involved multiple picks including a massive deal that sent seven players and seven picks to the Belleville Bulls in 2010.
Let's look back at six of the more draft-pick-heavy deals Rychel has made over the years.
1. Spitfires & Guelph Storm – Dec. 4, 2013

Trade: Kerby Rychel and Nick Ebert to Guelph for second-round picks in 2014-2018, Kitchener's third-round pick in 2016, Windsor's fourth-round pick in 2014, Windsor's 15th round-pick in 2017 and Brody Milne (eight picks).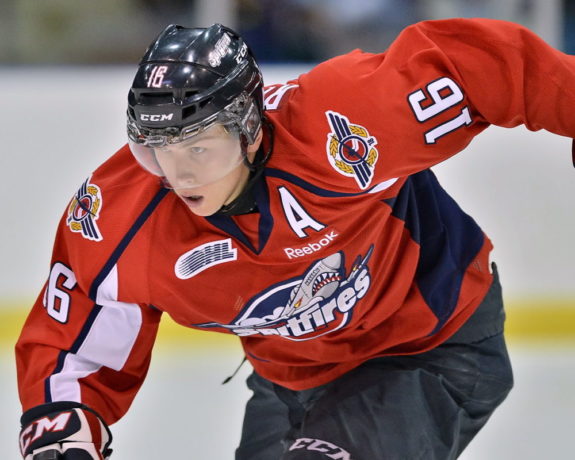 This is a deal that is talked about to this day; Rychel sending his own son to a contender. While both teams denied it right just days before, it still went down.
Draft picks get moved around like currency in the OHL so when you've got eight picks, you're expected to do something significant with them.
Rychel used the second-round pick in 2014 on American forward Clayton Keller, who didn't report to the Spitfires. It was certainly a long-shot but one that Rychel felt was necessary. Rychel also used the fourth-round pick in 2014 to draft defenceman Nick Gauvin. While Gauvin played nearby in Jr. B., he was hit with a string of injuries and never made it to the OHL.
The other picks were all used in separate deals prior to the Spitfires' 2017 Memorial Cup run. Rychel brought in forwards Logan Brown, Julius Nattinen, Tyler Nother and Graham Knott in a handful of trades.
While the original deal with Kerby and Ebert was tough for everyone to swallow, it paid off for both clubs. The boys joined a Storm club that went to the 2014 Memorial Cup final (lost to Edmonton Oil Kings), while the Spitfires gained valuable pieces on route to the 2017 Memorial Cup.
2. Spitfires & Peterborough Petes – Aug. 31, 2018

Trade: Will Cuylle from Peterborough for Kingston's second-round pick in 2019 and Kingston's third-round pick in 2020, Windsor's fifth-round pick in 2020, a third-round pick in 2021 and a third-round pick in 2023, Barrie's second-round pick in 2023 and Kitchener's second-round pick in 2024 (conditional).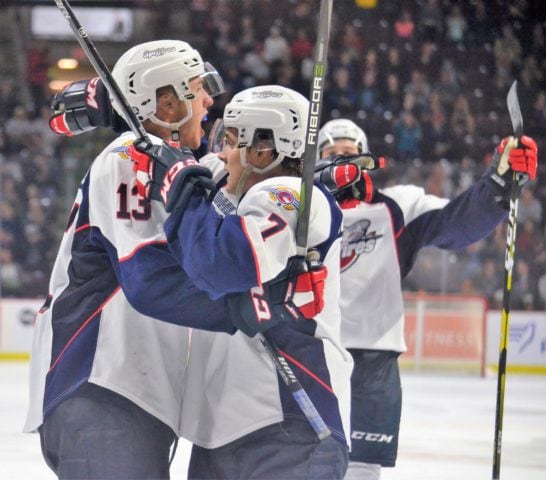 In the most recent of pick-heavy deals, Rychel brought in hold-out forward Will Cuylle from the Petes. Cuylle was the third-overall selection in 2018 but wouldn't report. Instead, Rychel sent plenty of picks up the 401.
After 33 goals in 43 games for the Toronto Marlboros Minor Midget in 2017-18, Cuylle has proven he's ready for the OHL. He has been constantly near the team lead in points and looks very comfortable on a line with fellow rookie Jean-Luc Foudy (Spitfires' first-round pick 2018).
It will obviously be a long time before the picks are either dealt or used by the Petes but the trade certainly sent shockwaves through the junior hockey world as the OHL season was just getting started.
3. Spitfires & Sault Ste. Marie Greyhounds – Nov. 2, 2011

Trade: Jack Campbell to Sault Ste. Marie for Windsor's second-round pick in 2013, Owen Sound's second-round pick in 2014, Saginaw's second-round pick in 2014, Sault Ste Marie's second-round pick in 2015, Windsor's third-round pick in 2013, Kingston's third-round pick in 2012, Sault Ste Marie's 15th round pick in 2016, Patrick Sieloff and Mackenzie Braid (seven picks).

This was nearly the perfect storm. Campbell came to the Spitfires in 2010-11 after the team had won back-to-back Memorial Cups and he brought a resume that made eyes pop. What could go wrong?
Expectations were high and, perhaps, rightfully so. However, it didn't fall into place.
Campbell's goals-against-average of 3.80 in 2010-11 was more than one goal higher than his previous career high. That can be overlooked, right? His save percentage (.884) was below .900 for the first time since 2006-07. That was tougher to overlook. Something was missing.
The team had faith in him, though, and even brought in a sports psychologist to help him gain confidence. This was his team and the Spitfires were trying to right the plane. Instead of a third-straight Memorial Cup, though, the team fell to the Owen Sound Attack in the Western Conference Finals.
The next season, Campbell got in 12 games before the situation boiled over. While his stats improved, a change was needed.
Rychel dealt Campbell to the Greyhounds and the deal made everyone stop – seven picks and two players for the highly-touted goaltender. The Greyhounds were expected to compete for a title and the Spitfires were going in the opposite direction.
Before coming to the Spitfires, Campbell was a first-round pick in 2010 by the Dallas Stars. Even with their new goaltender, the Greyhounds fell flat and missed the playoffs. Campbell immediately went to the AHL after his OHL season was done. He's since found his groove with the Los Angeles Kings and has played 13 games for them in 2018-19.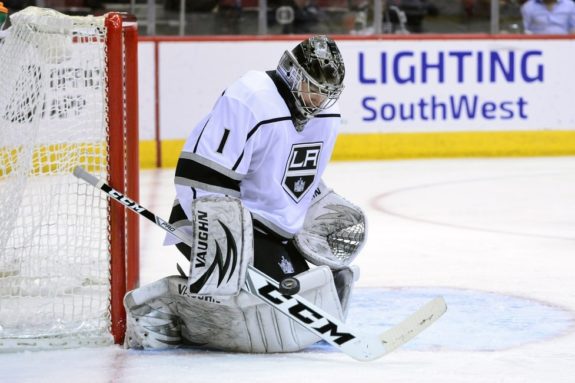 Coming back to the Spitfires, Braid played just 21 games before moving onto the Sudbury Wolves and then Wilfred Laurier University. No harm, no foul with him. Sieloff became a popular defenceman for the Spitfires that season, but moved onto the AHL and is now in the Ottawa Senators' system.
The picks paid off, though. Through selections and various trades, the Spitfires have had defenceman Liam Murray and forwards Ryan Moore, Sam Povorozniuk, Julius Nattinen and Tyler Angle. While they weren't as rich in production as the Storm trade, all played a big role for the Spitfires during their time. Angle is among the point leaders on the Spitfires this season, too.
You don't always need your picks to win a Memorial Cup; production itself goes a long way. In the end, it was a pretty solid deal for Rychel.
4. Spitfires & Niagara Ice Dogs – Aug. 31, 2011

Trade: Adam Bateman from Niagara Ice Dogs for Peterborough's second-round pick in 2014, Sarnia's second-round pick in 2015, Windsor's third-round picks in 2015 and 2016, Windsor's fourth-round pick in 2016 and Guelph's sixth-round pick in 2012. (six picks)

While Rychel flourished with some deals, he wasn't as lucky with others. This was one of those unfortunate deals.
Following the graduation of captain Ryan Ellis, the Spitfires were looking for his replacement. While a 101-point season and 313-point career were going to be tough to replace, all eyes were on the five-foot-11 185-pound Bateman. A top OHL prospect, he had 26 points in 21 games for the Don Mills Flyers in 2010-11 and the Spitfires were hoping he could come close to Ellis' production.
It didn't happen, though.
Batemen played 163 games for the Spitfires and had 29 points. While he was good defensively, he never lived up to the offensive expectations. The team released him and he went to the QMJHL before moving onto Saint Mary's University (currently there). Here's a video from Bateman's time with the Saint John Sea Dogs:
That cost Rychel six picks, including four second-and-third-rounders. Those picks bounced around the league before being used.
Many of Rychel's deals up to this point were on the positive end of the spectrum. However, while Bateman was a likable kid who most fans enjoyed having around, it's likely that this one is discussed in hush tones.
5. Spitfires & Niagara Ice Dogs – Aug. 25, 2014
Trade: Logan Brown from the Ice Dogs for Windsor's second-round pick in 2017, Windsor's third-round pick in 2016, Windsor's 14th-round pick in 2017, Guelph's second-round picks in 2015 and 2018 and Kitchener's third-round pick in 2016.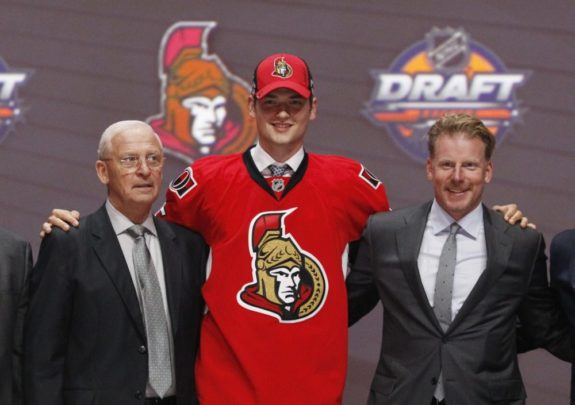 The goal here was simple – Rychel wanted the six-foot-six 215-pound power forward who had 25 points in 15 games for the Indiana Jr. Ice prior to being the first-round pick of the Ice Dogs. Once Brown officially didn't report, Rychel sent a handful of picks to the Ice Dogs to get Brown in a Spitfire uniform for the middle of training camp.
While Brown had some injury issues as a Spitfire, he managed 43 points in 2014-15, then 114 points in 104 games from 2015-17. After 40 points in 2017-18, the Spitfires dealt him to the Rangers in a package deal. He went on to score 27 points in 19 playoff games before losing to the Greyhounds in the Western Conference final.
Fans got on his case a bit as a Spitfire but, make no mistake, the kid could score. He wasn't the most physical player, especially for his size, but he was a big part of the 2017 Memorial Cup title and it's a deal Rychel likely does again without thinking twice.
Since leaving the OHL, Brown has moved onto the Ottawa Senators' system and is playing with the Belleville Senators (AHL).
The Spitfires second in 2017 and third in 2016 went to the Hamilton Bulldogs at the 2015-16 trade deadline in a deal that saw forward Stephen Harper go to the Ice Dogs. The Kitchener third-round pick in 2016 eventually made its way to Barrie in a smaller deal. Finally, the Guelph second-round pick in 2018 made its way to the Peterborough Petes.
6. Spitfires & Sault Ste. Marie Greyhounds – Jan. 10, 2011
Trade: Jake Carrick from the Greyhounds for Brent Sullivan, a fourth-round pick in 2012, a third-round pick in 2013, a 10th-round pick in 2014 and a second-round pick in 2015 (four picks).
After winning back-to-back Memorial Cups in 2009 and 2010, Rychel went for a third-straight championship in 2011. Just before the 2010-11 trade deadline, he picked up the gritty Carrick for overage defenceman Brent Sullivan and four picks.
The five-foot-11 195-pound Carrick was in his final season and was having a career year with the Hounds (28 points in 34 games prior to deal), on top of his love for the physical game. The deal came just days after Rychel acquired Sullivan in a multiplayer deal that saw 2010 Memorial Cup winner Troy Passingham head to the Sarnia Sting.
Sullivan declined to go to the Hounds and went straight to Jr B.
Carrick became a fan favourite and was a force in the playoffs with 16 points in 18 games before the team lost to the Attack in six games in the Western Conference Final. He later went onto Lakehead University. Here's a video of Carrick talking to Lakehead University about his past times and life in hockey.
In the OHL, draft picks have become a type of currency and teams throw them into deals without issue. Rychel has been no exception and, for the most part, it's truly helped the club. While the OHL passed a rule to limit how far into the future you can deal picks, there's little doubt that future deals will still be full of picks. The general managers will just have to get more creative in how they go about it.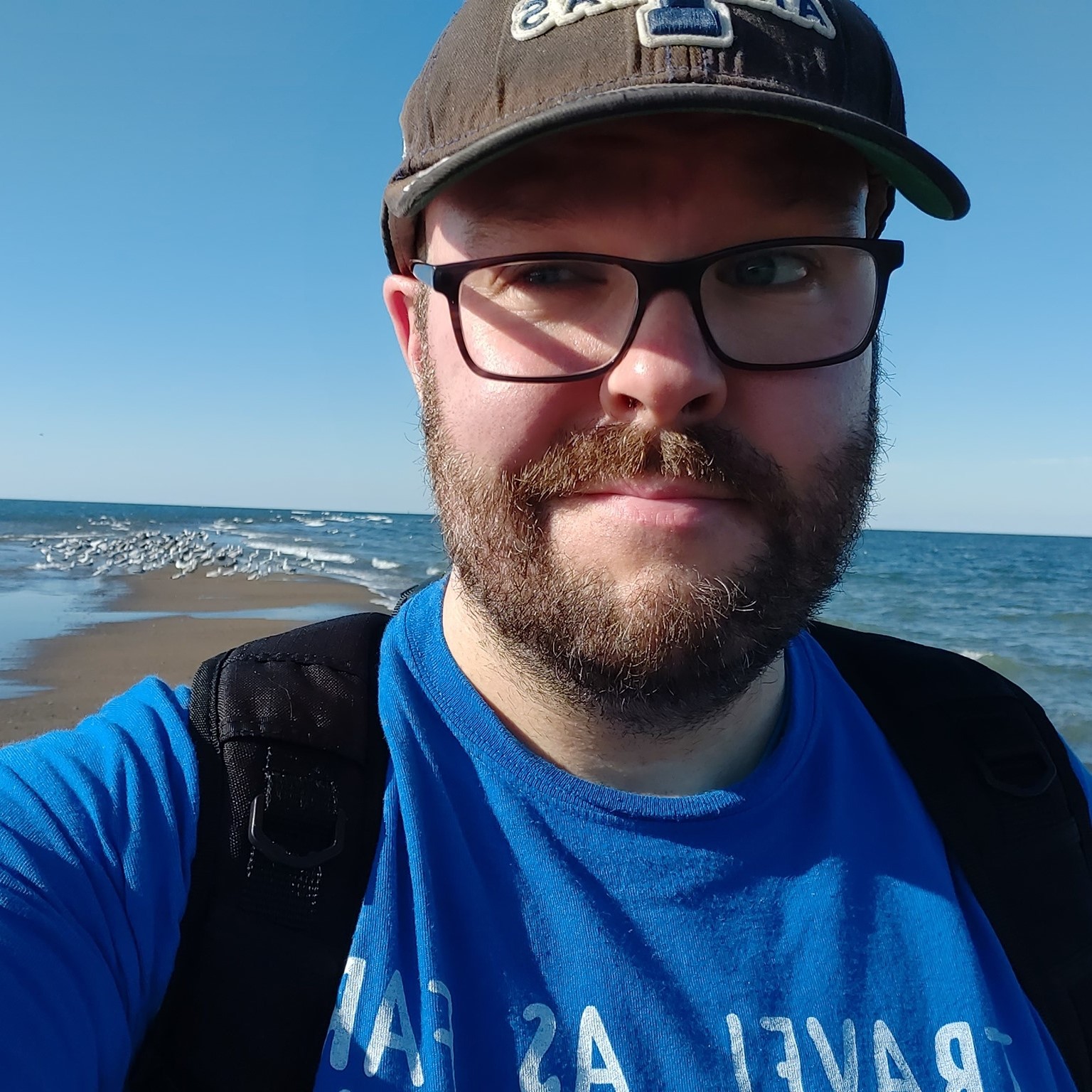 A nearly life-long resident of Windsor, ON, I graduated from St. Clair College (Journalism) and University of Windsor (Communications) and have attended Windsor Spitfires' (and OHL) games for 30-years. My areas include multimedia journalism and photography.