The Kelowna Rockets are going to load up between now and next January.
The sooner, the better, so it wouldn't be surprising to see the 2020 Memorial Cup hosts put some more roster pieces in place ahead of this January's trade deadline.
With that in mind and with the WHL deadline just over a month away — on Jan. 10 — here are 10 potential trade targets for Bruce Hamilton, Lorne Frey and the Rockets.
1) Peyton Krebs, Kootenay Ice centre
This is the guy that I'd be going all-in on as soon as possible.
The Ice are rumoured to be relocating from Cranbrook to Winnipeg for next season — that move seems imminent — and the current roster needs another overhaul. By the time the Ice are good again, Krebs will be playing in the NHL as a projected first-round pick and possible top-10 selection this coming June. He won't likely make that jump next season — regardless of the NHL team drafting him — so Krebs is a safe bet to target as a Memorial Cup ringer.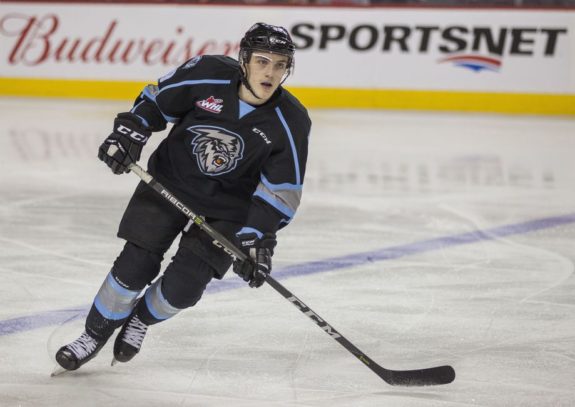 Krebs would be the perfect centre for Nolan Foote, pairing an elite set-up man with a budding sniper. Foote hasn't generated much offence at even strength with his current linemates, but flanking Krebs would make for a dynamic duo in all situations.
The price would be steep and there will certainly be a bidding war for Krebs if and when Kootenay starts shopping him, so it could cost Kelowna multiple first-round picks in upcoming bantam drafts.
Hamilton tends to get his man and Krebs could make a similar impact to Leon Draisaitl, who led Kelowna to a league championship and the Memorial Cup final in 2015. Krebs is going to be the biggest fish available in 2019 — assuming he is available at this season's deadline — and the Rockets seem like the best fit to me.
2) Jake Leschyshyn, Regina Pats centre
This one would be dependent on discussions with Kelly McCrimmon and the Vegas Golden Knights since Leschyshyn is a signed prospect and he'll be an overager next season — meaning he'd be eligible to play in the AHL rather than returning to junior.
However, what better opportunity than playing for a Memorial Cup host team. Not to mention Leschyshyn has lost a lot of junior development time to injuries, so another season in the Dub and in a pro-type program like Kelowna wouldn't hurt him.
Hamilton and McCrimmon have a longstanding relationship, given McCrimmon's history with the WHL's Brandon Wheat Kings. McCrimmon presumably trusts Hamilton and knows Leschyshyn would be in good hands with the Rockets.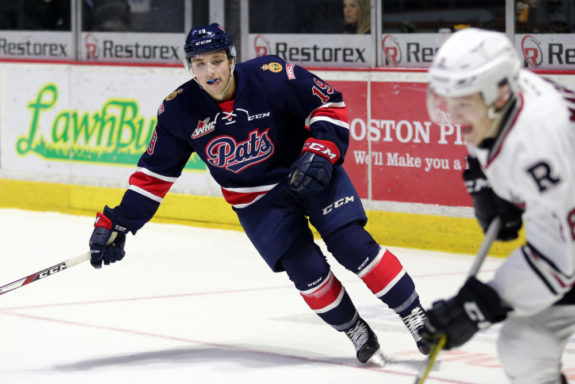 Leschyshyn would be attractive to Kelowna not only for his skill-set as a legit top-six forward and a true 200-foot player, but also for his big-game experience from Regina hosting the 2018 Memorial Cup this past spring.
That kind of experience would be invaluable to the Rockets and their over-age group isn't set in stone for next season. Kyle Topping will probably be back, but the likes of Leif Mattson, Erik Gardiner, Conner Bruggen-Cate and Jack Cowell aren't locks by any means to be among the Rockets' three overagers. Leschyshyn would be an upgrade on all of them.
3) Justin Almeida, Moose Jaw Warriors forward
Almeida is an unsigned Pittsburgh draft pick who would also be an overager next season. He's capable of playing centre or wing and is more of an offensive weapon than Leschyshyn.
Almeida is from B.C., from Kitimat, and could be a secondary target if the Rockets were to strike out in the Krebs' sweepstakes. Almeida is an offensive catalyst and Kelowna is short on those kind of playmakers.
It seems more likely than not that Almeida, who missed most of November with an injury, will be back in junior next season — especially if presented with the opportunity to be a go-to guy for the Memorial Cup host team.
4) Josh Williams, Medicine Hat Tigers right-winger
Williams is shockingly struggling with Medicine Hat in his NHL draft year after shining for Canada at this summer's Hlinka Gretzky Cup tournament. But he's got big upside as a sniper and may welcome or even be seeking a change of scenery.
Kelowna would be closer to home, with Williams hailing from Langley and previously lighting it up with the Yale academy in Abbotsford, earning provincial minor hockey player of the year honours in 2016.
The Rockets would have quite the dual threat with Foote on the left side and Williams on the right side as shoot-first wingers for their top line, but Kelowna would still need to acquire a puck distributor to feed them scoring chances. Topping could fill that role — as he is now, centering Foote and Mattson — but he's not the ideal candidate.
5) Luka Burzan, Brandon Wheat Kings forward
Burzan is another B.C. boy, from Surrey, which is a bit of a trend on this list but also a bit of a coincidence in some cases.
Burzan surprisingly went undrafted in 2018 — I had him mocked in the fourth round, in the top 100 (99th) — but he's on the radar again for 2019. Regardless of whether Burzan gets selected the second time around, he'll almost certainly be back in junior next season as a 19-year-old.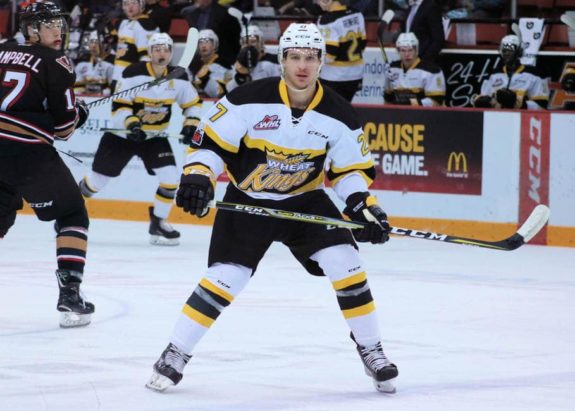 So, like Krebs and Williams more so than Leschyshyn and Almeida, there isn't as much risk involved with going after Burzan ahead of this season's deadline rather than waiting for certainty on his playing situation for the Memorial Cup campaign.
That said, it is far from a certainty that Brandon would move Burzan this January since the Wheat Kings are in decent shape for a playoff run this season and Burzan is a big part of that potential success.
Burzan's speed would be a nice boost to Kelowna's lineup and he's another player who could possibly work well with Foote. Finding the right fits for Foote is presumably priority No. 1 for Hamilton and the Rockets, thus the run of forwards to start this list.
6) Jarret Tyszka, Seattle Thunderbirds defenceman
Switching gears to defence, which should be a strength for Kelowna next season with Kaedan Korczak and Lassi Thomson likely returning to anchor the blue line, the Rockets may be searching for a specific type of rearguard. The boxes to be checked include left-handed, with size and physicality.
Tyszka, a 6-foot-3 lefty with a reputation as a punishing hitter who is tough to play against, fits that bill. He'd be an overager next season and is drafted but not yet signed by Montreal.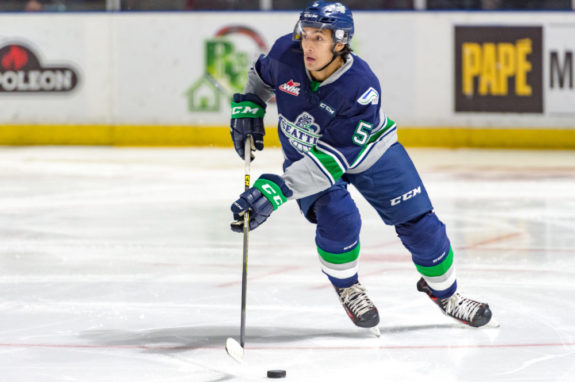 Tyszka is another player, like Leschyshyn, who has missed significant time to injury during his junior career and has yet to suit up this season in recovering from a concussion, so another year in the Dub could be mutually beneficial. By next season and once healthy, Tyszka could be dominant at this level and make a huge impact for Kelowna.
Tyszka also has that big-game experience in common with Leschyshyn, having been a pretty big part of Seattle's league championship team in 2017. The Thunderbirds knocked off the Rockets in the third round that year — the Western Conference final — so Hamilton and Frey should have an appreciation for Tyszka's ability to rise to the occasion.
And, yes, Tyszka is yet another B.C. boy, from Langley. A prime target in my opinion, unless Montreal plans on turning him pro for next season.
7) Scott Walford, Victoria Royals defenceman
Walford is another lefty, another would-be overager for next season, another B.C. product from Coquitlam, and ironically another Montreal draft pick.
He's more offensive-minded than Tyszka, with lots of upside as a puck-mover and power-play option, but Walford still brings size at 6-foot-2 and approximately 200 pounds. He's not overly physical but is solid in the defensive zone, a heady player who could be a perfect complement for Kelowna's top four alongside either Korczak or Thomson — both righties and both potential first-rounders in the 2019 NHL draft.
Take your pick between Tyszka and Walford, the Rockets couldn't go wrong with either of them — assuming, again, that one or both could be available and would be returning to junior as overagers.
8) Jackson Van De Leest, Calgary Hitmen defenceman
Van De Leest is a Kelowna native who could replace the size that the Rockets will be losing in current overagers  Braydyn Chizen (6-foot-7, 207 pounds) and Dalton Gally (6-foot-5, 227 pounds). Van De Leest is listed at 6-foot-6, 222 pounds and is another much-needed left-handed shot.
Van De Leest, a first-round pick (16th overall) from the 2016 bantam draft, skates quite well for his size — similar to Chizen in that sense — and seems to be hitting his stride this season, with 10 assists through 25 games.
Van De Leest checks the aforementioned boxes and would be worth inquiring about for Kelowna, especially being a hometown kid.
9) Riley Stotts, Calgary Hitmen left-winger
Reverting back to forwards, the position that needs the most upgrading for Kelowna to ice a Memorial Cup-calibre roster next season, I'm rounding out my 10 targets with two more drafted wingers.
Stotts, a Toronto pick from Winnipeg, hasn't racked up a ton of points this season after breaking out in the second half of last season following a trade to Calgary from Swift Current. But he's still flashing impressive upside even without the production, and Stotts could give Kelowna's offence another spark.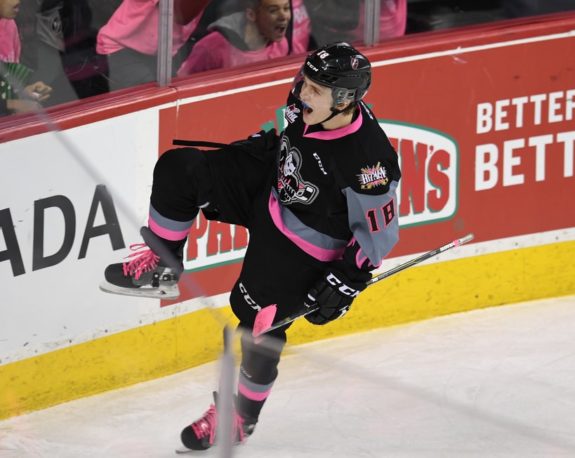 The only drawback with Stotts is he plays the same position as Foote, so they'd form a one-two punch down the left side. Or perhaps Foote would shift back to centre to form a pairing with Stotts. Foote has played both positions during his draft year, and the NHL team taking him might prefer Foote to develop as a centre next season.
10) Nick Henry, Regina Pats right-winger
Henry is a high-end talent, dangerous off the rush with a deceptively wicked shot. His skill-set is somewhat similar to Kelowna's Liam Kindree, but Henry is proving to be more of a finisher in ranking among the league's leading scorers.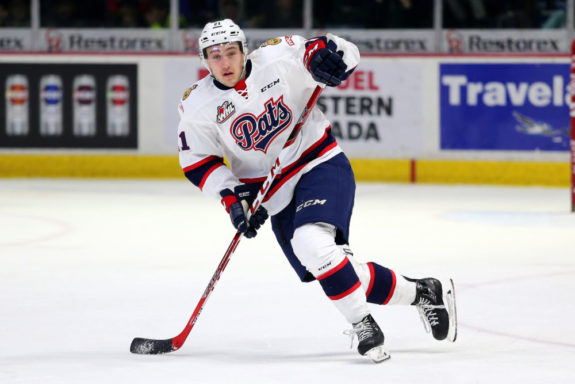 Colorado has yet to sign Henry, but he is well on his way to earning an entry-level contract this season. There is no guarantee that Henry will be back in junior as an overager, if signed, but like Leschyshyn — his current linemate — Henry missed time to injury and could benefit from further development with another Memorial Cup host team. He got that experience with Regina and stepped up to score five goals in as many games, finishing with seven points to tie for third in tournament scoring.
Joe Sakic goes way back with Frey — to their Swift Current days in the 1980s — so the Avs would probably be willing to leave Henry in junior if his rights were acquired by the Rockets. That could be a win-win situation.
Honourable Mentions
1) Stelio Mattheos, Brandon Wheat Kings centre
Mattheos would have been high on this list if not for the fact that he's more likely to be playing pro next season — making the jump into Carolina's system the way Morgan Geekie did from Tri-City this season. Mattheos is already dominant in the Dub and won't have any more to prove at this level as an overager.
Mattheos is not yet signed but, as with Henry, that should be a formality at some point this season. If Carolina can't get that deal done — the Hurricanes relinquished the rights to another WHL draft pick Hudson Elynuik this year — then maybe Kelowna becomes more of an option for next season.
Mattheos would be a ringer and the Memorial Cup is always enticing but, right now, Mattheos doesn't seem as realistic as the other would-be overagers on this list.
2) Jett Woo, Moose Jaw Warriors defenceman
If Woo were left-handed, the Vancouver Canucks second-rounder would also be high on this list. But he's right-handed and thus redundant with Thomson and Korczak. In saying that, you can never have too much of a good thing and the Rockets might kick tires on Woo even though he's not an ideal fit.
Josh Brook, another stud righty for Moose Jaw, was left off this list since he's signed by Montreal and sure to be playing pro next season after presumably playing a starring role for Canada at the upcoming World Juniors under his WHL head coach Tim Hunter.
3) Joel Hofer, Swift Current Broncos goaltender
Finally a goalie and the one to get if the Rockets aren't sold on Roman Basran as their Memorial Cup starter. Basran has started 15 of the last 18 games for Kelowna, establishing himself as the No. 1 netminder and performing well in that role. Basran's stats aren't amazing, but he's got the size and skill to be an NHL draft pick in 2019, so it's likely the Rockets stay the course with him next season.
However, if Basran falters in the second half or in the playoffs, then Hamilton might look outside the organization to solidify Kelowna's goaltending. Hofer, who could be traded at this season's deadline to recoup a first-round pick for Swift Current in the 2019 bantam draft, would be the prime target between the pipes.
A somewhat surprising fourth-round pick by St. Louis after serving as Stuart Skinner's backup throughout Swift Current's championship run this past spring, Hofer has been a workhorse since taking over as the Broncos' starter and has faced significantly more rubber than any other WHL netminder to date this season.
4) Jordan Hollett, Medicine Hat Tigers goaltender
Another NHL-drafted goalie to consider, Hollett isn't signed by Ottawa and still has his work cut out for him to earn a contract this season. Right now, he's platooning with 2019 draft-eligible Mads Sogaard, a Danish import who has been shining as a WHL rookie.
If Medicine Hat decides to go with Sogaard for next season — that seems to be the expectation, providing he continues to trend well — then Hollett, who hails from Langley, will be expendable as a would-be overager.
But would Kelowna want to use up an over-age spot on a goaltender? Only if Hollett was a clear upgrade on Basran, which will be determined largely by Basran's post-season performance assuming the Rockets make the playoffs. For now, goaltending isn't a concern — certainly not on the front burner for Kelowna — and thus the reason Hofer and Hollett didn't appear higher on this list.
5) Mitchell Prowse, Victoria Royals defenceman
Prowse is left-handed, he's got pretty good size at 6-foot-2 and 195 pounds, and he's from Kelowna like Van De Leest. Prowse was a second-round bantam draft pick for Victoria but hasn't played to his potential yet and got passed over without much interest in this year's NHL draft.
He'll be 19 next season and a homecoming could be just what Prowse needs to get his career going. He'd get plenty of exposure in a Memorial Cup year.
6) James Malm, Calgary Hitmen forward
Three more forwards to round out the honourable mentions in rapid fire. Malm, an overager next season, is a well-known commodity for Kelowna from his time with the B.C. Division rival Vancouver Giants prior to being traded to Calgary earlier this season. He also went undrafted this year, but Malm is an offensive catalyst and could potentially challenge for the WHL scoring title next season in the right environment. Kelowna would be an appealing landing spot for Malm to finish off his junior career if the Rockets aren't able to reel in any of the bigger fish on this list.
7) Mark Kastelic, Calgary Hitmen forward
Ditto for Calgary teammate Kastelic, who is enjoying a breakout campaign and may get drafted as an overager, but will likely be back in junior next season. Kastelic has found another gear and is currently among the WHL's leading scorers. He's listed at almost 6-foot-4 and 220 pounds, a right-handed forward from Phoenix, Ariz., who is no doubt putting himself on the Rockets' radar as much as the NHL scouts' radar.
8) Ryan Chyzowski, Medicine Hat Tigers forward
Last but not least, the Tigers have a handful of intriguing forwards. Williams tops that list, but Chyzowski can really put the puck in the net too and he's from nearby Kamloops, the son of former NHLer Dave Chyzowski. The list goes on with James Hamblin, Bryan Lockner and Elijah Brown also possessing offensive upside if Medicine Hat goes into rebuild mode. The Tigers are another team that the Rockets are likely monitoring closely.
Time will tell, but don't be shocked if a couple names off this list end up on Kelowna's roster ahead of the 2020 Memorial Cup.
Larry Fisher is a senior writer and head scout for The Hockey Writers, having been an at-large contributor for THW since August 2014. Fisher covers both the NHL and the WHL, specializing in prospects and NHL draft content, including his annual mock drafts that date back to 2012. Fisher has also been a beat writer for the WHL's Kelowna Rockets since 2008, formerly working as a sports reporter/editor for The Daily Courier in Kelowna, British Columbia, Canada from 2008-2019. Follow him on Twitter: @LarryFisher_KDC.