On Sunday, Calgary Flames goalie Mike Smith helped lead his team to a 3-2 win over the Chicago Blackhawks, his third straight win. However, there is still little reason to think Smith should reclaim the job of the number one goalie.
That Smith got another chance to be the starting goalie after "Big Save Dave" Rittich appeared to have stolen it was merely perplexing. Now it is unnecessarily complicated.
Credit where credit is due. Because of Smith, the Flames were able to eke out a win in a defensively leaky game.
Even the harshest Smith critic had to give him credit for the "scorpion". Smith was forced to prove why he deserved his third start in four games, with this win-preserving skate save on Artem Anisimov late in the third:
His performance in Chicago is undeniably the sort of one people want their no. 1 goalie to have. Flames coach Bill Peters waited until Tuesday morning to name Rittich starter for that night's game against the Columbus Blue Jackets, but the game ended up clarifying nothing. Rittich was pulled after three goals in the first, and the Flames came back to win a wild 9-6 shootout. Getting the win in relief, Smith was barely better than Rittich, allowing three goals on 16 shots.
If the Flames' goaltending controversy is again on, it should not be.
Smith Was Only Truly Tested Once Last Week
The problem is that the Flames saw three good Smith performances last week against three of the weaker teams in the league.
Smith's 'good week' started on Nov. 25 against the lowly Arizona Coyotes. In a 6-1 romp, Smith would have had a 29-save shutout if not for a boneheaded late-game giveaway by Travis Hamonic. Smith was barely tested, though.  Most of the higher-danger Coyotes shots were in garbage time, with the Flames up several goals. He had an even easier time defeating the Los Angeles Kings on Nov. 30, facing just 14 shots against the lowest-scoring team in the league.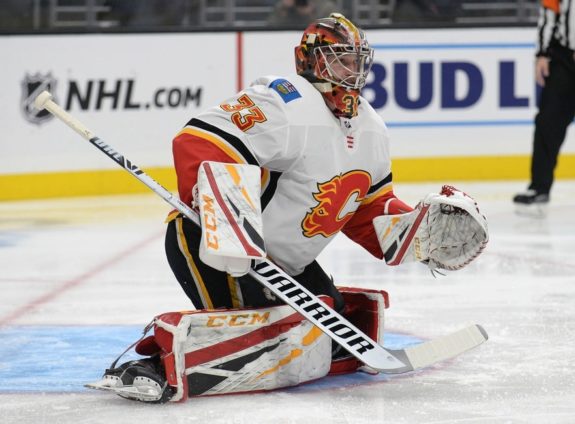 In Rittich's last start Nov. 28 against the Dallas Stars, he let in four goals on 28 shots in a 4-3 overtime loss. Although it was an overall poor team effort, Rittich apparently took the blame. The Flames benched their best goaltender after a single .857 save percentage (SV%) effort, forgetting that Smith singlehandedly cost them several games with worse performances. Smith's Nov. 15 loss to the Montreal Canadiens, for instance, appeared to be the last straw. In that game, Smith letting in two weak goals cost the team a game they outshot the Habs 45-22.  Similarly, Smith allowed three goals on 24 Anaheim Ducks shots on Nov. 7, wasting a game where the team out shot the Ducks 39-24.
Smith vs. Rittich Numbers Still Not Even Close
Smith's performances have upped his SV% a whopping .886, still fourth-worst in the league among starters.
Using his projected shots against, we can see just how many more quality starts Smith would require to even get his SV% to his career average of .912. He is facing an average of about 25 shots through 16 games, with 405 shots against (SA). Assume, for the sake of argument, he starts 60 games this season, facing a total of 1,519 SA.
To get to .912 on the season – a league-average mark – he would have to maintain a .921, stopping 1,026 of 1,114 projected SA. To get to Rittich's .924, he would have to maintain a .938.
The two goalies' advanced stats' even-strength comparison as of Dec. 4, courtesy of Natural Stat Trick, hammers the point home further:
Whether you are into analytics or basic goalie stats, the numbers are stark. The high-danger numbers in the above graph show something that has been reflected in the eye test all year — the aptly-nicknamed Rittich has been more consistent in making the big saves. Smith's "scorpion" game (admittedly, he also stoned Patrick Kane on a breakaway in the first period) was more an exception to the rule this season.
Peters Playing With Fire Giving Smith More Starts
None of the four goalies on either side looked good in an 9-6 Flames win in Columbus. The Flames' goaltending controversy does not seem likely to be resolved anytime soon. The team may have fallen victim to the old tyranny of the wins statistic.
Wins have been debunked for years as a meaningful goaltending stat. There is no reason to believe Rittich couldn't have won the games Smith did last week.
In the meantime, every Smith start is a gamble on a 36-year-old goalie in a rapid and expected decline.
There has been very little to complain about with Peters in Calgary so far, but he has not sent a clear message on who his no. 1 is when the numbers are pretty obvious.