Calgary Flames head coach Bill Peters got hit in the face a few days ago. An errant shot zoomed over the wall and smacked him right on the jaw. It required eight stitches to repair the injured jaw, but for a tough hockey veteran like Peters, it's no big deal. After being attended to he came back to his spot behind the bench and coached the rest of the game.
At USAToday.com Peters is quoted as having said, "They did a good job, got me stitched up and back to work. … Hopefully, it's the last time, but I doubt it." Spoken like a hockey guy, for sure, but would anyone expect anything less from Peters? He's old-school hockey, and right now has his Flames atop the Pacific Division with 30 points.
Getting hit did not tamper down Peters' humor. He joked with the media after the game that "Every day is a rough day for my face."
"I think it's going to hurt more tomorrow. It's one of those things – there's not a lot of room out there and you've got to be paying attention."

Despite taking a puck to face and getting stiched up mid-game, Bill Peters was all smiles in his post-game media address! pic.twitter.com/jvMAz1wfBE

— Calgary Flames (@NHLFlames) November 25, 2018
Good Riddance for Some Fans of the Hurricanes?
One does not have to look very hard to find critics of Peters among the fans of his former team. He coached the Carolina Hurricanes for four years and, while getting close to making the playoffs once or twice, he was never able to attain that goal. For a fan base that is hungry to get back to the playoffs that was not good enough.
First of all…
Peters caught heat for a couple of areas that may have been deserved. First of all, he virtually coined the phrase, "We didn't start on time." While on many occasions this was the case for his Hurricanes teams, the fact that it was repeated over and over after games with the media got to be too much. It became a character trait of his teams and that was not good at all.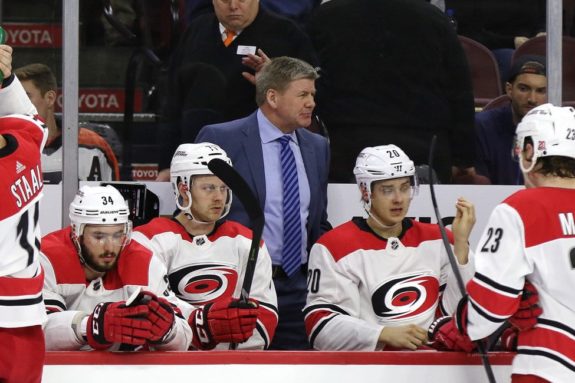 After all, if a team is not "starting on time," whose fault is that? Blaming the players comes to mind with questions like, "How can an athlete making millions to play a game not be ready to go when the game begins?" No question there is a lot of personal responsibility on the players.
But, the coach is not without scrutiny. If a team is listless at the start of a game, a large part of that is on the team's coach. In the Hurricanes' case, Peters. There was clearly a disconnect between him and is team when it came to getting up for games.
It might be that it was due to the large number of young players that made up Peters' roster. But, current Hurricanes coach Rod Brind'Amour has the team starting on time, with an equivalent number of young players. Clearly there was something that was not getting through to Peters' teams regarding the importance of getting on the ice and going hard right from the opening puck drop.
Secondly…
Another thing that really chapped 'Canes fans was Peters naming two captains last season. This was fuel to a fire that had already been lit when he named four alternates and no captain the year before. When Justin Williams came back home for a second stint with the Hurricanes, it was immediately believed by everyone that he would be wearing the "C." For whatever reason, Peters did not track with that thought and named co-captians instead.
Not being privy to what went on behind the office doors of Hurricanes' coaches and management makes it hard to understand why Peters made that very unexpected move. It left a bad taste in the mouths of many Hurricanes fans who ended up glad to see him go. Of course Brind'Amour wasted little time in setting things straight and named Williams team captain not long after Peters was gone.
Peters also had an annoying habit of changing the lines a lot, more than most people thought was necessary.
https://twitter.com/Caniac1978/status/964703268260712450
Peters' four years with the Hurricanes were up and down. He was very likeable and clearly had the passion for hockey and for winning that is necessary to be a successful coach. Things out of his control kept him from putting on the ice a team that could legitimately contend for a playoff spot.
The team needed a legitimate, proven scoring forward and then-general manager Ron Francis did not make the moves necessary to bring one to the Hurricanes. Peters was stuck with three horrible goaltender moves by Francis: getting rid of Anton Khudobin, and signing Eddie Lack and Scott Darling to deals before getting a sense of how they were going to fit with the team.
Whether Francis would not give Peters what he need or could not because former majority owner Peter Karmanos would not let him may never be known. But, when the Dundon regime took over, Peters saw an opportunity in his contract to leave after four years and he did.
Redemption for Peters with the Flames
Former Flames head coach Glen Gulutzan was fired a year after taking the team to the playoffs. General manager Brad Treliving then hired Peters, many believe because of his previous relationship with him from Peters' time coaching Team Canada. Just like that, Peters went from a team that he could not take to the playoffs to one that had recently been a playoff team, and looked prepped to be one again in the near future.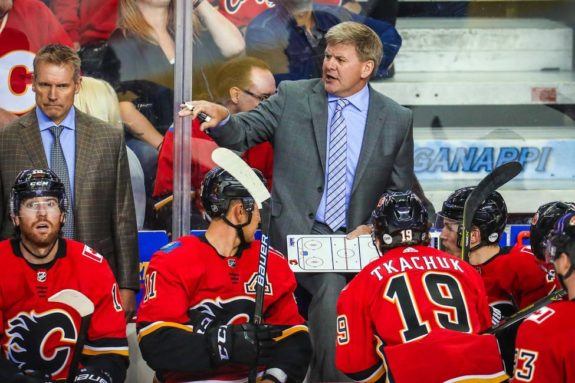 Just like that, Peters went from having a general manager who really didn't support what he needed, to one who he had known previously under good circumstances. Shortly after his arrival in Calgary, the Flames and Hurricanes made a big trade, giving Peters two players — Noah Hanifin and Elias Lindholm — that he had coached in Raleigh.
Then the Flames brought in veteran James Neal. Finally, Peters has a proven veteran scoring forward, the type of player he asked Francis to give him with the Hurricanes. Ironically there are still problems for Peters in-between-the-pipes, as goaltender Mike Smith has struggled a lot this season. It is not clear how the Flames will solve their goalie problem, but Smith is trying to keep his spot and his team in first place.
Peters is back home in Canada. He has a team that he likes and that is doing very well. While still early in the season, Peters is finding redemption with the Flames. All those who trolled him as a bad coach, not considering the circumstances under which he was trying build a very young team, are seeing now that he is a good coach. By the time the playoffs come around, Peters' stitches will be long-gone and he might just be dodging errant pucks in May and June.