In my November 23, 2018, post titled "Maple Leafs' Tyler Ennis: More Valuable Than Nylander?,"  a reader commented: "This may be one of the stupidest articles I have ever read. Comparing Nylander to Ennis is absurd – they simply aren't in the same stratosphere. Ennis is 'just a guy' while Nylander is a top skilled player." Two thoughts: First, I think this reader disagreed with something I wrote. Second, the phrase "just a guy" impacted me.
I have, since 1969, been a teacher. I think like a teacher. I enjoyed researching the post on Tyler Ennis, because I could picture him growing up playing hockey in Edmonton with his best friend Minnesota Wild's Jared Spurgeon, both who were coached by their dads. Like most Canadian kids who dream of playing hockey, I imagine their childhood consisted of 5:30 am rink times, driven through the dark by parents who spent untold hours in chilly arenas rooting for their kids.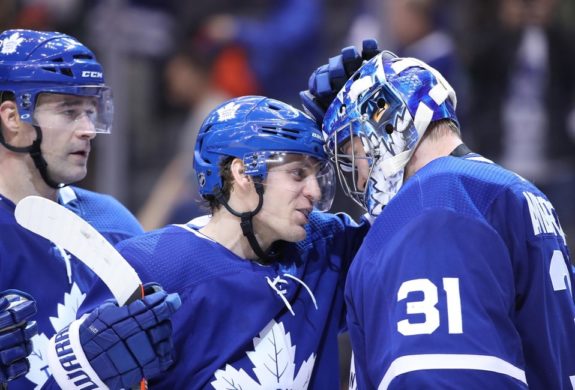 Unlike Ennis and Spurgeon, most of these young hockey players quit somewhere along the way. Some, like Tyler Ennis, are still playing at the ripe young age of 29. Although not the stars they dreamed to be, and seldom demanding the attention "real" stars are paid, I bet their parents are still re-shaping their weekends, hoping to catch their son's game on Hockey Night in Canada and cheering with all the enthusiasm they did when their sons were so much younger.
So, I think to myself: Tyler Ennis is "just a guy" to someone who thinks I write stupid articles. But his parents – and perhaps other fans – watch him and cheer his successes. Furthermore, Ennis is not alone. He isn't a star, and he may never be. But he is like a lot of other Maple Leafs' players whose play sorta slips under the spotlight.
Related: Maple Leafs Bite Sharks – Matthews Returns With 3 Points
The First Monthly Just-a-Guy Awards
So, because I care about the Toronto Maple Leafs, and because I care about those "Just-a-Guy" players who skate for the Maple Leafs under most people's radar, I have created my first monthly "Just-a-Guy" (JAG) Awards. Here are five players who, for me, deserve to win The Old Prof's Just-a-Guy Awards for November.
First JAG Star: Ron Hainsey
Hainsey is a 37-year old D-man in his second season with the Maple Leafs. In a 6-1 win over the Devils on Nov. 9, he had two goals, blocked three shots, and had a plus-2 rating. Although he hasn't scored much for years, Hainsey has become blueberry jam to partner D-man Morgan Rielly's peanut butter on the back end. They work well together, and Hainsey is even scoring for him – 11 points in 26 games this season. He sports a plus-16 rating in almost 20 minutes of on-ice time each night.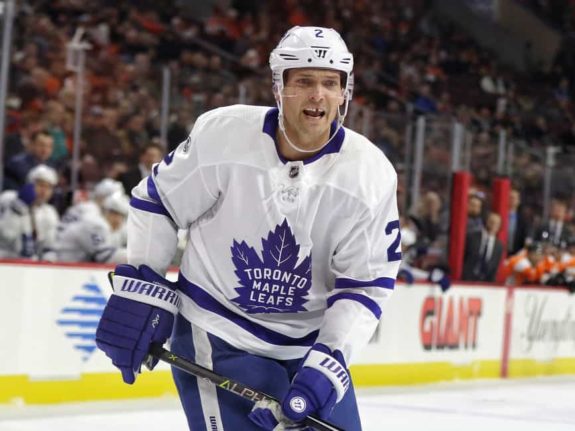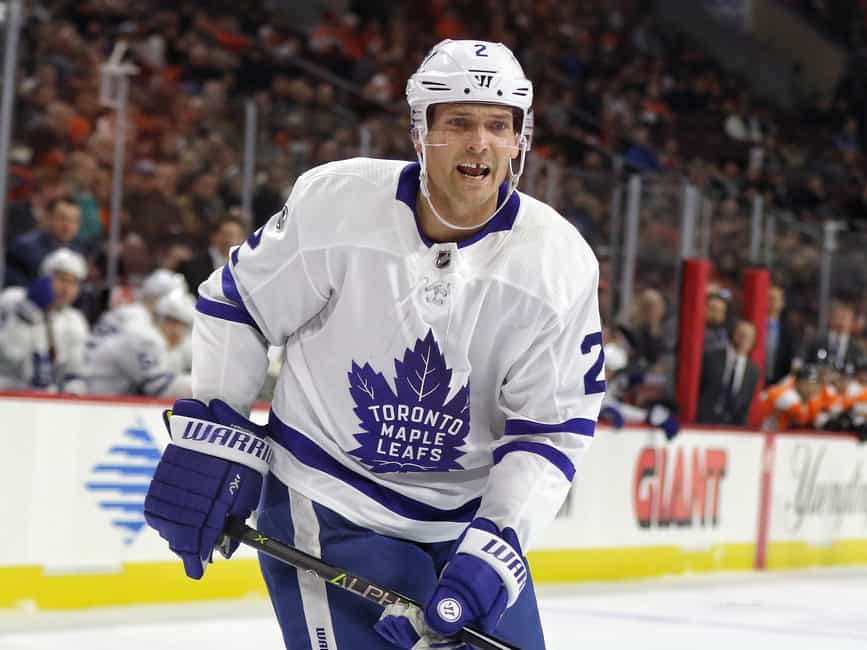 Second JAG Star: Garret Sparks
Garret Sparks backs up Frederik Andersen, perhaps the NHL's best goalie. His recent work is strong enough to give Andersen the odd night off. After stopping only 29 of 34 shots in a 5-1 loss to the Bruins on November 10, Sparks was solid in his next two outings. On Nov. 17, he let in only one goal in 39 shots to beat the Ducks. And, on Nov. 24, he shut out the Flyers, making 35 saves in a 6-0 win. He has been consistent and solid. Now only 25 in his second year, he is starting to play like he deserves more time in the twine.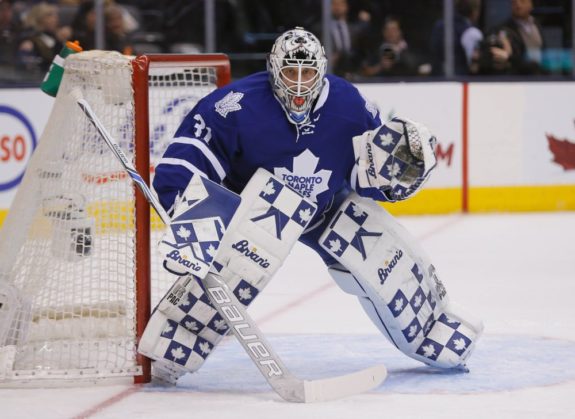 Third JAG Star: Josh Leivo
On November 26, Leivo scored the game winner in a 4-2 win over the Boston Bruins. It was his fourth goal of the year, and to date he has six points in 26 games. Although in his sixth year with the Maple Leafs, Leivo has not played more than 16 games in any year until 2018-19. He averages slightly over 10 minutes of ice time a night while playing mostly on the Maple Leafs' fourth-line. He has some scoring skill; and, on Nov. 24, his great back-and-forth with Mitch Marner led to a goal in the Maple Leafs' 6-0 win over Philadelphia.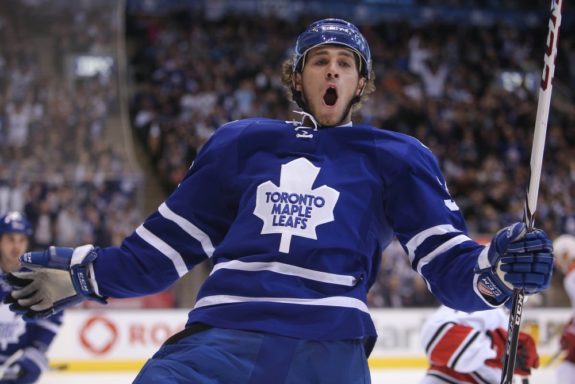 Fourth JAG Star: Connor Brown
I admit Brown might be a sentimental choice, but on Nov. 6, he scored a goal and an assist in the Maple Leafs' 3-1 win over the Golden Knights. Brown, in his fourth year with the Maple Leafs, has eight points in his 26 games. Although not the breakout season many expected for Brown still, like the two years before, Brown remains dependable and will likely suit up for every game again this season. Although many think he has the potential to score more as a top-six forward, he remains reliable wherever he plays for the Blue and White. After being minus-3 for October, the 24-year old Brown has been plus-5 in November.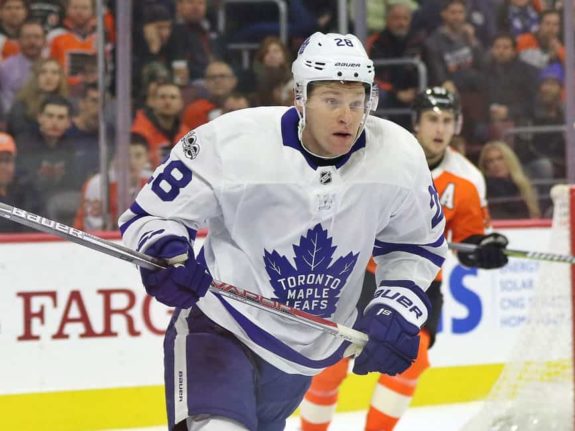 Fifth JAG Star: Patrick Marleau
Come on, Patrick Marleau? He must be more than "Just-a-Guy." But, if ever a star shone under the radar, it is Marleau. Although he has the second highest salary on the Maple Leafs this year, he isn't the star he was. Still, he shows up every night, does his job, and scores – 15 points in 26 games.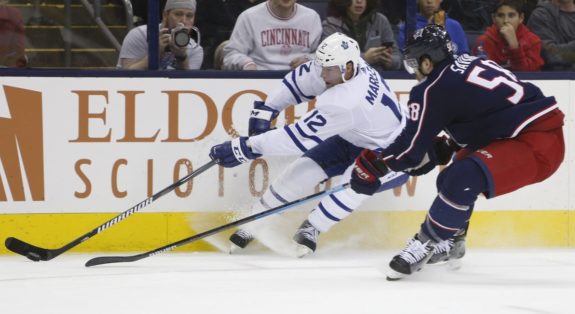 By scoring the game-winning goal on Nov. 28, Marleau became the 25th player in NHL history to score against all the other 31 teams. Obviously, because he played most of his career with the San Jose Sharks, it makes sense the Sharks would be the last team he scored against. Marleau continues to play well at 39 years of age, and to my eyes is still the skater he was when he was younger. He was on pace to match last season's 47 points, even without Auston Matthews. Now that Matthews is back, is it possible Marleau might even become a point-a-game player like he was three times earlier in his career?
Thanks for your Contributions to the Maple Leafs
There, fans, are The Old Prof's Toronto Maple Leafs' Just-a-Guy Awards for November. Congratulations: we recognize your contribution to the Maple Leafs' success.
I trust these young Maple Leafs (even Marleau is young to me) continue to make their parents proud when they play, just as they did years before in the chilly arenas of Ontario (Brown and Leivo), Saskatchewan (Marleau), and the United States (Connecticut for Hainsey and Illinois for Sparks).
Who Else Deserves a Just-a-Guy Award?
What do you think? Who else is skating under almost everyone's radar and should be mentioned? I invite readers to nominate their own Just-a-Guy Award winners.