The Toronto Maple Leafs made a huge signing prior to the 2018-19 NHL season, but one huge non-signing continues to angst Maple Leafs' fans. No question: getting John Tavares was a huge addition to the team. Also, without question, not signing emerging star William Nylander subtracts from the team's skill level.
However, under most people's radar was the free agent signing of Tyler Ennis. Ennis, with little fanfare, has made the Maple Leafs a better team. Indeed, from where I sit, he has made the Maple Leafs much better. This fact begs me to ask the radical question: "Will the Tyler Ennis' signing be more important to Toronto Maple Leafs' success than William Nylander's signing would have been? In short, is Ennis more valuable to the Maple Leafs than Nylander?
Let me make a case for this possibility. First, Ennis is excellent value with guaranteed dividends, who came to the Maple Leafs in an absolute steal of a deal. The Toronto Maple Leafs signed Ennis for $650,000 this year, which arguably makes this the best contract in the NHL. He is really low-risk, with a potential of really high reward.
Ennis Can Play on the Maple Leafs' Top Line
Second, so far this year, Ennis has played both up and down the lineup. TSN's Mark Masters noted, early in the season, how pleased Mike Babcock was with how Ennis filled Nylander's usual right wing spot on Auston Matthews' line.
Matthews too has sung Ennis' praises: "He's really shifty and can get in and out of areas really quick … He sees the ice well. He gave me an unbelievable pass and he's good one-on-one when he has the puck." Matthews noted that, when playing with Ennis, his goal is to get open, because Ennis is "quick, slippery, and will find you in open areas." D-man Jake Gardiner added that Ennis has been "a heck of a player," who "complements Matthews." Both Matthews and Gardiner noted Ennis was a good fill-in for Nylander.
In reflecting on Ennis early this season, Matthew Rodrigopulle of Fansided noted that Ennis was a promising young winger when he entered the league, but a series of injuries kept him from reaching the high expectations people believed he could. Although Ennis has had his ups and downs, he has never played badly.
Third, Tyler Ennis can score. Three times, between 2010-11 and 2014-15, he potted more than 20 goals per season. In over 500 games, he had 108 goals and 155 assists – more than one point every second game. His totals this year with are more modest (in 19 games, he has five points), but those numbers represent more the role Mike Babcock has asked him to play than his talent level.
What's different for Ennis this year is that he has a chance to skate with elite players, which he didn't during his stints in Minnesota or Buffalo. Good linemates ramp up a player's skill level, especially if that player can play a fast-paced game – which Ennis can. In addition, given the size of the contract Ennis signed and the fact that the Wild bought out his contract last season, Ennis is no doubt motivated to show what he can do. And, so far with the Maple Leafs, he has shown lots. As Babcock noted, Ennis has "some real jam in him."
Related: Should the Maple Leafs Trade Jake Gardiner?
Ennis Coaches the Maple Leafs' Fourth Line
Fourth, Ennis has become a recent leader on the Maple Leafs' fourth line. The Maple Leafs' trio of Ennis, Frederik Gauthier, and Josh Leivo has played really well. Here Ennis has become an on-ice coach for Gauthier and Leivo, who have had been given a space to learn the game. The result? Both young players improve each game.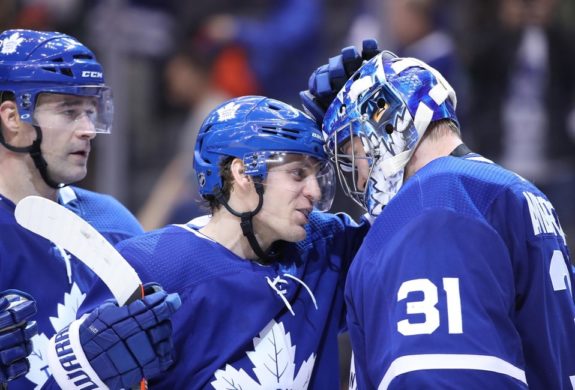 This on-ice education has allowed the Maple Leafs to develop Gauthier and Leivo at home, rather than by sending them to the minors for seasoning. On the team's fourth line, they can play more freely with less pressure to score. Because fourth lines are energy lines, whose job is to disrupt the other team by vicious checking, playing on the fourth line demands hard work. There is no doubt Gauthier and Leivo work hard. However, Ennis' presence changes the Maple Leafs' fourth line from only being a "grinder" line to a line with balance, stability, physicality, and offensive possibility.
Fifth, Ennis can play the power play. During the recent loss to the Carolina Hurricanes, TSN Toronto Maple Leafs' reporter Kristen Shilton noted that, although it didn't score, the Maple Leafs' second unit power play of Leivo, Kapanen, Ennis, Andreas Johnsson, and Gardiner was strong.
Related: NHL Rumors: Nylander, Duchene, Gardiner, More
Nylander Is Missed, but Ennis Is Here
Obviously, William Nylander is missed. But, Ennis has the skill to hold the fort until Nylander's signing is resolved – one way or another. Ennis has proven he can contribute on a line with Matthews and Marleau. He rivals Mitch Marner as a puck handler. He can play on the power play, and he makes the Maple Leafs' fourth line effective. Ennis is a salary cap celebration. If needed, the Maple Leafs could quadruple his salary next year and still create value. Finally, Ennis' play mirrors the veteran qualities that the ageless Patrick Marleau provides.
Perhaps Ennis doesn't have the skill level of Nylander. Perhaps Nylander's potential makes him elite in a way Ennis will never be. But, Ennis is actually in Toronto, and he's playing well. No doubt when Ennis was signed, the Maple Leafs believed Nylander would be also be signed by now. But, he is not. This situation makes Ennis even more valuable to the Maple Leafs. And, for Maple Leafs' fans, Ennis can no longer be under their radar.
The Old Prof (Jim Parsons, Sr.) taught for more than 40 years in the Faculty of Education at the University of Alberta. He's a Canadian boy, who has two degrees from the University of Kentucky and a doctorate from the University of Texas. He is now retired on Vancouver Island, where he lives with his family. His hobbies include playing with his hockey cards and simply being a sports fan – hockey, the Toronto Raptors, and CFL football (thinks Ricky Ray personifies how a professional athlete should act).
If you wonder why he doesn't use his real name, it's because his son – who's also Jim Parsons – wrote for The Hockey Writers first and asked Jim Sr. to use another name so readers wouldn't confuse their work.
Because Jim Sr. had worked in China, he adopted the Mandarin word for teacher (老師). The first character lǎo (老) means "old," and the second character shī (師) means "teacher." The literal translation of lǎoshī is "old teacher." That became his pen name. Today, other than writing for The Hockey Writers, he teaches graduate students research design at several Canadian universities.
He looks forward to sharing his insights about the Toronto Maple Leafs and about how sports engages life more fully. His Twitter address is https://twitter.com/TheOldProf